Electricity Markets
ERCOT continued to climb, facing lingering capacity concern. The remaining ISO's saw a minimal drop week over week. ISO-NE is about even to where the market was last month. Although NYISO is up since a month ago, in combination with the capacity market, prices are still at attractive levels. Nuclear closures, an uncertain winter outlook, and natural gas fundamentals could all effect market conditions moving forward.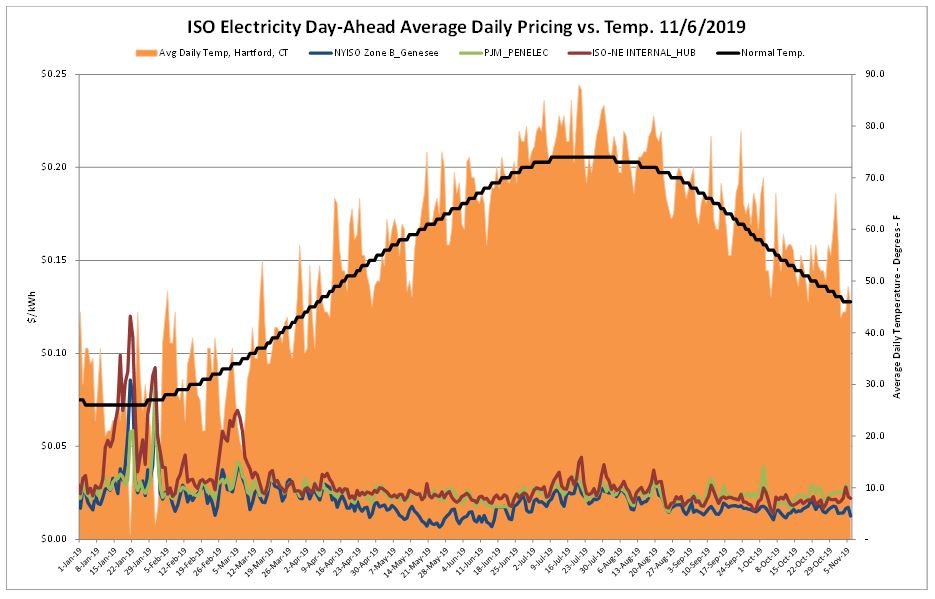 Some slightly below normal temperatures had minimal effect on the day ahead market over the report week.
Natural Gas Markets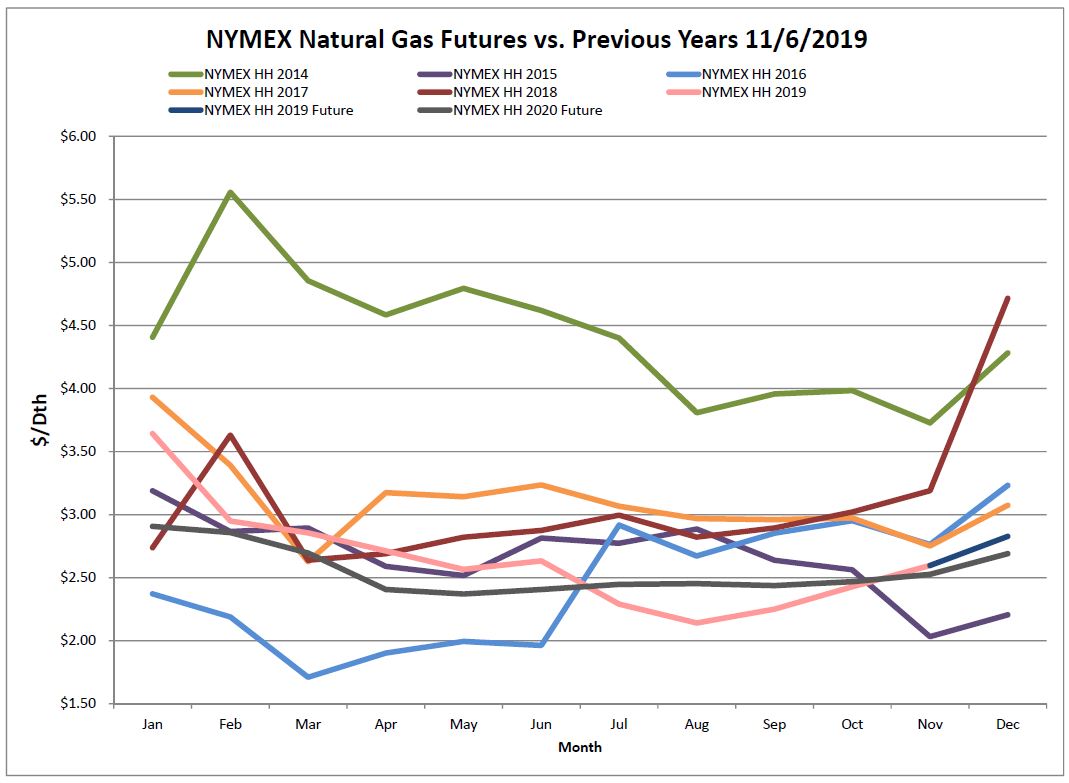 The natural gas market rallied, reacting to the rapid shift from a very warm October to a cold November. Not unusual to see prices increase, especially when you see the first hint of winter weather, and that is exactly what has happened. Prices have flexed up and begun to follow a more "normal" pattern with respect to how historical rates have shifted up as we get closer to wintertime.  The below-average temperatures forecasted pushed pricing up into levels not seen since last March. Winter strip Dec/Jan/Feb increased substantially, as did the 12-month strip which went up $0.21.
This is a similar pattern to last year when November started very cold and prices rallied sharply, with the Dec '18 contract eventually settling at $4.715. This year however, our storage reserves are far healthier meaning our ability to withstand early cold is greatly improved. Our high storage levels should help soften the market's reaction to the cold weather as we have ample supply from which to pull when demand increases.
Six-Month Natural Gas Futures
Futures as of 11/6/2019 versus previous week:
| | | |
| --- | --- | --- |
| Dec-19 | $2.828 | +$0.137 |
| Jan-20 | $2.907 | +$0.126 |
| Feb-20 | $2.858 | +$0.121 |
| Mar-20 | $2.696 | +$0.098 |
| Apr-20 | $2.407 | +$0.060 |
| May-19 | $2.371 | +$0.044 |
Natural Gas Inventory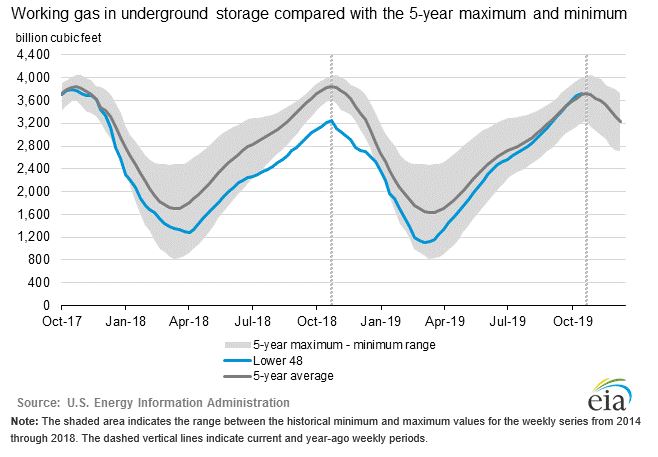 The EIA reported a net increase of 34 Bcf from the previous week. As a result of the below-normal temperatures the expectations were for a small build, however the consensus was closer to 42 Bcf. Regardless, the injection was below last year's 63 Bcf injection and trailed the 5-year average of 57 Bcf. As of Friday, November 1, 2019, working gas in storage was 3,729 Bcf. This level was the second-highest injection volume ever reported for the refill season, falling just short of the record level of 2,727 Bcf during the 2014 refill season. Working gas in storage was a mere 3,200 Bcf a year ago. The increased storage has helped to stabilized natural gas prices.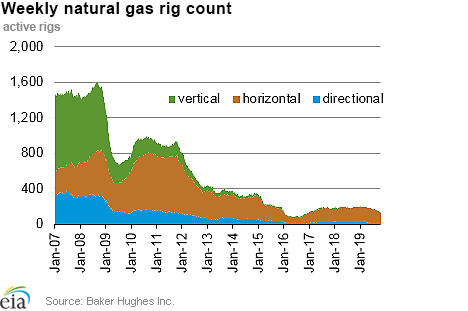 The Baker Hughes exploration gas rig count was unchanged from last week, for a total of 130 rigs. This is 65 less rigs than were in operation at this time one year ago when there were 195 rigs.
If you've been following the rig counts, you will have noticed they continue to slide week after week. Although production has still been fairly strong, this trend of decreasing rigs is becoming more important to take note of. Wall Street and market financiers are not investing in natural gas production companies as heavily as they had in the past, this change could likely put Increased price pressure on natural gas in the future.
Weather Update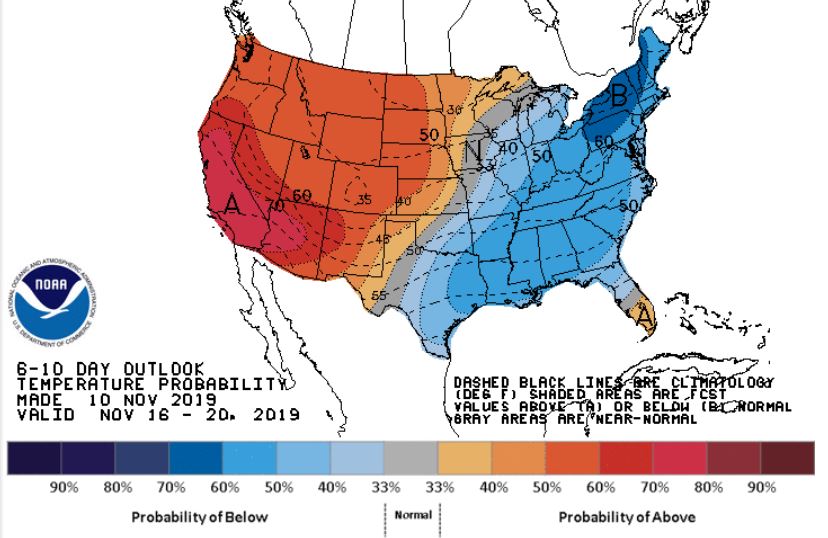 Weather forecasts continue to show cold temperatures for the Eastern half of the CONUS into the third week of November, and with it, increased heating-related gas demand. Conversely warmer temperatures for the Western states is expected.
National Weather Service Updates (NOAA)
Hurricane Watch: No Current Hurricanes
Click here to view the National Hurricane Center site.
Equatorial Pacific Outlook:
Click here to view La Nina and El Nino status.  
If you would like to receive the Energy Market Update to your inbox weekly, please click here to submit your name and email address.
Disclaimer: This information is provided for the use of our customers and potential customers. Power Management Company assumes no responsibility or liability for the accuracy or completeness of pricing or information in this document. Historical data was obtained from sources that we believe to be reliable, but we do not guarantee its accuracy or completeness. It is not intended to provide advice or recommendation. Views are subject to change without notice.