Electricity Markets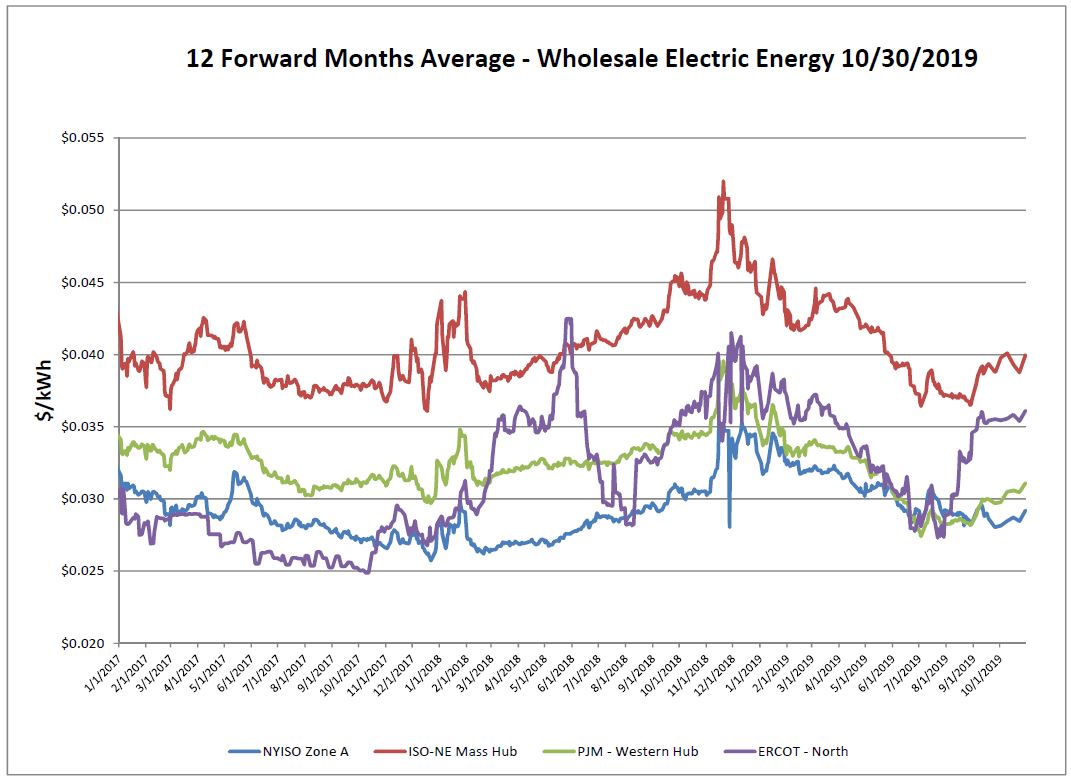 On the heels of climbing natural gas prices, electric prices in all the ISO's were up over the report week.
Above normal temperatures continued to keep volatility at bay. However, next week's report may see a swing as some colder weather has arrived.
Natural Gas Markets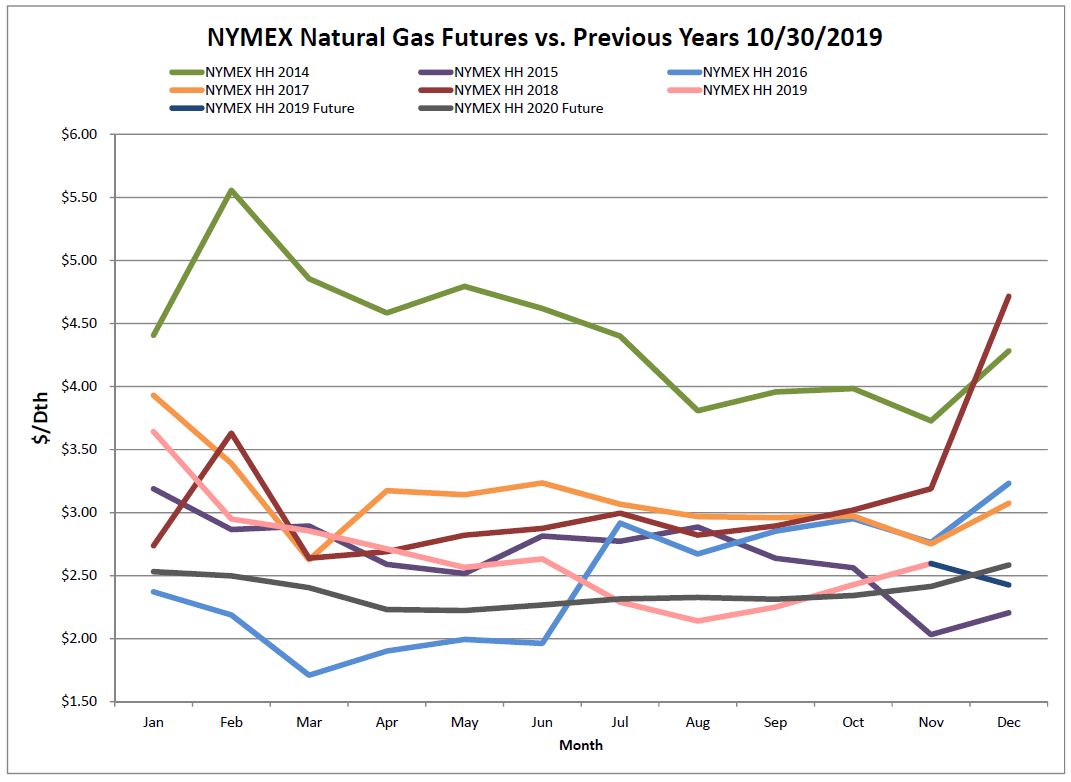 Residential heating demand surged as record cold blanketed the Rockies and most of the Great Plains. Furthermore, as the market prepared for the first winter cold front to reach the eastern United States, the Nov '19 NYMEX natural gas contract soared, eventually expiring at $2.597 on its last day of trading. The rest of the Dec-Feb winter contract climbed significantly, as well. Overall the 12-month NYMEX strip held fairly tight, only up $0.01 while the Algonquin basis was up $0.05.
Six-Month Natural Gas Futures
Futures as of 10/30/2019 versus previous week:
| | | |
| --- | --- | --- |
| Dec-19 | $2.691 | +$0.264 |
| Jan-20 | $2.781 | +$0.249 |
| Feb-20 | $2.737 | +$0.238 |
| Mar-20 | $2.598 | +$0.193 |
| Apr-20 | $2.347 | +$0.115 |
| May-19 | $2.327 | +$0.103 |
Natural Gas Inventory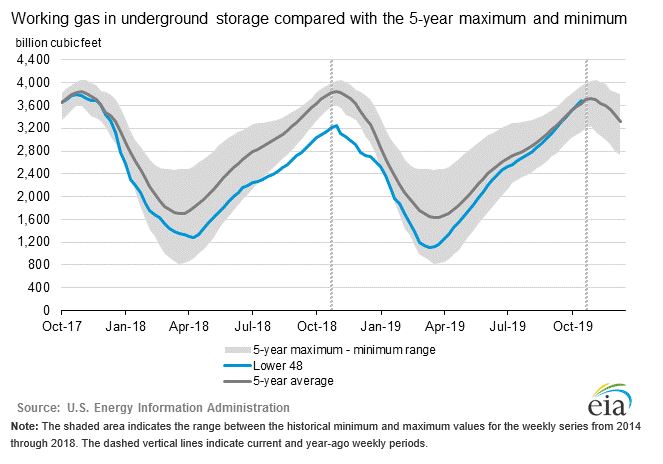 The EIA reported a new injection of 89 Bcf from the previous week. Working gas in storage was 3,695 Bcf as of Friday, October 25, 2019. This compares to last year's injection of 49 Bcf and the 5-year average of 65 Bcf.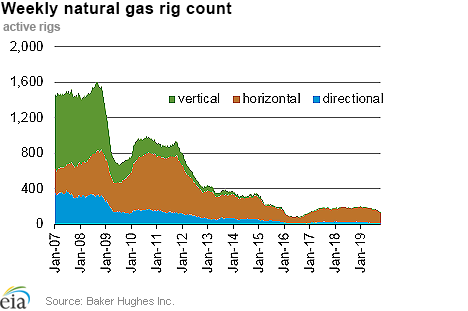 The Baker Hughes exploration gas rig count decreased 3 rigs from last week, for a total of 130 rigs. This is 63 less rigs than were in operation at this time one year ago when there were 193 rigs.
Weather Update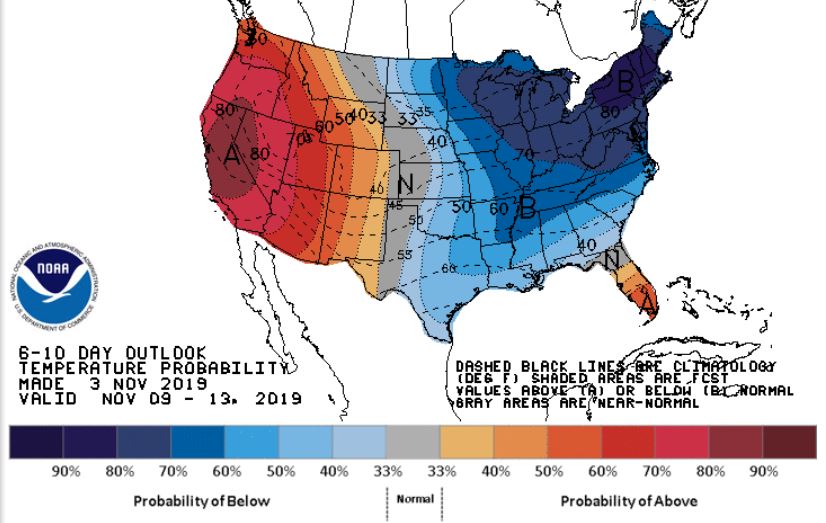 NOAA forecasts show below-average temperatures sticking around in the Midcon and creep further into the East in the 6-10 day outlook. The West should experience a warm-up during the same period.
National Weather Service Updates (NOAA)
Hurricane Watch: No Current Hurricanes
Click here to view the National Hurricane Center site.
Equatorial Pacific Outlook:
Click here to view La Nina and El Nino status.
Energy News
House Commerce Subcommittee Issues Hearing Memo on U.S. Power Sector
WASHINGTON, Oct. 27 — The House Energy and Commerce subcommittee on Energy issued the following hearing  
If you would like to receive the Energy Market Update to your inbox weekly, please click here to submit your name and email address.
Disclaimer: This information is provided for the use of our customers and potential customers. Power Management Company assumes no responsibility or liability for the accuracy or completeness of pricing or information in this document. Historical data was obtained from sources that we believe to be reliable, but we do not guarantee its accuracy or completeness. It is not intended to provide advice or recommendation. Views are subject to change without notice.