Electricity Markets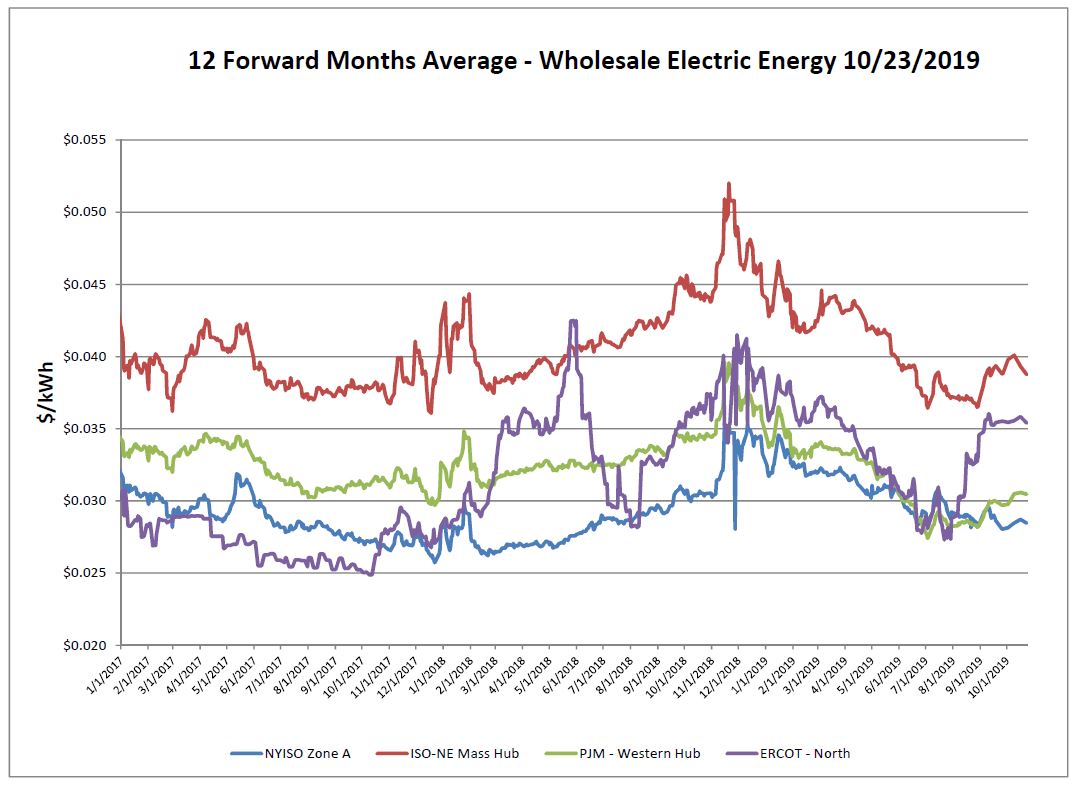 Another week of slow downward movement on the electric markets. Markets may see some more easing on prices depending on how natural gas storage performs over the next few weeks. Winter speculation does tend to bring some fear however, so be prepared that fundamentals could always quickly reverse course.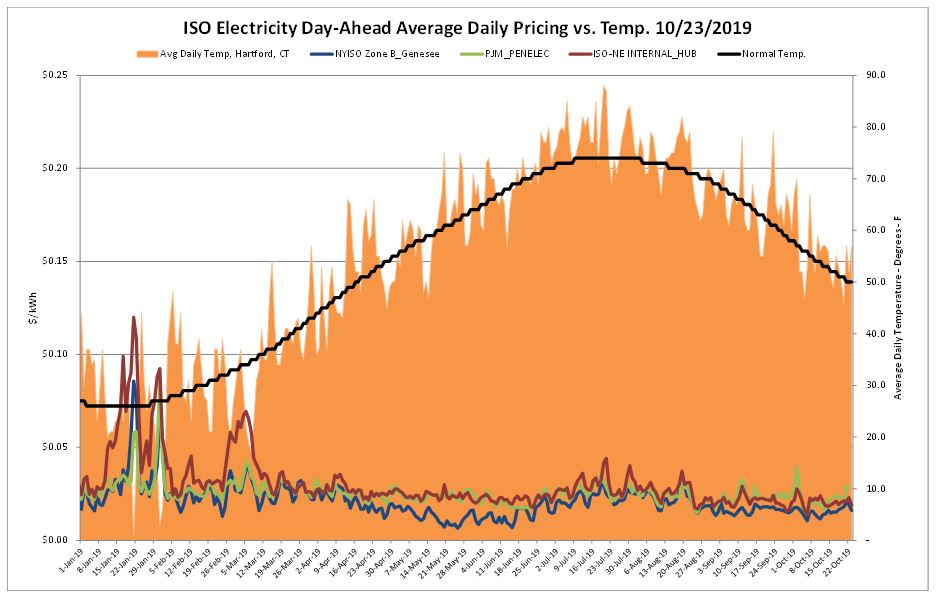 PJM saw a little bit of movement on the day-ahead electric market over the report week, while the seasonable temperatures kept the markets mostly calm.
Natural Gas Markets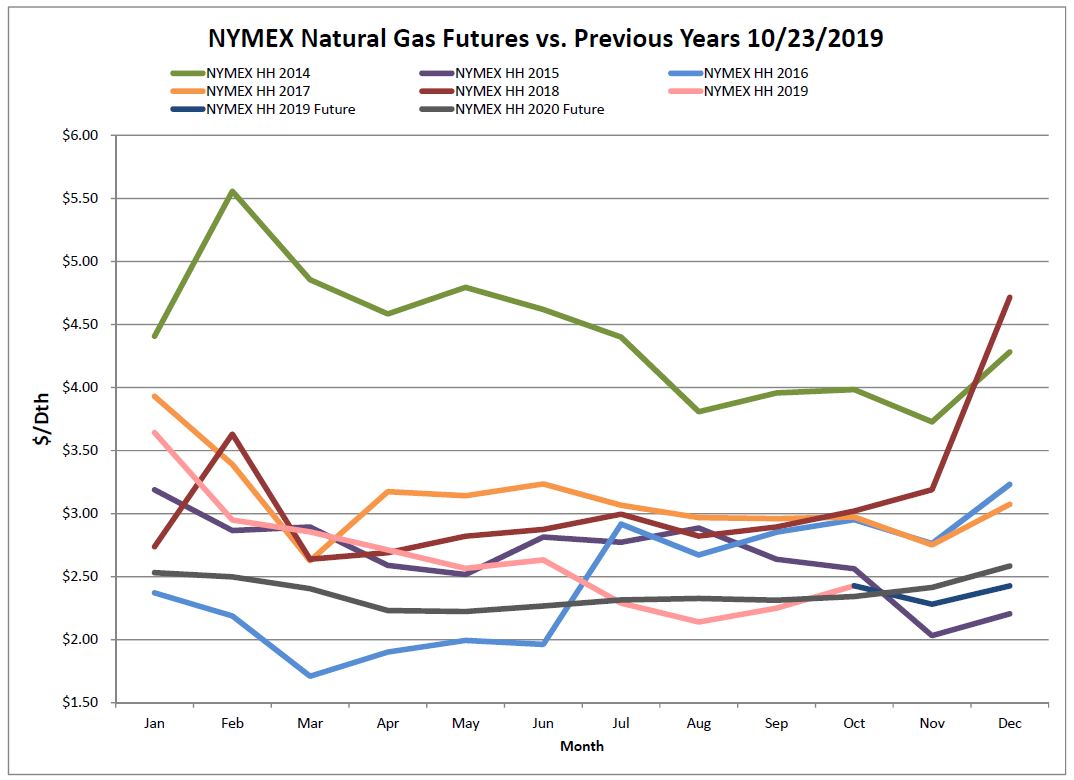 The NYMEX fell $0.03 over the report week while the Algonquin basis dropped $0.05, for a total decrease of $0.08, the same as last week. NYMEX prices continue to be impressively low. With the exception of an extremely warm winter, it's hard to imagine how much more downward opportunity there is left in the market. Confidence intervals measuring distribution risk lean on the side that there is much more upside potential for price movement than downward. Historically, there has not been much sustainable under the $2.00 level.
Six-Month Natural Gas Futures
Futures as of 10/23/2019 versus previous week:
| | | |
| --- | --- | --- |
| Nov-19 | $2.282 | -$0.021 |
| Dec-19 | $2.427 | -$0.068 |
| Jan-20 | $2.532 | -$0.080 |
| Feb-20 | $2.499 | -$0.076 |
| Mar-20 | $2.405 | -$0.057 |
| Apr-20 | $2.232 | -$0.015 |
Natural Gas Inventory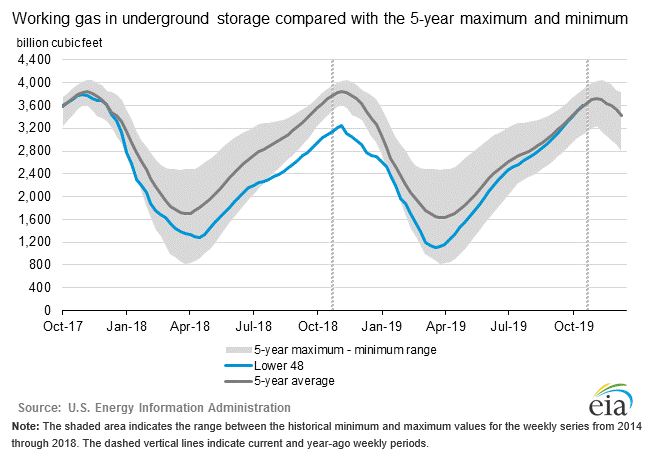 As of Friday, October 18, 2019 a net increase of 87 Bcf was reported versus the previous week. Working gas in storage was 3,606 Bcf, according to EIA estimates. Storage came in slightly below the anticipated level but the market didn't seem to react. This week's build of 87 Bcf leaves a surplus of 28 to the 5-year average and a huge difference of 519 bcf to last year. Last year at the end of injection season we were below where we are today which drove some of those price spikes. The northeast is not seeing colder-than-normal temperatures yet which when experienced can impact the overall national gas demand due to the population density in that area.  The longer that cold is delayed in the northeast, the better for storage.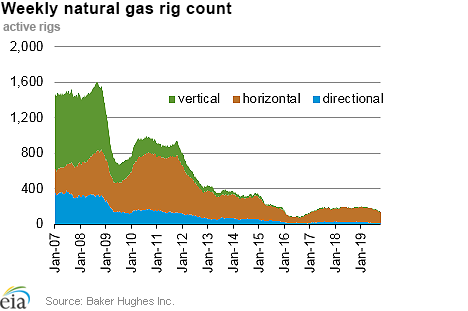 The Baker Hughes exploration gas rig count decreased 4 rigs from last week, for a total of 133 rigs. This is 60 less rigs than were in operation at this time one year ago when there were 193.
Weather Update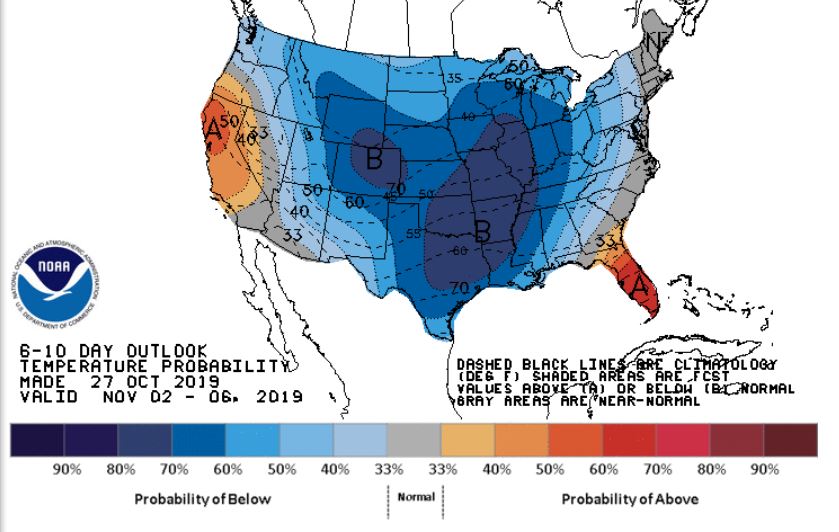 The NOAA 6-10 day outlook is very similar to last week's pattern. Wide-spread below-normal temperatures are anticipated for the middle of the country, with a few normal areas along the coasts.
National Weather Service Updates (NOAA)
Hurricane Watch: No Current Hurricanes
Click here to view the National Hurricane Center site.
Equatorial Pacific Outlook:
Click here to view La Nina and El Nino status.
Energy News
US wind, solar finance alternatives rise as sector rushes against looming tax credit expiration
Resources are being rapidly deployed ahead of the post-2020 phase-out, but political uncertainty makes turmoil unavoidable  
If you would like to receive the Energy Market Update to your inbox weekly, please click here to submit your name and email address.
Disclaimer: This information is provided for the use of our customers and potential customers. Power Management Company assumes no responsibility or liability for the accuracy or completeness of pricing or information in this document. Historical data was obtained from sources that we believe to be reliable, but we do not guarantee its accuracy or completeness. It is not intended to provide advice or recommendation. Views are subject to change without notice.