Electricity Markets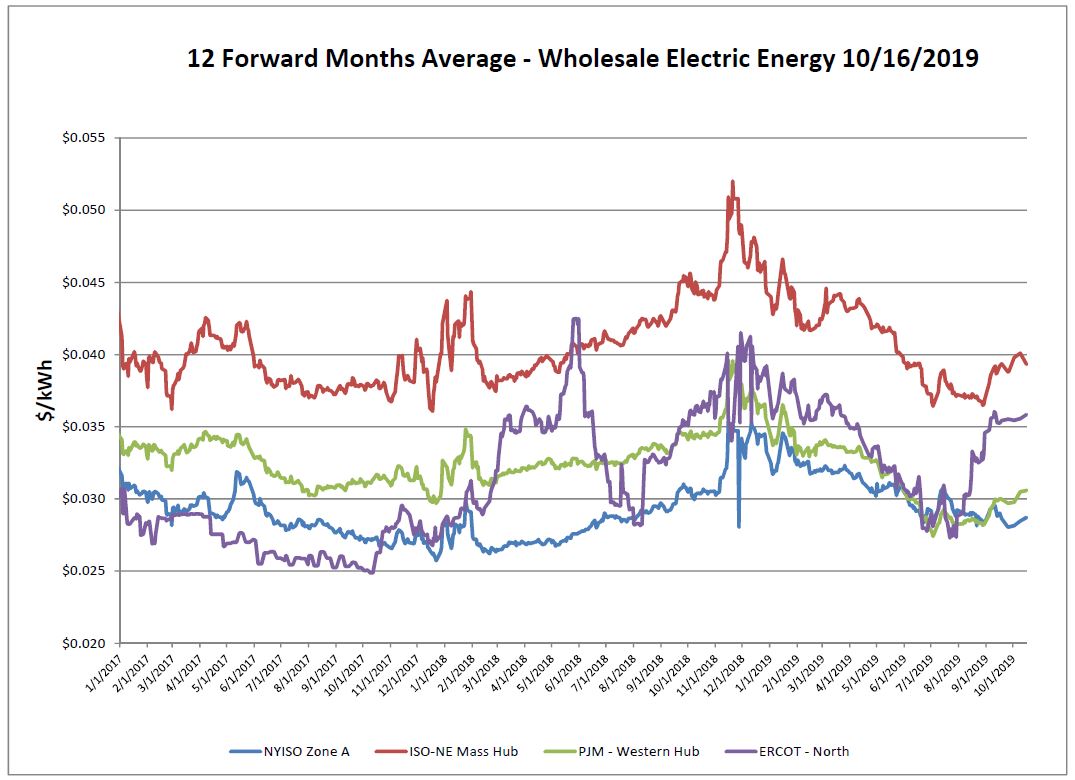 ISO- NE prices soften a bit, although the recent run ups can be attributed to elevated Algonquin basis gas prices. As the NYMEX remains attractive, so does NYISO electric prices.
The upside risk for ERCOT over the next few years (2021-2023) especially in the summer months remains, as tight generation reserves are likely to strain the system.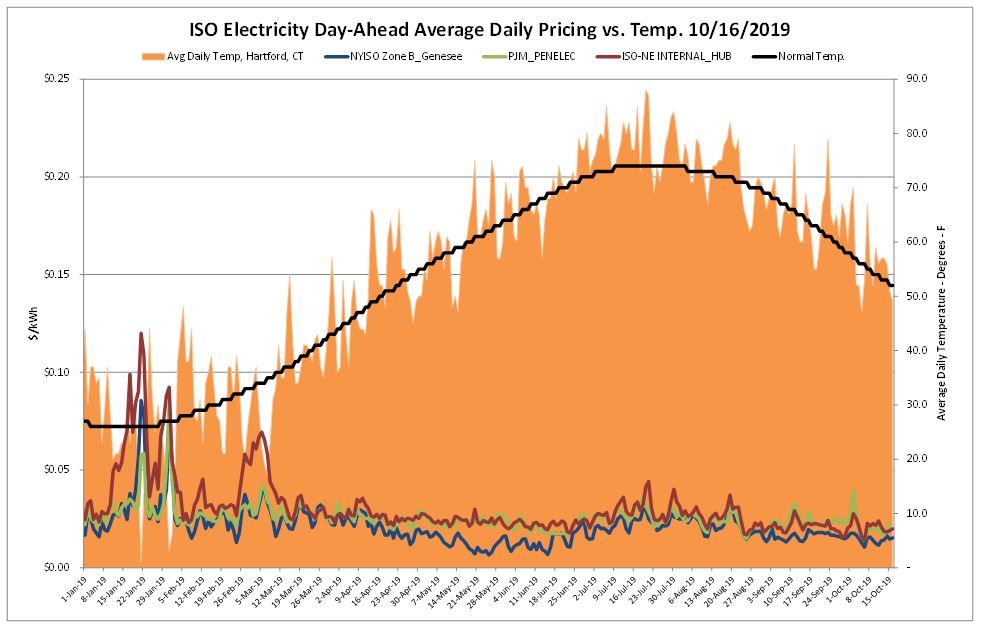 Day-ahead electric prices in all markets showed little notable activity over the report week.
Natural Gas Markets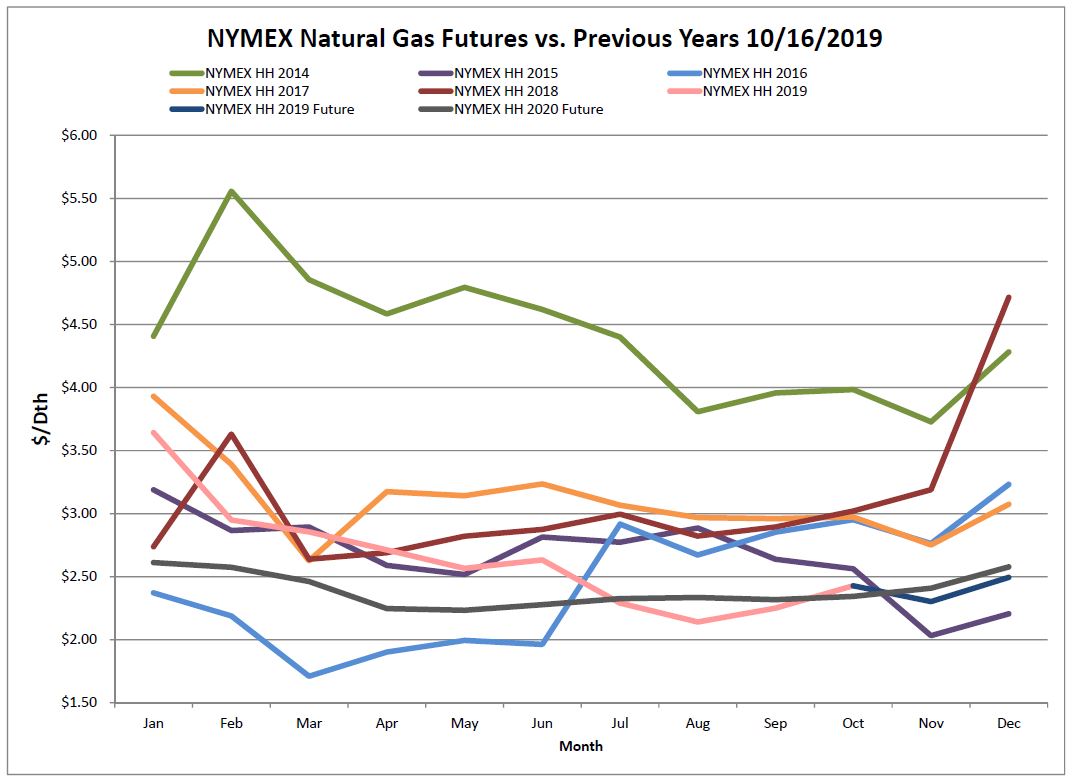 The NYMEX was down $0.02, while the Algonquin basis lost $0.06. Natural gas storage is no longer the main influence over gas prices, production and weather are the current market drivers. Changes in the weather and weather forecasts can precipitate price swings. As we approach the next few months, a chilly winter would flip natural gas prices, but milder-than expected weather could leave stockpiles larger than expected and cap prices.
Six-Month Natural Gas Futures
Futures as of 10/16/2019 versus previous week:
| | | |
| --- | --- | --- |
| Nov-19 | $2.303 | -$0.116 |
| Dec-19 | $2.495 | -$0.056 |
| Jan-20 | $2.612 | +$0.092 |
| Feb-20 | $2.575 | +$0.134 |
| Mar-20 | $2.462 | +$0.209 |
| Apr-20 | $2.247 | +$0.005 |
Natural Gas Inventory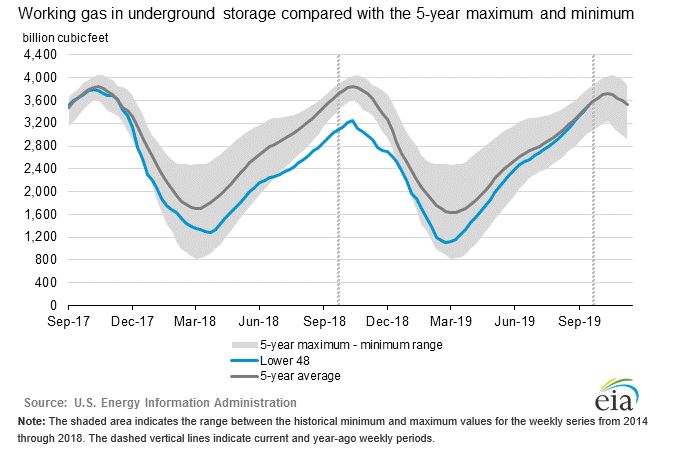 The EIA reported a net increase of 104 Bcf from the previous week. Working gas in storage was 3,519 Bcf as of Friday, October 11, 2019. This injection allowed storage levels to surpass the 5-year average for the first time in almost 2 years, helping to create some downward pressure on the gas markets. Since April 5th, the beginning of injection season, injections have totaled 2.3 Tcf. This is in comparison to last year's injections of 1.6 Tcf and the 5-year average of 1.8 Tcf.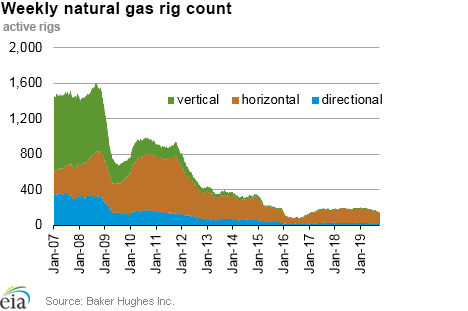 The Baker Hughes exploration gas rig count decreased 6 rigs from last week, for a total of 137 rigs. This is 57 less rigs than were in operation at this time one year ago when there were 194 rigs.
As the Baker Hughes rig count continues to decline, it implies we could see flat or declined production in Q1 of 2020. Although production is currently still growing, the tight credit demands being places on drillers and the pressure to cut costs to improve returns continues to impact rig counts.
Weather Update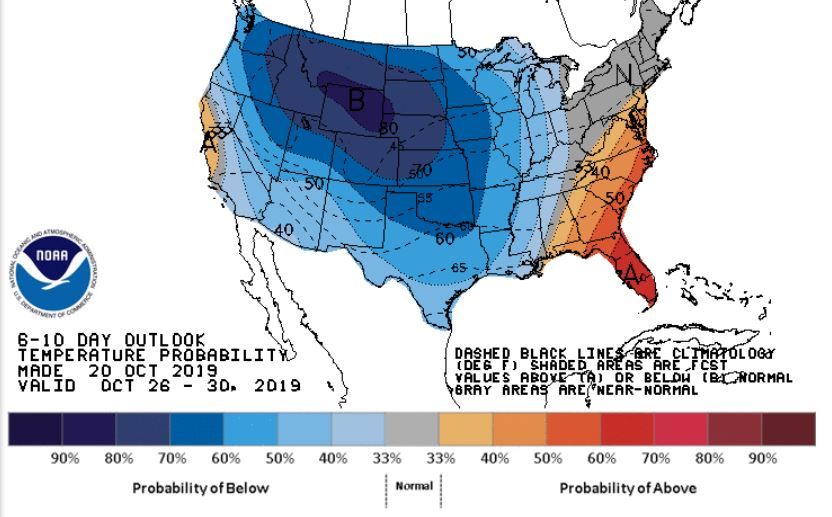 The majority of the CONUS is anticipated to see cooler than normal temperatures for the last week of October. The Northeast is expected to experience normal temperatures and we have yet to see any significant cold along the East Coast stick around, helping keep demand levels low, and inventories high. The Southeast may be the only region to see slightly normal than average weather.
National Weather Service Updates (NOAA)
Hurricane Watch: No Current Hurricanes Click here to view the National Hurricane Center site.
Equatorial Pacific Outlook:
Click here to view La Nina and El Nino status.
Energy News
Do California's Blackouts Signal What's In Store For All Americans?
As hundreds of thousands lose electricity in California as PG&E works to prevent wildfires, the situation raises the thought about a future dystopian scenario.
If you would like to receive the Energy Market Update to your inbox weekly, please click here to submit your name and email address.
Disclaimer: This information is provided for the use of our customers and potential customers. Power Management Company assumes no responsibility or liability for the accuracy or completeness of pricing or information in this document. Historical data was obtained from sources that we believe to be reliable, but we do not guarantee its accuracy or completeness. It is not intended to provide advice or recommendation. Views are subject to change without notice.