Electricity Markets
ERCOT remained flat week over week, while the remaining electric markets all moved up slightly.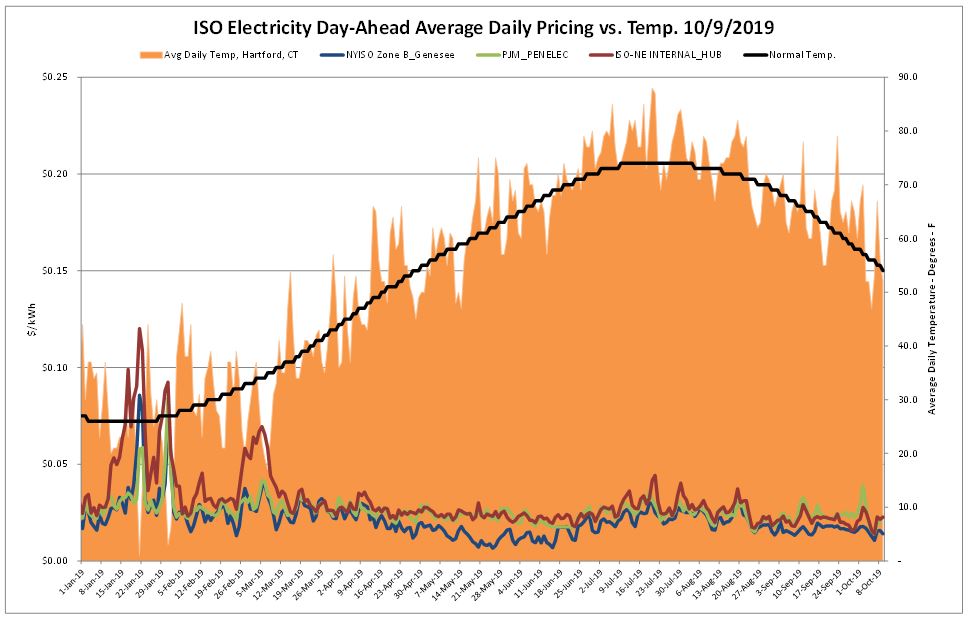 PJM and ISO-NE spiked on the heels of some short-lived cool weather, then relaxed back down.
Natural Gas Markets
The Nov '19 NYMEX contract continued its downward slide. Pricing hasn't been this low for the prompt month contract since August.
The EIA's Short-Term Energy and Winter Fuels Outlook is forecasting gas storage levels to be 2% higher than the 5-year average and 17% higher than October 2018 levels by the end of this month. Natural gas production is also expected to be 5% higher this winter compared to last. The low pricing environment is presenting a pre-winter buying opportunity.
Six-Month Natural Gas Futures
Futures as of 10/9/2019 versus previous week:
| | | |
| --- | --- | --- |
| Nov-19 | 2.229 | -0.018 |
| Dec-19 | 2.419 | -0.032 |
| Jan-20 | 2.551 | -0.033 |
| Feb-20 | 2.52 | -0.035 |
| Mar-20 | 2.441 | -0.035 |
| Apr-20 | 2.253 | -0.032 |
Natural Gas Inventory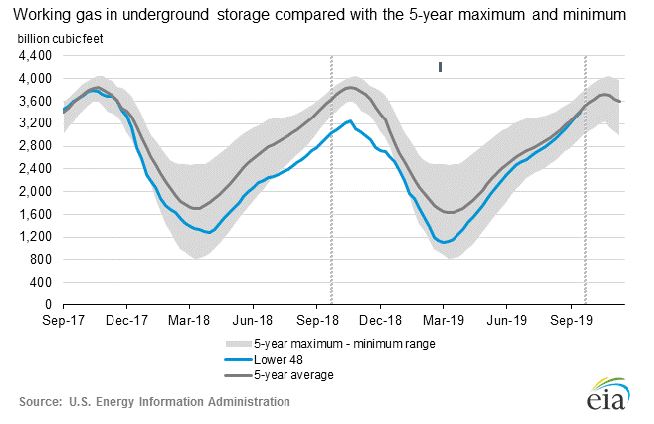 As of Friday, October 4, 2019 working gas in storage was 3,415 Bcf. According to EIA estimates this represents a net increase of 98 Bcf from the previous week. This was right on par with market expectations. The injection compared with the five-year average of 89 Bcf and last year's net injections of 91 Bcf during the same week. The average rate of net injections into storage is 27% higher than the five-year average so far in the refill season.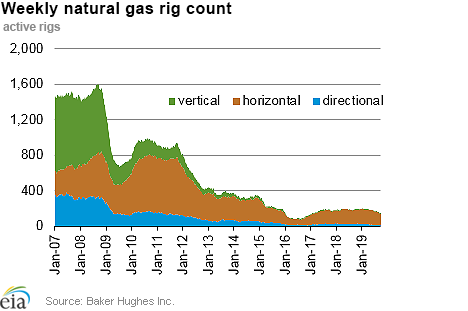 The Baker Hughes exploration gas rig count decreased 1 rig from last week, for a total of 143 rigs. This is 50 less rigs than were in operation at this time one year ago when there were 193 rigs.
Weather Update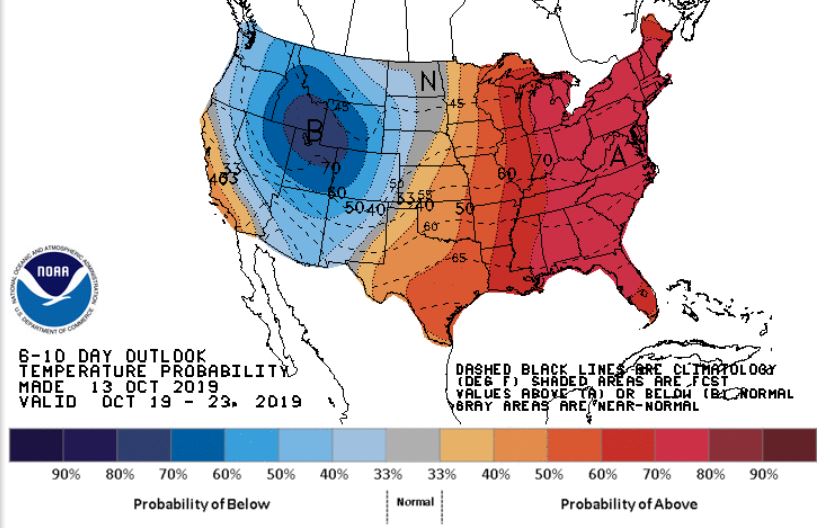 Weather forecasts continue to show average to above-average temperatures for much of the Eastern half of the CONUS for the balance of October, and a cooler Western half. The lack of cold temperatures is helping keep index pricing low and delaying a start to heating season.
National Weather Service Updates (NOAA)
Hurricane Watch: No Current Hurricanes
Click here to view the National Hurricane Center site.
Equatorial Pacific Outlook:
Click here to view La Nina and El Nino status.
Energy News
Warmer weather, strong gas supplies seen easing winter heating costs
A warmer winter forecast for most of the US and strong natural gas production that has replenished storage inventories are feeding expectations of slightly lower heating expenditures this winter compared with last, the US Energy Information Administration said in its 2019-20 winter fuels outlook.  
If you would like to receive the Energy Market Update to your inbox weekly, please click here to submit your name and email address.
Disclaimer: This information is provided for the use of our customers and potential customers. Power Management Company assumes no responsibility or liability for the accuracy or completeness of pricing or information in this document. Historical data was obtained from sources that we believe to be reliable, but we do not guarantee its accuracy or completeness. It is not intended to provide advice or recommendation. Views are subject to change without notice.