Electricity Markets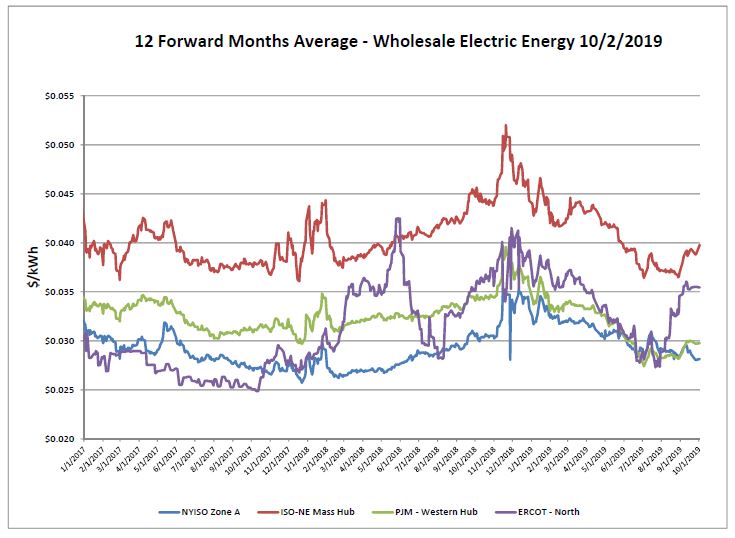 NYISO, PJM and ERCOT all remained generally flat week over week. ISO-NE spiked up but should come as no surprise as we tend to see these swings and volatility just prior to approaching the winter months.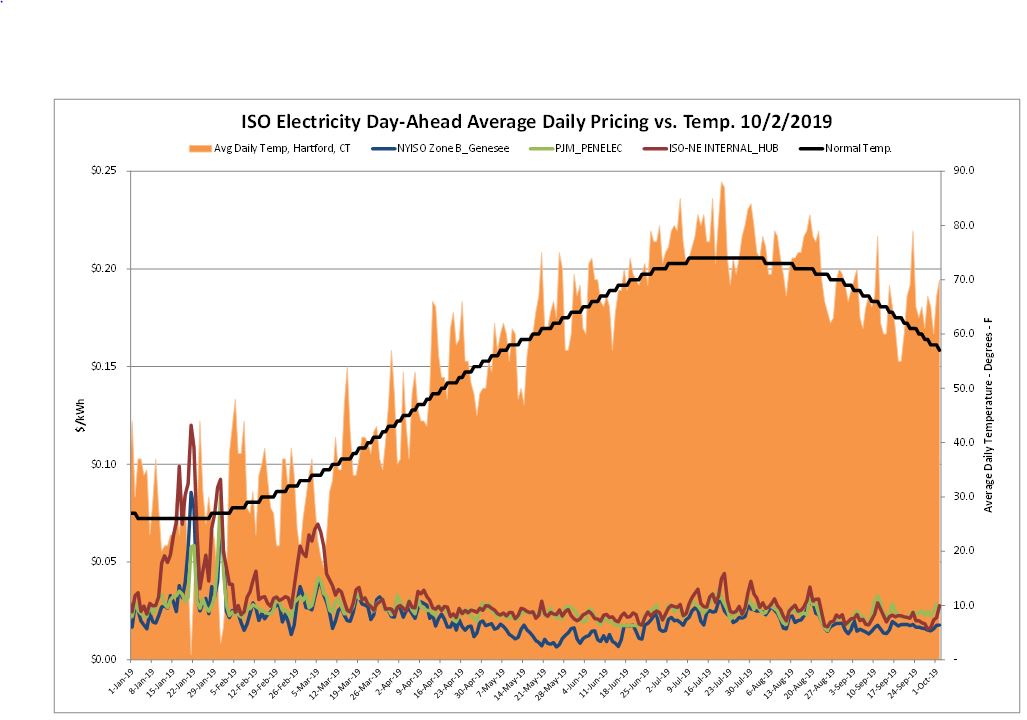 Day-ahead prices for ISO-NE shot up slightly as October began and temperatures remained above normal.
Natural Gas Markets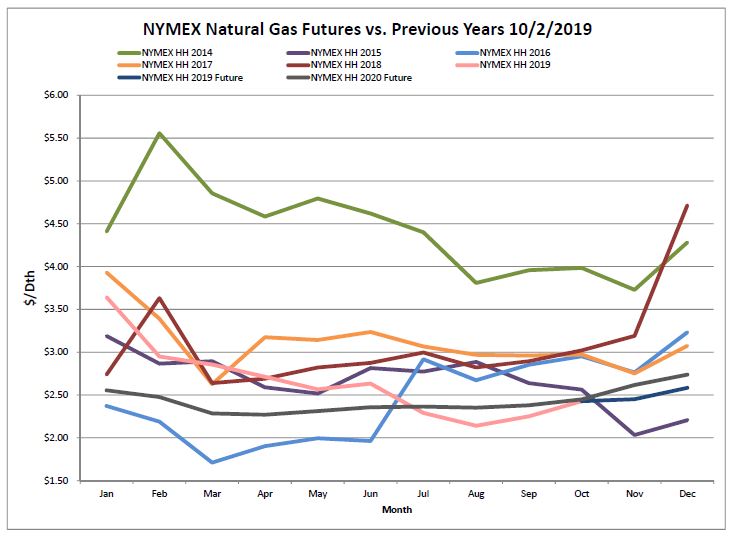 After last week's October NYMEX close, natural gas pulled back and retracted down again. For the New England region, month over month, gas is up as the Algonquin basis has climbed $0.28.
Six-Month Natural Gas Futures
Futures as of 10/2/2019 versus previous week:
| | | |
| --- | --- | --- |
| Nov-19 | $2.247 | -$0.418 |
| Dec-19 | $2.451 | -$0.352 |
| Jan-20 | $2.584 | -$0.322 |
| Feb-20 | $2.555 | -$0.302 |
| Mar-20 | $2.476 | -$0.236 |
| Apr-20 | $2.285 | -$0.072 |
Natural Gas Inventory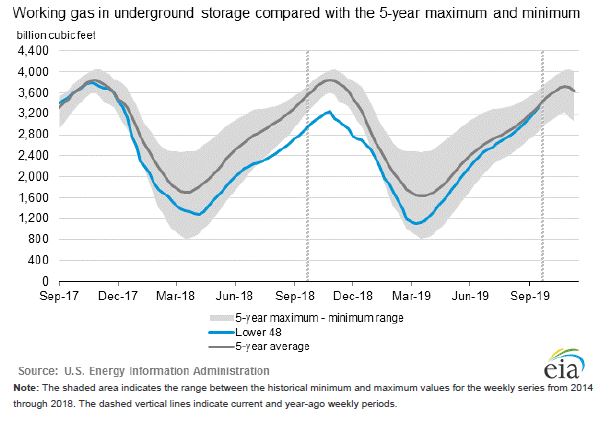 According to EIA estimates a net increase of 112 Bcf was injected into storage from the previous week. As of Friday, September 27, 2019 working gas in storage was 3,317 Bcf, Current levels are 16.3% above last year and just .5% below the 5-year average. This is a mere 18 Bcf difference and could easily be made up by the end of the storage season.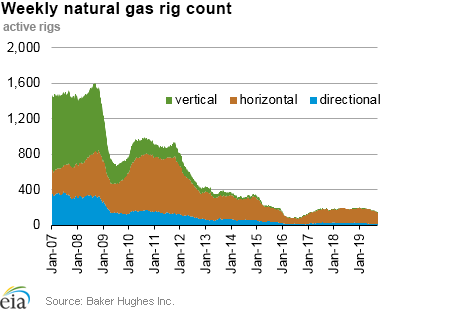 The Baker Hughes exploration gas rig count decreased 2 rigs from last week, for a total of 144 rigs. This is 45 less rigs than were in operation at this time one year ago when there were 189 rigs.
Weather Update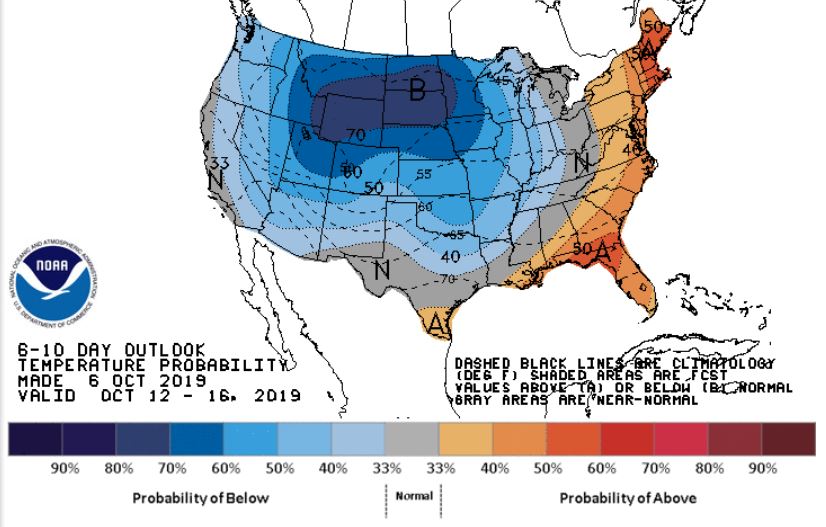 Cooler than normal temperatures are anticipated to blanket the majority of the CONUS for the middle of October. The exception to this is the East Coast which is expected to see some slightly above-normal temperatures linger.
National Weather Service Updates (NOAA)
Hurricane Watch: No Current Hurricanes Click here to view the National Hurricane Center site.
Equatorial Pacific Outlook:
Click here to view La Nina and El Nino status.
Energy News
Solar tax credit extension would add 82 GW by 2030, SEIA forecasts
A 10-year extension of the solar investment tax credit (ITC) would lead to $87 billion of private sector investment in the sector by 2030, the Solar Energy Industries Association said in a report released Tuesday.
Texas could get more power from wind than coal next year — a new milestone in an energy revolution
Texas' wind turbines are expected to produce more power than the state's coal plants next year for the first time ever.  
If you would like to receive the Energy Market Update to your inbox weekly, please click here to submit your name and email address.
Disclaimer: This information is provided for the use of our customers and potential customers. Power Management Company assumes no responsibility or liability for the accuracy or completeness of pricing or information in this document. Historical data was obtained from sources that we believe to be reliable, but we do not guarantee its accuracy or completeness. It is not intended to provide advice or recommendation. Views are subject to change without notice.