Electricity Markets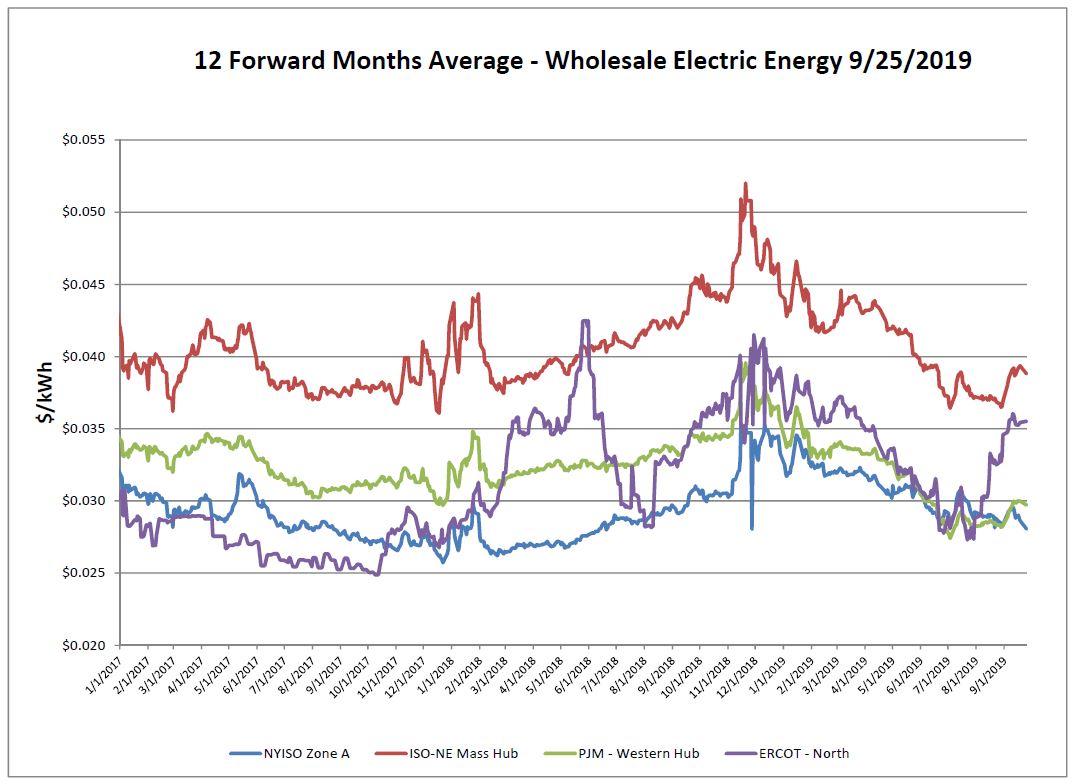 ERCOT flattened over the report week, however current electric prices remain elevated after the lingering heat and lack of wind. The situation in Texas is a prime example of how quickly a stabilized market can become disrupted. Electric prices in ISO-NE and PJM and NYISO were all down, with NYISO reporting the largest slide.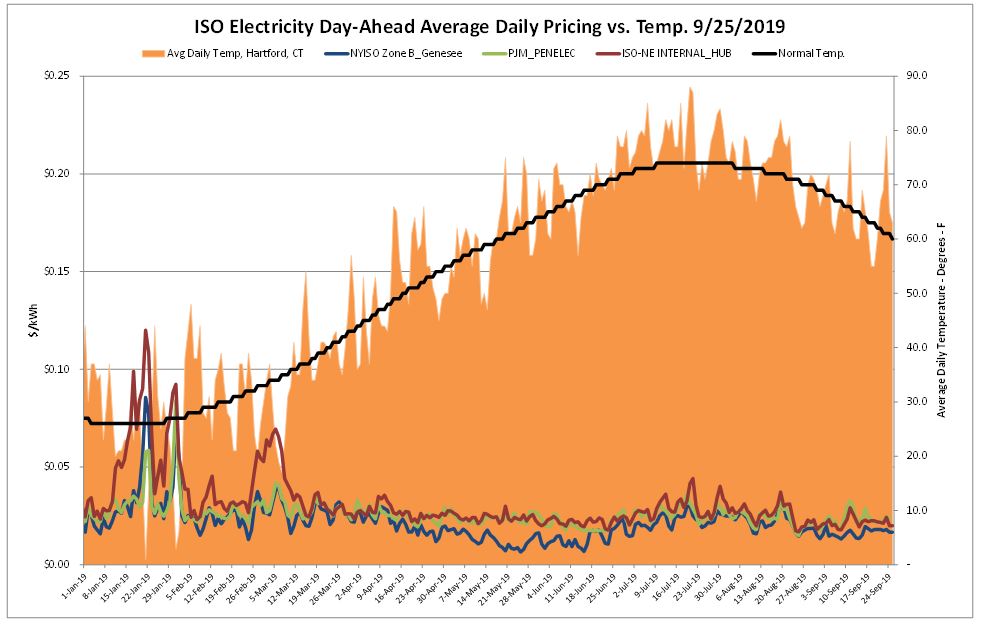 Regardless of the spike in September temperatures, the day-ahead market remained calm, not showing much sign of volatility.
Natural Gas Markets
Delays to cooling demand, coupled with sustained near-record production, has weakened the prompt month contract over the last week, and that trend continued during yesterday's trading activity. Combined with the large storage report, the October NYMEX natural gas contract ultimately closed at $2.428, down 7.4 cents on the day. The price of the 12-month strip averaging October 2019 through September 2020 futures contracts declined $0.08 to $2.505.
Six-Month Natural Gas Futures
Futures as of 9/25/2019 versus previous week:
| | | |
| --- | --- | --- |
| Oct-19 | $2.502 | -$0.135 |
| Nov-19 | $2.518 | -$0.147 |
| Dec-19 | $2.668 | -$0.135 |
| Jan-20 | $2.774 | -$0.132 |
| Feb-20 | $2.733 | -$0.124 |
| Mar-20 | $2.627 | -$0.085 |
Natural Gas Inventory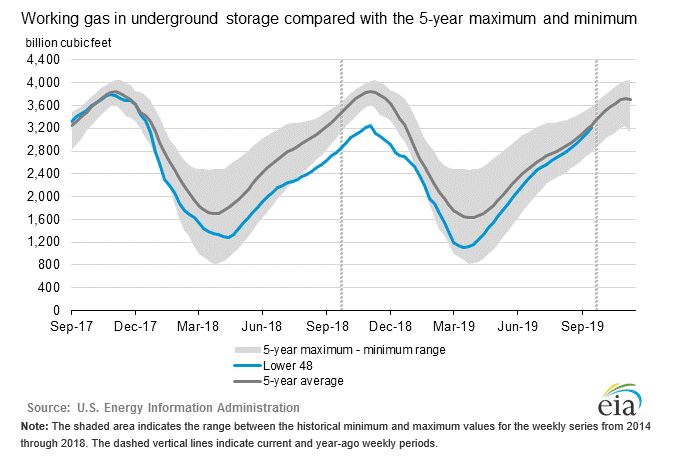 The EIA reported a net increase of 102 Bcf from the previous week. This is the largest September storage build in the last three years. This beat the consensus, which was expected to show a build of around 90 Bcf. The build also doubled last year's injection of 51 Bcf. Storage now stands just a mere 1.4% below the 5-year average.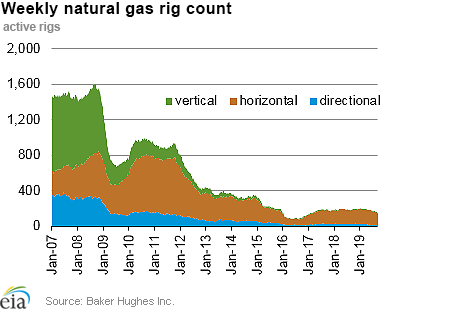 The Baker Hughes exploration gas rig count decreased 2 rigs from last week, for a total of 146 rigs. This is 43 less rigs than were in operation at this time one year ago when there were 189 rigs.
Weather Update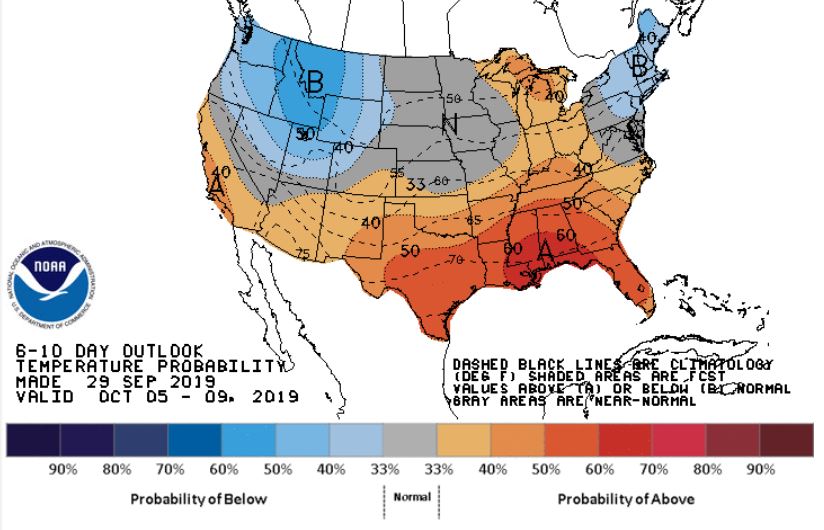 It appears the Northeast may finally see some reprieve from the extended period of heat that has blanketed the region. The beginning to middle October appears to be more normal along the East Coast, while temperatures in the South are still forecasted to remain above normal for this time of the year.
National Weather Service Updates (NOAA)
Hurricane Watch: Hurricane Lorenzo
Click here to view the National Hurricane Center site.
Equatorial Pacific Outlook:
Click here to view La Nina and El Nino status.
Energy News
Duke Energy will seek to renew nuclear plant licenses to support its carbon reduction goals
CHARLOTTE, N.C., Sept. 19, 2019 /PRNewswire/ — Duke Energy (NYSE: DUK) announced today it will seek to renew the operating licenses of the 11 reactors it operates at six nuclear stations in the Carolinas for an additional 20 years.
If you would like to receive the Energy Market Update to your inbox weekly, please click here to submit your name and email address.
Disclaimer: This information is provided for the use of our customers and potential customers. Power Management Company assumes no responsibility or liability for the accuracy or completeness of pricing or information in this document. Historical data was obtained from sources that we believe to be reliable, but we do not guarantee its accuracy or completeness. It is not intended to provide advice or recommendation. Views are subject to change without notice.