Electricity Markets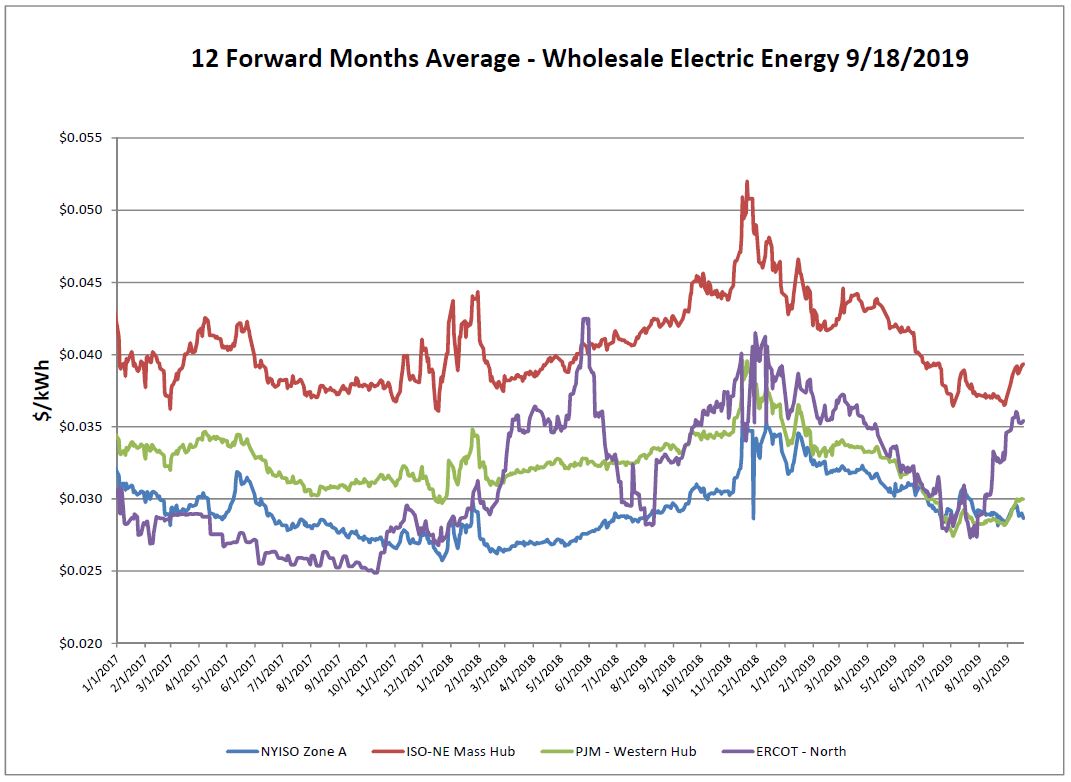 PJM & ISO-NE saw upward movement on the electric markets while ERCOT retreated slightly before also moving up again. NYISO on the other hand moved down.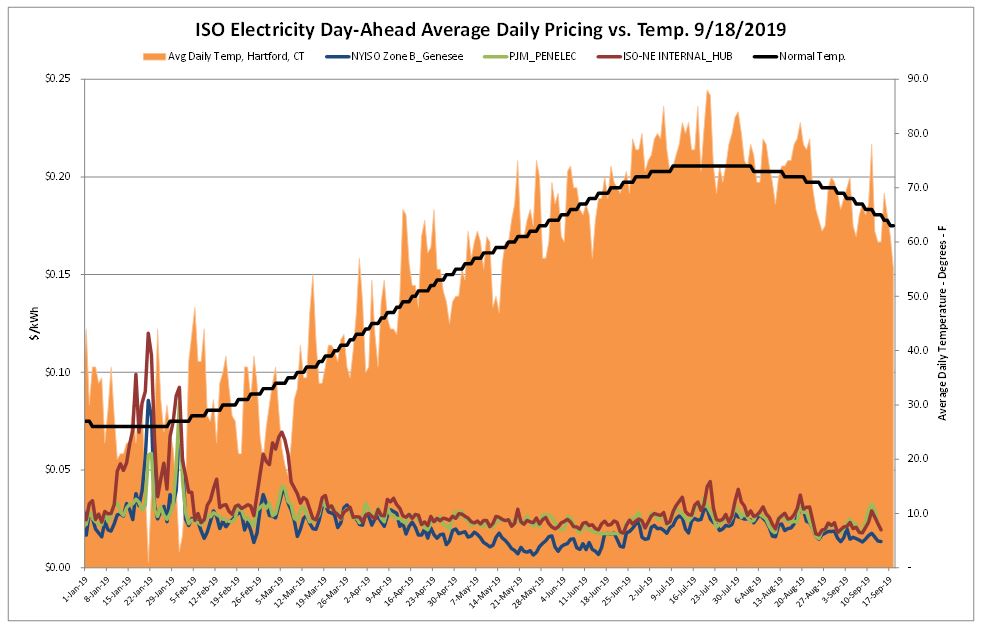 Temperatures moved up and down over the report week leading to some slight volatility on the day-ahead market.
Natural Gas Markets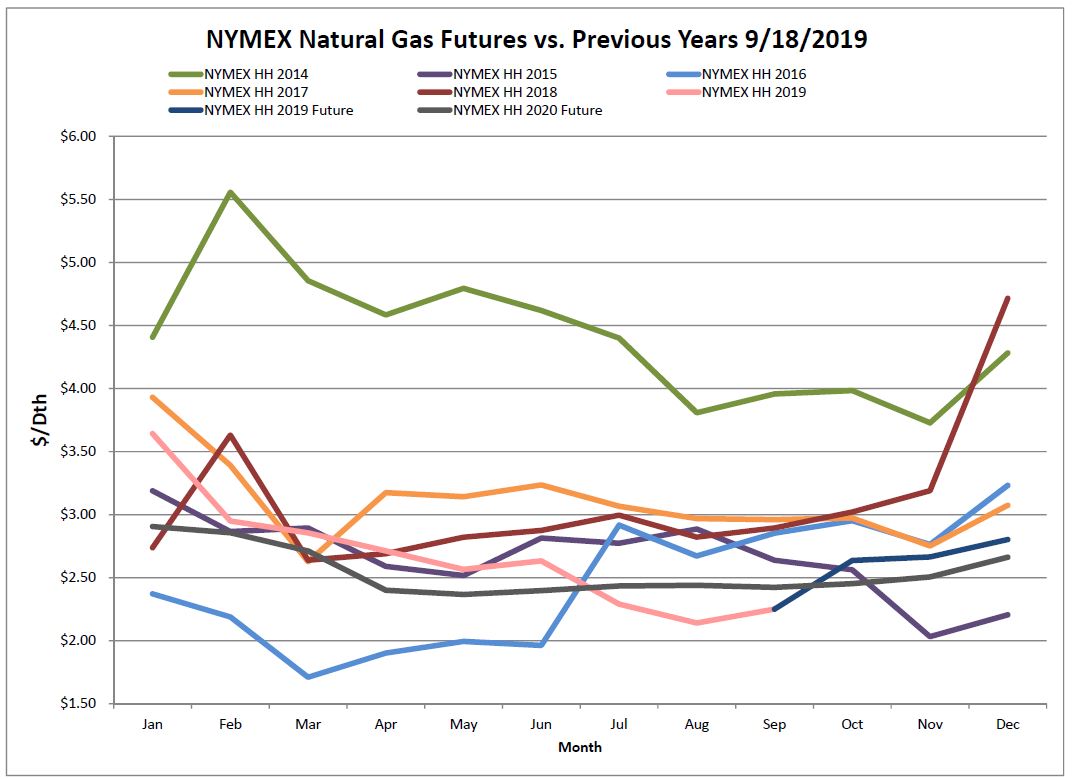 The NYMEX rallied over the report week on the heels of warm weather and the attack on Saudi Arabia.
The Saudi strike caused the largest oil disruption in history, taking 5% of global supply offline. After a price surge, oil softened on Saudi reports that lost output will resume quicker than initially expected. However Saudi Arabia's ability to prevent a global oil supply crunch may only become clear in a few weeks, as for now the analysts believe the crude held in storage can fill the gap, masking the scale of damage to its facilities. In general, this political risk on oil ties back into a premium on natural gas.
While summer started slow, it seems to be ending hot. Widespread heat across the nation has driven up cooling demand to the highest levels ever recorded in September. The weather is driving demand on the power generation side, taking storage from bearish to neutral. Winter outlooks should be released over the coming weeks. Pending the forecasts, this could further contribute to the market rally.
Six-Month Natural Gas Futures
Futures as of 9/18/2019 versus previous week:
| | | |
| --- | --- | --- |
| Oct-19 | $2.637 | +$0.062 |
| Nov-19 | $2.665 | +$0.059 |
| Dec-19 | $2.803 | +$0.041 |
| Jan-20 | $2.906 | +$0.047 |
| Feb-20 | $2.857 | +$0.044 |
| Mar-20 | $2.712 | +$0.032 |
Natural Gas Inventory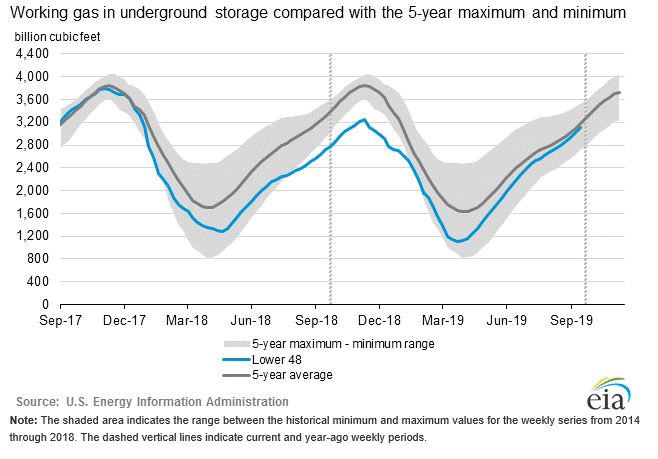 According to EIA estimates a net increase of 84 Bcf from the previous week was reported. Working gas in storage was 3,103 Bcf as of Friday, September 13, 2019. With about 8 weeks left in injection season, injections would need to average 96 Bcf/week to meet EIA energy outlook predictions of ending the season at 3,792 Bcf. An extension of summer cooling in September supporting power burn may hinder this.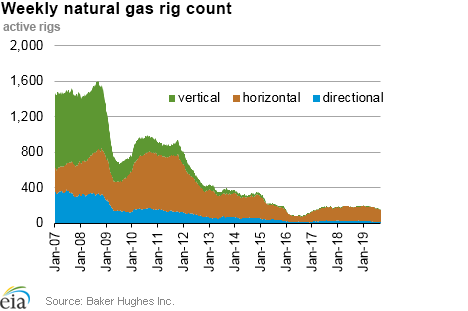 The Baker Hughes exploration gas rig count decreased 5 rigs from last week, for a total of 148 rigs. This is 38 less rigs than were in operation at this time one year ago when there were 186 rigs.
Production has previously been increasing on average 8% year over year. However more recently, (Jan '19 to present) production has leveled off, and been almost flat year to date. The drop in production has been due in part to banks/lenders which have become increasingly less willing to give capital to drillers.
Weather Update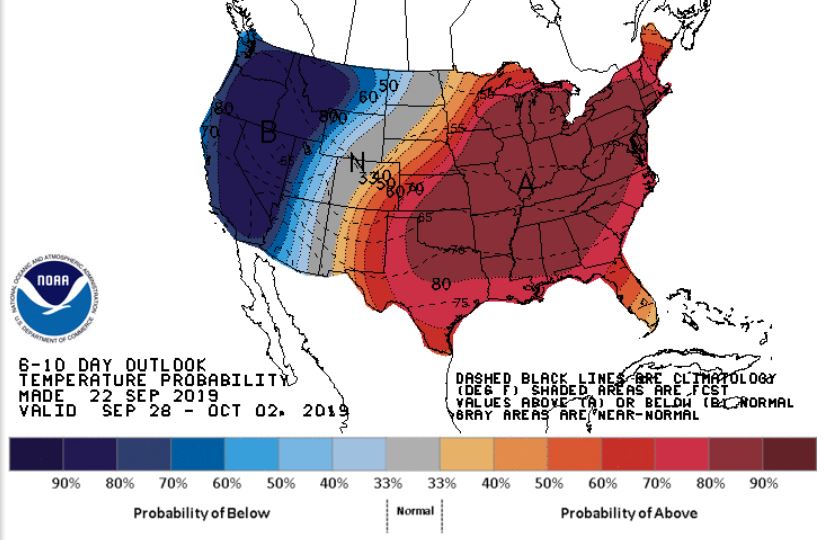 Overall, the summer of 2019 was the 6th hottest on record. ISO- NE had the hottest July on record. As September concludes, very warm temperatures are anticipated to linger for the Eastern two-thirds of the CONUS. Major demand centers along the east coast and down into Texas will see demand continue to flourish for this time of year. Conversely, the west coast is very likely to see a very cool end to September. Pacific water temperatures have been cooling the last 3-4 weeks, leading to a borderline La Nina. Fall is thus far expected to have milder temperatures, and likely won't see the cold experienced last year.
National Weather Service Updates (NOAA)
Hurricane Watch: None Active
Click here to view the National Hurricane Center site.
Equatorial Pacific Outlook:
Click here to view La Nina and El Nino status.
Energy News
Three Mile Island, where a meltdown forever changed nuclear energy in America, shuts down Friday
MIDDLETOWN, PA – Even 40 years later, John Garver vividly remembers the metallic taste of the nation's worst commercial nuclear disaster.
Millstone, utilities finalize 10-year contract
Sep. 18–WATERFORD — State regulators recently approved a 10-year contract between the owner of Millstone Power Station and utility companies, effectively ending the years long political, regulatory and environmental battles to keep the plant operational.  
If you would like to receive the Energy Market Update to your inbox weekly, please click here to submit your name and email address.
Disclaimer: This information is provided for the use of our customers and potential customers. Power Management Company assumes no responsibility or liability for the accuracy or completeness of pricing or information in this document. Historical data was obtained from sources that we believe to be reliable, but we do not guarantee its accuracy or completeness. It is not intended to provide advice or recommendation. Views are subject to change without notice.