Electricity Markets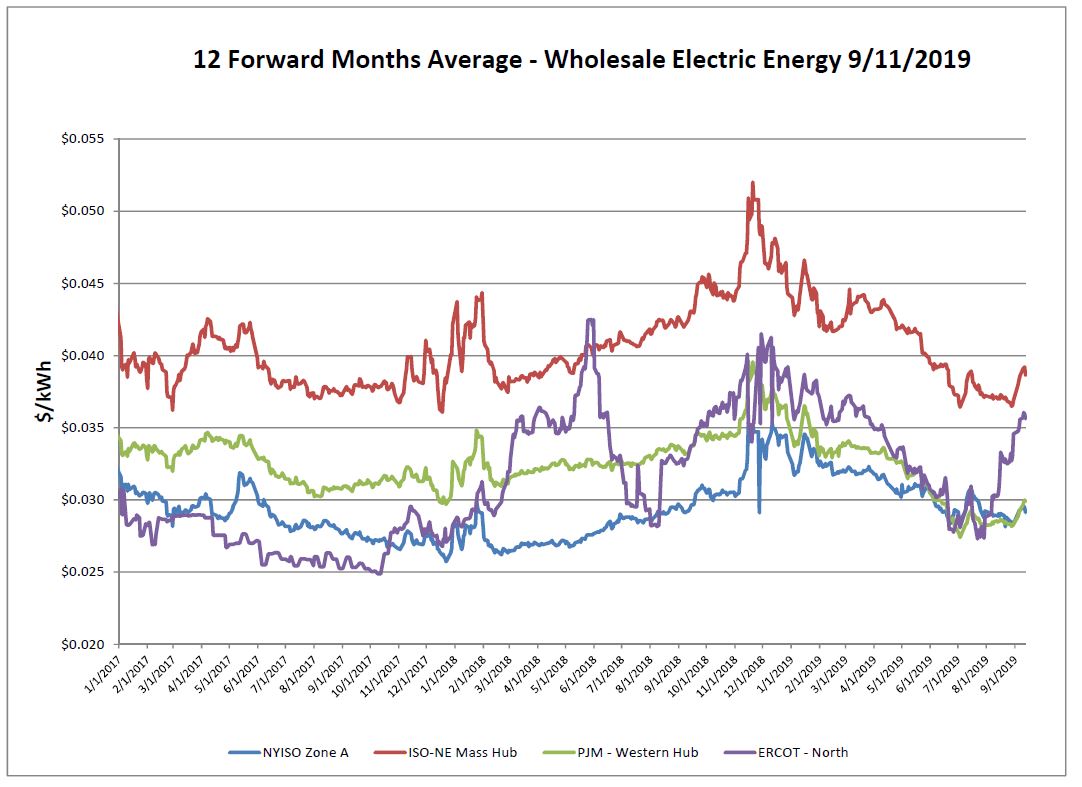 Electric has continued a slow and steady increase driven up by natural gas prices, trailing off slightly before the end of the report week. ERCOT continues to face concerns over enough generation to meet the needed load. In addition to the population growth in Texas, with no capacity market, and a large amount of wind generation when hot whether persists as it has, the windmills do no produce at optimal levels and more expensive generation is needed to meet the load. Thus, leading to the run up we have seen since mid- summer.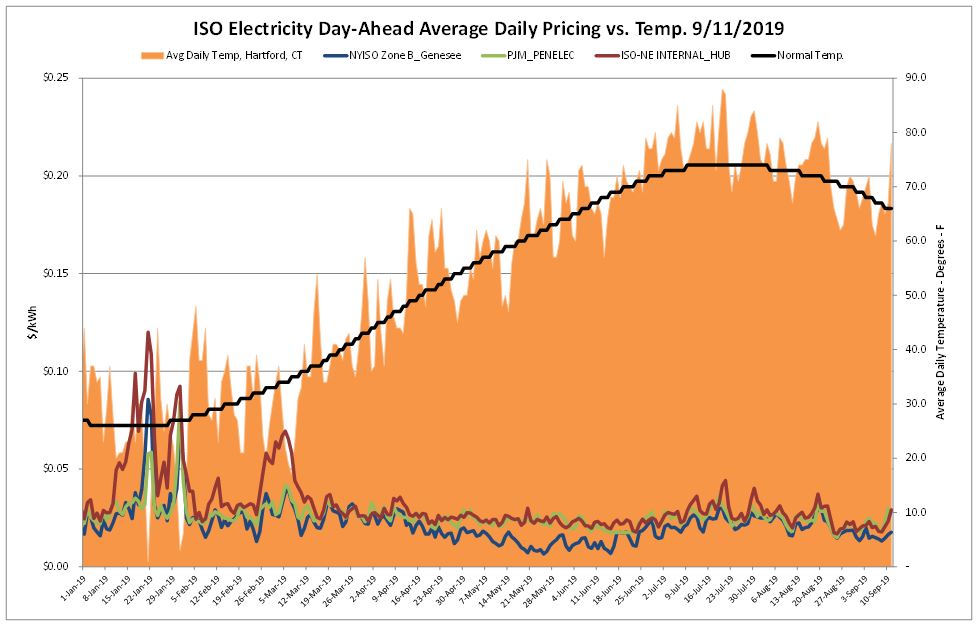 Day-ahead prices spiked slightly at the end of the report week as warmer than normal temperatures blanketed the major demand centers.
Natural Gas Markets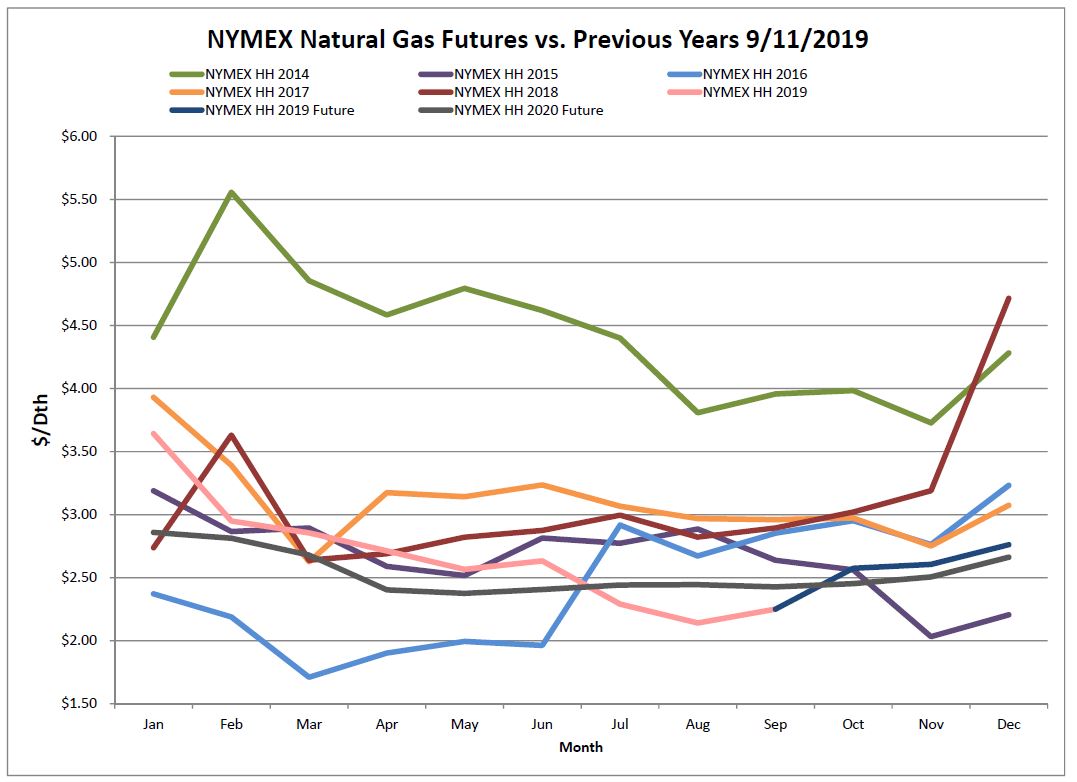 Much of the East Coast, Midwest, and Texas were blanketed with heat leading to elevated demand for this time of year. Nearly all of the weakness from May through August has been erased. The price of the October 2019 NYMEX contract increased $0.11. The price of the 12-month strip averaging October 2019 through September 2020 futures contracts climbed $0.09 to $2.561.
Six-Month Natural Gas Futures
Futures as of 9/11/2019 versus previous week:
| | | |
| --- | --- | --- |
| Oct-19 | $2.575 | +$0.130 |
| Nov-19 | $2.606 | +$0.114 |
| Dec-19 | $2.762 | +$0.131 |
| Jan-20 | $2.859 | +$0.132 |
| Feb-20 | $2.813 | +$0.123 |
| Mar-20 | $2.680 | +$0.092 |
Natural Gas Inventory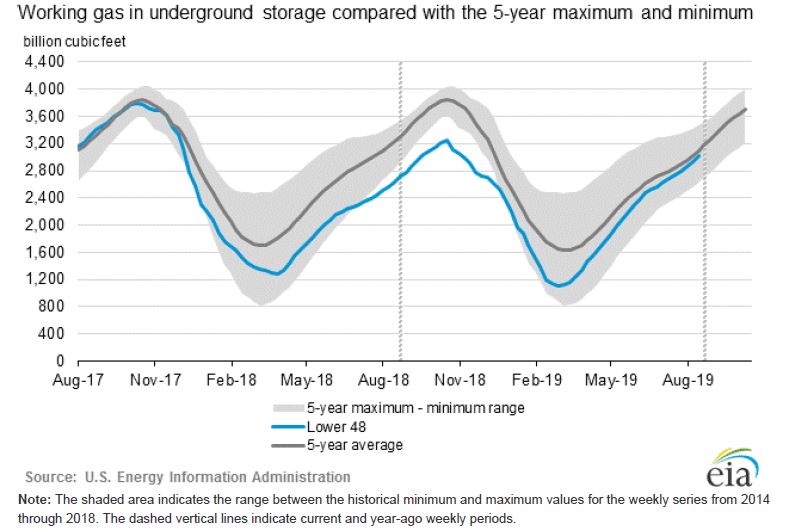 As of Friday, September 6, 2019, working gas in storage was 3,019 Bcf. According to EIA estimates this represents a net increase of 78 Bcf from the previous week. This is a bit below market expectations. Current levels are 15% more than the year-ago level and 2% lower than the five-year average for this week.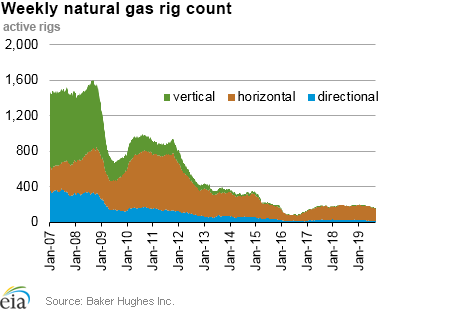 The Baker Hughes exploration gas rig count decreased 7 rigs from last week, for a total of 153 rigs. This is 33 less rigs than were in operation at this time one year ago when there were 186 rigs.
Weather Update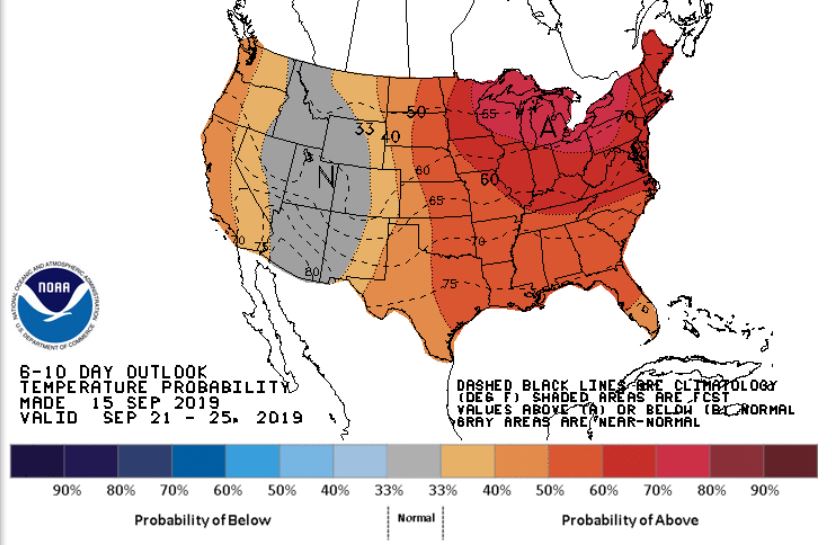 Weather forecasts are projecting more heat, especially for the eastern half of the U.S. So far this month, we are on track to reach the hottest September on record if these temperatures continue to persist.
National Weather Service Updates (NOAA)
Hurricane Watch: Hurricane Humberto & Hurricane Kiko
Click here to view the National Hurricane Center site.
Equatorial Pacific Outlook:
Click here to view La Nina and El Nino status.
Energy News
Searing heat sends Texas electricity prices to scorching $6,500 a megawatt hour
Texas' grid operator has been warning for months that plant retirements and increasing electricity demand has left it with slim supply margins
Cuomo on Constitution Pipeline: 'Any way that we can challenge it, we will'
ALBANY – Gov. Andrew Cuomo on Friday said New York will continue its fight against the Constitution Pipeline after federal regulators ruled last week the state waived its right to deny the project a key water permit.
If you would like to receive the Energy Market Update to your inbox weekly, please click here to submit your name and email address.
Disclaimer: This information is provided for the use of our customers and potential customers. Power Management Company assumes no responsibility or liability for the accuracy or completeness of pricing or information in this document. Historical data was obtained from sources that we believe to be reliable, but we do not guarantee its accuracy or completeness. It is not intended to provide advice or recommendation. Views are subject to change without notice.