Electricity Markets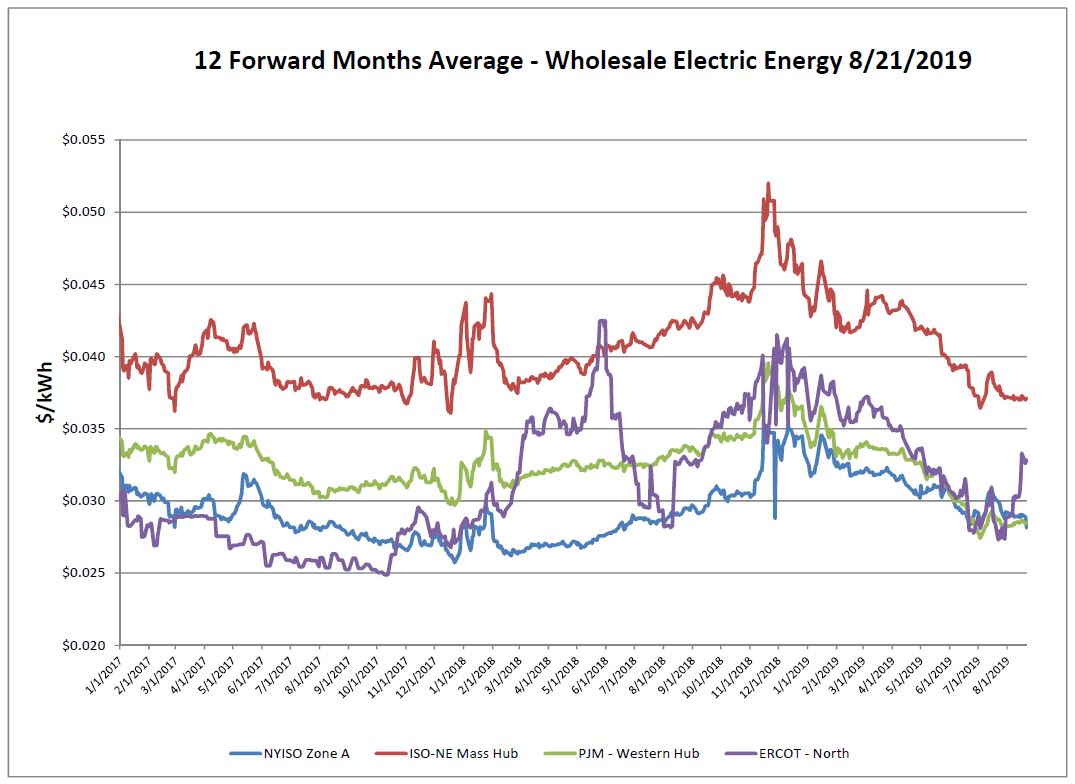 Energy pricing has remained largely flat over this last week throughout NY, NE, and PJM. The most volatility continues to be seen in Texas as they experience warmer than normal summer temperatures.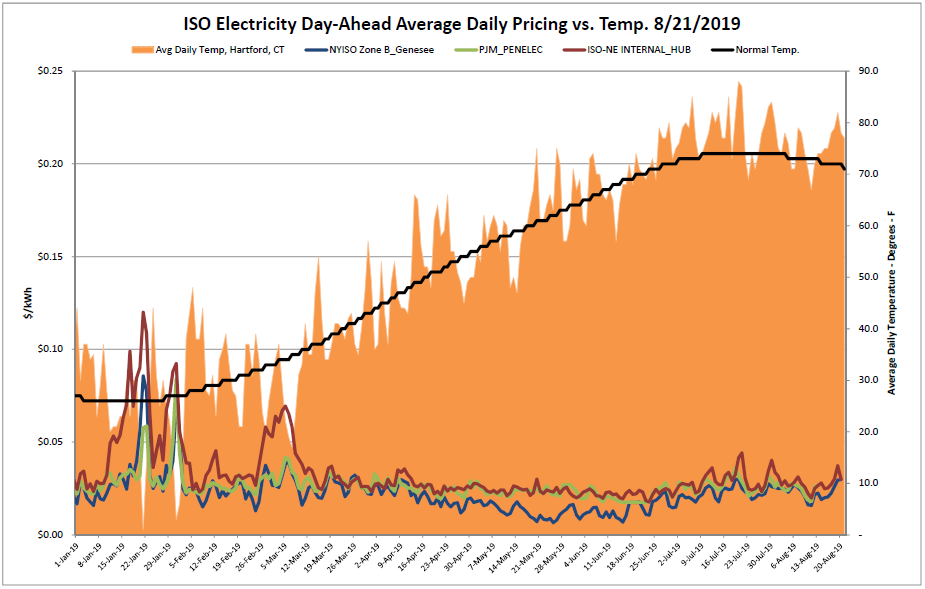 Warmer than average temperatures across all regions have brought on expected volatility in the daily markets. Pricing across markets continues to be nearly in-line with one another as we progress through similar weather events.
Natural Gas Markets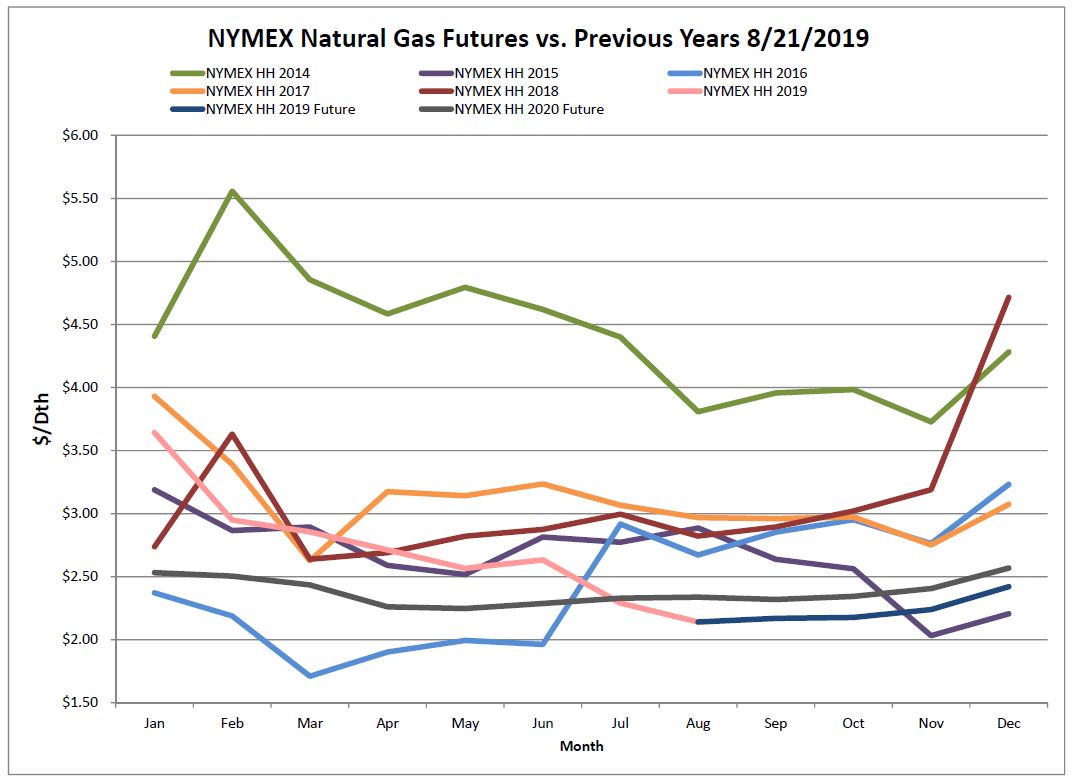 Another higher-than-average natural gas injection has maintained downward pressure on the markets. The Algonquin Basis remained flat and the NYMEX gained $.01/dth in the forward 12M average. Pricing continues to be exceedingly favorable out into the future.
Six-Month Natural Gas Futures
Futures as of 8/21/2019 versus previous week:
| | | |
| --- | --- | --- |
| Sep-19 | $2.17 | +$0.027 |
| Oct-19 | $2.177 | +$0.023 |
| Nov-19 | $2.239 | +$0.011 |
| Dec-19 | $2.421 | +$0.005 |
| Jan-20 | $2.532 | +$0.003 |
| Feb-20 | $2.505 | +$0.002 |
Natural Gas Inventory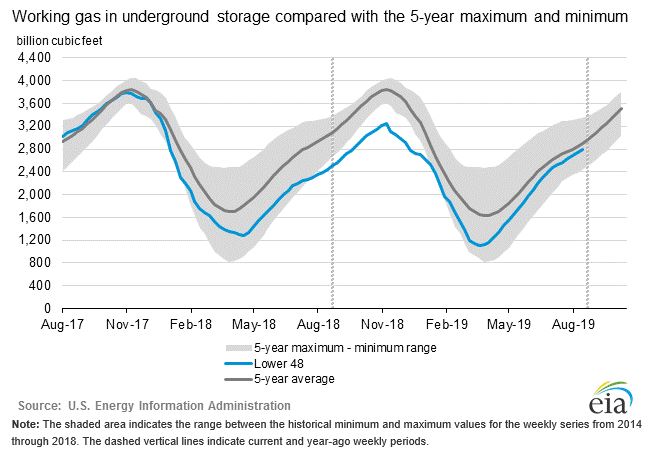 The EIA reported a net injection of 59 Bcf from the previous week; this was on par with market expectations. Storage levels now stand at 2,797 Bcf. This is 15.2% above last year at this time, but still 3.6% below the five-year average. Injections continue to out-perform the 5-year average rate and close the gap between current levels and the 5-year average.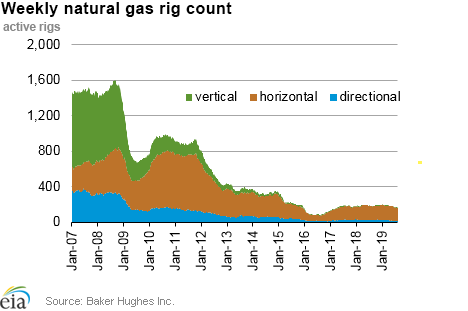 The Baker Hughes exploration gas rig count decreased 4 rigs from last week for a total of 165 rigs. This is 21 less rigs than were in operation at this time one year ago when there were 186 rigs.
Weather Update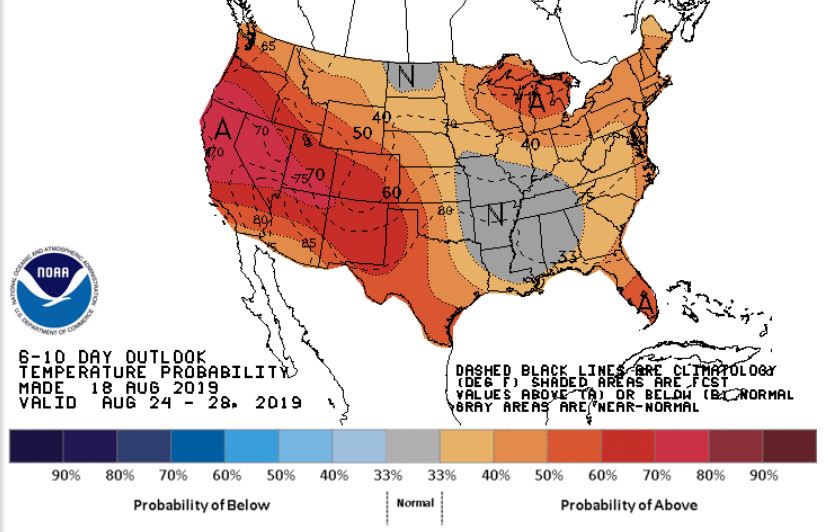 The NOAA 6-10 day outlook anticipates temperatures to remain above average along the edge of the East Coast, Southern Texas up to Montana, and the West Coast. Below average temperatures are expected throughout most of the Central US.
National Weather Service Updates (NOAA)
Hurricane Watch- Tropical Storm Dorian
Click here to view the National Hurricane Center site.
Equatorial Pacific Outlook:
Click here to view La Nina and El Nino status.
Energy News
Connecticut tops continental U.S. in electricity prices: what gives? Aug. 18–When David Watson looked down at his utility bill in 2003, the last year he lived in Boise, Idaho, electricity cost about 8 cents per kilowatt hour.   If you would like to receive the Energy Market Update to your inbox weekly, please click here to submit your name and email address. Disclaimer: This information is provided for the use of our customers and potential customers. Power Management Company assumes no responsibility or liability for the accuracy or completeness of pricing or information in this document. Historical data was obtained from sources that we believe to be reliable, but we do not guarantee its accuracy or completeness. It is not intended to provide advice or recommendation. Views are subject to change without notice.