Electricity Markets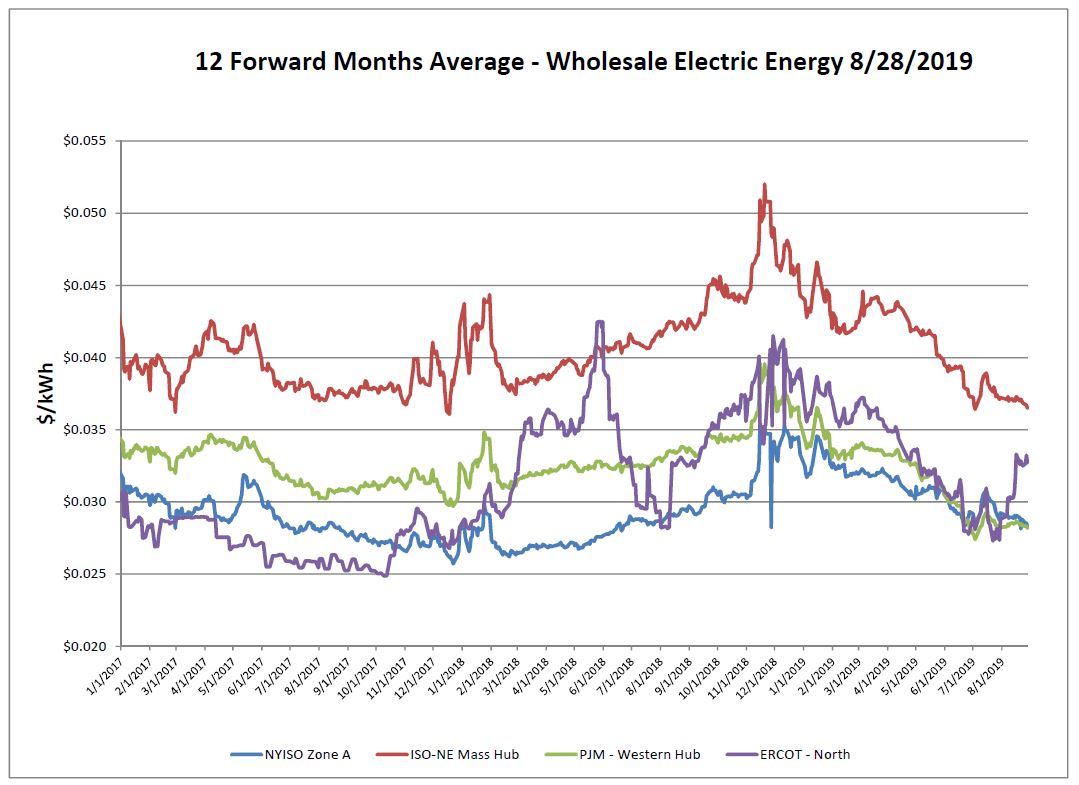 ISO-NE electric prices continues to fall, remaining favorable for those who have yet to secure hedging positions moving into the winter season. NYISO was also down on the heels of cooler weather. PJM was flat while ERCOT experienced elevated prices and continues to remain volatile with the presences of hotter temperatures.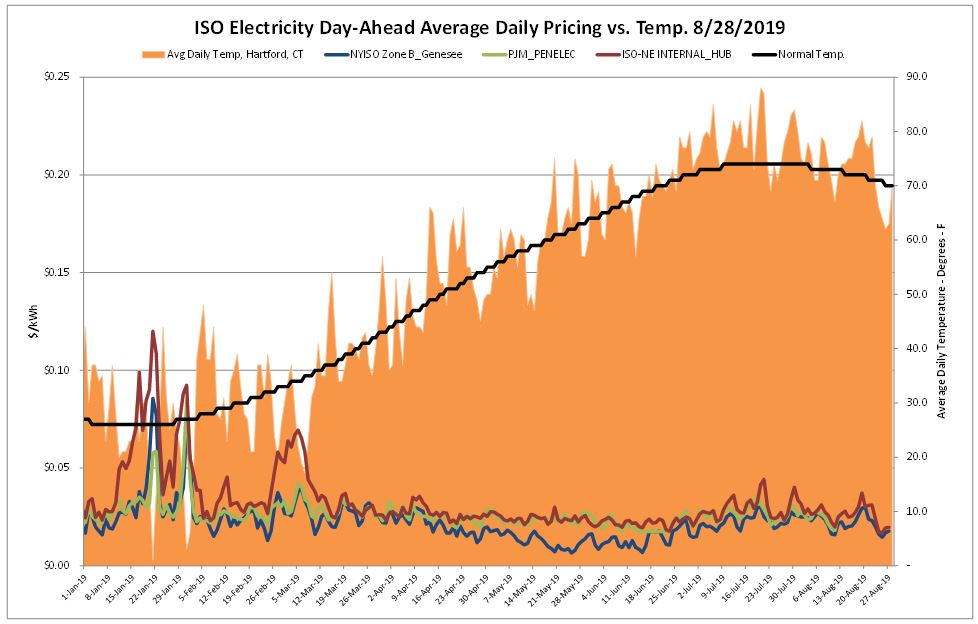 Moderated weather over the report week led to decreased strain on the system, and all zone were down.
Natural Gas Markets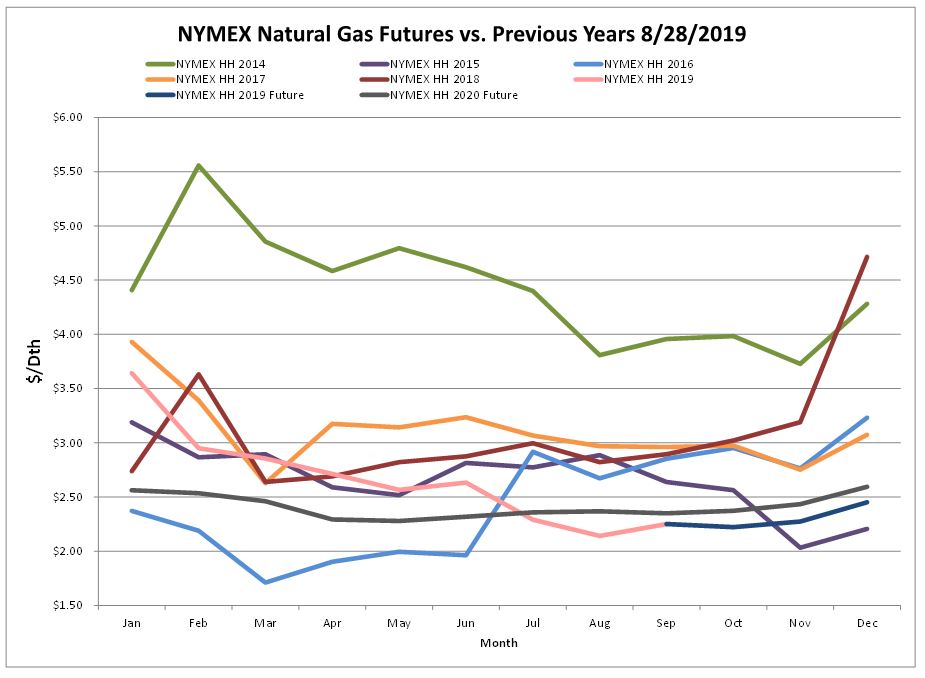 There was volatility around market close as many times is the case. September '19 finished up almost five cents and settled at $2.251. The NYMEX 12-month strip was up $.04, while the Algonquin basis fell $.04. As peak hurricane season commences, any impact of these storms will be present over the next few months.  
Six-Month Natural Gas Futures
Futures as of 8/28/2019 versus previous week:
| | | |
| --- | --- | --- |
| Oct-19 | $2.222 | +$0.045 |
| Nov-19 | $2.274 | +$0.035 |
| Dec-19 | $2.452 | +$0.031 |
| Jan-20 | $2.562 | +$0.030 |
| Feb-20 | $2.535 | +$0.030 |
| Mar-20 | $2.461 | +$0.026 |
Natural Gas Inventory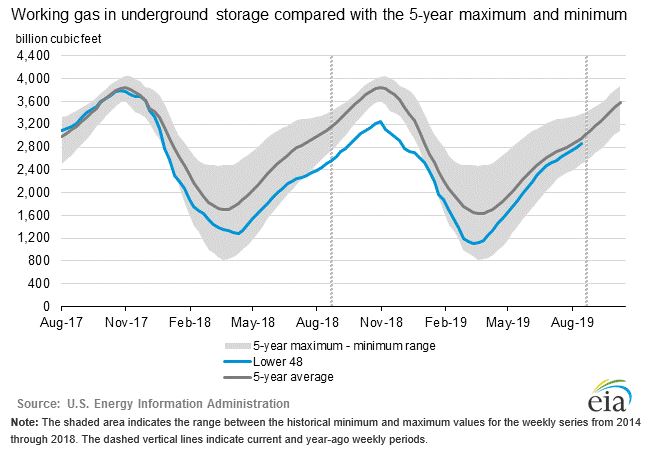 The EIA reported a net increase of 60 Bcf from the previous week. Working gas in storage was 2,857 Bcf as of Friday, August 23, 2019. As demand and temperatures moderates through the balance of summer, strong gas production should allow for some sizable injections into storage in the coming weeks. The market is projecting the end of season storage amount to come in near 3.76 Tcf, much in-line with the five-year average and a comfortable amount of gas heading into winter.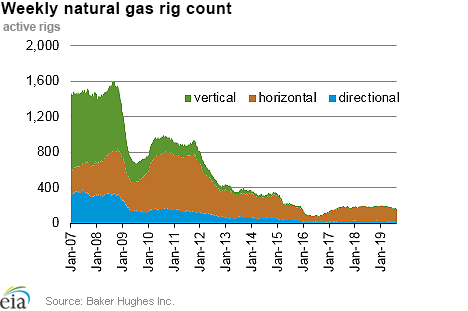 The Baker Hughes exploration gas rig count was unchanged from last week, remaining constant for a total of 162 rigs. This is 22 less rigs than were in operation at this time one year ago when there were 184 rigs.
Weather Update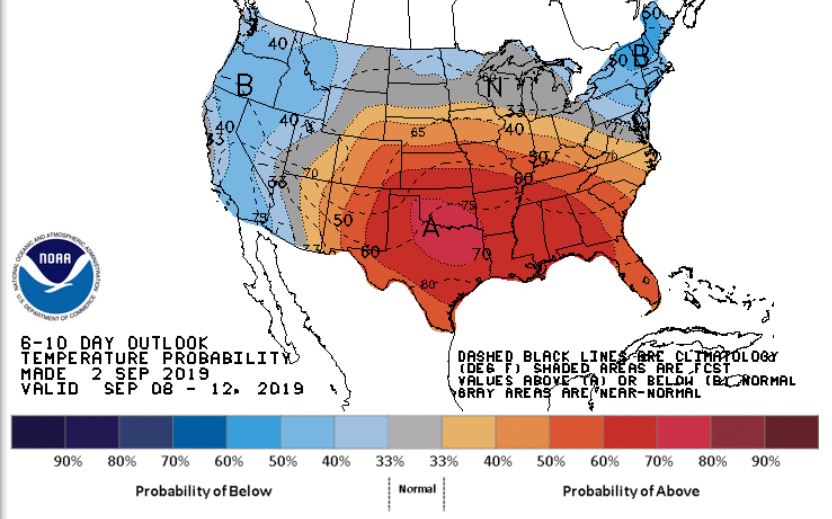 Cooler-than-average weather conditions are expected across the Northeast and West Coast for the first half of September. Moderately-above-normal temperatures are expected across the southern portions of the U.S. 
National Weather Service Updates (NOAA)
Hurricane Watch- Hurricane Dorian, Hurricane Juliette
Click here to view the National Hurricane Center site.
Equatorial Pacific Outlook:
Click here to view La Nina and El Nino status.
Energy News
Expect a 'Polar Coaster' and really cold temperatures this winter, the Farmers' Almanac says
(CNN)Freezing. Frigid. Frosty. That's what you can expect this winter if you're in the United States, according to the Farmers' Almanac.
If you would like to receive the Energy Market Update to your inbox weekly, please click here to submit your name and email address.
Disclaimer: This information is provided for the use of our customers and potential customers. Power Management Company assumes no responsibility or liability for the accuracy or completeness of pricing or information in this document. Historical data was obtained from sources that we believe to be reliable, but we do not guarantee its accuracy or completeness. It is not intended to provide advice or recommendation. Views are subject to change without notice.