Electricity Markets
ERCOT set a new all-time peak demand record at 74,531 MW. Although Texas has seen some volatility amid the heat, they seem to be handling well versus the previous highs experienced last year when temperatures soared. NYISO, ISO-NE and PJM all remained fairly flat over the report week.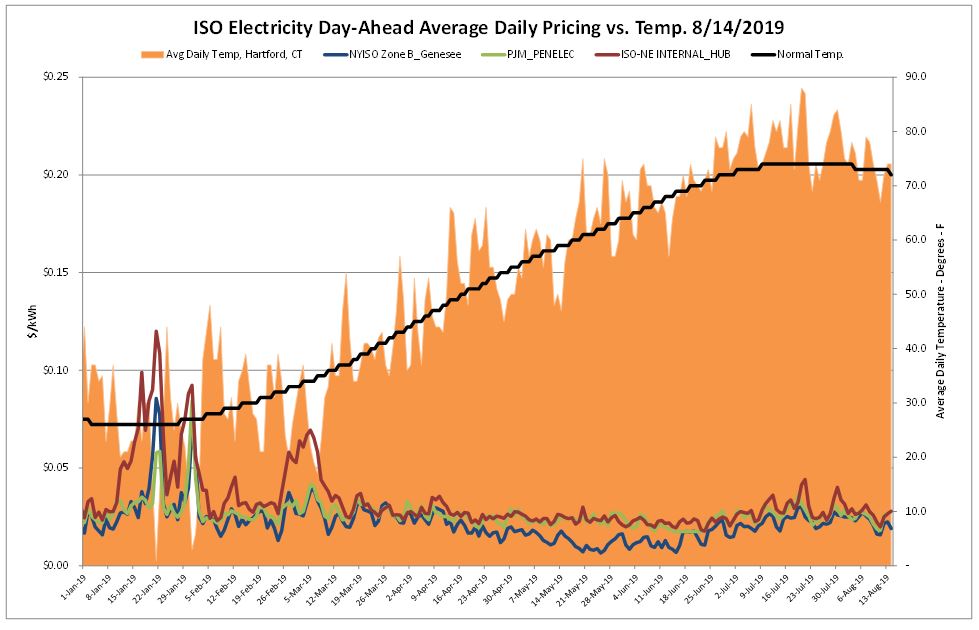 Weather has been mild except in Texas and the Southeast, which experienced warmer-than-normal temperatures. Markets continue to be tightly tied together during the summer, and the daily price difference between zones is more apparent during winter months.
Natural Gas Markets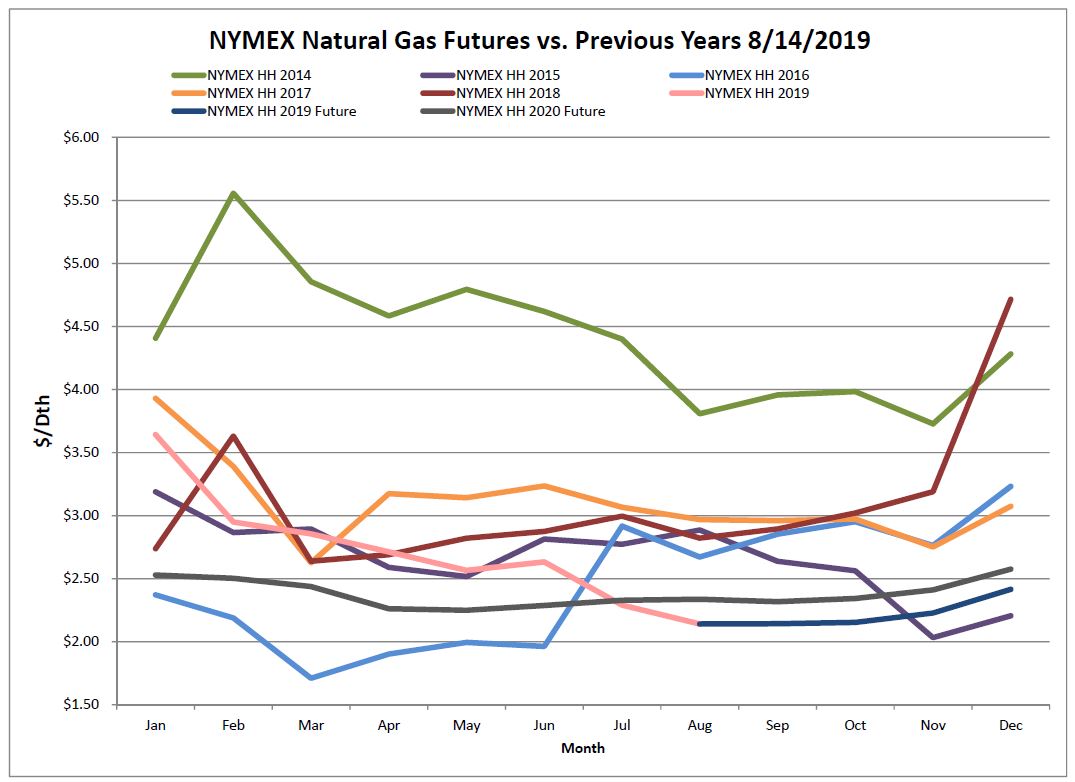 Record levels of natural gas production growth continue to put downward pressure on prices. Despite high levels of natural gas exports and increased consumption in the electric generation sector prices have continued to decline this summer.
The September 2019 NYMEX contract increased $.06 from last Wednesday while the price of the 12-month strip averaging September 2019 through August 2020 futures contracts rose $.02. The Algonquin basis 12-month strip down was down $.03. While prices remain attractive, don't lose sight of how quickly things can change as they had last November and December when the settlements increased sharply. Still a good time to hedge against this type of extreme run up.
Six-Month Natural Gas Futures
Futures as of 8/14/2019 versus previous week:
| | | |
| --- | --- | --- |
| Sep-19 | $2.143 | +$0.060 |
| Oct-19 | $2.154 | +$0.055 |
| Nov-19 | $2.228 | +$0.044 |
| Dec-19 | $2.416 | +$0.038 |
| Jan-20 | $2.529 | +$0.021 |
| Feb-20 | $2.503 | +$0.017 |
Natural Gas Inventory

The EIA reported a net injection of 49 Bcf from the previous week. This was about 10 Bcf less than the market anticipated. Storage levels now stand at 2,738 Bcf. This is 15% above last year at this time, but still 3.9% below the five-year average. The average rate of net injections into storage is 32% higher than the five-year average so far in the refill season.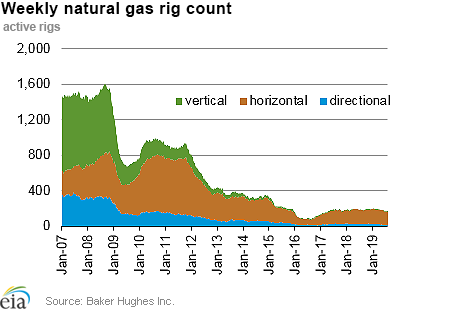 The Baker Hughes exploration gas rig count decreased 4 rigs from last week for a total of 165 rigs. This is 21 less rigs than were in operation at this time one year ago when there were 186 rigs.
Weather Update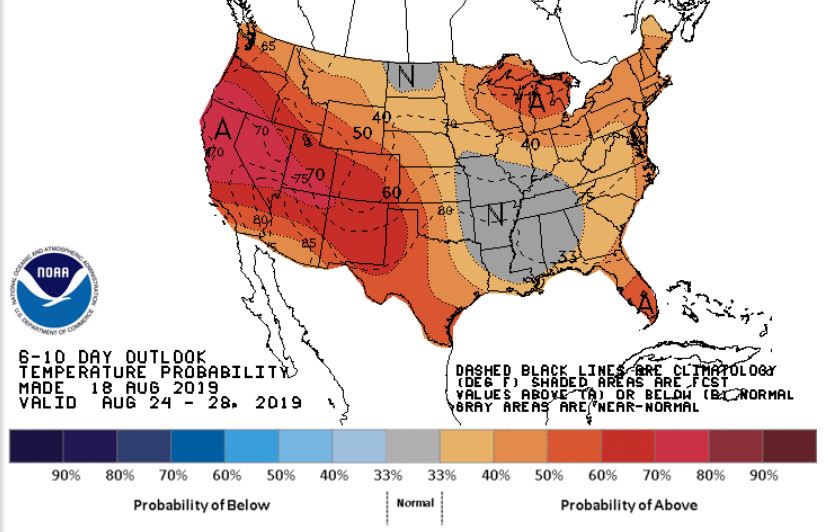 The NOAA 6-10 day outlook anticipates temperatures to remain above average for most of the CONUS. The West Coast and Texas will experience some increased heat through the end of August.
National Weather Service Updates (NOAA)
Hurricane Watch- No Hurricane Activity
Click here to view the National Hurricane Center site.
Equatorial Pacific Outlook:
Click here to view La Nina and El Nino status.
Energy News
Rising electricity prices to come as wind, solar mandates increase
California continues to lead the nation in mandating the deployment of wind and solar power. Unfortunately, that translates into rising electricity costs that are now poised to climb higher. It's a development that should concern families in every state.  
If you would like to receive the Energy Market Update to your inbox weekly, please click here to submit your name and email address.
Disclaimer: This information is provided for the use of our customers and potential customers. Power Management Company assumes no responsibility or liability for the accuracy or completeness of pricing or information in this document. Historical data was obtained from sources that we believe to be reliable, but we do not guarantee its accuracy or completeness. It is not intended to provide advice or recommendation. Views are subject to change without notice.