Electricity Markets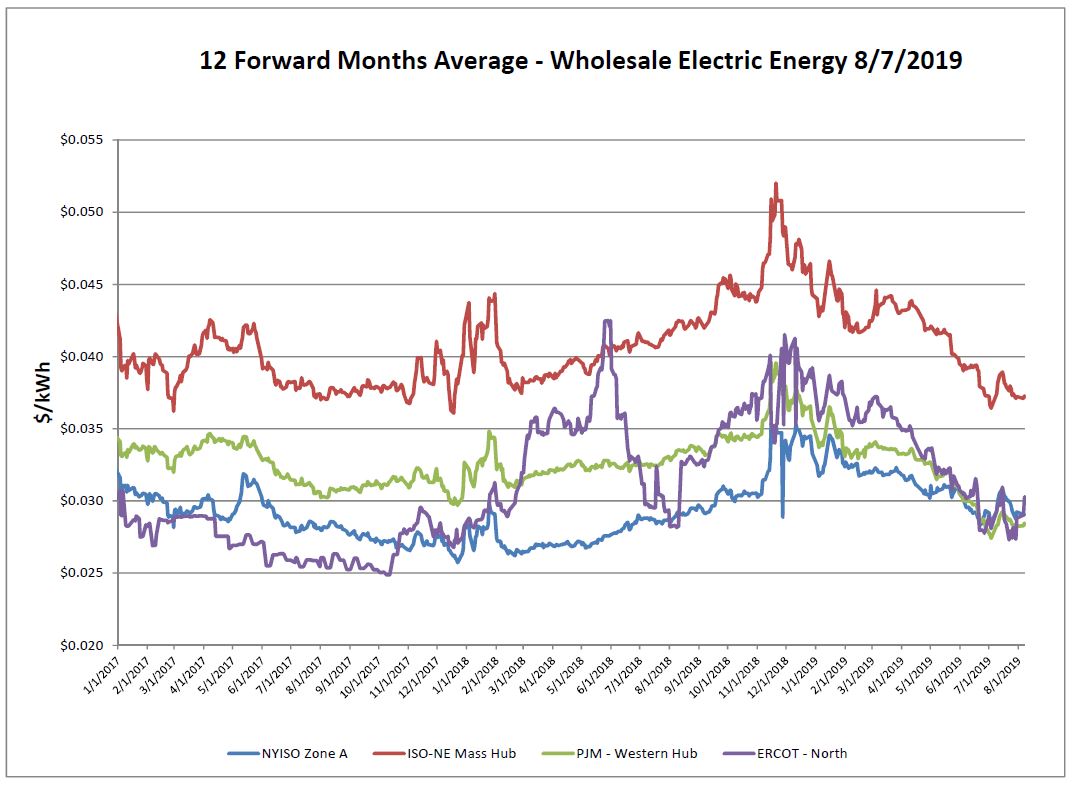 ERCOT electric prices continued to show summer volatility pressure over the report week. The other ISO's were mostly flat with minimal movement in any direction.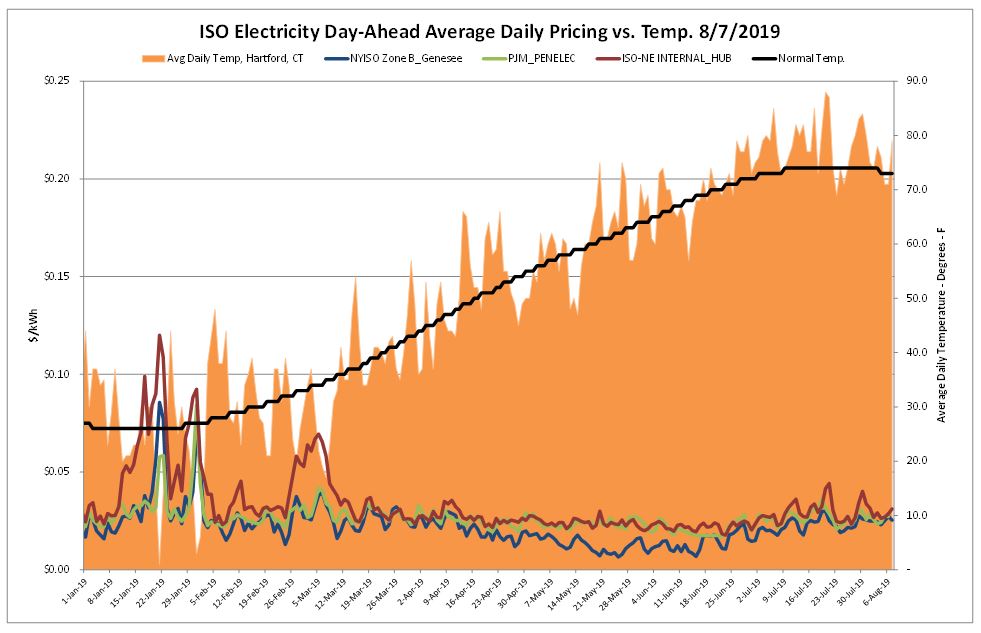 Day-ahead electric prices softened a bit on the heels of some milder weather.
Natural Gas Markets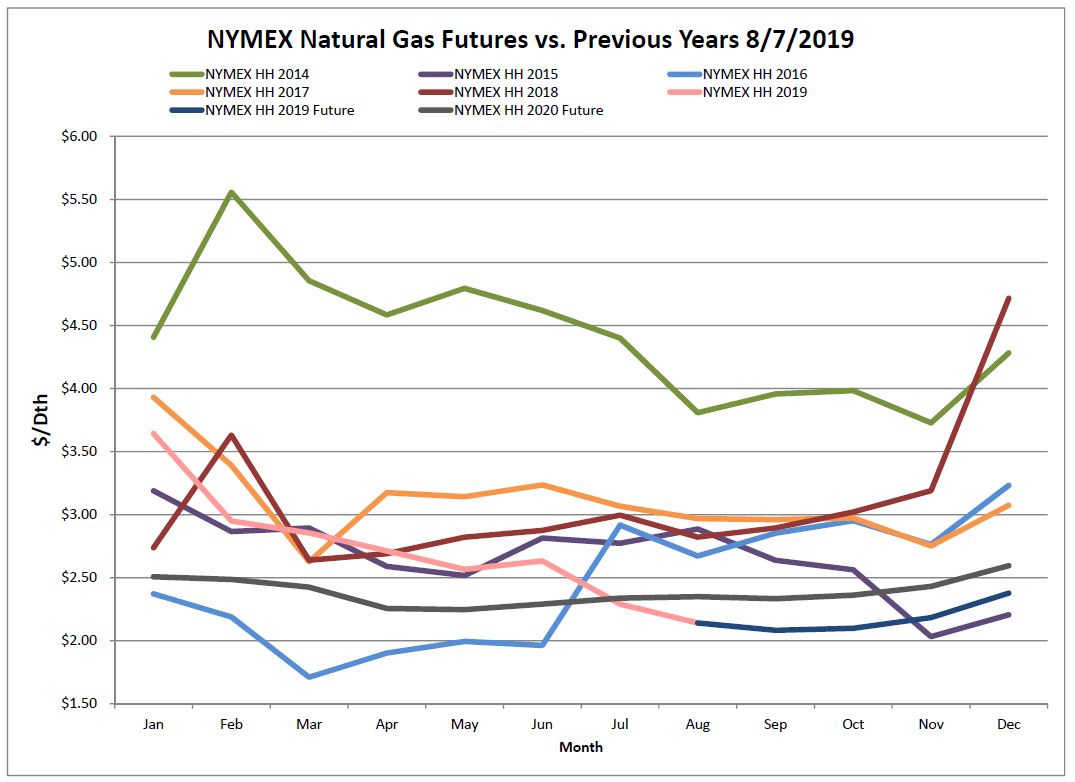 Northeast temperatures were slightly cooler than normal, moderating cooling demand. Downward movement was seen across the natural gas market after multiple days of record-breaking high production levels. At the NYMEX the price of the September 2019 contract decreased 15 cents while the price of the 12-month strip averaging September 2019 through August 2020 futures contracts declined 12 cents.
Six-Month Natural Gas Futures
Futures as of 8/7/2019 versus previous week:
| | | |
| --- | --- | --- |
| Sep-19 | $2.083 | -$0.150 |
| Oct-19 | $2.099 | -$0.151 |
| Nov-19 | $2.184 | -$0.146 |
| Dec-19 | $2.378 | -$0.142 |
| Jan-20 | $2.508 | -$0.133 |
| Feb-20 | $2.486 | -$0.125 |
Natural Gas Inventory

As of Friday, August 2, 2019, working gas in storage was 2,689 Bcf. According to EIA estimates this represents a net increase of 55 Bcf from the previous week. This total is 15% more than the year-ago level and 4% lower than the five-year average for this week.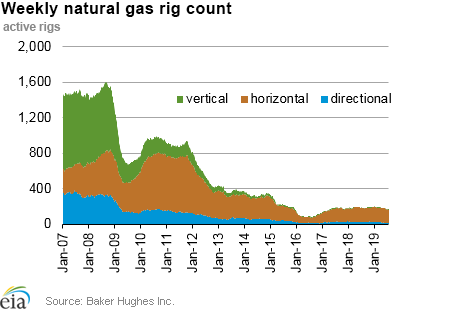 The Baker Hughes exploration gas rig count decreased 2 rigs from last week for a total of 169 rigs. This is 17 less rigs than were in operation at this time one year ago when there were 186 rigs.
Weather Update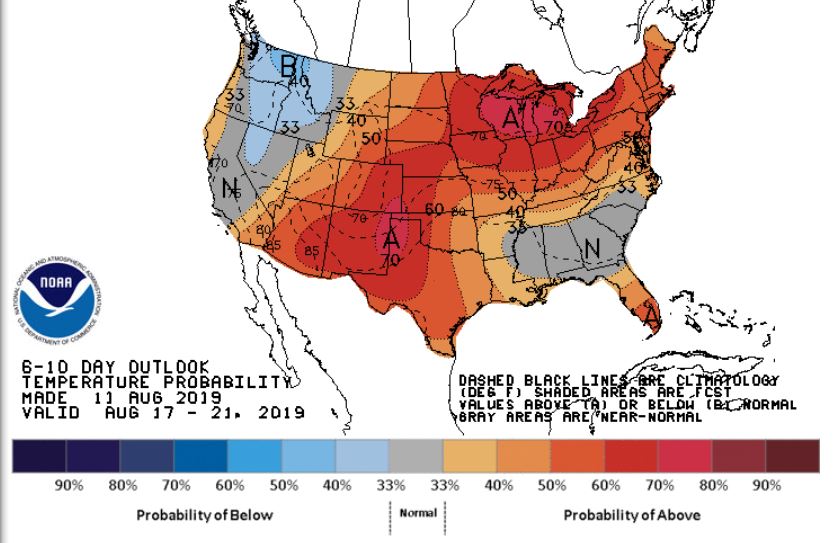 More above-average temperatures are expected for the majority of the CONUS, especially the major demand areas moving into the third week of August. The West Coast appears to be the only exception to the ongoing summer heat.
National Weather Service Updates (NOAA)
Hurricane Watch- No Hurricane Activity
Click here to view the National Hurricane Center site.
Equatorial Pacific Outlook:
Click here to view La Nina and El Nino status.
Energy News
United States sets new daily record high for natural gas use in the power sector The United States likely set a new daily record on Friday, July 19, of 44.5 billion cubic feet (Bcf) for natural gas consumption by electric power plants, according to S&P Global Platts. U.S. power sector natural gas consumption exceeded the previous record of 43.1 Bcf—set on July 16, 2018—on five days in July.
FERC orders PJM to postpone capacity auction
The Federal Energy Regulatory Commission (FERC) issued a ruling on Thursday directing the PJM Interconnection not to conduct "a major feature" of its market, its capacity auction planned for August.
NYPA to invest $1.1B to extend life of New York's largest clean electricity source
The New York Power Authority (NYPA) announced plans on Thursday to extend the life of the Niagara Power Project, the state's biggest single source of carbon-free electricity, through a $1.1 billion modernization and digitization program.  
If you would like to receive the Energy Market Update to your inbox weekly, please click here to submit your name and email address.
Disclaimer: This information is provided for the use of our customers and potential customers. Power Management Company assumes no responsibility or liability for the accuracy or completeness of pricing or information in this document. Historical data was obtained from sources that we believe to be reliable, but we do not guarantee its accuracy or completeness. It is not intended to provide advice or recommendation. Views are subject to change without notice.