Electricity Markets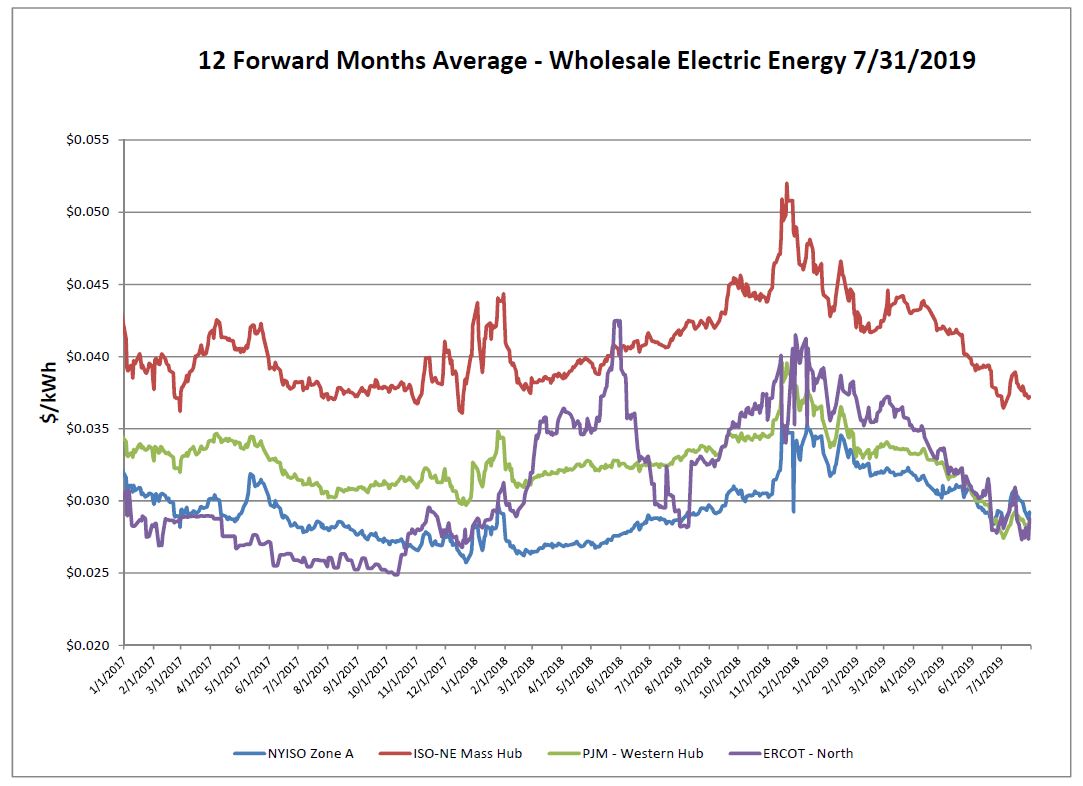 ISO New England set a new system peak demand on July 30 hour ending 6pm. The peak was set at 23,972.73 MW, it was enough to surpass the peak hour from July 20, although this was well below the 24,500 MW the ISO forecasted.
Each of the ISO's were down over the report week with the exception of ERCOT, which has continued to fluctuate in large part with summer weather demand.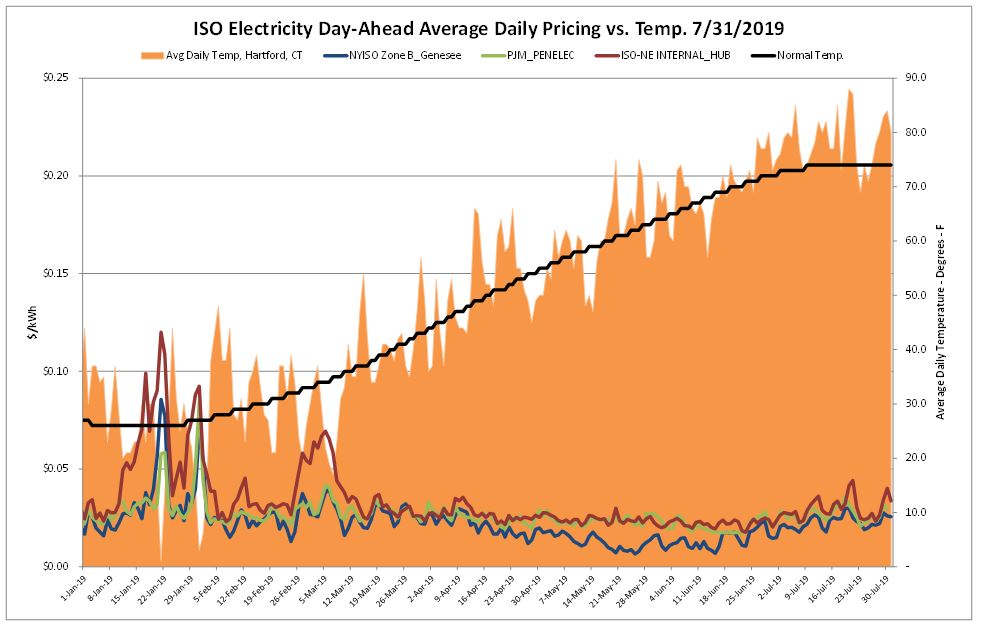 Day-ahead electric markets continue to see some weather-related volatility. Temperatures have remained hotter than normal over the last month, NYISO was 50% warmer than normal.
Natural Gas Markets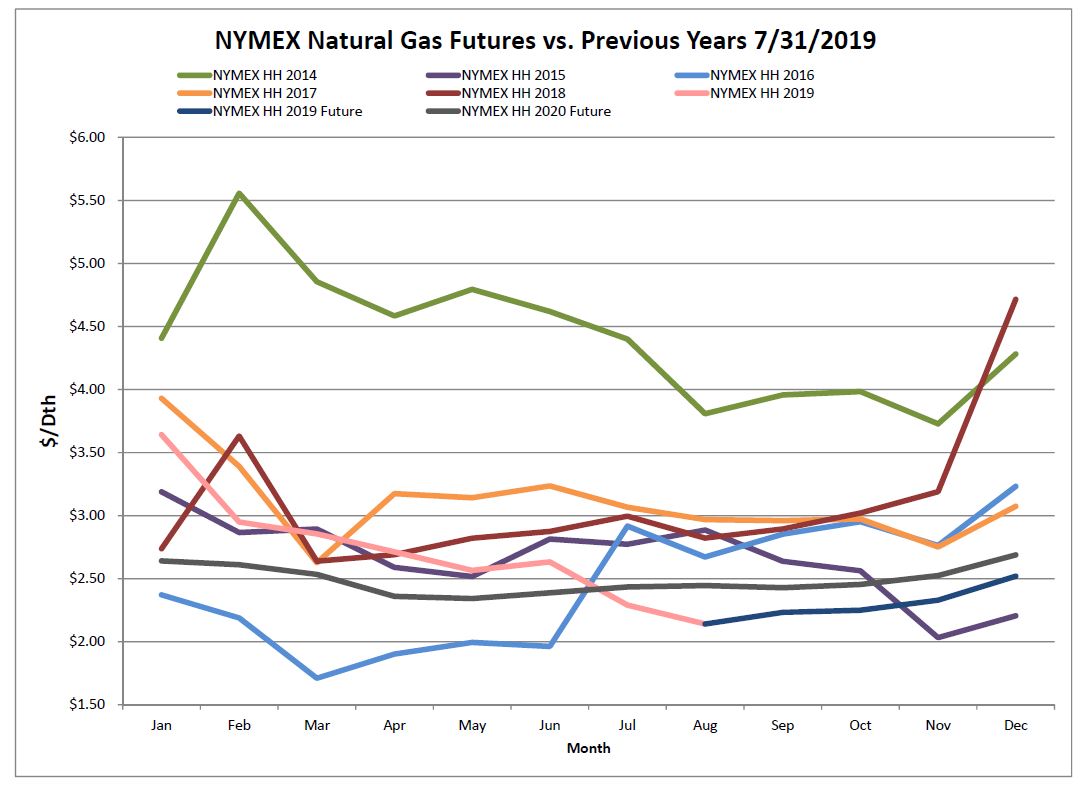 Despite increased heat, demand, and the need for natural gas for electric generation, the August NYMEX settlement closed down, favorably at $2.141. This is the lowest August close the NYMEX has reported in the last 6 years. Weather forecasts show warmer temperatures throughout the West and Southwest, affecting major demand centers like Texas and California. This could introduce some volatility into the index markets
Six-Month Natural Gas Futures
Futures as of 7/31/2019 versus previous week:
| | | |
| --- | --- | --- |
| Sep-19 | $2.233 | +$0.031 |
| Oct-19 | $2.250 | +$0.023 |
| Nov-19 | $2.330 | +$0.012 |
| Dec-19 | $2.520 | +$0.012 |
| Jan-20 | $2.641 | +$0.010 |
| Feb-20 | $2.611 | +$0.007 |
Natural Gas Inventory

EIA estimated a net increase of 65 Bcf into storage from the previous week. Working gas in storage was 2,634 Bcf as of Friday, July 26, 2019. This injection beat the 5-year average of 37 Bcf and contributed to cutting down the deficit. An above-average injection is anticipated to be the same case next week, as production is expected to continue to stay at higher levels.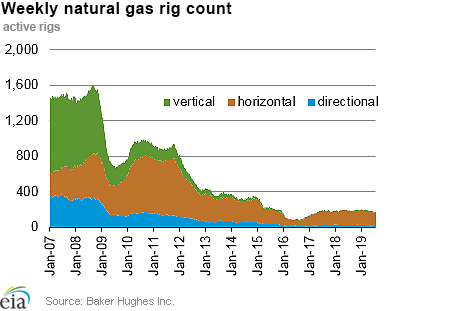 The Baker Hughes exploration gas rig count increased 2 rigs from last week for a total of 171 rigs. This is 12 less rigs than were in operation at this time one year ago when there were 183 rigs.
Weather Update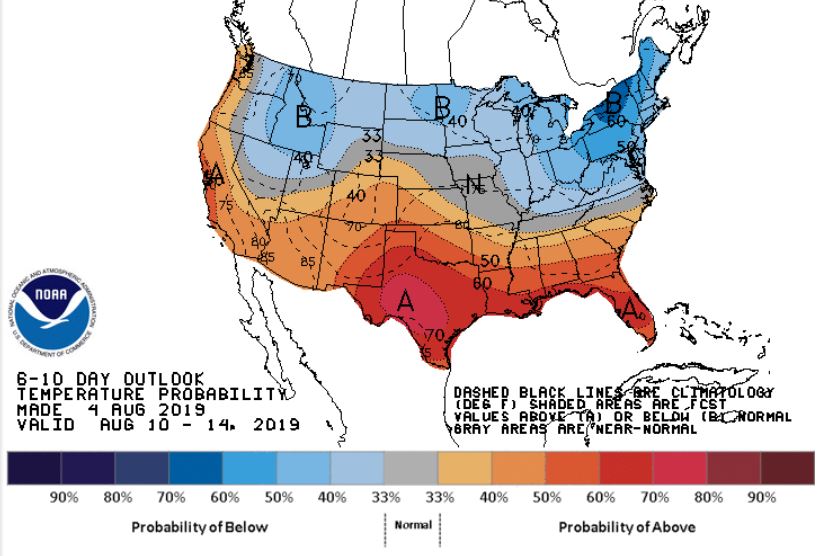 A more moderate weather pattern is set to settle in for the Midwest and East Coast which will lessen demand in these areas through mid-August. The West Coast and Southwest will conversely see above-normal temperatures.
National Weather Service Updates (NOAA)
Hurricane Watch- No Hurricane Activity
Click here to view the National Hurricane Center site.
Equatorial Pacific Outlook:
Click here to view La Nina and El Nino status.
Energy News
Heat wave results in highest U.S. electricity demand since 2017
From July 15 through July 22, 2019, a heat wave extending from the Midwest to the Atlantic coast brought extremely high temperatures and humidity to those regions.  
If you would like to receive the Energy Market Update to your inbox weekly, please click here to submit your name and email address.
Disclaimer: This information is provided for the use of our customers and potential customers. Power Management Company assumes no responsibility or liability for the accuracy or completeness of pricing or information in this document. Historical data was obtained from sources that we believe to be reliable, but we do not guarantee its accuracy or completeness. It is not intended to provide advice or recommendation. Views are subject to change without notice.