Electricity Markets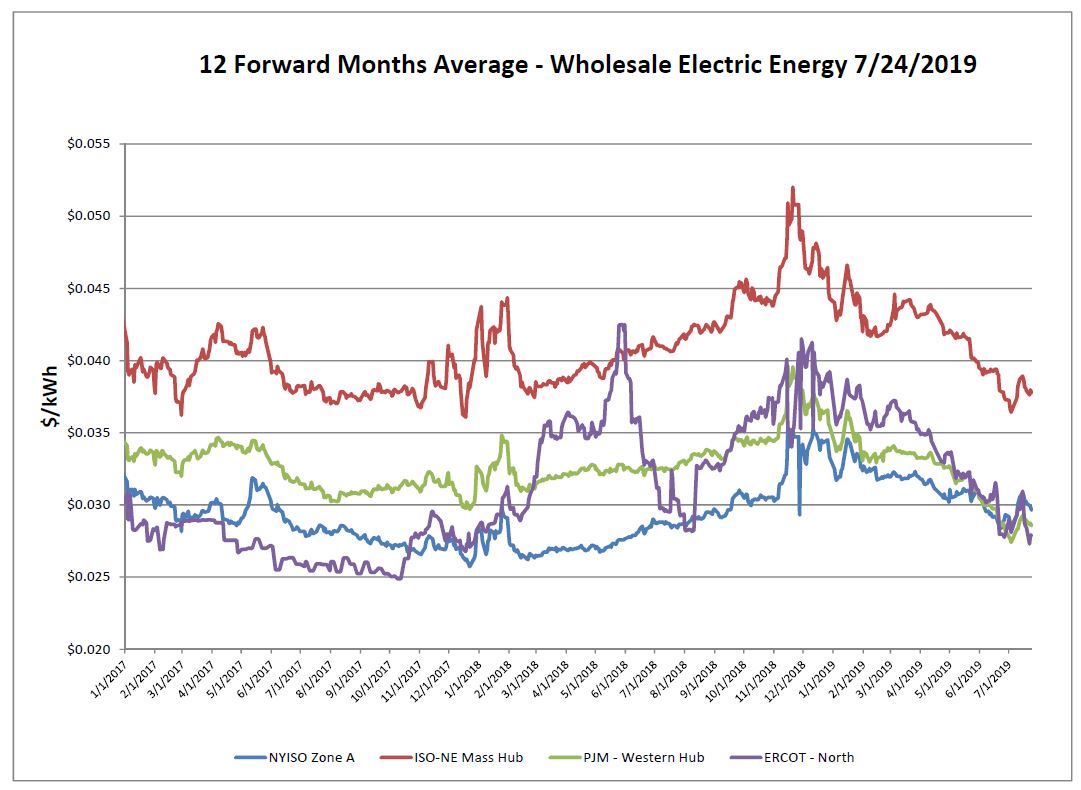 Peak electricity demand days were reported in ISO-NE, NYISO and PJM on Friday and Saturday. By the end of the report week, most of the strong heat began to taper off, putting downward pressure on prices.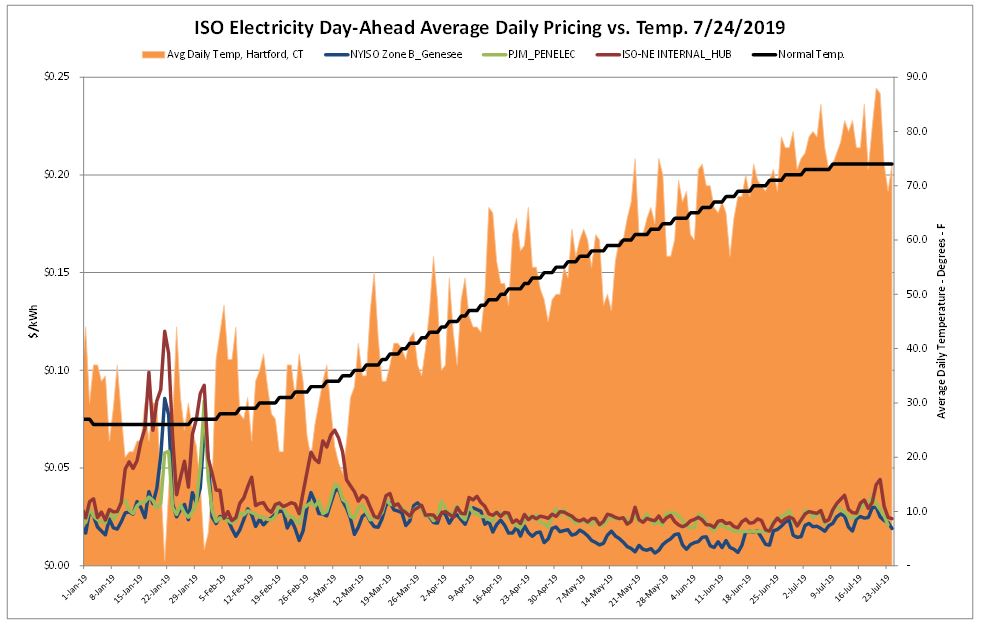 Likewise, the day-ahead market saw a spike of volatility tied to the warmer weather, then retreated back down.
Natural Gas Markets
Gas prices remained attractive through the last full week of July. The price of the NYMEX 12-month strip averaging August 2019 through July 2020 futures contracts was down $0.07, while the Algonquin basis was down $0.03. Warmer weather is expected to creep from the West Coast in the 11-20 day outlook, which could put some upward pressure on future gas prices.
Six-Month Natural Gas Futures
Futures as of 7/24/2019 versus previous week:
| | | |
| --- | --- | --- |
| Aug-19 | $2.220 | -$0.084 |
| Sep-19 | $2.202 | -$0.076 |
| Oct-19 | $2.227 | -0.077 |
| Nov-19 | $2.318 | -0.086 |
| Dec-19 | $2.508 | -0.087 |
| Jan-20 | $2.631 | -0.077 |
Natural Gas Inventory

According to EIA estimates a net increase of 36 Bcf was reported from the previous week. As of Friday, July 19, 2019 working gas in storage was 2,569 Bcf. The below-average build can be attributed to the increased cooling demand from the hot weather experienced during the reporting week. The average rate of net injections into storage is 32% higher than the five-year average so far in the refill season however in recent weeks storage has started to lose some ground and fall from the 5 year average.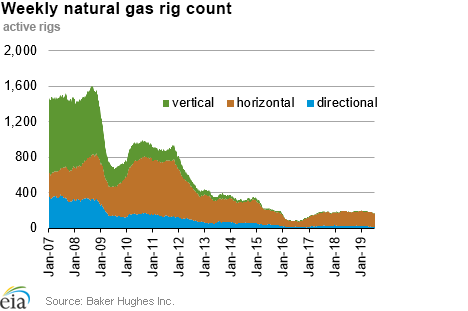 The Baker Hughes exploration gas rig count decreased 5 rigs from last week for a total of 169 rigs. This is 17 less rigs than were in operation at this time one year ago when there were 186 rigs.
Weather Update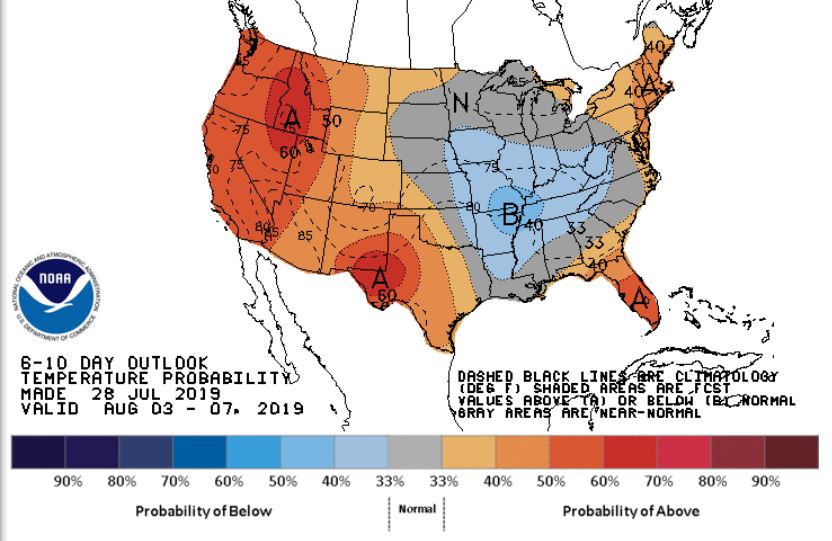 Updated forecasts suggest that the first half of August could be milder than originally expected for the major demand centers that have been receiving the brunt of the heat. The 6-10 day outlook anticipates the West Coast to remain above average.
National Weather Service Updates (NOAA)
Hurricane Watch- No Hurricane Activity
Click here to view the National Hurricane Center site.
Equatorial Pacific Outlook:
Click here to view La Nina and El Nino status.
Energy News
Summer natural gas prices on track to be the lowest in more than 20 years
In its July 2019 Short-Term Energy Outlook (STEO), the U.S. Energy Information Administration (EIA) forecasts Henry Hub natural gas spot prices for June, July, and August this year will average $2.37 per million British thermal units (MMBtu).  
If you would like to receive the Energy Market Update to your inbox weekly, please click here to submit your name and email address.
Disclaimer: This information is provided for the use of our customers and potential customers. Power Management Company assumes no responsibility or liability for the accuracy or completeness of pricing or information in this document. Historical data was obtained from sources that we believe to be reliable, but we do not guarantee its accuracy or completeness. It is not intended to provide advice or recommendation. Views are subject to change without notice.