*On 7/18 we sent out a notification to be on alert for peak energy demand potentials for Friday and Saturday. With the increased temperatures, loads were indeed elevated on these days. PJM hit a peak day on Friday hour ending 6pm with a peak demand of 152,315 MW. NYISO hit a peak of 30,397 MW hour ending 5pm on Saturday as did ISO-NE hour ending 7pm at 23,853 MW.
Electricity Markets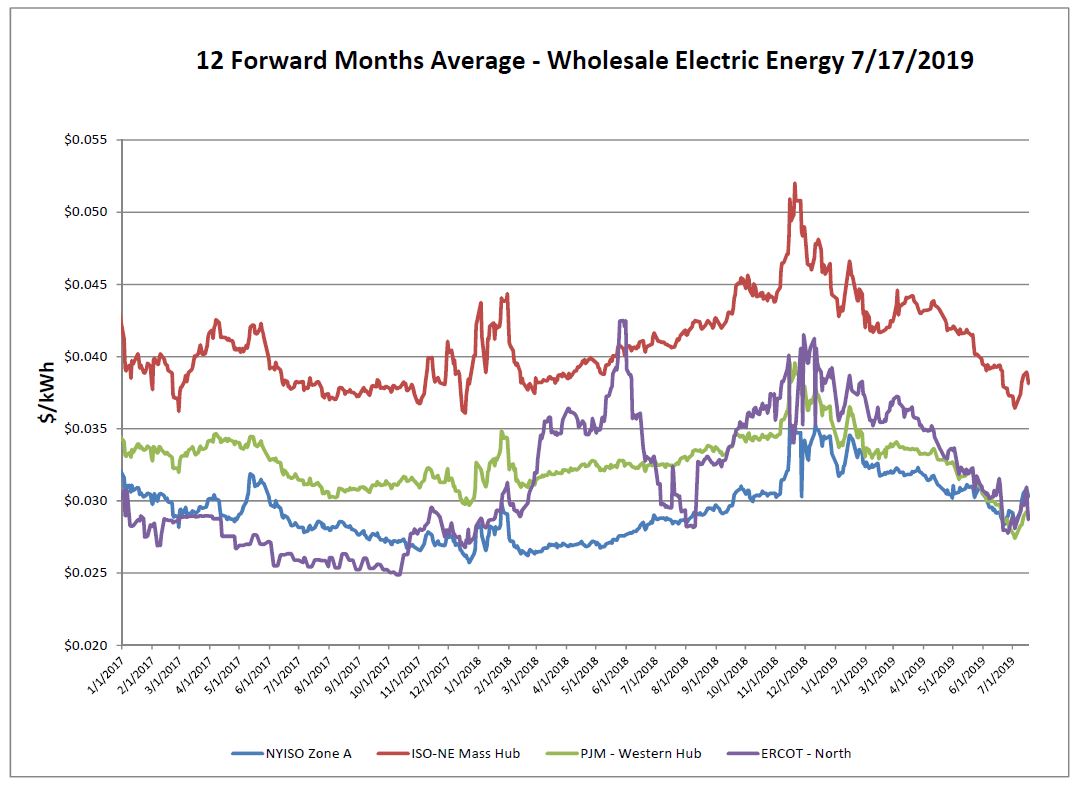 There has been some brief volatility in the electric market over the last few weeks. The consensus is that this may be temporary, due to the increased heat that the major demand centers have experienced. The market may contract again as the heat weakens. Statistically speaking, temperatures are currently at the hottest point of the year. Regardless of this small increase, the trend for electric prices continues to be favorable.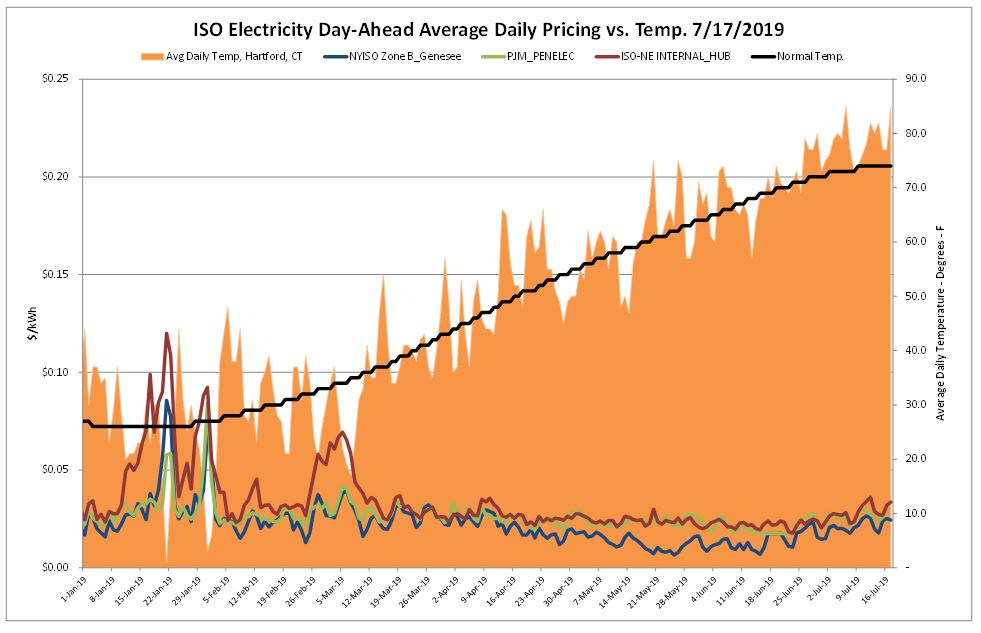 With the shift up in warmer weather, prices have moved up slightly but nothing extreme.
Natural Gas Markets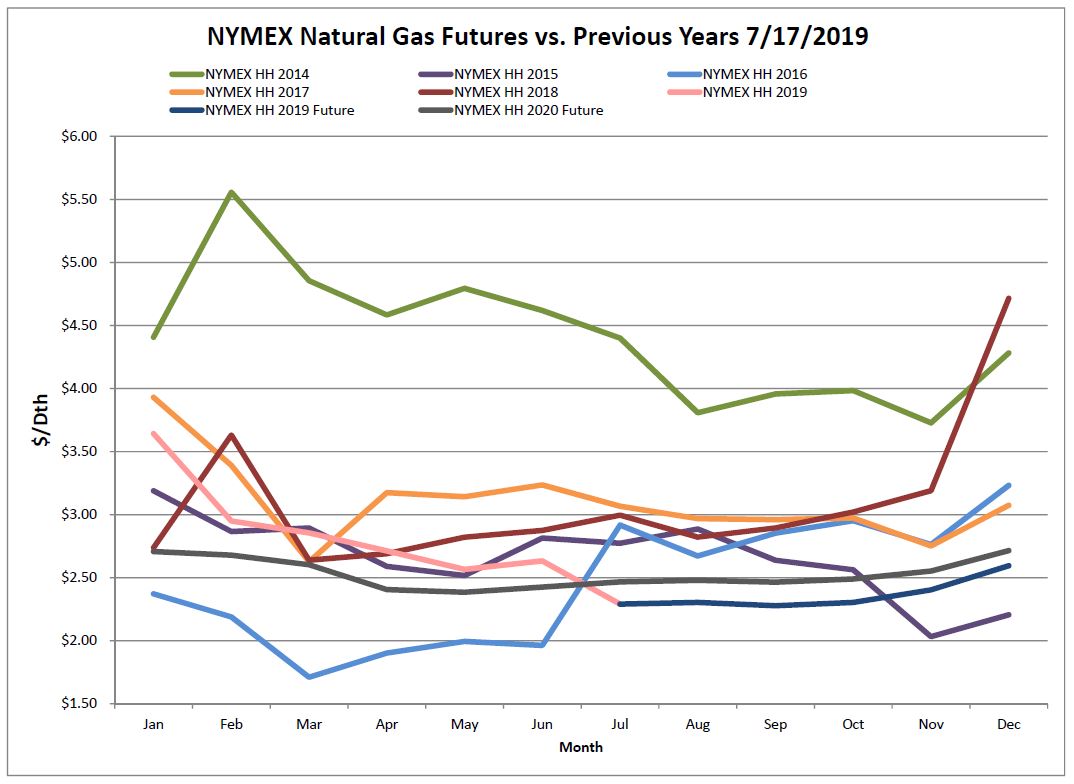 At the end of the report week, a heat wave built over population centers on the East Coast and in the Midwest. In the midst of a heat wave producing temperatures reaching 90-100 degrees for many of the country's eastern and midwestern demand centers, it had a limited effect on prices. The Algonquin basis was up $0.06 while the NYMEX 12-month strip was down $0.13. Forward gas for 2019 continues to trade at the lowest end of the spectrum, dating back to this chart from 2014. Also, 2020 remains extremely well positioned. Not many prices historically that are lower and the potential to move higher is much more likely than to go much lower. The heat in the Northeast appears to stay through the end of this month, which could lower the next couple of injections into storage and increase power burn levels for cooling demand.
Six-Month Natural Gas Futures
Futures as of 7/17/2019 versus previous week:
| | | |
| --- | --- | --- |
| Aug-19 | $2.304 | -$0.114 |
| Sep-19 | $2.278 | -$0.111 |
| Oct-19 | $2.304 | -$0.111 |
| Nov-19 | $2.404 | -$0.099 |
| Dec-19 | $2.595 | -$0.089 |
| Jan-20 | $2.708 | -$0.076 |
Natural Gas Inventory

According to EIA estimates a net increase of 62 Bcf was reported from the previous week. Working gas in storage was 2,533 Bcf as of Friday, July 12, 2019. More gas was being used for cooling demand over the report week, allowing for less to be available to put into storage.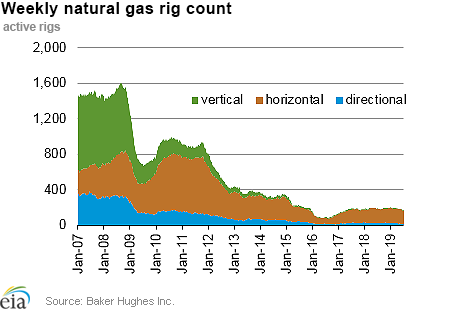 The Baker Hughes exploration gas rig count increased 2 rigs from last week for a total of 174 rigs. This is 13 less rigs than were in operation at this time one year ago when there were 187 rigs.
Weather Update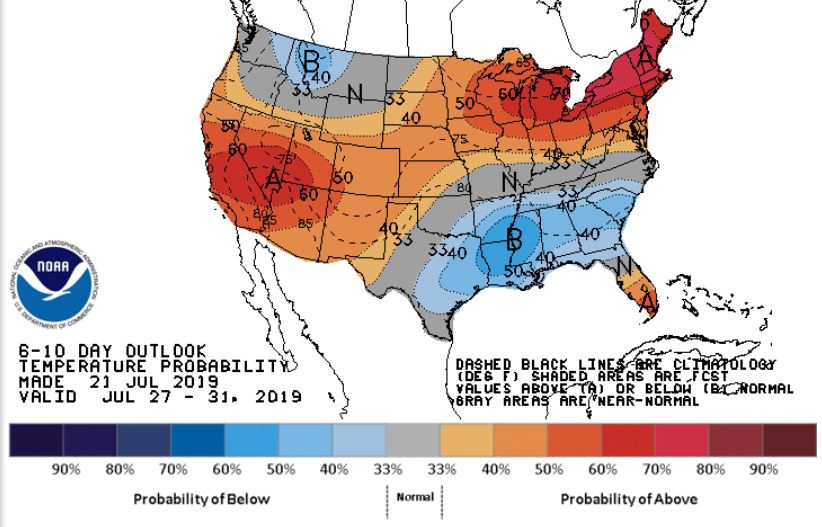 The NOAA 6-10 day outlook expects warmer-than-normal temperatures to continue for the Northeast and sweep across to the Southwest coast for the end of July. Some of the major demand centers that have experienced intense heat over the last week should not expect a reprieve just yet.
National Weather Service Updates (NOAA)
Hurricane Watch- No Hurricane Activity
Click here to view the National Hurricane Center site.
Equatorial Pacific Outlook:
Click here to view La Nina and El Nino status.
Energy News
Challenges of an Evolving Electric Grid
Changes in the way we produce, store, manage, and use electricity are transforming the way the electric power industry operates the grid.
ISO-NE fuel-security plan eyed to help nuclear, gas, offshore wind
US East Coast heat wave driving up power prices, demand and gas burn  
If you would like to receive the Energy Market Update to your inbox weekly, please click here to submit your name and email address.
Disclaimer: This information is provided for the use of our customers and potential customers. Power Management Company assumes no responsibility or liability for the accuracy or completeness of pricing or information in this document. Historical data was obtained from sources that we believe to be reliable, but we do not guarantee its accuracy or completeness. It is not intended to provide advice or recommendation. Views are subject to change without notice.