Electricity Markets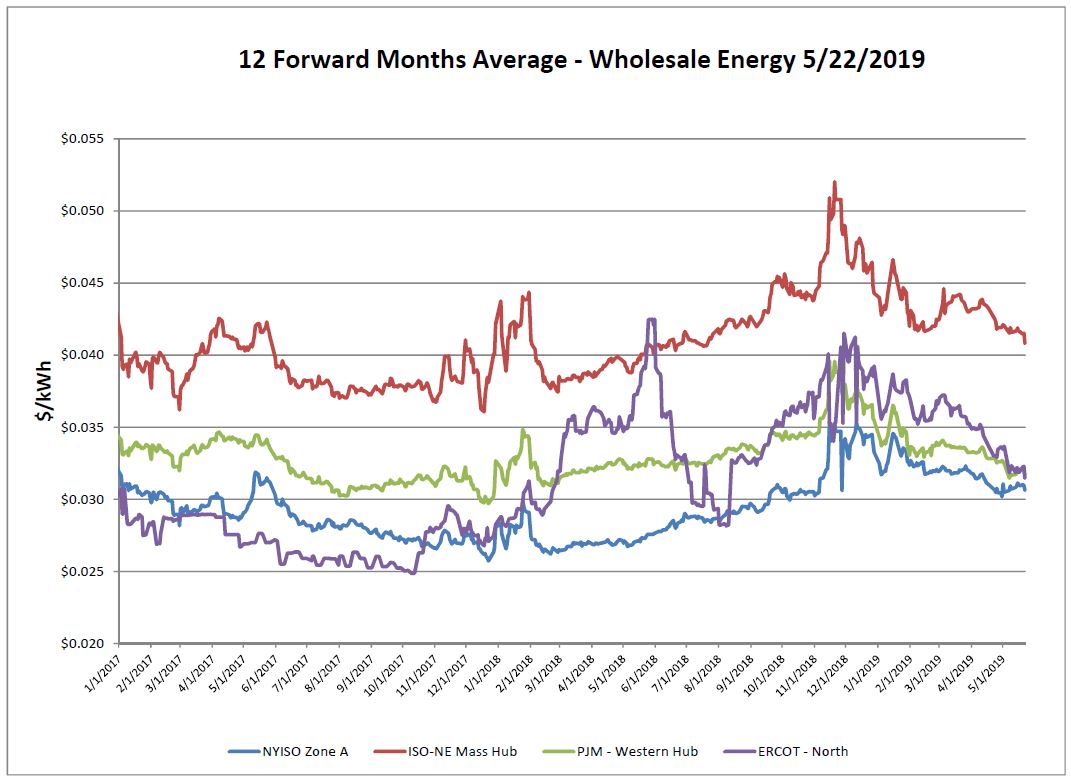 Electric prices dipped over the report week. 12-month average prices in PJM are closing in on NYISO. The middle of summer '18 was the last time forward prices for NEISO were at a level similar to what we are currently seeing. There has been a drop in future years as well, helping to lower multi-year contract prices. The Pilgrim plant will be permanently closing on 5/31/19, and the market may see reaction on prices, most likely for the upcoming winter terms.
New capacity tags were released for NYISO on May 1, and NEISO will go into effect on June 1. As a reminder, charges such as capacity combine with the wholesale cost of energy to make the total cost of a customer's electric bill. A capacity tag is set for a customer by using their peak demand during a specific peak day/hour/timeframe. Last year's peak usage for both NEISO and NYISO occurred on 8/29/18 from 4-5 pm. Once the new tags are active, the customer will continue to carry the capacity costs the entire year. This can be a significant part of the overall supply cost. Furthermore, when the cap tags are updated, any previously quoted energy pricing will be impacted as this charge will have changed in the system.
Similar to being able to reduce the cost of your overall electricity bill by reducing consumption, there are actions that can be taken to reduce capacity costs as well. Since capacity is based on consumption during these peak hours, if a client is able to reduce demand during this timeframe, this can provide significant cost reductions. PMC sends out email notifications before anticipated peak demand days. Please be on the lookout for these to help inform you of potential days to reduce demand. Contact your PMC Account Manager to further assist with a strategy to manage your capacity tag.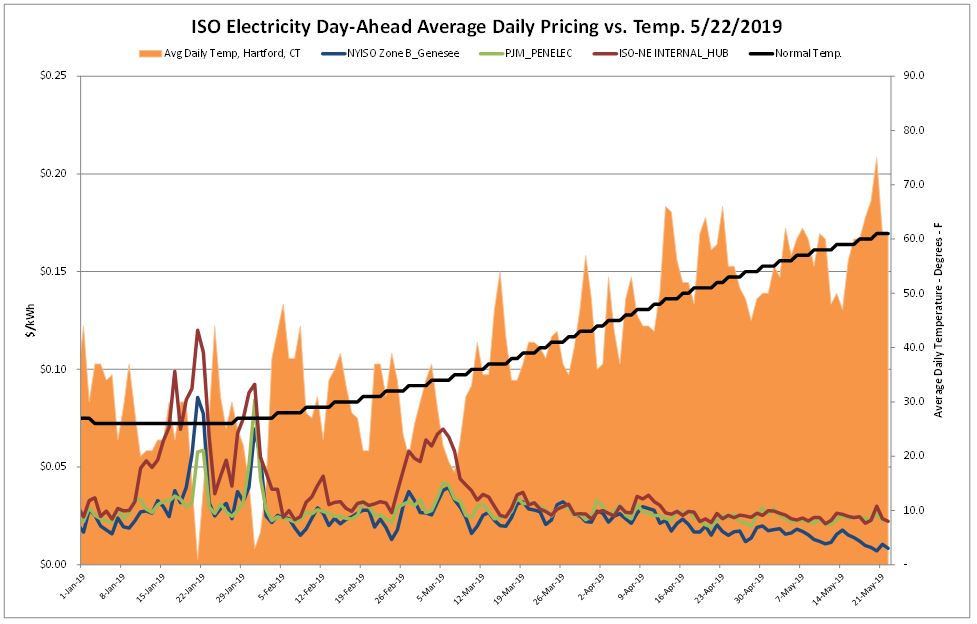 Above average temperatures led day-ahead prices for PJM & NEISO to creep up briefly. NYISO lost ground as there is not much load this time of the year.
Natural Gas Markets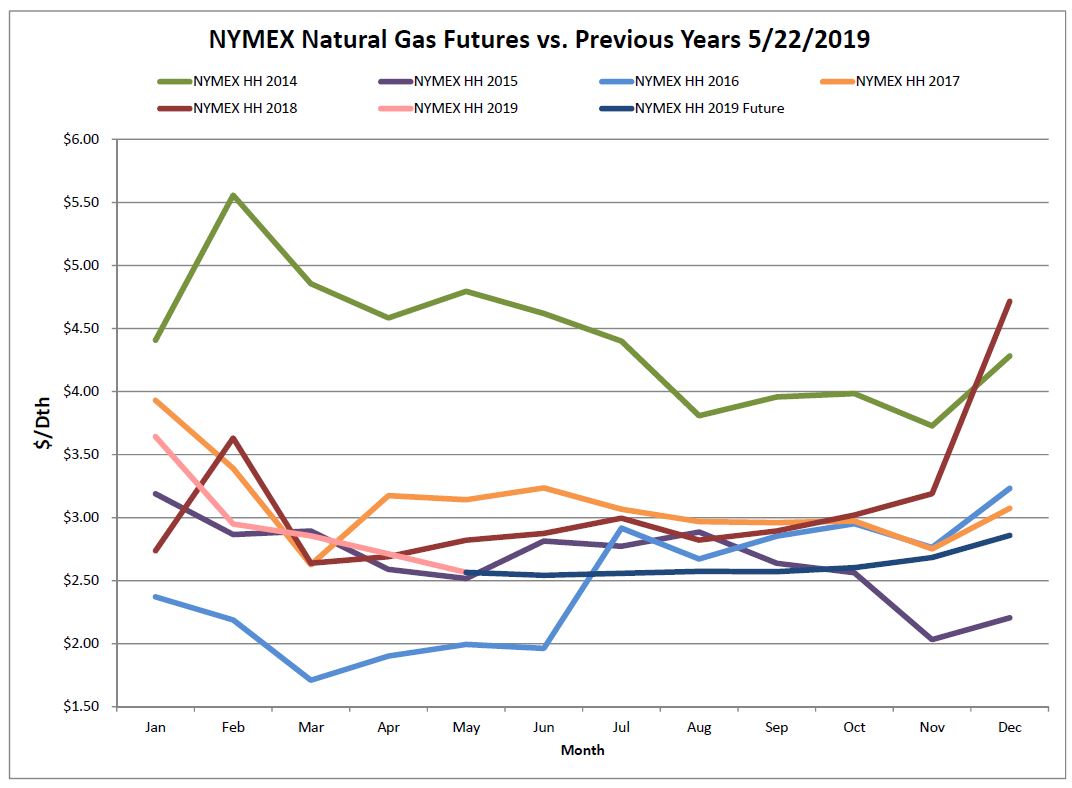 The heat did not seem to affect natural gas prices, as gas prices continue to look favorable. The NYMEX 12-month strip was down $0.06 and the Algonquin basis dropped $0.10. The remaining summer contracts continue to flirt with the $2.50 range. These are some of the lowest levels seen from settlements in the last 4-5 years. Some budgetary savings could be in store for clients still needing to lock in these months.
Six-Month Natural Gas Futures
Futures as of 5/22/2019 versus previous week:
| | | |
| --- | --- | --- |
| Jun-19 | $2.543 | -$0.058 |
| Jul-19 | $2.559 | -$0.075 |
| Aug-19 | $2.574 | -$0.077 |
| Sep-19 | $2.572 | -$0.074 |
| Oct-19 | $2.604 | -$0.073 |
| Nov-19 | $2.684 | -$0.065 |
Natural Gas Inventory

According to EIA estimates there was a net injection of 100 Bcf from the previous week. As of Friday, May 17, 2019, working gas in storage was 1,753 Bcf.  Last year there was a 93 Bcf injection and the 5-year average is 88 Bcf. Storage is currently 8.5% above last year and 13.5% below the 5-year average. The continued above-average storage injections are a good sign as we approach summer with increased heating demand coming into play. Production is expected to remain high over the next two weeks, resulting in continued strength in injections ahead of the peak cooling season.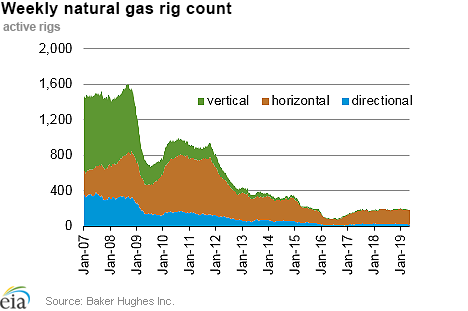 The Baker Hughes exploration gas rig count increased 1 rig from last week for a total of 186 rigs. This is 12 less rigs than were in operation at this time one year ago when there were 198 rigs.
Weather Update
Weather forecast show above average temperatures expected for most of the east and west coasts and sweeping along the southern states. The Great Plain and Great Lakes regions are expected to be milder with average or slightly below normal weather anticipated for the beginning of June.
National Weather Service Updates (NOAA)
Hurricane Watch- No Hurricane Activity
Click here to view the National Hurricane Center site.
Equatorial Pacific Outlook:
Click here to view La Nina and El Nino status.
Energy News
National Grid says no new NYC gas customers until state approves pipeline
National Grid announced on Friday a moratorium on processing new natural gas service applicants in its New York City and Long Island service territory until the Northeast Supply Enhancement (NESE) gas pipeline receives its necessary permits.
Electric, gas rates will rise for NYSEG, RG&E customers
The price New York State Electric & Gas Corp. customers pay to have electricity delivered to their homes could rise by 23.7% under a rate plan filed with New York regulators Monday afternoon.
As Coal Retires in PJM, Why Aren't Renewables Filling the Vacuum?
Solar and wind have struggled to compete against a flood of cheap natural gas in the largest U.S. wholesale power market, operated by PJM.  
If you would like to receive the Energy Market Update to your inbox weekly, please click here to submit your name and email address.
Disclaimer: This information is provided for the use of our customers and potential customers. Power Management Company assumes no responsibility or liability for the accuracy or completeness of pricing or information in this document. Historical data was obtained from sources that we believe to be reliable, but we do not guarantee its accuracy or completeness. It is not intended to provide advice or recommendation. Views are subject to change without notice.