Electricity Markets
NEISO took another slide and hit the lowest levels the ISO has seen in over a year. As of June 1st after several years of increasing pricing in the capacity markets, all NE regions will see relief going forward. There was some up and down action in the remaining regions as NYISO, PJM & ERCOT all seemed to converge by the end of the report week.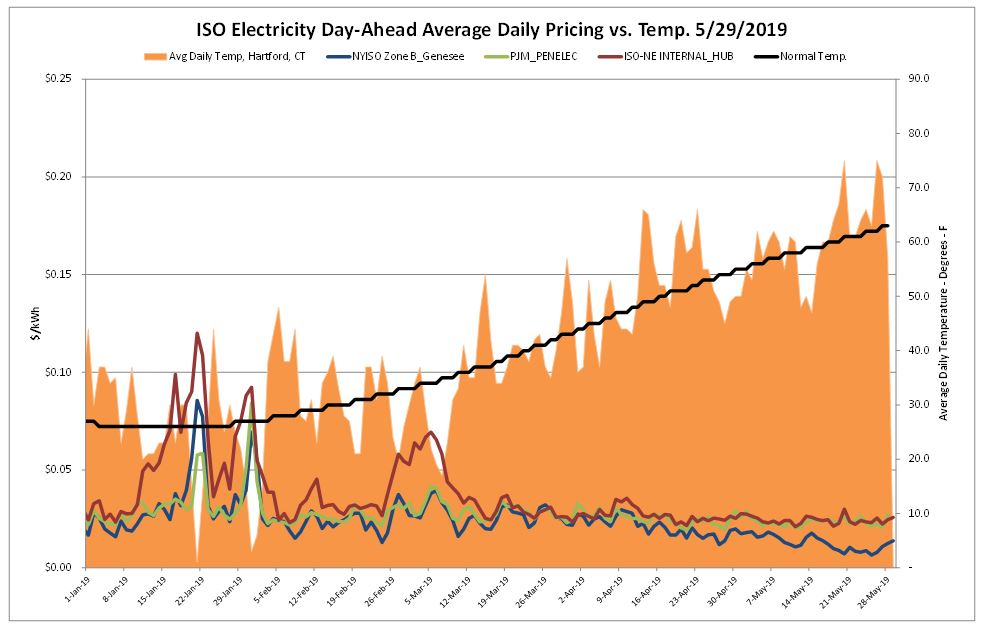 Mild weather continues to suppress any type of volatile movement on the day-ahead electric market. Prices continue to trade in a tight range.
Natural Gas Markets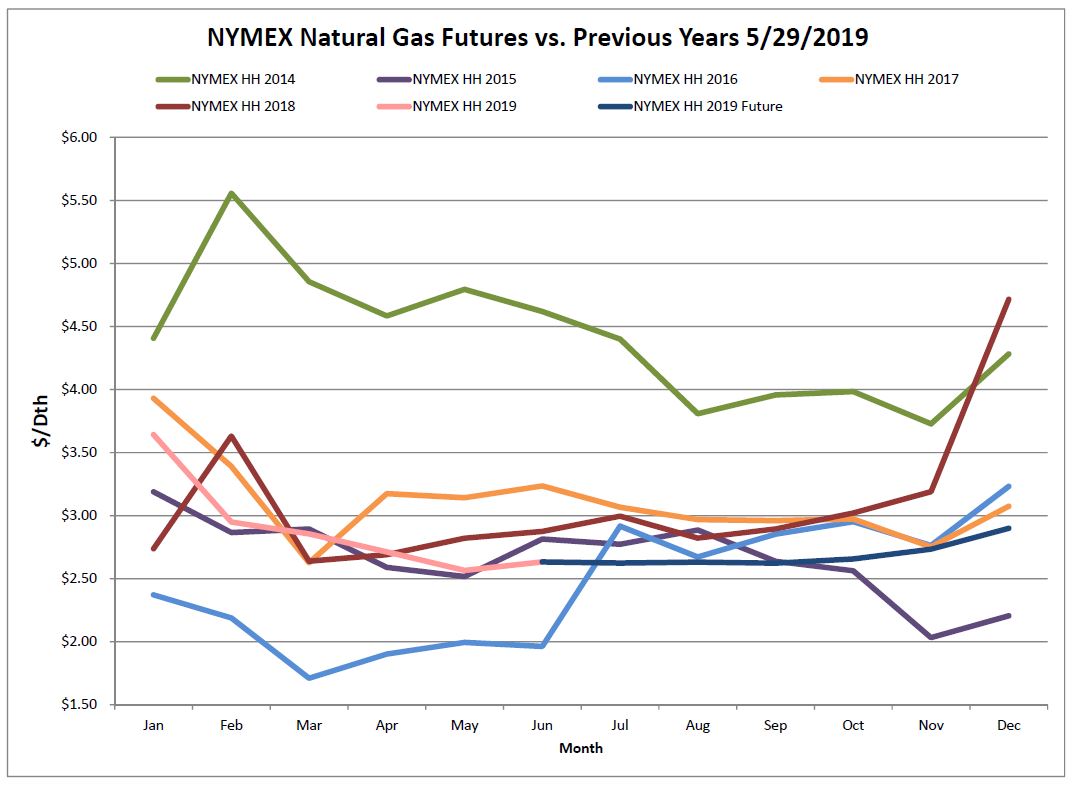 Natural gas prices move in a slightly different direction and saw some upward pressure. After gaining more than five cents in its final day of trading, the June 2019 NYMEX contract expired at $2.633. This is still almost a quarter lower than the June '18 contract settlement and 60 cents lower than the June '17 contract expiration.  Near term gas prices remain below future out years. Overall still very low levels relative to historic settlements.
Six-Month Natural Gas Futures
Futures as of 5/29/2019 versus previous week:
| | | |
| --- | --- | --- |
| Jul-19 | $2.624 | +$0.065 |
| Aug-19 | $2.632 | +$0.058 |
| Sep-19 | $2.623 | +$0.051 |
| Oct-19 | $2.657 | +$0.053 |
| Nov-19 | $2.734 | +$0.050 |
| Dec-19 | $2.900 | +$0.041 |
Natural Gas Inventory

As of Friday, May 24, 2019, working gas in storage was 1,867 Bcf. According to EIA estimates this represents a net increase of 114 Bcf from the previous week. The expectation for injection was around 93 Bcf and mild weather conditions have allowed healthy injections into storage due to lower cooling demand.
The Baker Hughes exploration gas rig count decreased 2 rigs from last week for a total of 184 rigs. This is 13 less rigs than were in operation at this time one year ago when there were 197 rigs.
Weather Update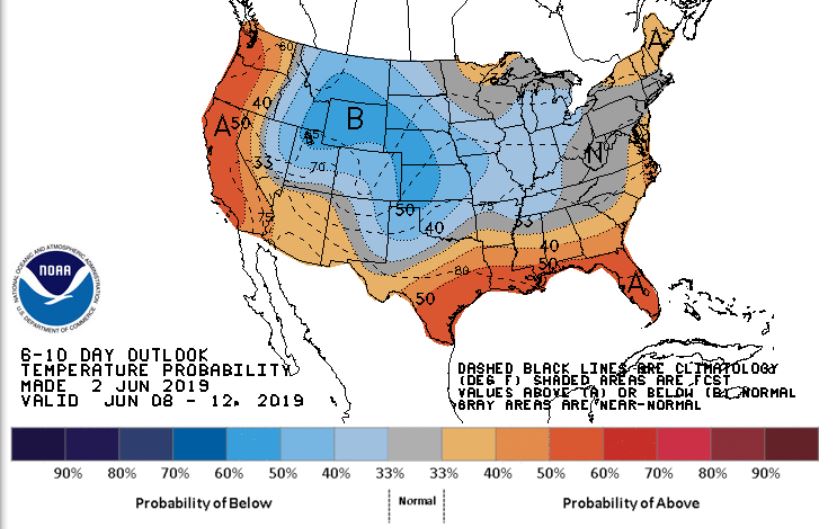 Weather forecasts show a warm-up on the southeast and west coasts in the 6-10 day outlook. The middle of the country is anticipated to see cooler temperatures slightly below normal.
National Weather Service Updates (NOAA)
Hurricane Watch- No Hurricane Activity
Click here to view the National Hurricane Center site.
Equatorial Pacific Outlook:
Click here to view La Nina and El Nino status.
Energy News
Two New York Utilities Seek Authorization For Territory-Wide Deployment Of Smart Meters (AMI)
As part of newly filed rate cases, New York State Electric & Gas Corporation (NYSEG) and Rochester Gas and Electric Corporation (RG&E) (collectively, the Companies) have petitioned the New York PSC for approval of the territory-wide deployment of advanced metering infrastructure for their electricity and gas meters.  
If you would like to receive the Energy Market Update to your inbox weekly, please click here to submit your name and email address.
Disclaimer: This information is provided for the use of our customers and potential customers. Power Management Company assumes no responsibility or liability for the accuracy or completeness of pricing or information in this document. Historical data was obtained from sources that we believe to be reliable, but we do not guarantee its accuracy or completeness. It is not intended to provide advice or recommendation. Views are subject to change without notice.