Electricity Markets
Another fairly quiet week for the electric markets. ISO-NE, PJM and ERCOT were slightly down and then ended the report week about even with last week. NYISO was the one exception and stepped up a small amount.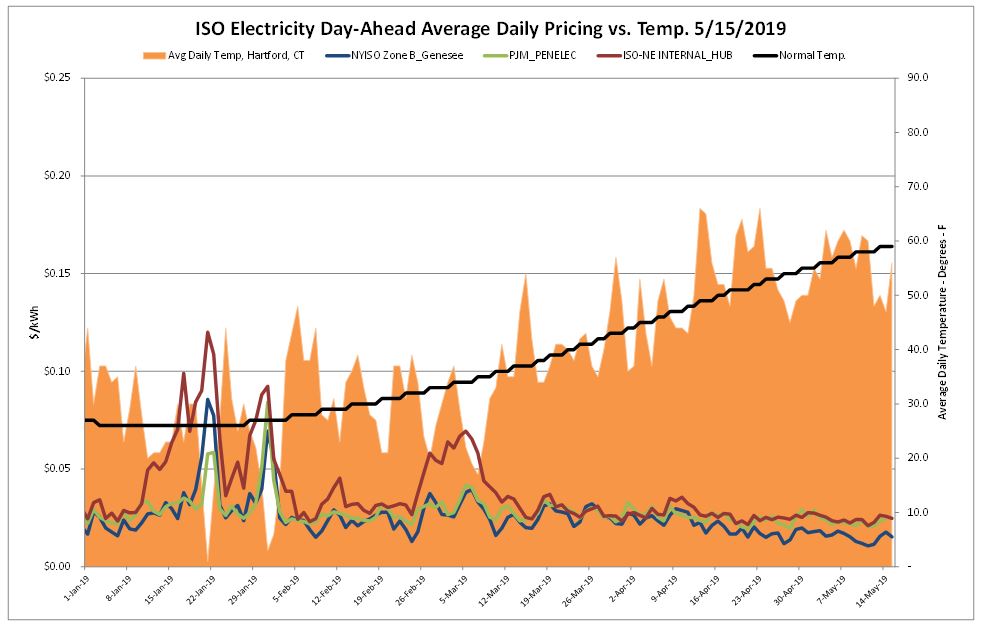 Below normal temperatures over the report week seemed to have little impact on the day-ahead market which held steady through the middle of May.
Natural Gas Markets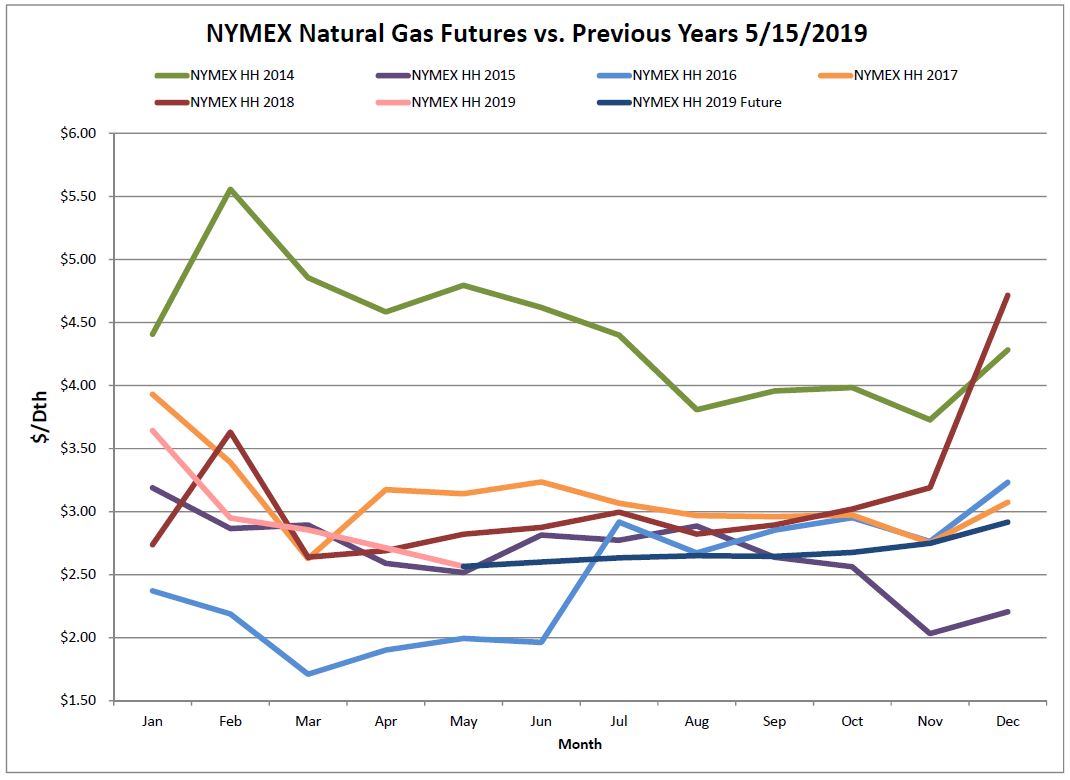 Both the June 2019 NYMEX contract and the 12-month strip declined by $0.01 over the report week. Warmer temperatures are expected along the East Coast through the end of this month, which could put upward pressure on natural gas prices.
The EIA's Natural Gas Weekly Update made note of some interesting statistics regarding the increase in natural gas-fired electric generation capacity which has come with significant growth from Pennsylvania's natural gas production. A decade ago, Pennsylvania's gas production accounted for just 1% of the total U.S. marketed natural gas production. Pennsylvania's natural gas production reached a new high in February, a growth of 13% from a year ago. Shockingly this is a 2440% increase from February 2010. Currently, Pennsylvania accounts for 19% of U.S marketed natural gas production. Around 2,800 MW of coal-fired and nuclear generation capacity will be retired in 2019. Between 2019-2022, Pennsylvania will be adding 17 new natural gas-fired plants in various stages of development, bringing about 8,400 MW of capacity online.
Six-Month Natural Gas Futures
Futures as of 5/15/2019 versus previous week:
| | | |
| --- | --- | --- |
| Jun-19 | $2.601 | -$0.009 |
| Jul-19 | $2.634 | -$0.012 |
| Aug-19 | $2.651 | -$0.015 |
| Sep-19 | $2.646 | -$0.017 |
| Oct-19 | $2.677 | -$0.016 |
| Nov-19 | $2.749 | -$0.019 |
Natural Gas Inventory

According to EIA estimates there was a net increase of 106 Bcf from the previous week. As of Friday, May 10, 2019 working natural gas stocks are 1,653 Bcf. The surplus to last year didn't change much currently 9% more than the year-ago level and the deficit to the five-year average is 15% lower. Storage levels are now projected to be 3,670 Bcf heading into next winter, less than a 2% deficit to the five-year average.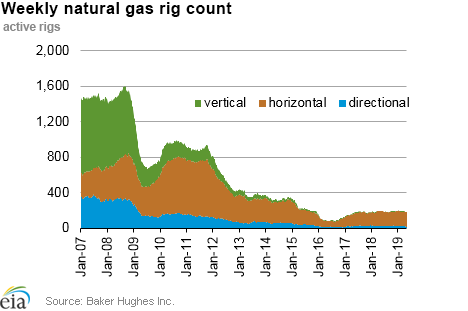 The Baker Hughes exploration gas rig count increased 2 rigs from last week for a total of 185 rigs. This is 1 less rigs than were in operation at this time one year ago when there were 200 rigs.
Weather Update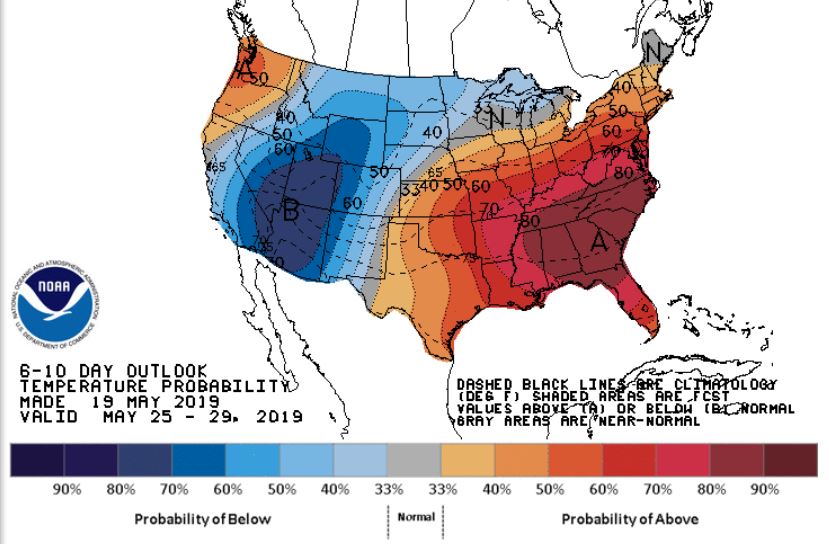 The forecast remains similar to last week with above average temperatures expected along the east coast and sweeping across through Texas.  Below average temperatures are anticipated for the Rocky Mountains and Great Basin through the balance of May.
National Weather Service Updates (NOAA)
Hurricane Watch- No Hurricane Activity
Click here to view the National Hurricane Center site.
Equatorial Pacific Outlook:
Click here to view La Nina and El Nino status.
Energy News
NYISO market monitor proposes changes to operating reserve valuation, capacity market pricing
New York — Energy and capacity market improvements that would improve operating reserve valuation and price power generation capacity based on marginal reliability value have been recommended by the New York Independent System Operator's market monitoring unit, an executive said Tuesday.  
If you would like to receive the Energy Market Update to your inbox weekly, please click here to submit your name and email address.
Disclaimer: This information is provided for the use of our customers and potential customers. Power Management Company assumes no responsibility or liability for the accuracy or completeness of pricing or information in this document. Historical data was obtained from sources that we believe to be reliable, but we do not guarantee its accuracy or completeness. It is not intended to provide advice or recommendation. Views are subject to change without notice.