Electricity Markets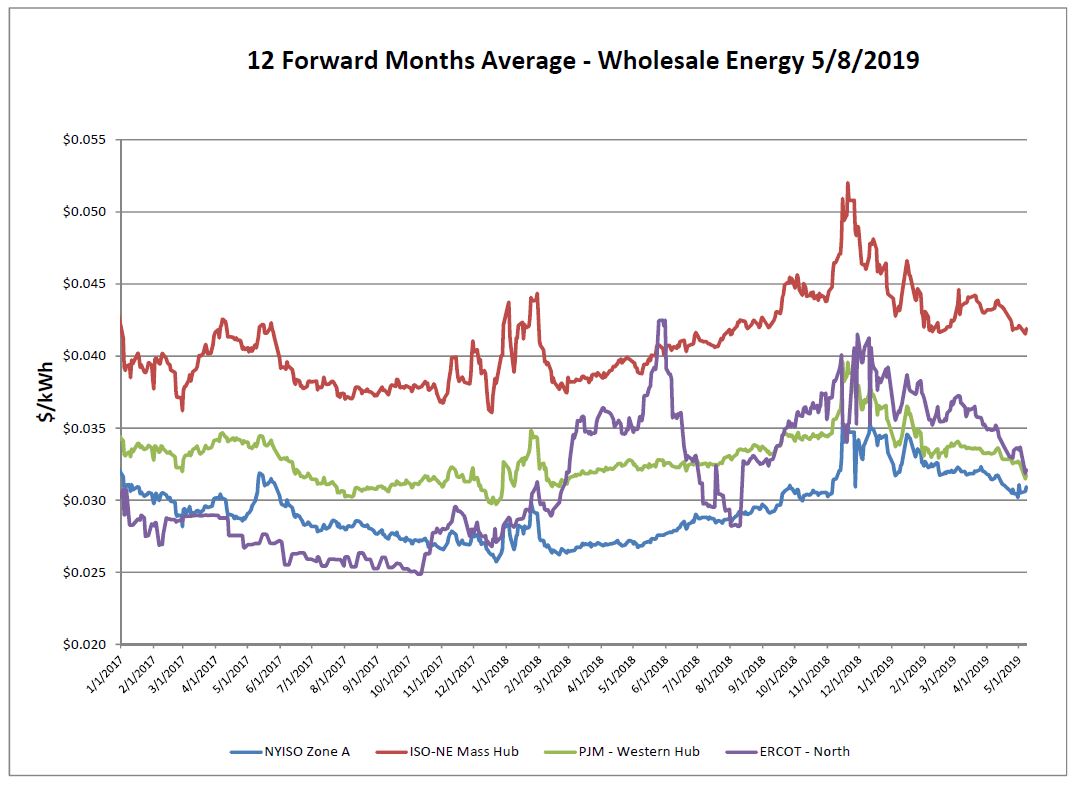 PJM electric prices fell over the report week while NYISO was about even to last week. PJM & NYISO used to be much more tightly traded. However, the past few years NYISO has pulled away, tied in large part to downstate nuclear plant closures creating upward pressure. ERCOT took a slide and for the time being may be feeling slightly better about summer demand. Even with low natural gas prices, electric may no longer follow suite as closely, and this price point could be the new norm.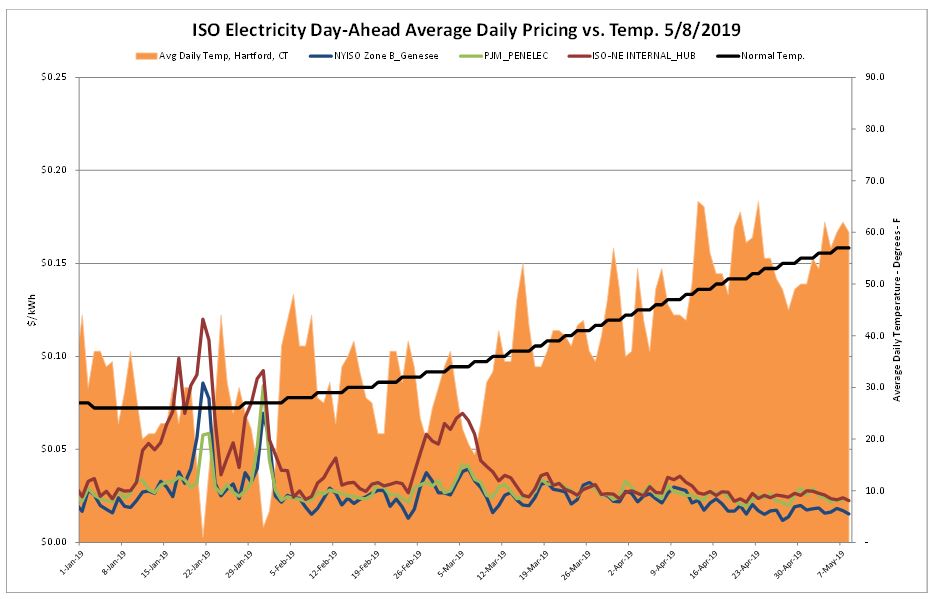 With normal to slightly above normal temperatures, the spot market remained calm. NYISO was especially low. Clients who are currently on an index program should be seeing favorable prices!
Natural Gas Markets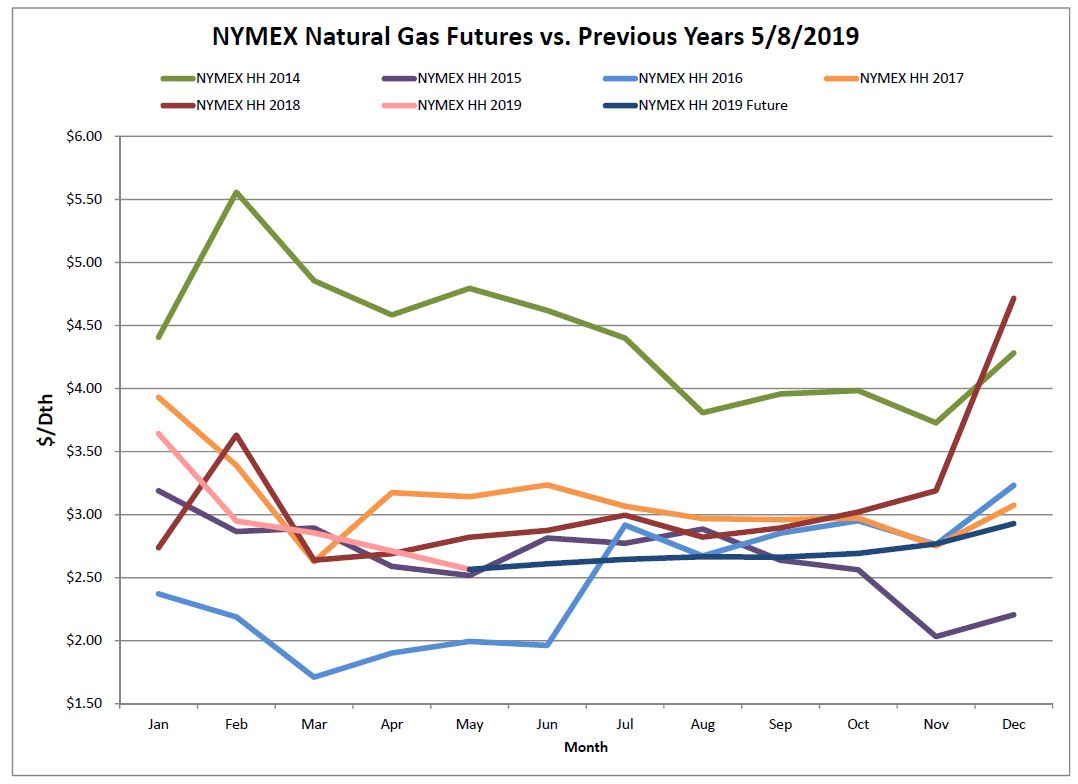 Overall national weather continues to be mild this spring, attributing to soft demand and helping to suppress near-term natural gas prices. The NYMEX 12-month strip was flat week over week holding at $2.75.
Six-Month Natural Gas Futures
Futures as of 5/8/2019 versus previous week:
| | | |
| --- | --- | --- |
| Jun-19 | $2.610 | -$0.010 |
| Jul-19 | $2.646 | -$0.012 |
| Aug-19 | $2.666 | -$0.010 |
| Sep-19 | $2.663 | -$0.007 |
| Oct-19 | $2.693 | -$0.008 |
| Nov-19 | $2.768 | -$0.009 |
Natural Gas Inventory

As of Friday, May 3, 2019, working gas in storage was 1,547 Bcf. According to EIA estimates this represents a net increase of 85 Bcf from the previous week. There was an 85 Bcf injection last year as well, and the 5-year average is 72 Bcf. Storage is currently 9% above last year at this time however there is still a good amount of make up to do to close the 5-year average gap. After May it will begin to get hard to make up ground as more load will be going toward cooling.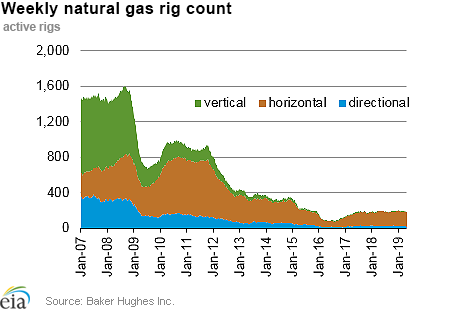 The Baker Hughes exploration gas rig count remained constant from last week for a total of 183 rigs. This is 16 less rigs than were in operation at this time one year ago when there were 199 rigs.
Weather Update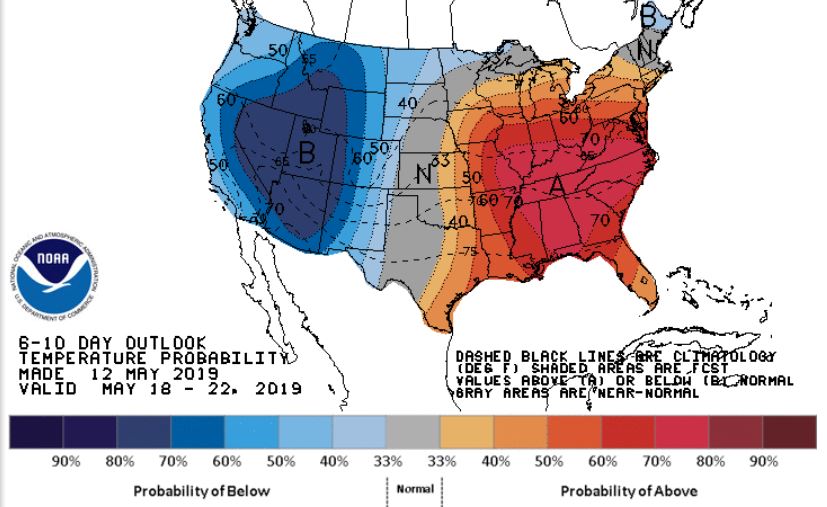 The CONUS has a split weather pattern for the middle of May, with the eastern half of the country expecting some above average weather while the temperature in the western half anticipated to be below average.
National Weather Service Updates (NOAA)
Hurricane Watch- No Hurricane Activity
Click here to view the National Hurricane Center site.
Equatorial Pacific Outlook:
Click here to view La Nina and El Nino status.
Energy News
NYISO: Decarbonization efforts could be slowed without new transmission
New York's electric system "stands at the cusp of the next evolution," according to a report from the state's grid operator, but without additional transmission capacity the state's decarbonization efforts could face headwinds.
ERCOT's reliability anxiety: Energy groups square off on what's to blame
With natural gas and wind now nearly two-thirds of the Texas energy mix, Texans are beginning to worry about whether the Electric Reliability Council of Texas (ERCOT) can keep the power flowing. And they are looking for someone to blame.  
If you would like to receive the Energy Market Update to your inbox weekly, please click here to submit your name and email address.
Disclaimer: This information is provided for the use of our customers and potential customers. Power Management Company assumes no responsibility or liability for the accuracy or completeness of pricing or information in this document. Historical data was obtained from sources that we believe to be reliable, but we do not guarantee its accuracy or completeness. It is not intended to provide advice or recommendation. Views are subject to change without notice.