Electricity Markets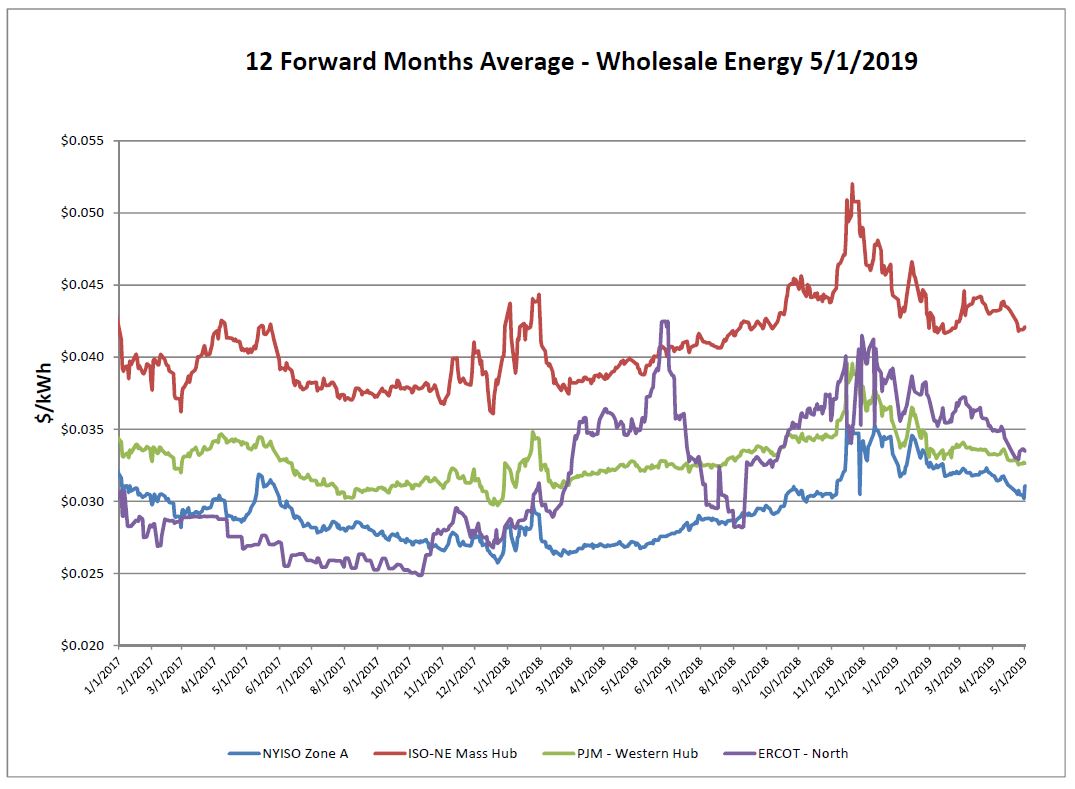 The electric markets came up just slightly over the report week. Over the past few weeks the near-term prices have slowly come down, while the out years (2020,2021,2022) have been steadier without much change from week to week.  There is an upward trend developing in the NYISO capacity markets tied in part to plant closures. NYISO only runs auctions 6 months in advance so it will be important to monitor how volatile this becomes. ERCOT is an example of the type of drastic spikes that can happen in a very short period of time. In June, all ISO-NE regions will take a step down in their capacity market. SEMA (Southeast MA) and Rhode Island will see a considerable drop.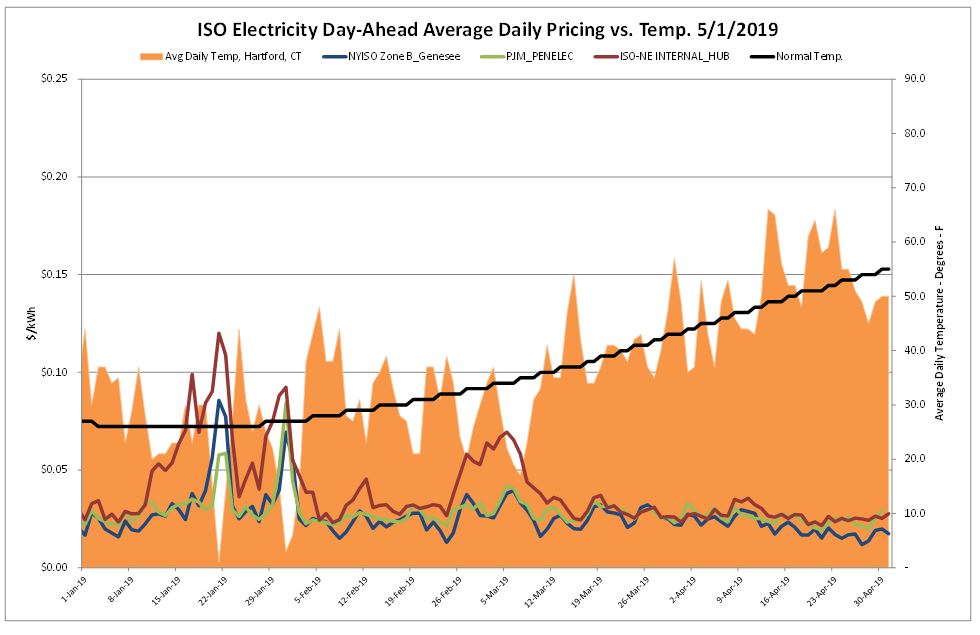 Despite some below-normal temperatures over the report week, the day-ahead market held fairly steady without large swings of volatility.
Natural Gas Markets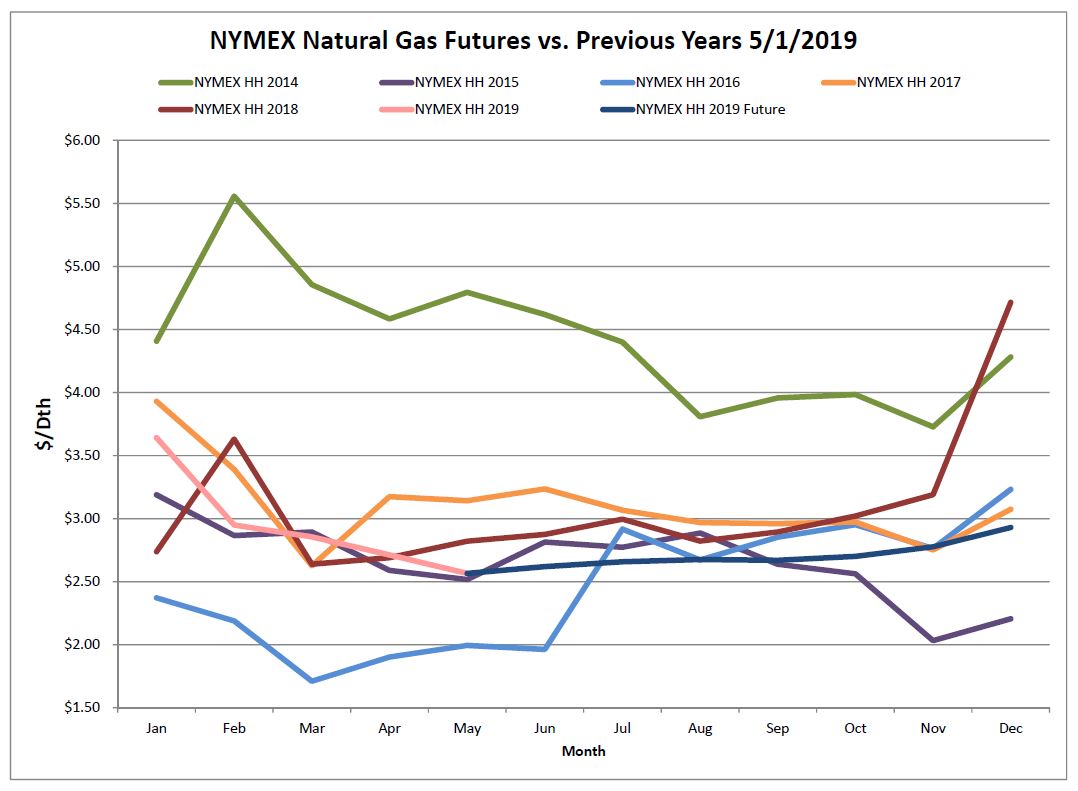 On Friday April 26th, the May 2019 NYMEX natural gas futures price expired as the prompt month to settle at $2.566. The 12-month forward strip for the report week was $2.75. Cooler temperatures in the Northeast over the report week increased demand mostly driven by power burn and the ResComm sectors.  The $2.50 level has been proven to be a stubborn support level however with the cooler national temperatures we could see injections begin to dwindle from their record highs for this time of the year, possibly adding upward pressure to this summer's pricing.
Six-Month Natural Gas Futures
Futures as of 5/1/2019 versus previous week:
| | | |
| --- | --- | --- |
| Jun-19 | $2.620 | +$0.120 |
| Jul-19 | $2.658 | +$0.100 |
| Aug-19 | $2.676 | +$0.091 |
| Sep-19 | $2.670 | +$0.089 |
| Oct-19 | $2.701 | +$0.085 |
| Nov-19 | $2.777 | +$0.082 |
Natural Gas Inventory

The EIA reported another heavy injection of 123 Bcf from the previous week. The first triple-digit injection of the year. As of Friday, April 26, 2019 working gas in storage was 1,462 Bcf. This compares to an injection last year of 50 Bcf and the 5-year average of 70 Bcf. Currently storage is 9.6% above last year and 18 % below the 5 year average. Large injections are helping to close the deficit gap, and we hope to see the trend of large injections continue into May. It's important to note that production is still over 8.0 Bcf/d more than we were in April 2018.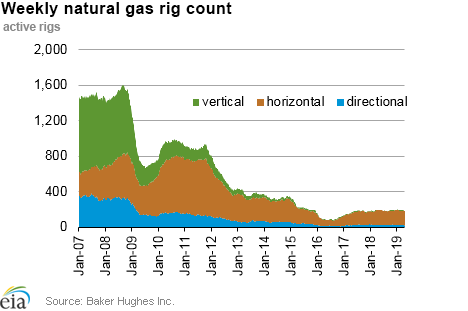 The Baker Hughes exploration gas rig count decreased by 3 rigs from last week for a total of 183 rigs. This is 13 less rigs than were in operation at this time one year ago when there were 196 rigs.
Weather Update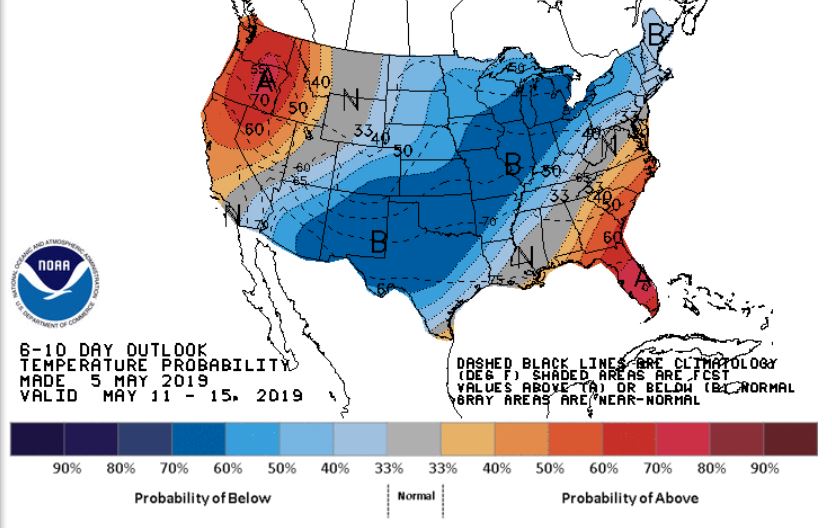 Weather forecasts have cooled for the northeast part of the country and sweeping down through the central CONUS into Texas. Warmer temperatures along the Southeast and Northwest coasts are expected during the middle of May.
National Weather Service Updates (NOAA)
Hurricane Watch- No Hurricane Activity
Click here to view the National Hurricane Center site.
Equatorial Pacific Outlook:
Click here to view La Nina and El Nino status.
Energy News
Last coal-fired power plant in Massachusetts gone in a few seconds
It took only 10 seconds to implode two 500-foot cooling towers that belonged to the Brayton Point Power Station in Somerset, Massachusetts.  
If you would like to receive the Energy Market Update to your inbox weekly, please click here to submit your name and email address.
Disclaimer: This information is provided for the use of our customers and potential customers. Power Management Company assumes no responsibility or liability for the accuracy or completeness of pricing or information in this document. Historical data was obtained from sources that we believe to be reliable, but we do not guarantee its accuracy or completeness. It is not intended to provide advice or recommendation. Views are subject to change without notice.