Electricity Markets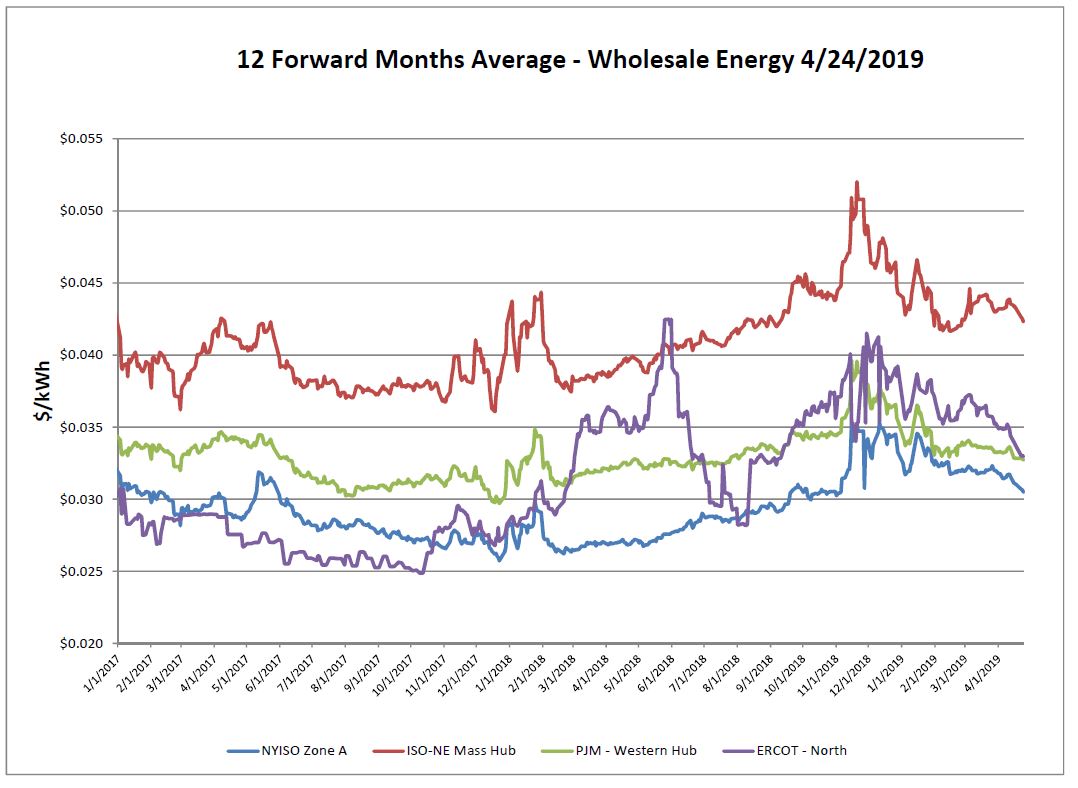 All electric ISO's took a slide over the report week and prices are attractive. It's unlikely that the markets will get back to the historically lower levels seen over the past few years as the fundamentals like plant closures have changed the game.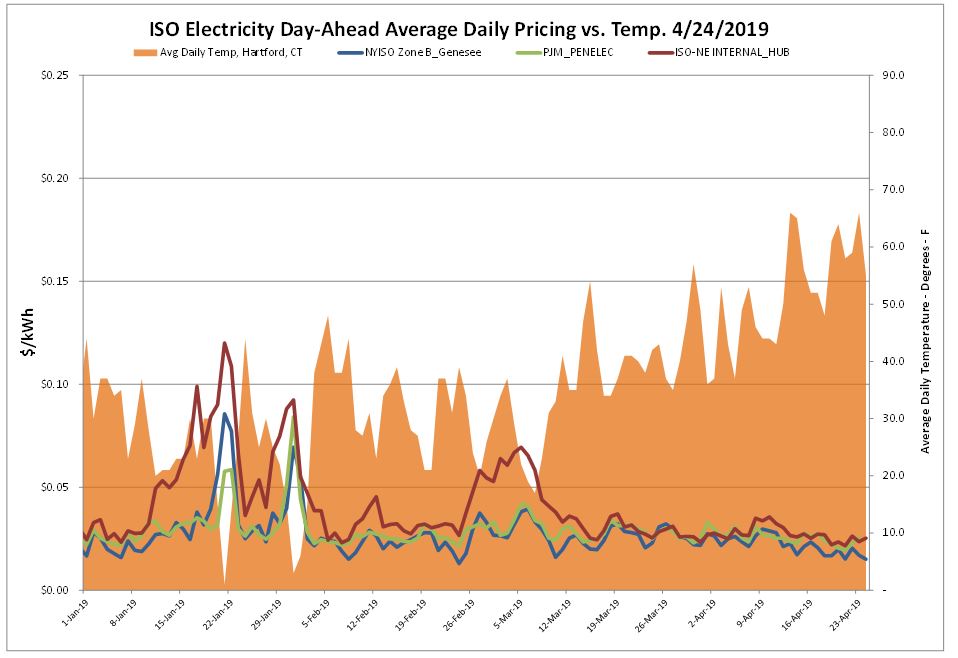 The trend of above normal temperatures continued throughout the report week. There has been no real need to heat or cool, keeping demand on natural gas low, electric prices low and in turn the spot market low. In comparison, last April was cooler than normal, causing withdrawals from storage to continue into April impacting both the natural gas and electric markets.
Natural Gas Markets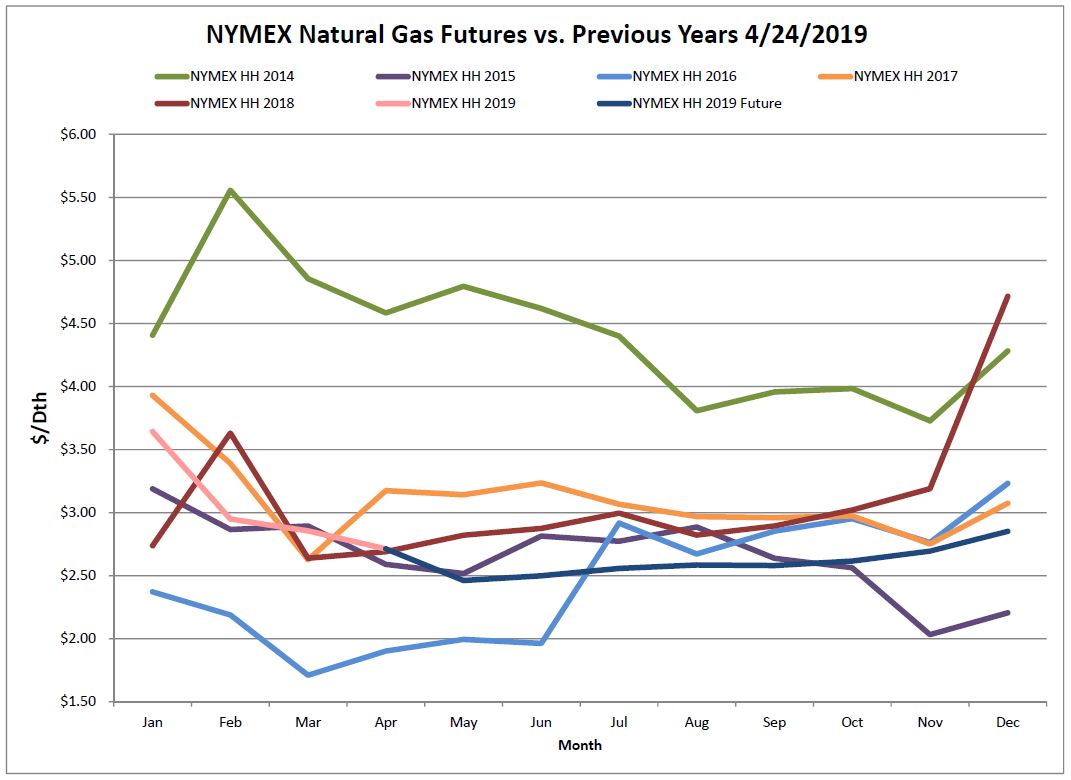 Natural gas futures were also down over the report week, the 12-month NYMEX strip fell $0.07 and the Algonquin down $0.15. These are the lowest levels seen since early winter 2017/2018. Mild weather across the country has limited natural gas demand, allowing storage to gain ground and strong production has continued, all leading to prices reacting favorably. The current summer months of 2019 are trading below all historical NYMEX settlements dating back to 2014. Even into fall and early winter only 1 year (2015) was lower than the current trading prices, when at that time storage was in a better position. This is a good time to be looking at fixed prices out in to the future as in all likelihood there will be budgetary relief in comparison to previous contracts.
Six-Month Natural Gas Futures
Futures as of 4/24/2019 versus previous week:
| | | |
| --- | --- | --- |
| May-19 | $2.462 | -$0.055 |
| Jun-19 | $2.500 | -$0.059 |
| Jul-19 | $2.558 | -$0.065 |
| Aug-19 | $2.585 | -$0.067 |
| Sep-19 | $2.581 | -$0.068 |
| Oct-19 | $2.616 | -$0.063 |
Natural Gas Inventory

The EIA reported a net increase of 92 Bcf from the previous week. Working gas in storage was 1,339 Bcf as of Friday, April 19, 2019. Natural gas production remains high, allowing for injections into storage far greater than historical benchmarks. Storage levels are building at a record pace, currently at 4% above last year, but still 21% below the 5 year average.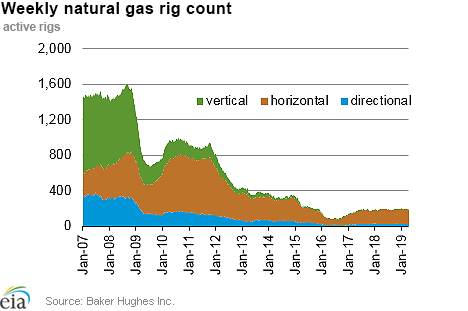 The Baker Hughes exploration gas rig count decreased by 1 rig from last week for a total of 186 rigs. This is 9 less rigs than were in operation at this time one year ago when there were 195 rigs.
Weather Update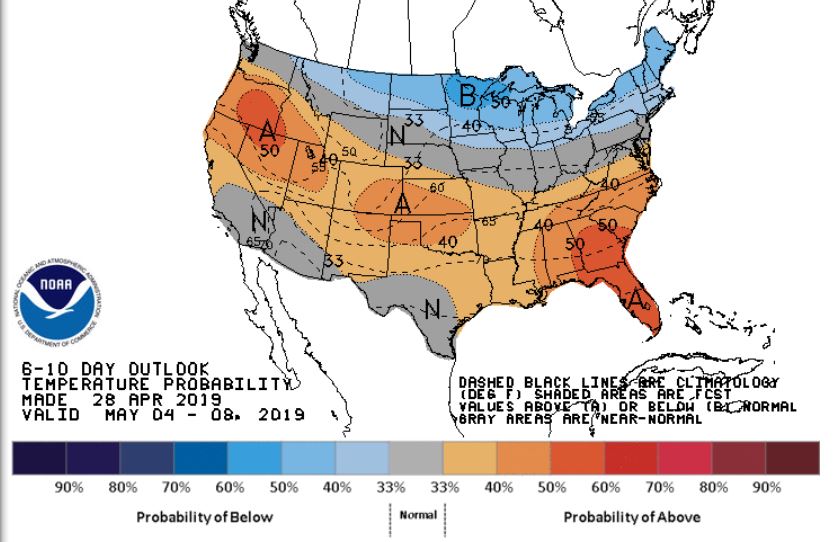 Weather forecasts look favorable over the next two weeks. Slightly cooler weather is anticipated in the northern portion of the CONUS and above-normal conditions in place over the southern two-thirds of the country. Preliminary summer weather forecasts are predicting a cooler summer than last year. Weather forecasts for the shoulder season remain mild, with no significant temperatures suggesting higher demand.
National Weather Service Updates (NOAA)
Hurricane Watch- No Hurricane Activity
Click here to view the National Hurricane Center site.
Equatorial Pacific Outlook:
Click here to view La Nina and El Nino status.
Energy News
Pennsylvania decides whether to subsidize nuclear energy as "clean"
To drive growth in its clean energy market and combat climate change, Pennsylvania adopted the Alternative Energy Portfolio Standards Act in 2004.
If you would like to receive the Energy Market Update to your inbox weekly, please click here to submit your name and email address.
Disclaimer: This information is provided for the use of our customers and potential customers. Power Management Company assumes no responsibility or liability for the accuracy or completeness of pricing or information in this document. Historical data was obtained from sources that we believe to be reliable, but we do not guarantee its accuracy or completeness. It is not intended to provide advice or recommendation. Views are subject to change without notice.