Electricity Markets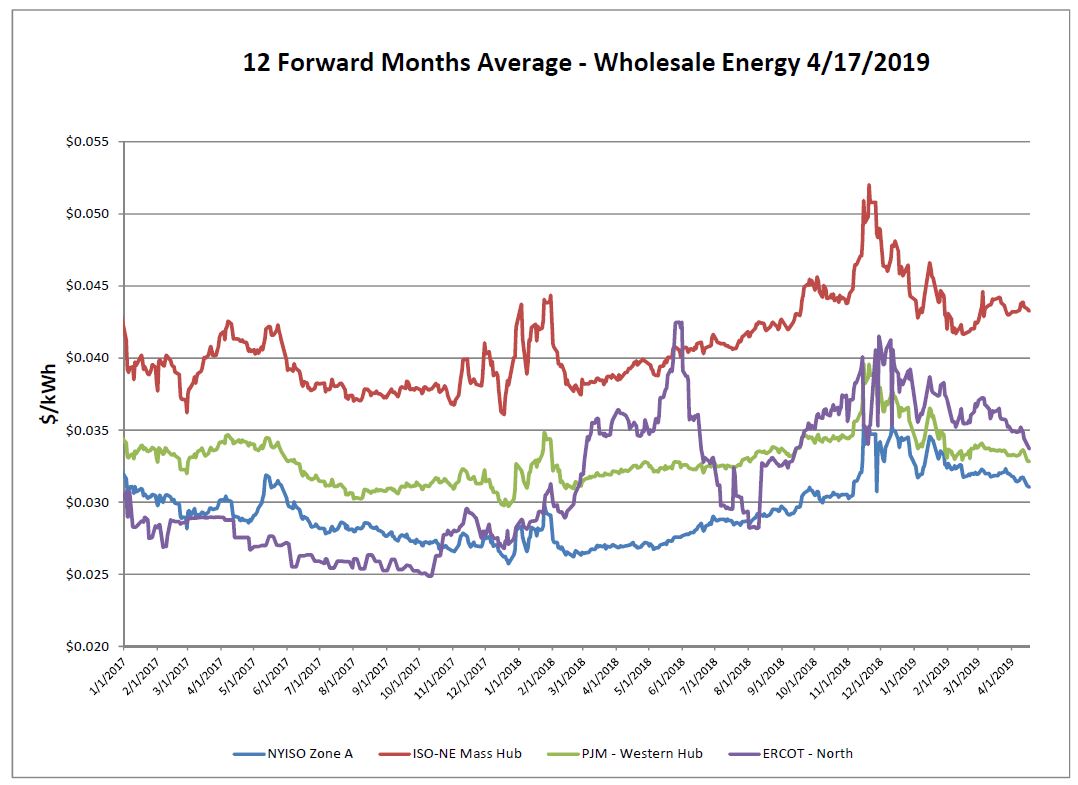 All ISO's saw electric prices come down over the report week. ERCOT saw the greatest decrease, however their market remains uncertain as we move into the summer months.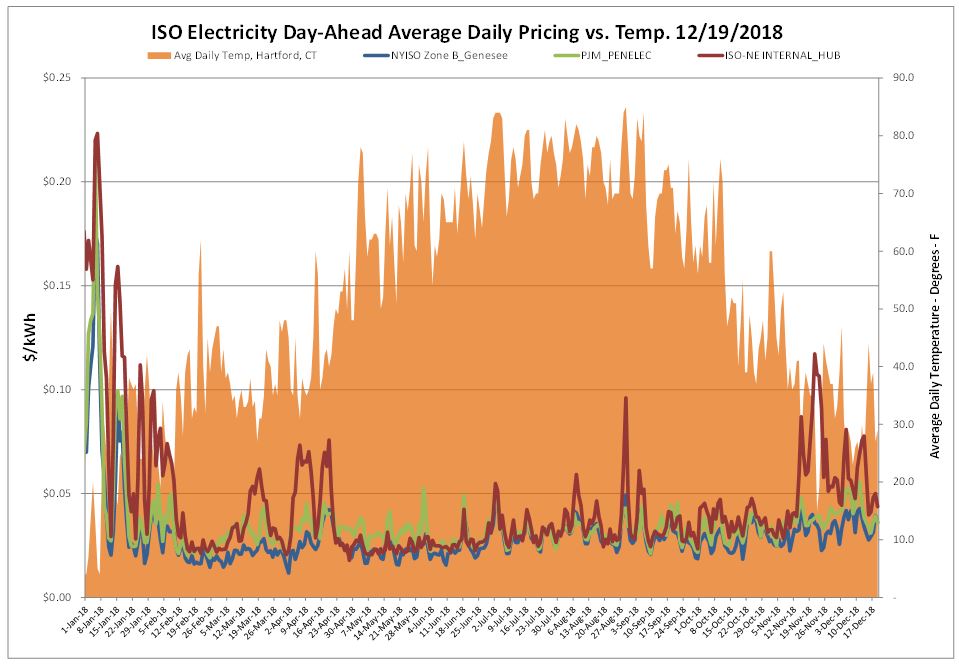 Day-ahead electric prices were also less volatile as warmer-than-normal weather was present across the Lower 48 states.
Natural Gas Markets
The price of the May 2019 NYMEX contract decreased $0.18 over the report week, and the 12-month strip averaging May 2019 through April 2020 futures contracts declined $0.15. Mild temperatures are forecast over the next few weeks, leading to lower demand. As a result, the year-over-year storage deficit is expected to be erased over the next two weeks. However, natural gas demand may be starting to be more in balance with supply. Net exports to Mexico, LNG exports and power burn are all forecasted to increase in 2019, leading to a possible disruption to the lull in prices.
Six-Month Natural Gas Futures
Futures as of 4/17/2019 versus previous week:
| | | |
| --- | --- | --- |
| May-19 | $2.517 | -$0.183 |
| Jun-19 | $2.559 | -$0.183 |
| Jul-19 | $2.623 | -$0.178 |
| Aug-19 | $2.652 | -$0.175 |
| Sep-19 | $2.649 | -$0.172 |
| Oct-19 | $2.679 | -$0.163 |
Natural Gas Inventory

Working gas in storage was 1,247 Bcf as of Friday, April 12, 2019. According to EIA estimates this represents a net increase of 92 Bcf from the previous week. Estimates of the weekly net change ranged from 82 Bcf to 103 Bcf, with a median estimate of 90 Bcf. The storage situation looks much different than it did just a month ago. This is the third injection so far this year, and the next few builds are estimated to be considerably greater than historical norms.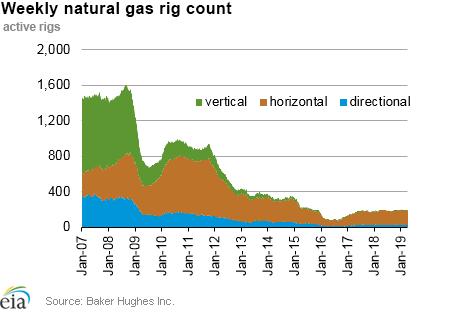 The Baker Hughes exploration gas rig count decreased by 2 rigs from last week for a total of 187 rigs. This is 5 less rigs than were in operation at this time one year ago when there were 192 rigs.
Weather Update
The NOAA forecast anticipates a blanket of slightly warmer than normal temperatures across the middle of the CONUS. Currently weather fundamentals are pointing to a moderate El Nino. If this continues, broadly speaking El Nino summers tend to be cooler/wetter in the eastern regions and warmer/drier along the west coast. Although models vary, most see this continuing through late summer, and weakening into Fall.
National Weather Service Updates (NOAA)
Hurricane Watch- No Hurricane Activity
Click here to view the National Hurricane Center site.
Equatorial Pacific Outlook:
Click here to view La Nina and El Nino status.
Energy News
In 2018, the United States consumed more energy than ever before
Primary energy consumption in the United States reached a record high of 101.3 quadrillion British thermal units (Btu) in 2018, up 4% from 2017 and 0.3% above the previous record set in 2007.
Summer 2019 gasoline prices forecast to be lower than last summer
In the April 2019 update of its Summer Fuels Outlook, EIA expects the retail price of U.S. regular-grade gasoline will average $2.76 per gallon (gal) during the summer from April through September 2019.
If you would like to receive the Energy Market Update to your inbox weekly, please click here to submit your name and email address.
Disclaimer: This information is provided for the use of our customers and potential customers. Power Management Company assumes no responsibility or liability for the accuracy or completeness of pricing or information in this document. Historical data was obtained from sources that we believe to be reliable, but we do not guarantee its accuracy or completeness. It is not intended to provide advice or recommendation. Views are subject to change without notice.