Electricity Markets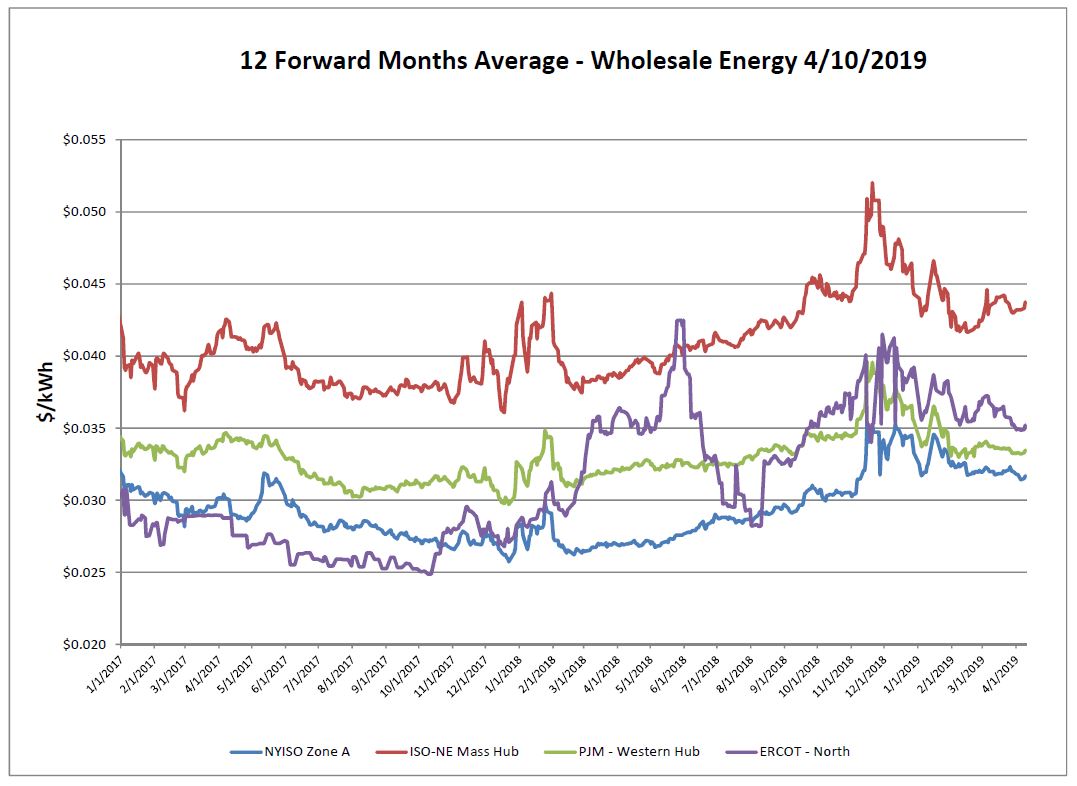 Only a slight tick up on the electric markets over the report week. Prices have been noticeably stable over the past few weeks.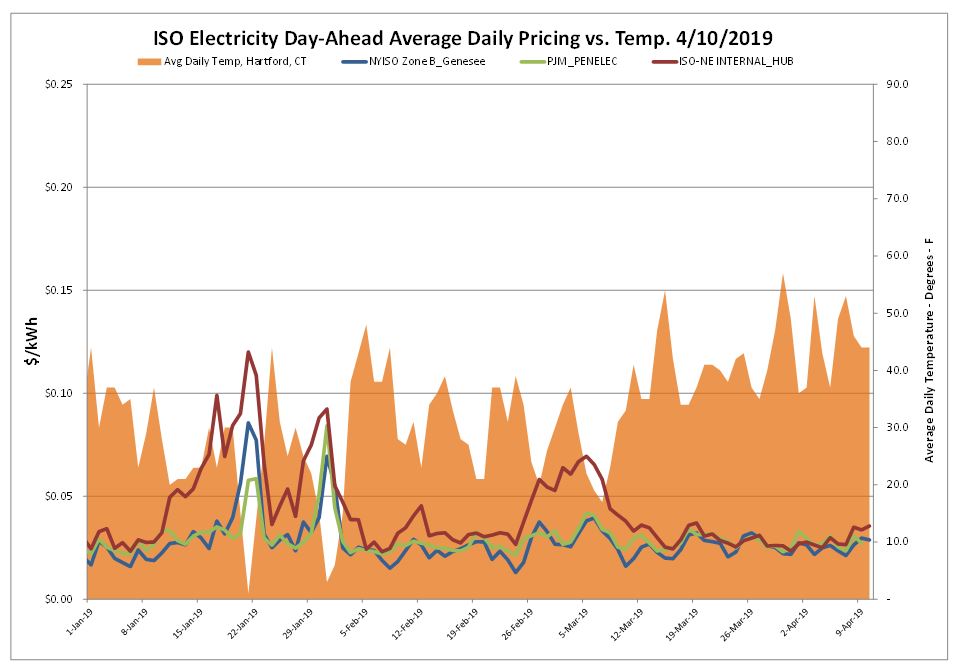 The day ahead market remained quiet as temperatures across the Lower 48 states were warmer than normal, despite a blizzard that set in across the Midwest on the last day of the report week.
Natural Gas Markets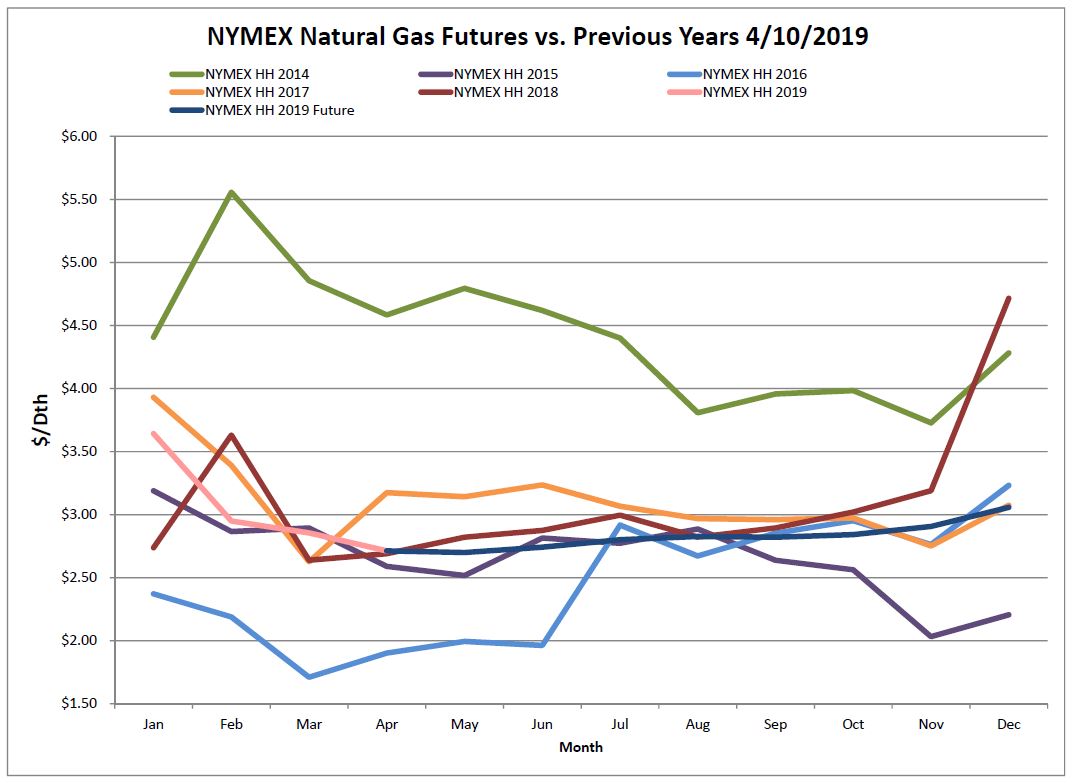 Natural gas prices moved up just slightly, with the NYMEX up $0.03 and the Algonquin basis up $0.04. Steady production and mild weather have given the market little incentive to force large price swings. Summer weather remains the big mystery, as another above average summer like last year, combined with the low storage reserves could leave the US with a poor storage situation heading into next winter.
Six-Month Natural Gas Futures
Futures as of 4/10/2019 versus previous week:
| | | |
| --- | --- | --- |
| May-19 | $2.700 | +$0.023 |
| Jun-19 | $2.742 | +$0.027 |
| Jul-19 | $2.801 | +$0.037 |
| Aug-19 | $2.827 | +$0.036 |
| Sep-19 | $2.821 | +$0.032 |
| Oct-19 | $2.842 | +$0.032 |
Natural Gas Inventory

As of Friday, April 5, 2019, working gas in storage was 1,155 Bcf.  According to EIA estimates this represents a net increase of 25 Bcf from the previous week. Analysts had anticipated a higher injection around 30-33 Bcf. This compares to the 20 Bcf withdrawal seen last year for the corresponding week, as well as the 5 Bcf five-year average injection.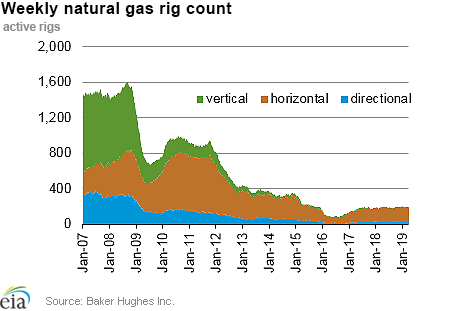 The Baker Hughes exploration gas rig count decreased by 5 rigs from last week for a total of 189 rigs. This is 3 less rigs than were in operation at this time one year ago when there were 192 rigs.
Weather Update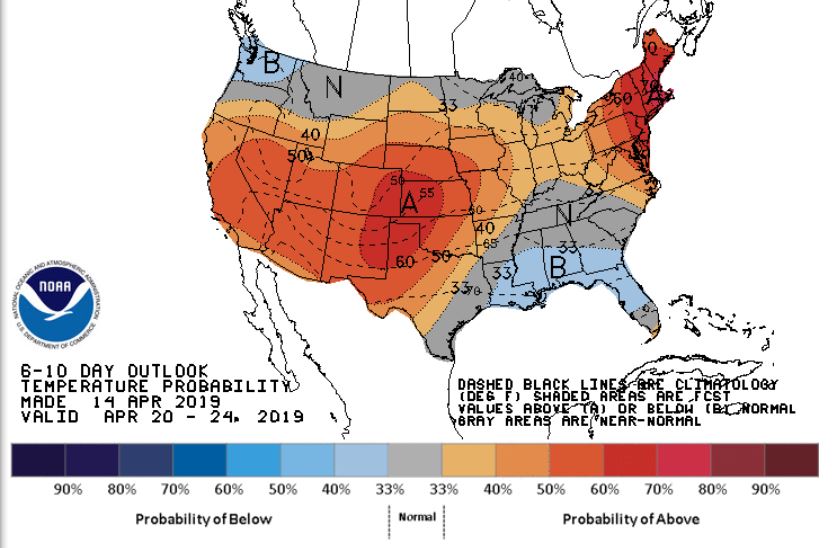 While the northern mid-continent faced severe winter weather conditions over the past few days, for the 6-10 day outlook, much of the rest of the U.S. looks to remain within the normal to slightly warmer-than-average range, keeping a ceiling on near term weather driven demand.
National Weather Service Updates (NOAA)
Hurricane Watch- No Hurricane Activity
Click here to view the National Hurricane Center site.
Equatorial Pacific Outlook:
Click here to view La Nina and El Nino status.
Energy News
ISO- NE considers new seasonal forward market to improve energy security
The Independent System Operator New England (ISO-NE) is developing a long-term proposal to address energy security, which will be filed with federal regulators in October, the grid operator said last week.
If you would like to receive the Energy Market Update to your inbox weekly, please click here to submit your name and email address.
Disclaimer: This information is provided for the use of our customers and potential customers. Power Management Company assumes no responsibility or liability for the accuracy or completeness of pricing or information in this document. Historical data was obtained from sources that we believe to be reliable, but we do not guarantee its accuracy or completeness. It is not intended to provide advice or recommendation. Views are subject to change without notice.