Electricity Markets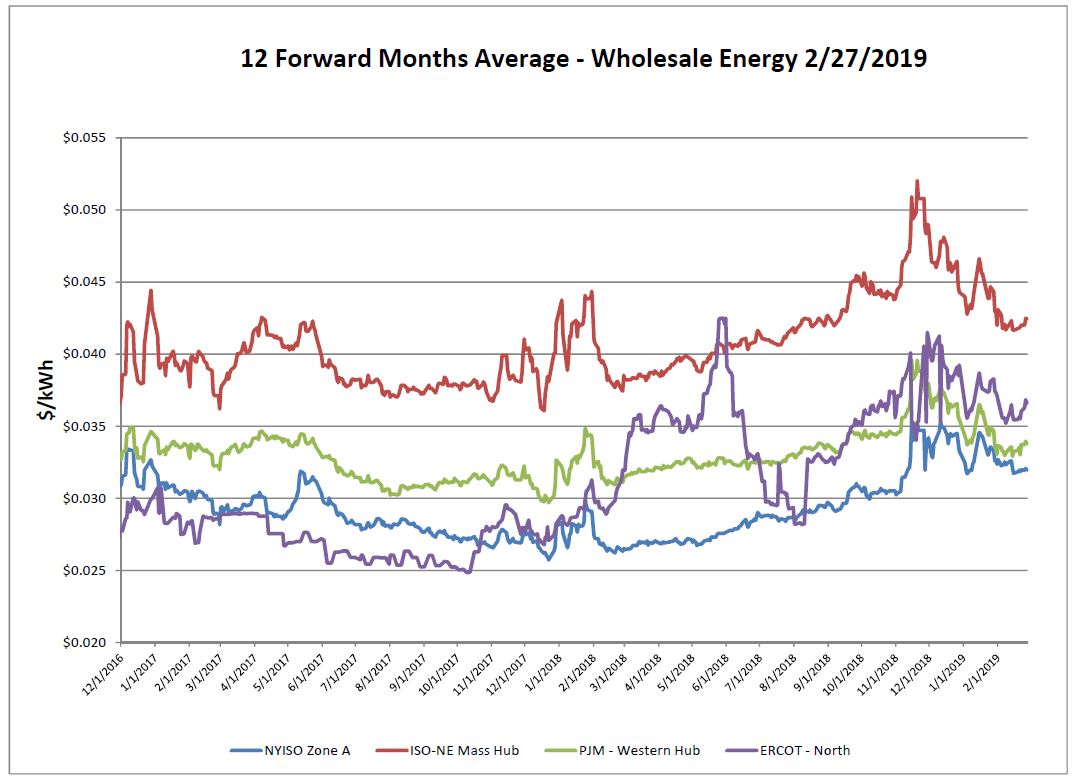 Electric prices saw a bump up over the report week. There may be some increased pressure over the coming week based on the heightened natural gas activity. ERCOT is likely starting to get nervous about summer demand again as they continue to show volatility.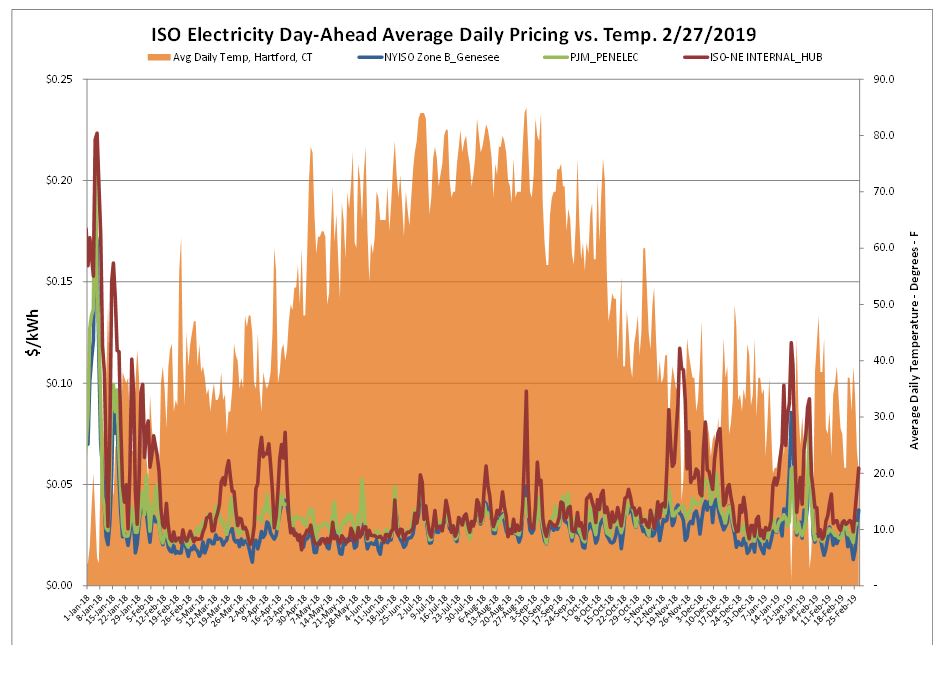 The end of the week saw some cooler weather putting pressure on natural gas and in turn the day-ahead electric market.
Natural Gas Markets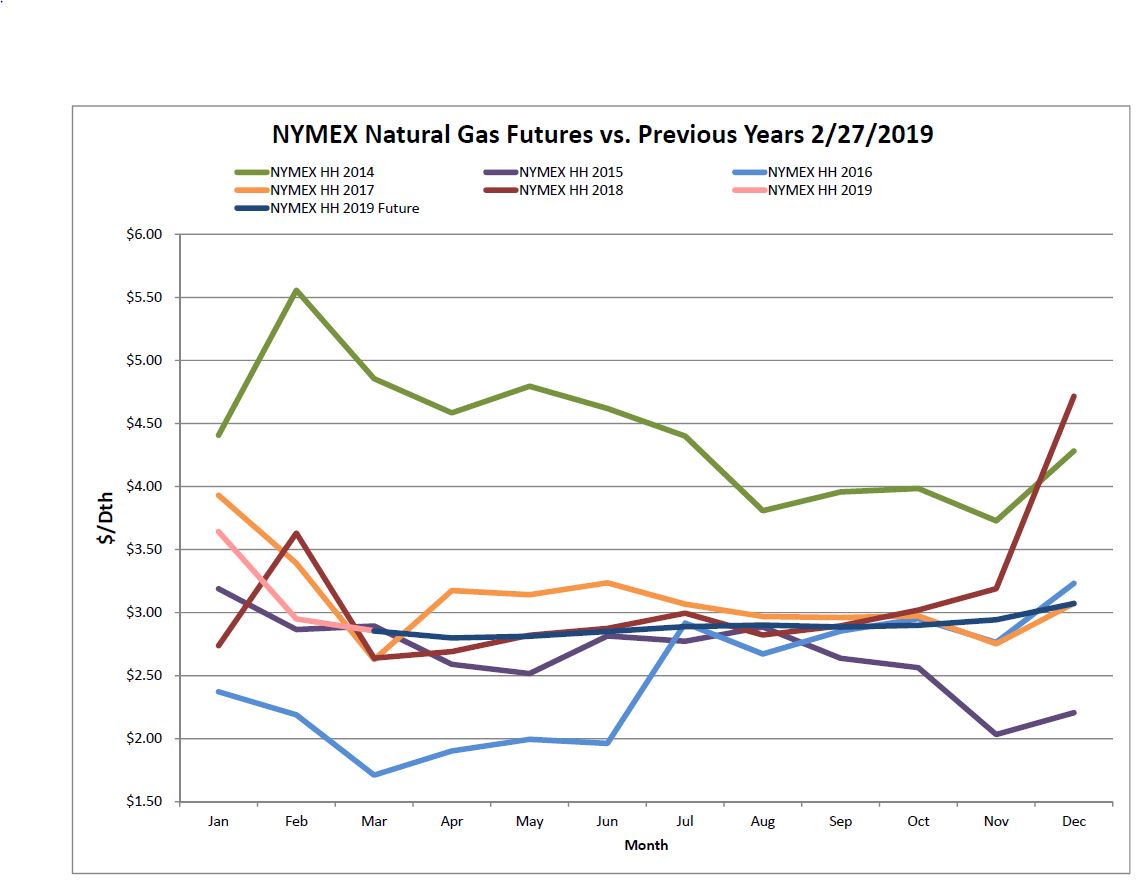 As we approached the March close, there was a run up in the market. The March '19 NYMEX contract expired Tuesday at $2.855, still below February's close of $2.950. The whole near-term natural gas curve moved up, with the price of the 12-month strip averaging April 2019 through March 2020 futures contracts climbing $0.09. With the anticipation of cooler weather moving into March, there is the likelihood for increase demand.
Six-Month Natural Gas Futures
Futures as of 2/27/2019 versus previous week:
| | | |
| --- | --- | --- |
| Apr-19 | $2.799 | +$0.130 |
| May-19 | $2.813 | +$0.120 |
| Jun-19 | $2.850 | +$0.109 |
| Jul-19 | $2.889 | +$0.096 |
| Aug-19 | $2.901 | +$0.091 |
| Sep-19 | $2.886 | +$0.087 |
Natural Gas Inventory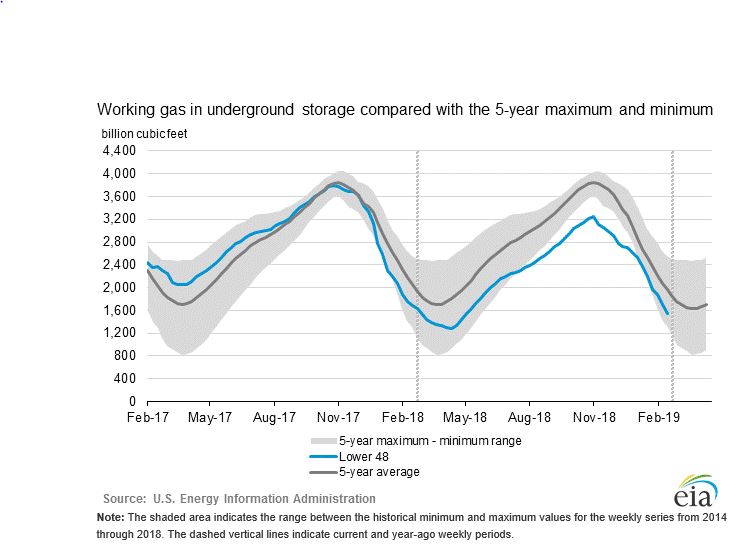 As of Friday, February 22, 2019, working gas in storage was 1,539 Bcf. According to EIA estimates this represents a net decrease of 166 Bcf from the previous week. Last year there was an 85 Bcf withdrawal and the 5-year average is 104 Bcf. Currently storage is within the 5-year maximum/minimum range.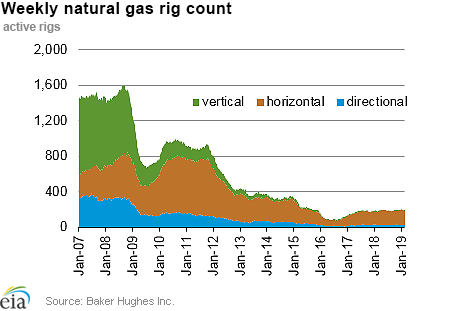 The Baker Hughes exploration gas rig count increased 1 rig from last week for a total of 195 rigs. This is 14 more rigs than were in operation at this time one year ago when there were 181 rigs.
Weather Update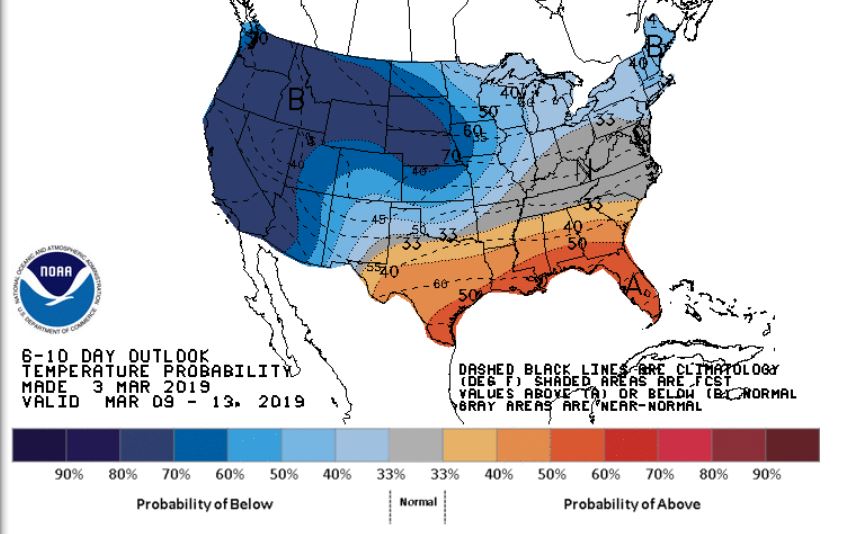 Forecasts for colder- than-normal weather remain for much of the CONUS. The West coast is anticipated to see some below normal temperatures for the middle of March. Some of the more Southern states and sweeping across into Texas on the other hand will be more seasonable
National Weather Service Updates (NOAA)
Hurricane Watch- No Hurricane Activity
Click here to view the National Hurricane Center site.
Equatorial Pacific Outlook:
Click here to view La Nina and El Nino status.
Energy News & Resources
Maine settlement could pave way for Canadian hydro in New England
Central Maine Power (CMP) and the Conservation Law Foundation (CLF), along with the Maine Governor's Office of Energy and several other parties, have filed a settlement agreement with state regulators
If you would like to receive the Energy Market Update to your inbox weekly, please click here to submit your name and email address.
Disclaimer: This information is provided for the use of our customers and potential customers. Power Management Company assumes no responsibility or liability for the accuracy or completeness of pricing or information in this document. Historical data was obtained from sources that we believe to be reliable, but we do not guarantee its accuracy or completeness. It is not intended to provide advice or recommendation. Views are subject to change without notice.