Electricity Markets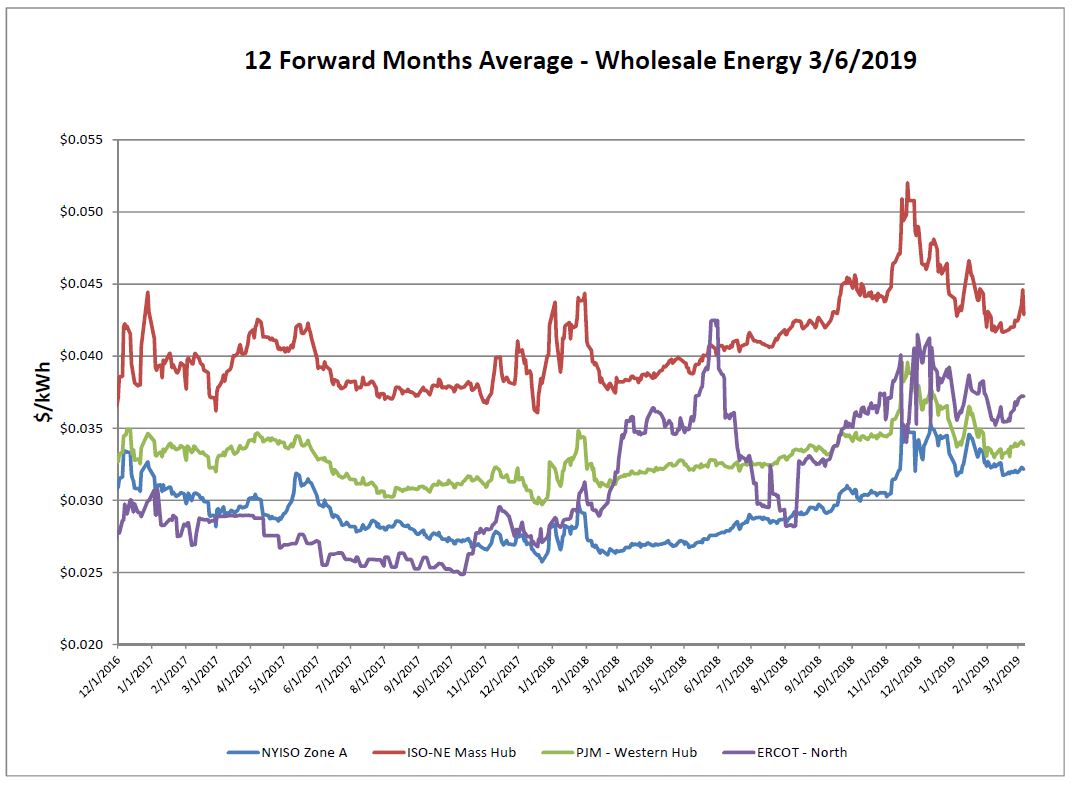 As ERCOT deals with industrial load growth, it continues to be a factor in their volatile electric market. Experts are trying to access what their needs will be into the future. The steady increase in oil prices recently and upward pressure on natural gas has contributed to the hook up in ISO-NE electric prices. NYISO & PJM were pretty stable week over week.
Both NY and NE continue to set aggressive renewable goals and new regulations. However, as we become less dependent on fossil fuels, this will destabilize the market and there will likely be some volatility around getting there. Renewables are not an equal substitute or source of capacity. Although the market situation was slightly different, the potential reaction is similar to when coal plants were closing in ERCOT last Spring and capacity during that time was at risk. When the considerable amount of plants were closed that took capacity out of the market a sharp reaction resulted.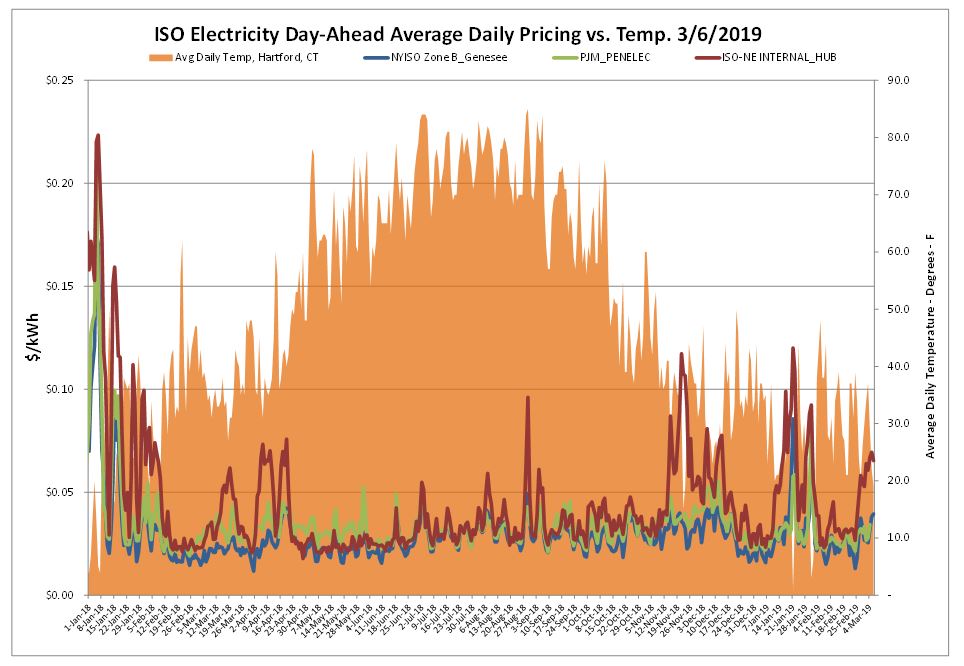 The day-ahead market was quiet through most of February for the most part. Below normal temperatures over the report week, for ISO-NE especially, caused some volatility as we move into March.
Natural Gas Markets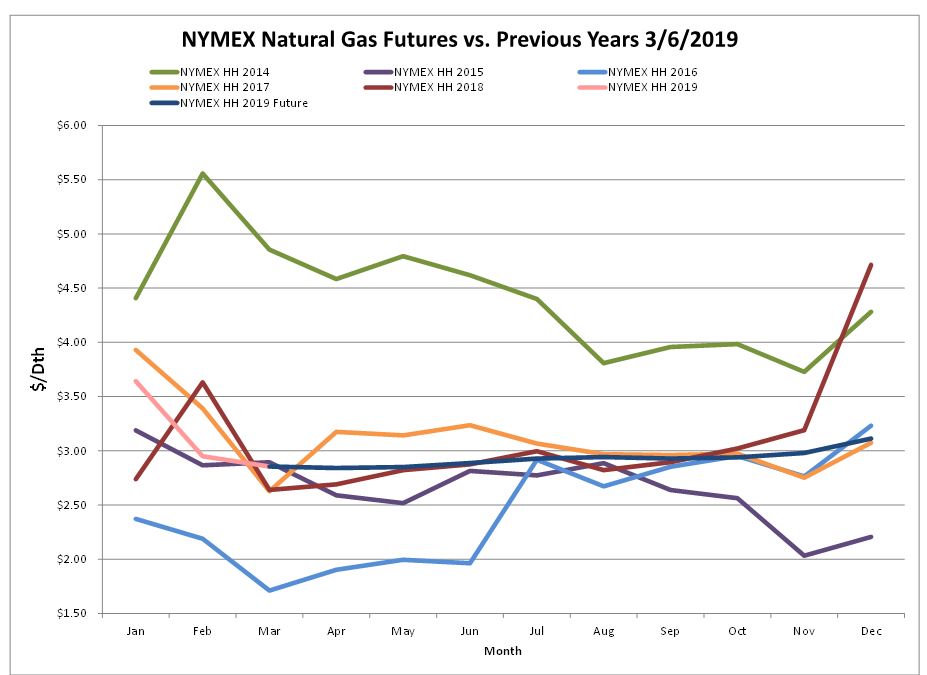 Natural gas prices were up slightly over the report week, with the NYMEX 12-month strip climbing $0.04. Demand for oil has increased as has the price of oil, tied to economic growth. The increase in oil has in turn impacted the Algonquin basis for New England.
Six-Month Natural Gas Futures
Futures as of 3/6/2019 versus previous week:
| | | |
| --- | --- | --- |
| Apr-19 | $2.841 | +$0.042 |
| May-19 | $2.850 | +$0.037 |
| Jun-19 | $2.887 | +$0.037 |
| Jul-19 | $2.928 | +$0.039 |
| Aug-19 | $2.942 | +$0.041 |
| Sep-19 | $2.928 | +$0.042 |
Natural Gas Inventory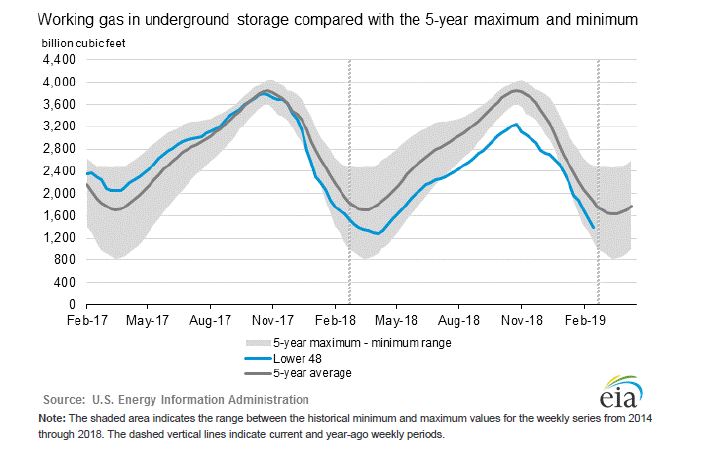 According to EIA estimates a net decrease of 149 Bcf from the previous week was reported. As of Friday, March 1, 2019 working gas in storage was 1,390 Bcf. This was a large pull for this time of the year, tied to the below normal temperatures. Next week will likely be close to the same or higher. In comparison, last year there was a -60 Bcf withdrawal and the 5-year average is -109 Bcf. Storage levels are projected to get as low as 1.04 Tcf before switching to injections. If this pans out, it would result in the lowest post-winter gas storage level since the winter of 2014. Additional gas injections this summer would be necessary to have a healthy amount of gas set aside for next winter.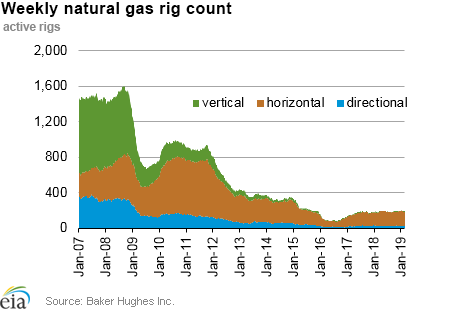 The Baker Hughes exploration gas rig count decreased by 2 rigs from last week for a total of 193 rigs. This is 5 more rigs than were in operation at this time one year ago when there were 188 rigs.
Weather Update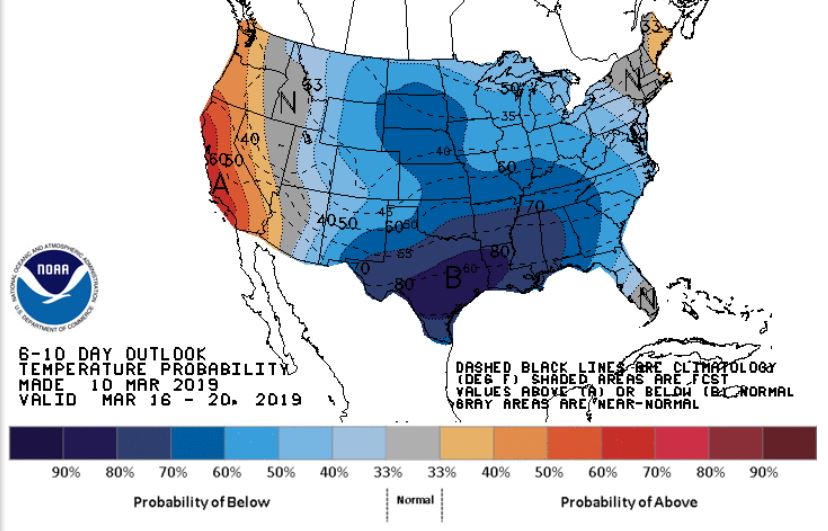 Recent forecasts for most of the CONUS are less optimistic than first thought, shifting cooler and driving end-of-season storage estimates lower to expand the storage deficit. Temperatures along the east coast are forecast to be 'normal' over the next week and then shift cooler again in the 8-14 day outlook.
National Weather Service Updates (NOAA)
Hurricane Watch- No Hurricane Activity
Click here to view the National Hurricane Center site.
Equatorial Pacific Outlook:
Click here to view La Nina and El Nino status.
Energy News & Resources
Consumers in retail competition markets saved $300B over the past decade, trade group says
New research released Monday by the Retail Energy Supply Association (RESA) highlights what the group calls an "eyeopening cost disparity" between states with competitive energy markets and those with monopoly utilities, and the rates their customers pay.
Coal power still gets NH through coldest days of the year
New Hampshire will soon be home to the only coal-fired power plants left in New England, and the owner of those power plants says they will be burning coal for the foreseeable future.
If you would like to receive the Energy Market Update to your inbox weekly, please click here to submit your name and email address.
Disclaimer: This information is provided for the use of our customers and potential customers. Power Management Company assumes no responsibility or liability for the accuracy or completeness of pricing or information in this document. Historical data was obtained from sources that we believe to be reliable, but we do not guarantee its accuracy or completeness. It is not intended to provide advice or recommendation. Views are subject to change without notice.