Electricity Markets
The electric markets saw little activity over the report week. Capacity prices continue to work in favor for those looking to hedge electric contracts in NYISO and ISO-NE. Last year the market ran fairly flat from February forward. We will continue to keep an eye on if same pattern seems to transpire.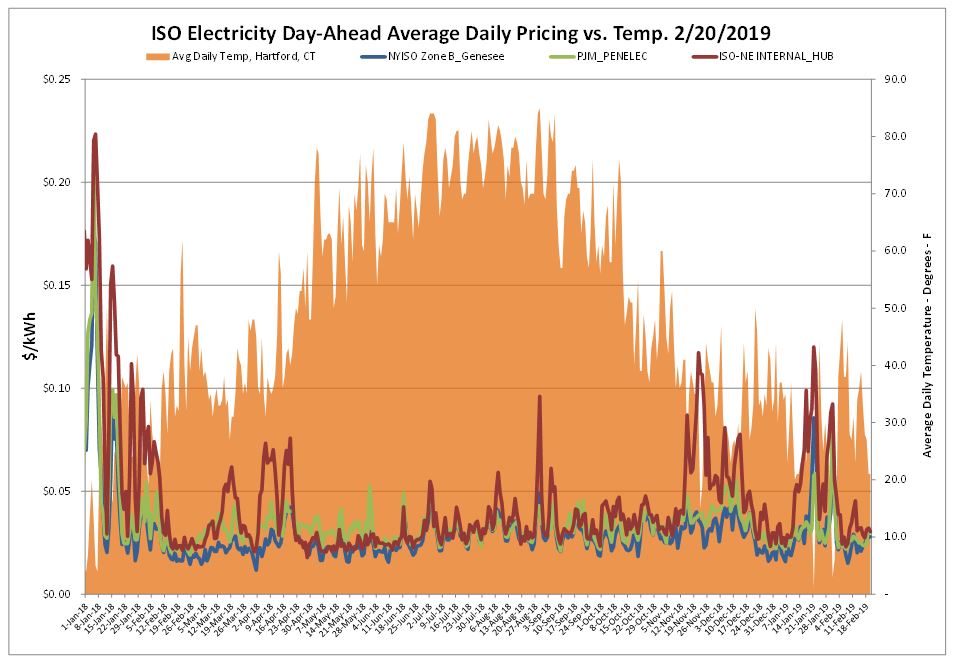 Temperatures were both below and above normal throughout the report week. However, temperatures did not extend into periods of severe cold so no real volatility persisted.
Natural Gas Markets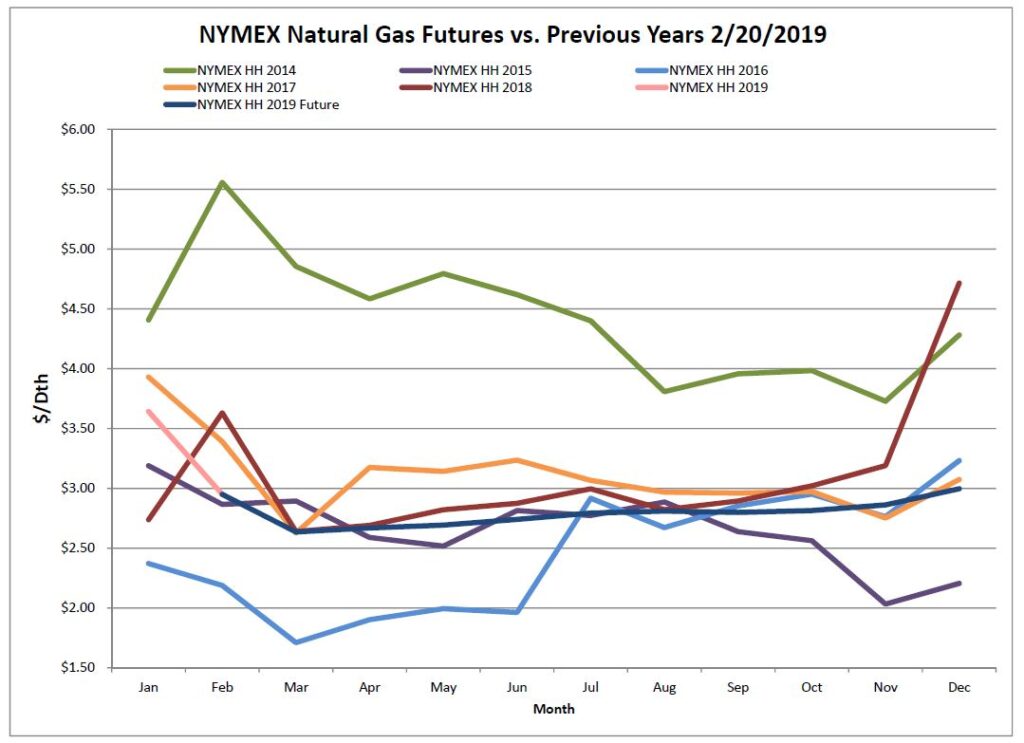 Natural gas prices were up slightly, with the NYMEX 12-month strip up $0.03. Prices seem to be relatively stabilized as we head out of the winter period. As weather moderates into the spring, production is expected to grow. The market appears well positioned regardless of some fundamentals like storage being on the lower end of the spectrum.
Six-Month Natural Gas Futures
Futures as of 2/20/2019 versus previous week: 
| | | |
| --- | --- | --- |
| Mar-19 | $2.636 | +$0.061 |
| Apr-19 | $2.669 | +$0.048 |
| May-19 | $2.693 | +$0.041 |
| Jun-19 | $2.741 | +$0.040 |
| Jul-19 | $2.793 | +$0.039 |
| Aug-19 | $2.810 | +$0.034 |
Natural Gas Inventory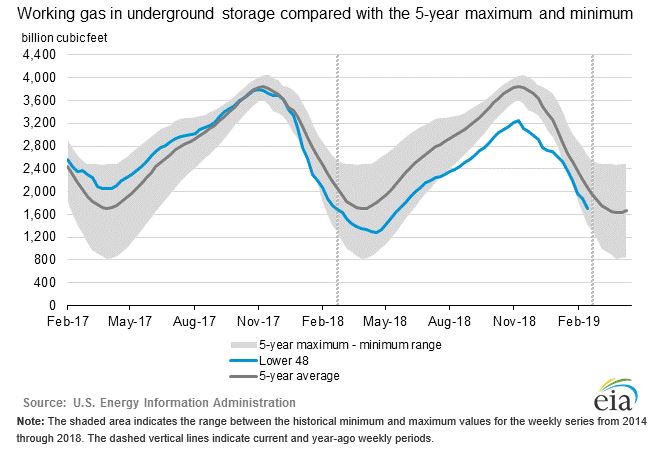 The EIA reported a net decrease of 177 Bcf for the week ending Friday, February 15, 2019. This withdrawal left working gas in storage at 1,705 Bcf. This is both above last year's withdrawal of 134 Bcf and the 5-year average of 148 Bcf. We can likely expect next week to have a similar withdrawal. Currently there is only about a one week storage pull difference from this time last year. If we can continue to close the gap to the five-year average, it would be a strong signal to favorable prices moving forward.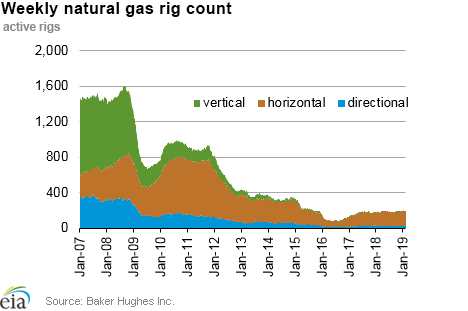 The Baker Hughes exploration gas rig count was unchanged from last week for a total of 194 rigs. This is 15 more rigs than were in operation at this time one year ago when there were 179 rigs.
Weather Update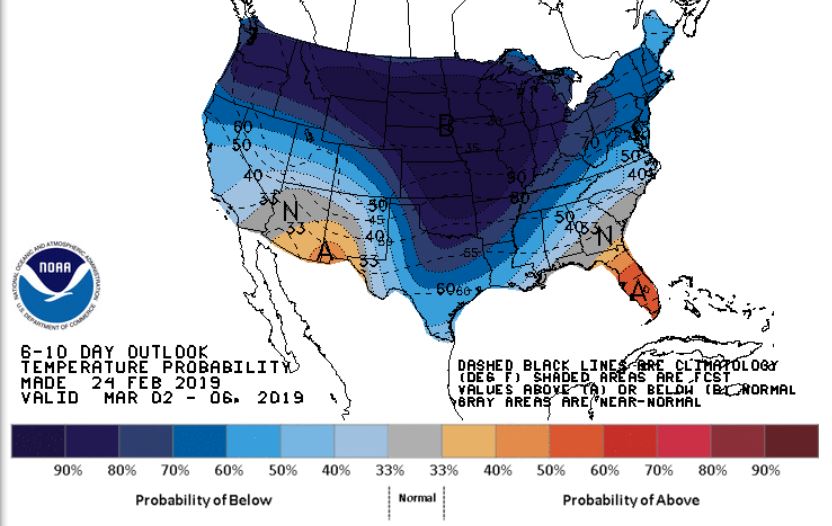 The vast majority of the CONUS is expected to be engulfed in below-normal temperatures for the beginning to mid-March.
National Weather Service Updates (NOAA)
Hurricane Watch- No Hurricane Activity
Click here to view the National Hurricane Center site.
Equatorial Pacific Outlook:
Click here to view La Nina and El Nino status.
Energy News & Resources
New England efficiency advocates raise alarm over potential capacity market changes
Advanced Energy Economy (AEE) this week filed a petition with the Federal Energy Regulatory Commission (FERC), asking regulators to halt ISO New England from making changes outside of an established process
If you would like to receive the Energy Market Update to your inbox weekly, please click here to submit your name and email address.
Disclaimer: This information is provided for the use of our customers and potential customers. Power Management Company assumes no responsibility or liability for the accuracy or completeness of pricing or information in this document. Historical data was obtained from sources that we believe to be reliable, but we do not guarantee its accuracy or completeness. It is not intended to provide advice or recommendation. Views are subject to change without notice.