Electricity Markets
The forward electric market remained quiet over the report week, with only slight up-ticks in each of the ISO's.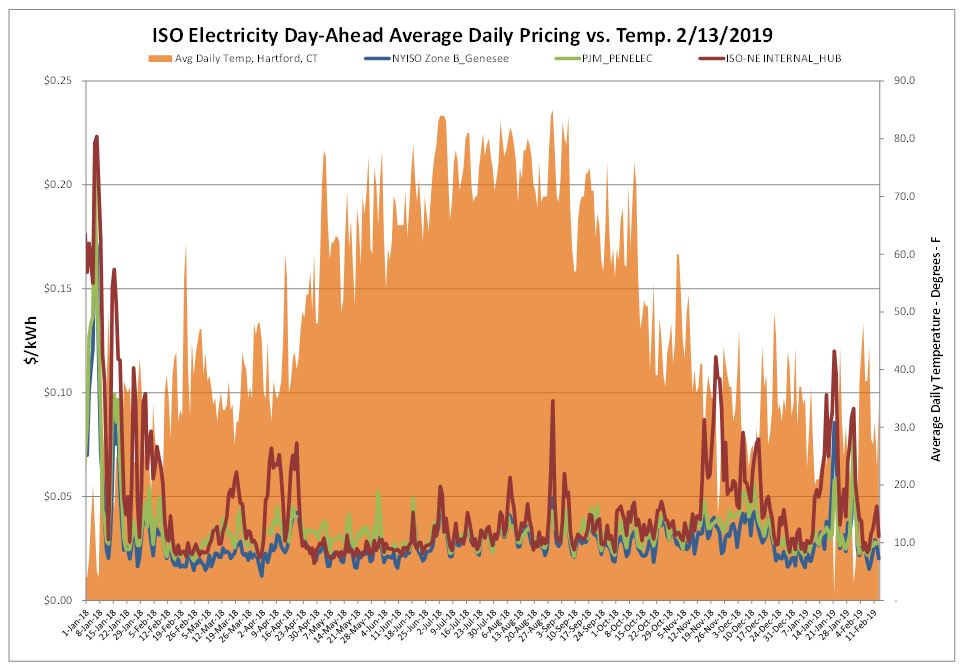 The Northeast experienced above normal temperatures early in the report week. However, later in the week temperatures fell considerably, with seasonal winter temperatures persisting through the end of the report week.
Natural Gas Markets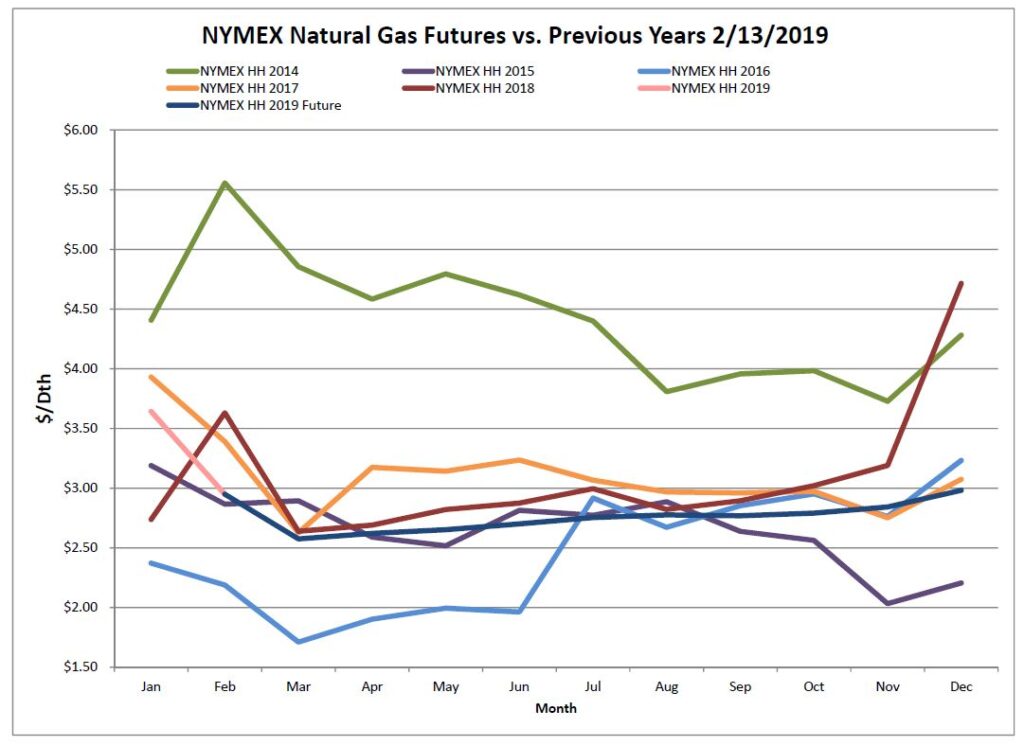 Natural gas futures continued to flex down. March '18 is trading below the majority of historical year. Relative to previous years settle prices, attractive prices on the future markets remain.
Six-Month Natural Gas Futures
Futures as of 2/13/2019 versus previous week:
| | | |
| --- | --- | --- |
| Mar-19 | $2.575 | -$0.087 |
| Apr-19 | $2.621 | -$0.036 |
| May-19 | $2.652 | -$0.019 |
| Jun-19 | $2.701 | -$0.019 |
| Jul-19 | $2.754 | -$0.016 |
| Aug-19 | $2.776 | -$0.004 |
Natural Gas Inventory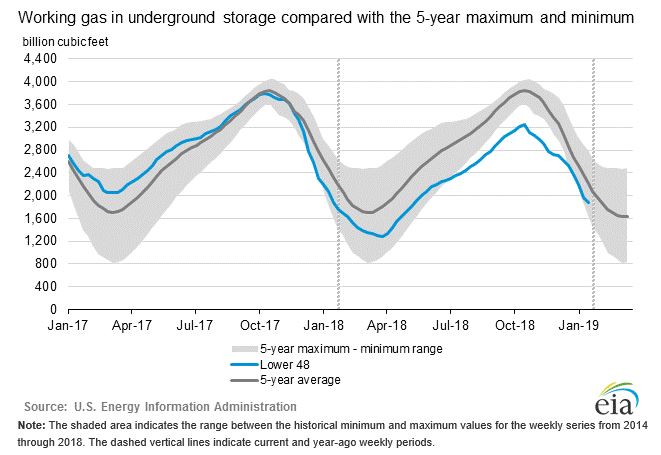 For the week ending Friday, February 8, 2019, a net withdrawal of 78 Bcf was reported. This was right in line with market expectations. Working gas in storage was 1,882 Bcf as of, according to EIA estimates. This was the lowest pull from storage since the last week of December '18. Last year there was 183 Bcf withdrawal and the five-year average is 160 Bcf. The smaller pull from inventories is reflective of the milder weather, while the current cold wave will likely push up the next two storage withdrawals.
The Baker Hughes exploration gas rig count decreased 1 rig from last week for a total of 194 rigs. This is 17 more rigs than were in operation at this time one year ago when there were 177 rigs.
Weather Update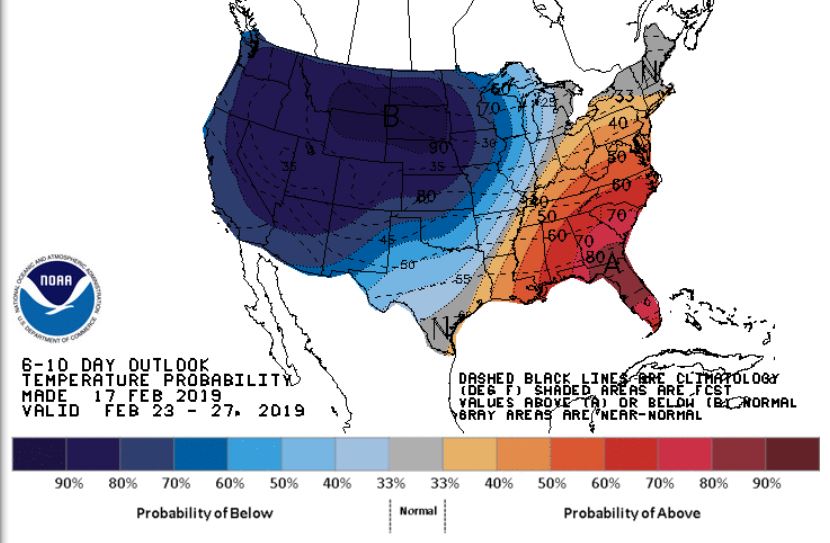 A lingering cold blast stretching across the Northwest and into the Midwest is expected to continue through the remainder of February. Normal to above-normal temperatures are expected along the East Coast.
National Weather Service Updates (NOAA)
Hurricane Watch- No Hurricane Activity
Click here to view the National Hurricane Center site.
Equatorial Pacific Outlook:
Click here to view La Nina and El Nino status.
Energy News & Resources
ISO-NE Forward Capacity Auction Closes With Adequate Power System Resources for 2022-2023
New England's annual capacity auction for power system resources concluded Monday with sufficient resources to meet peak demand in 2022-2023, and preliminary results indicate the clearing price was the lowest in six years.
Transmission constraints impede incremental Quebec-to-US power deliveries
With roughly 37,000 MW of installed hydro power capacity, Quebec has ample spare capacity that it would like to deliver into Northeastern US markets where ambitious clean energy goals have been announced, but expanding transmission infrastructure is challenging.
If you would like to receive the Energy Market Update to your inbox weekly, please click here to submit your name and email address.
Disclaimer: This information is provided for the use of our customers and potential customers. Power Management Company assumes no responsibility or liability for the accuracy or completeness of pricing or information in this document. Historical data was obtained from sources that we believe to be reliable, but we do not guarantee its accuracy or completeness. It is not intended to provide advice or recommendation. Views are subject to change without notice.