Electricity Markets
The general direction of the forward electric markets is trending down. Attractive index/variable pricing in western NY especially, due to favorable capacity prices driving the overall cost down. ISO-NE performed well during the most recent cold spell relative to previous years. June 1st new capacity prices will go into effect, providing some relief from the elevated prices.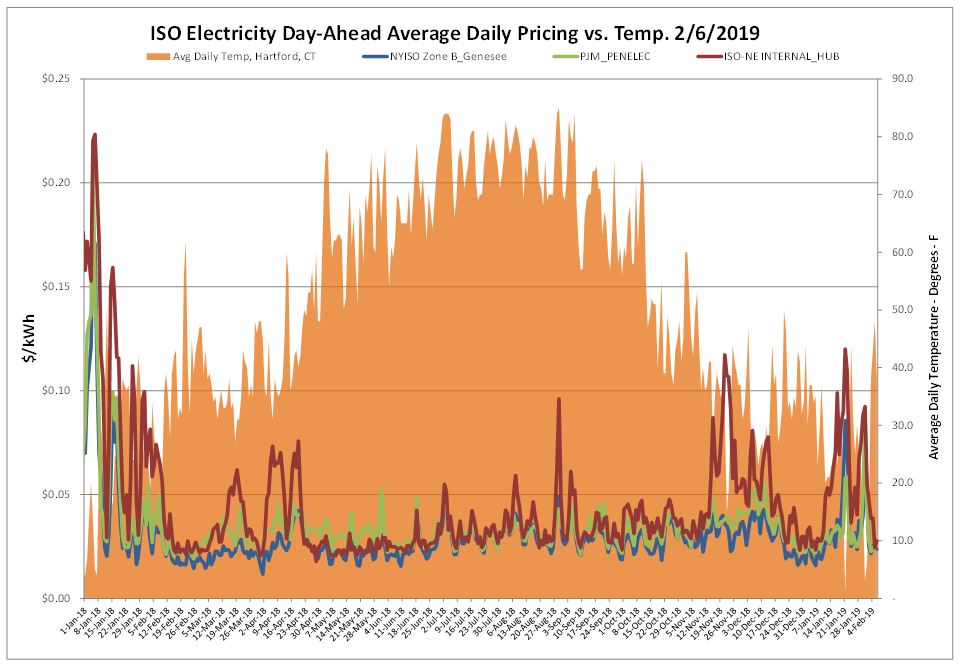 The CONUS is now through the historically coldest time of the year. Average daily temperatures have begun to trend up, however any below normal temperatures throughout the coming weeks will likely still provide volatility on the daily market.
Natural Gas Markets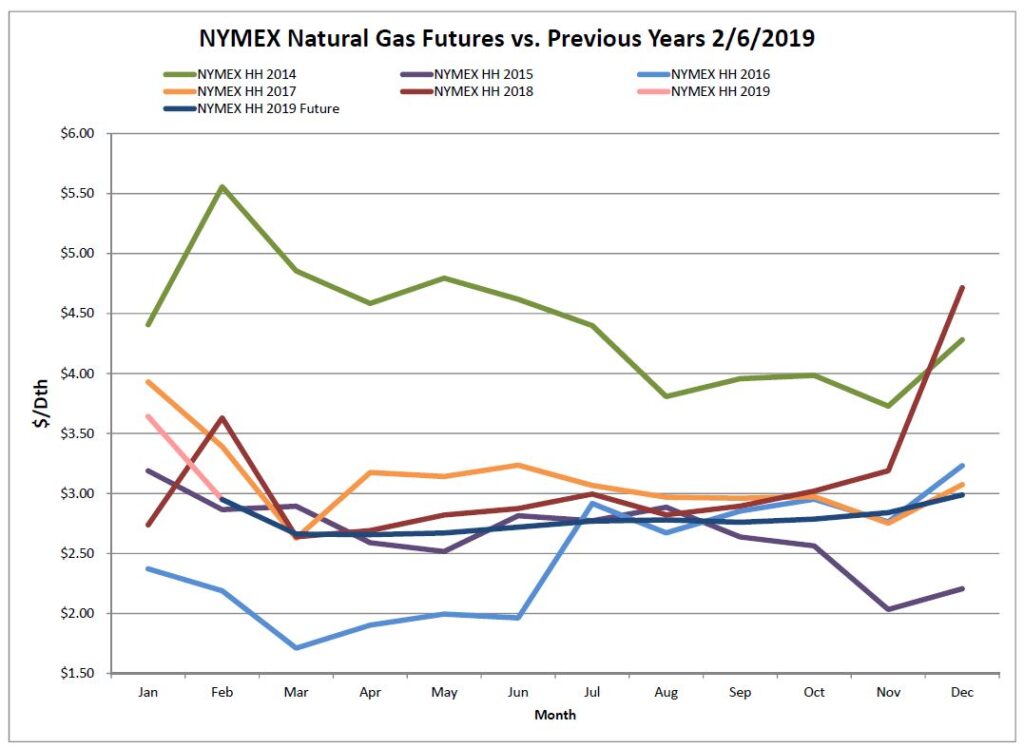 Natural gas has remained relatively stable with no extreme swings. NYMEX futures trended down over the report week.
Six-Month Natural Gas Futures
Futures as of 2/6/2019 versus previous week:
| | | |
| --- | --- | --- |
| Mar-19 | $2.662 | -$0.192 |
| Apr-19 | $2.657 | -$0.151 |
| May-19 | $2.671 | -$0.142 |
| Jun-19 | $2.720 | -$0.139 |
| Jul-19 | $2.770 | -$0.136 |
| Aug-19 | $2.780 | -$0.127 |
Natural Gas Inventory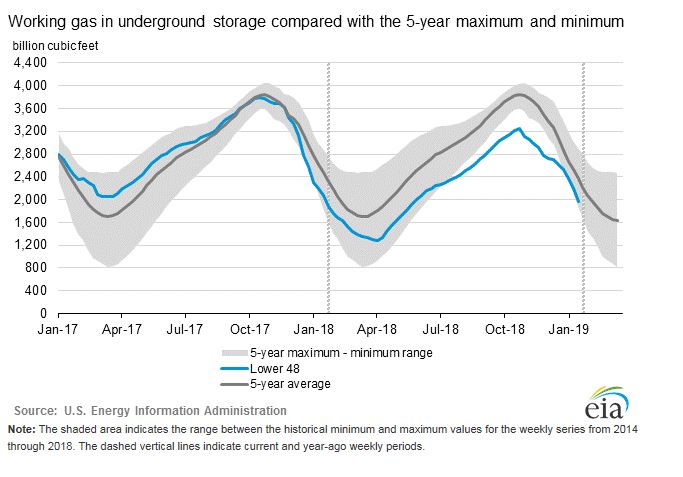 The EIA reported a net withdrawal of 237 Bcf. As of Friday, February 1, 2019, working gas in storage was 1,960 Bcf. The market was expecting a withdrawal closer to 250 Bcf, but regardless the net decrease is well above last year's 116 Bcf withdrawal, as well as the 5-year average of -150 Bcf. Next week will likely be a lower net change due to the milder weather over the previous week.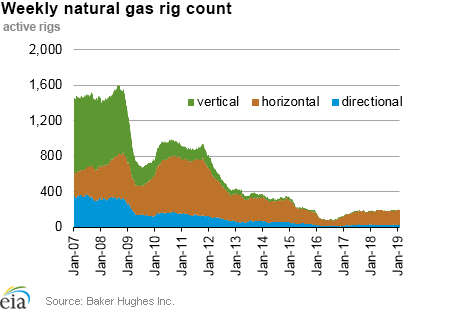 The Baker Hughes exploration gas rig count decreased 3 rigs from last week for a total of 195 rigs. This is 11 more rigs than were in operation at this time one year ago when there were 184 rigs.
Weather Update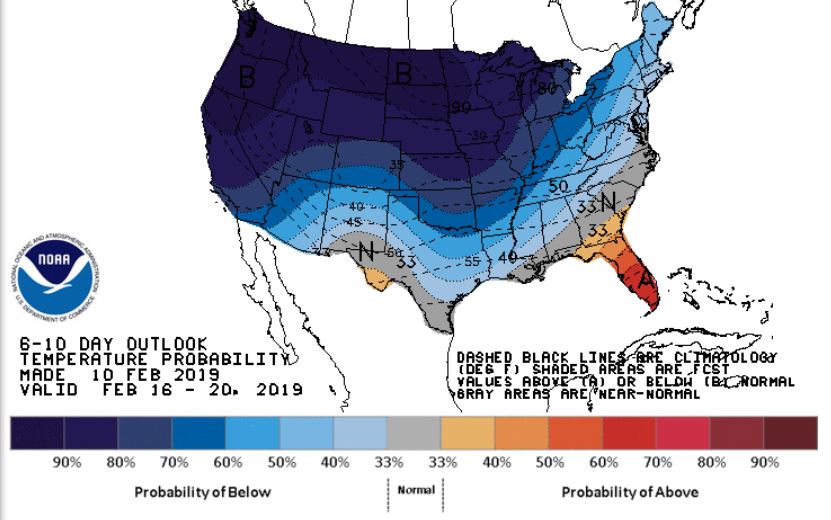 Colder-than-normal temperatures return later in the February forecasts with the exception of a few Southeastern states. A reminder that winter is not over yet.
National Weather Service Updates (NOAA)
Hurricane Watch- No Hurricane Activity
Click here to view the National Hurricane Center site.
Equatorial Pacific Outlook:
Click here to view La Nina and El Nino status.
Energy News & Resources
As Maine debates 145-mile electric line, energy giant with billions at stake is absent
As Maine regulators are deciding whether to approve the construction of a $1 billion transmission line across much of western Maine, the Canadian hydroelectric utility poised to make billions of dollars from the project has been absent from the process.
Surviving the Polar Vortex: A Look at How the Electricity System Fared
Nuclear, gas, coal, wind and solar all faced some challenges in the numbing cold.
If you would like to receive the Energy Market Update to your inbox weekly, please click here to submit your name and email address.
Disclaimer: This information is provided for the use of our customers and potential customers. Power Management Company assumes no responsibility or liability for the accuracy or completeness of pricing or information in this document. Historical data was obtained from sources that we believe to be reliable, but we do not guarantee its accuracy or completeness. It is not intended to provide advice or recommendation. Views are subject to change without notice.