Electricity Markets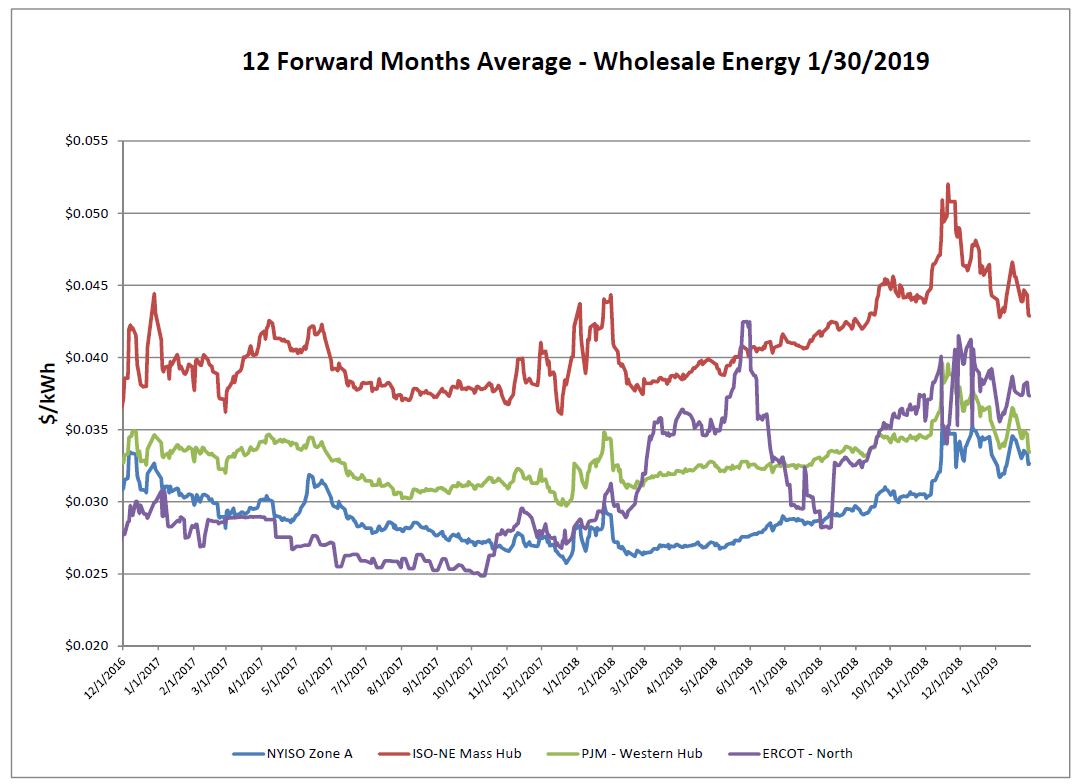 Electric prices throughout ISO-NE, NYISO and PJM all continued to drop off over the report week while Texas remained fairly flat. Earlier in winter, the markets had briefly touched these levels but then regained ground.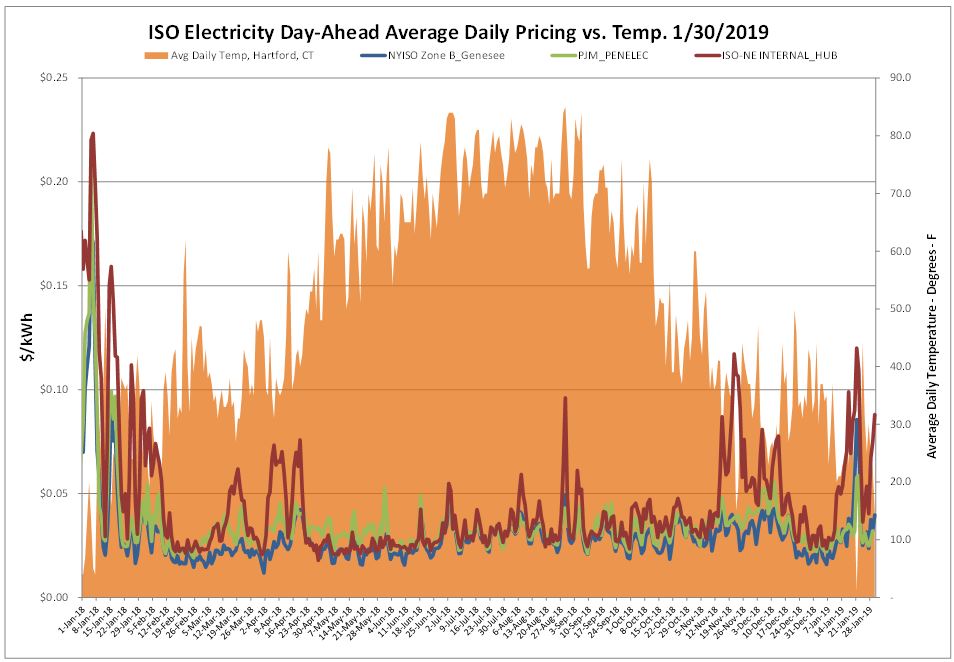 Although it's been cold, it has been in relatively short durations. Most of the price volatility has been sustained on the day-ahead market only, as prices continue to spike and retreat.
Natural Gas Markets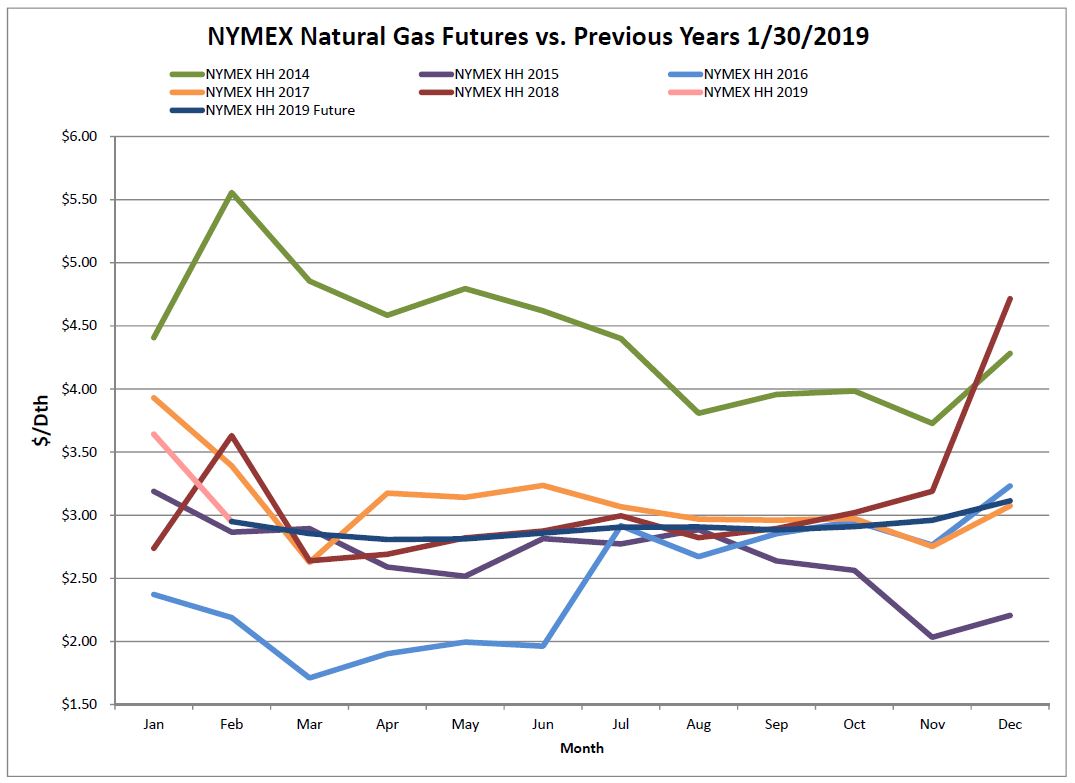 The February prompt month settled at $2.95. This is the lowest February settlement price since 2016. The market didn't seem to have overreacted to the extreme cold temperatures. Instead, natural gas futures looked forward into February where warmer weather and strong productions have put downward pressure on the prompt month and beyond.
Six-Month Natural Gas Futures
Futures as of 1/30/2019 versus previous week:
| | | |
| --- | --- | --- |
| Mar-19 | $2.854 | -$0.068 |
| Apr-19 | $2.808 | +$0.018 |
| May-19 | $2.813 | +$0.028 |
| Jun-19 | $2.859 | +$0.026 |
| Jul-19 | $2.906 | +$0.023 |
| Aug-19 | $2.907 | +$0.021 |
Natural Gas Inventory

As of Friday, January 25, 2019, working gas in storage was 2,197 Bcf. According to EIA estimates this represents a net decrease of 173 Bcf from the previous week. This is a bit below expectation which centered around 198 Bcf. As the polar vortex moved throughout the Midwest and Northeast, ResComm demand increased. The current surplus of natural gas in storage appears to be short-lived as the next few reports will likely show withdrawals greater than last year, putting us back into deficit territory.
The Baker Hughes exploration gas rig count increased 1 rig from last week for a total of 198 rigs. This is 17 more rigs than were in operation at this time one year ago when there were 181 rigs.
Weather Update

Extremely cold conditions drove up demand for heating over the past few weeks. Over the next several days and into mid-February, forecasts are anticipating the west coast to experience temperatures much below normal. The Midwest and Northeast will also continue to see temperatures unseasonably cool. Those in the southern states will see things warm up.
National Weather Service Updates (NOAA)
Hurricane Watch- No Hurricane Activity
Click here to view the National Hurricane Center site.
Equatorial Pacific Outlook:
Click here to view La Nina and El Nino status.
Energy News & Resources
PSEG: Nuclear Plants Will Soon Close Without Subsidies
Public Service Enterprise Group (PSEG) has again told New Jersey officials it needs subsidies to continue operating its three nuclear power units in the state
Shop for electricity? Florida voters could decide in 2020.
A petition for a ballot measure that could potentially reinvent Florida's electric utility industry is headed to the Florida Supreme Court.
New England power plant emissions declines have been led by gas and wind
Mystic argues FERC-approved cost-of-service agreement fails at full cost Recovery
If you would like to receive the Energy Market Update to your inbox weekly, please click here to submit your name and email address.
Disclaimer: This information is provided for the use of our customers and potential customers. Power Management Company assumes no responsibility or liability for the accuracy or completeness of pricing or information in this document. Historical data was obtained from sources that we believe to be reliable, but we do not guarantee its accuracy or completeness. It is not intended to provide advice or recommendation. Views are subject to change without notice.