Electricity Markets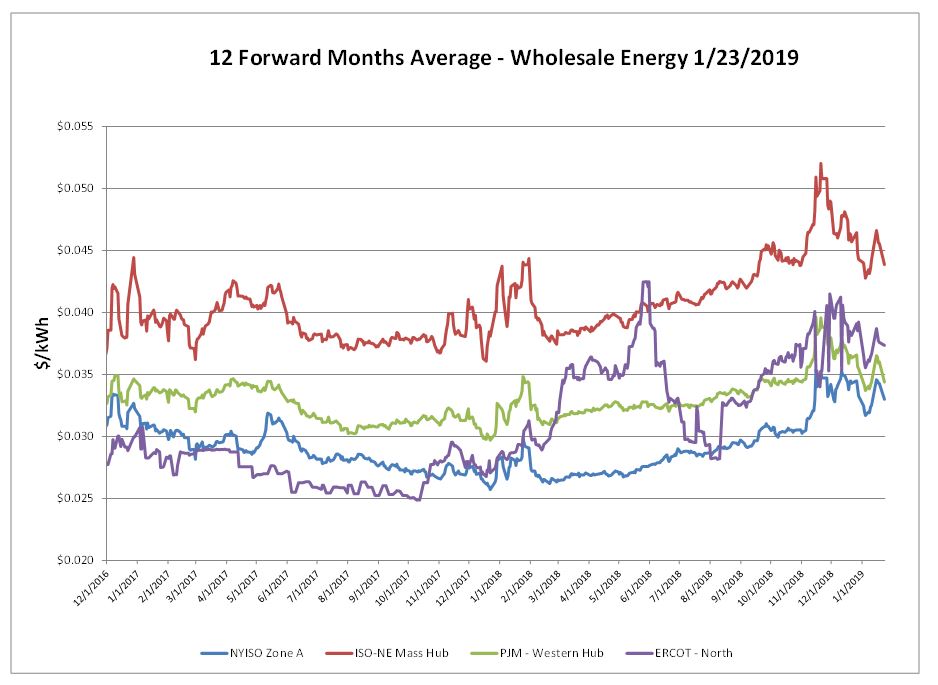 Electric markets continue to feel the volatility of winter temperatures and natural gas demand as prices jump up and down week over week.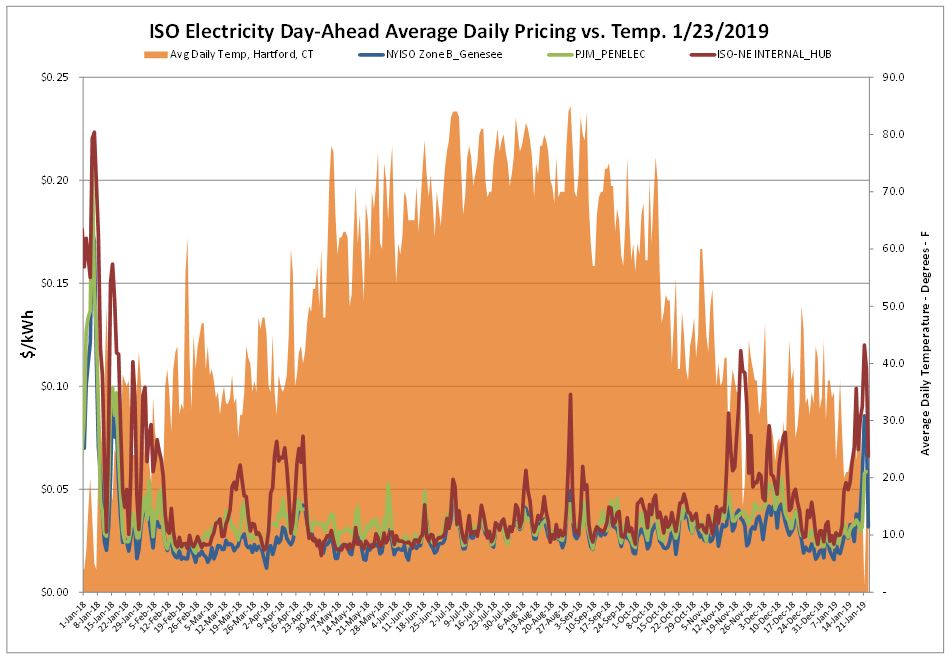 The East Coast saw some of the coldest temperatures of the season over the report week. All markets shot up on the day-ahead market, while New England felt the greatest impact. Although average temperatures were much below normal at times, the cold spell was not as severe as last year when the cold was more prolonged over a week's time.
Natural Gas Markets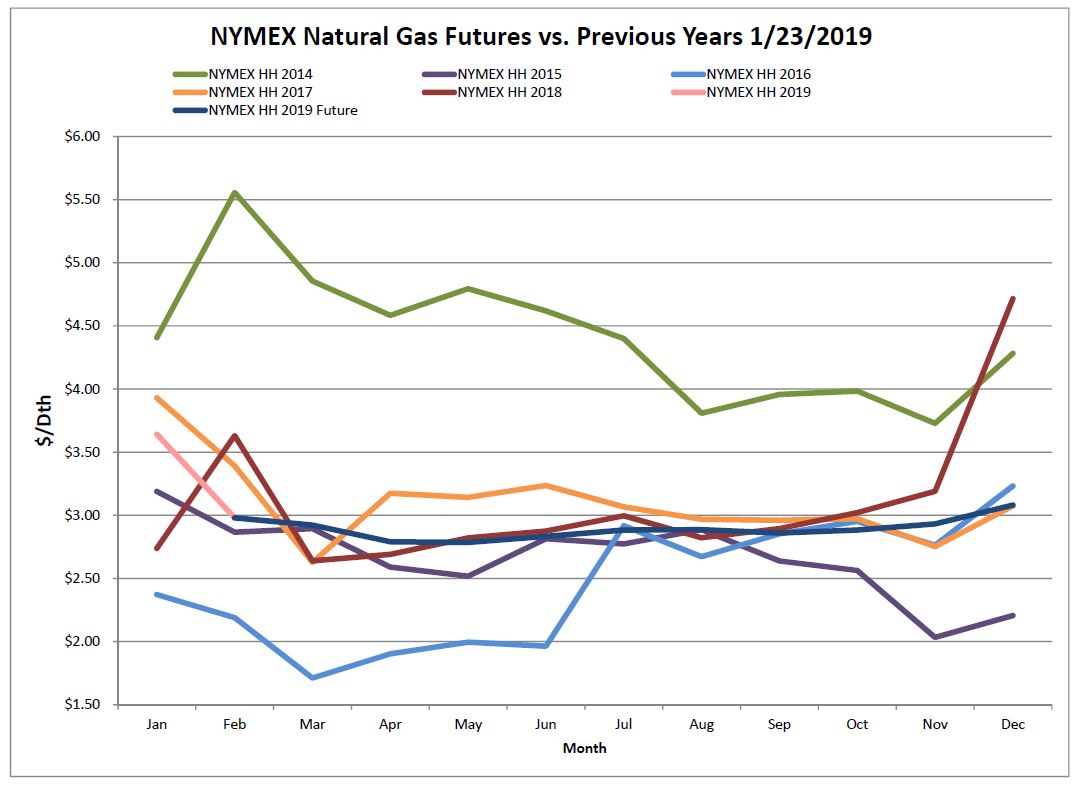 Although natural gas demand was high amid frigid temperatures, the NYMEX was relatively unphased. In New England, LNG imports helped to keep natural gas and electric price down in the region and kept pressure off the pipeline during this tight time (see article below). Overall, the NYMEX was down 4 cents week over the week and Algonquin was down 17 cents. February NYMEX settlement will close on Tuesday 1/29.
Six-Month Natural Gas Futures
Futures as of 1/23/2019 versus previous week: 
| | | |
| --- | --- | --- |
| Feb-19 | $2.980 | -$0.404 |
| Mar-19 | $2.922 | -$0.225 |
| Apr-19 | $2.790 | -$0.043 |
| May-19 | $2.785 | -$0.012 |
| Jun-19 | $2.833 | -$0.002 |
| Jul-19 | $2.883 | +$0.011 |
Natural Gas Inventory

According to EIA estimates, a net decrease of 163 Bcf from the previous week was reported. As of Friday, January 18, 2019 working gas in storage was 2,370 Bcf. This lower than expected withdrawal pushed storage to a positive level relative to last year as we are now a mere 1% above last year's estimates.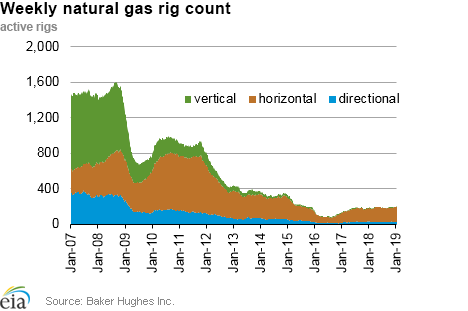 The Baker Hughes exploration gas rig count decreased 1 rig from last week for a total of 197 rigs. This is 9 more rigs than were in operation at this time one year ago when there were 188 rigs.
Weather Update

Although temperatures have been up and down during winter thus far, when averaged over November, December and January, temperatures equal out to be almost exactly at the 10-year normal range. Weak El Nino conditions have been present though most of the heating season; usually defined by a warm December and early January, and colder late January into February. So far weather patterns have followed this template. Forecasts for the 6-10 day outlook anticipate that more below normal weather will rock the Northeast and portions of the Midwest. While Texas and some of the West Coast will see warmer or more seasonable temperatures.
National Weather Service Updates (NOAA)
Hurricane Watch- No Hurricane Activity
Click here to view the National Hurricane Center site.
Equatorial Pacific Outlook:
Click here to view La Nina and El Nino status.
Energy News & Resources
Recent LNG imports poised to capture New England price spikes for holiday weekend
Four natural gas flow days for the Martin Luther King Jr. holiday weekend will allow for Northeastern LNG importers to capture elevated cash prices in Friday's trading due to the arrival of winter volatility.
US Coal Retirements In 2019 To Hit At Least 6 Gigawatts
The latest S&P Global Market Intelligence data shows that a total of 49 gigawatts (GW) of new power generation capacity will be added in the United States in 2019, but will also see the retirement of nearly 6 GW of coal.
New York Latest State to Set 100% Carbon-Free Goal, with Increased Renewables
New York Gov. Andrew Cuomo (D) is continuing his push for renewable energy in the state, as the governor on Jan. 15 announced an initiative for New York to achieve 100% carbon-free power generation by 2040.
If you would like to receive the Energy Market Update to your inbox weekly, please click here to submit your name and email address.
Disclaimer: This information is provided for the use of our customers and potential customers. Power Management Company assumes no responsibility or liability for the accuracy or completeness of pricing or information in this document. Historical data was obtained from sources that we believe to be reliable, but we do not guarantee its accuracy or completeness. It is not intended to provide advice or recommendation. Views are subject to change without notice.