Electricity Markets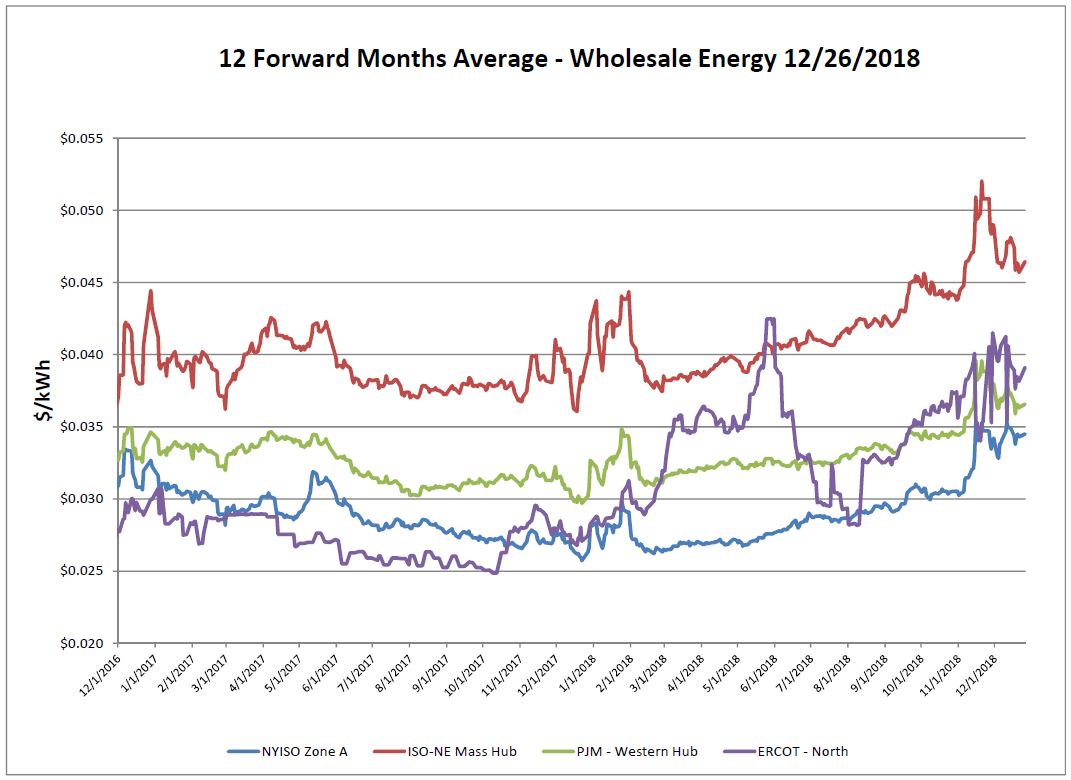 All electric markets saw mid-week drops in forward pricing over the last seven days due to higher-than-normal temperatures and corresponding dips in the NYMEX. Temperatures trended closer to the historic average at the end of the week and placed upward pressure on the electric market. NYISO, PJM, and ERCOT pricing is below the previous week.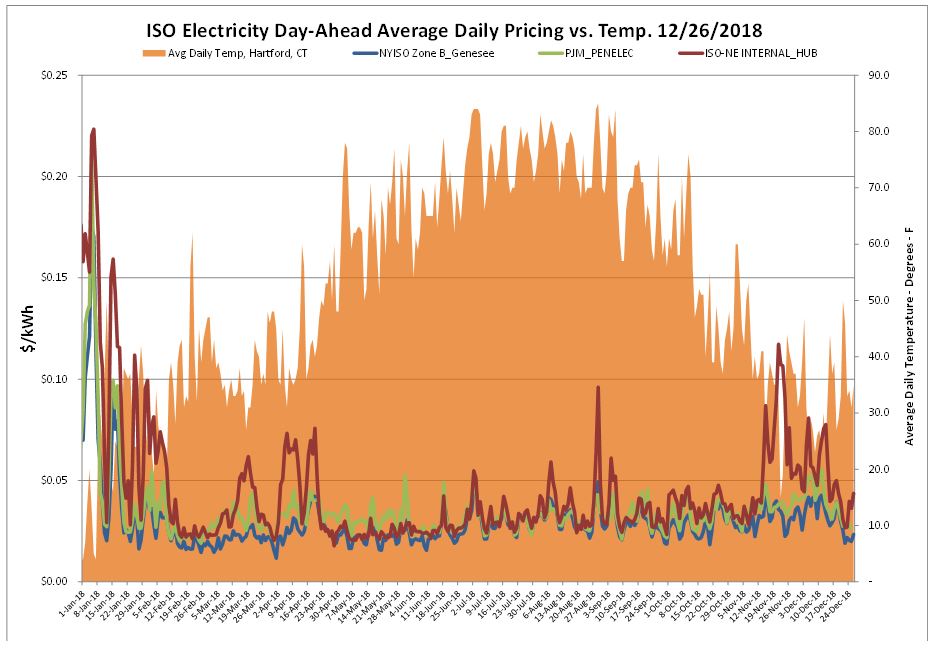 ISO-NE saw the greatest volatility in the past week. A sharp decrease for all ISOs can be seen as average temperatures spiked above normal over the past week before quickly returning to previous levels as temperatures dropped over the weekend.
Natural Gas Markets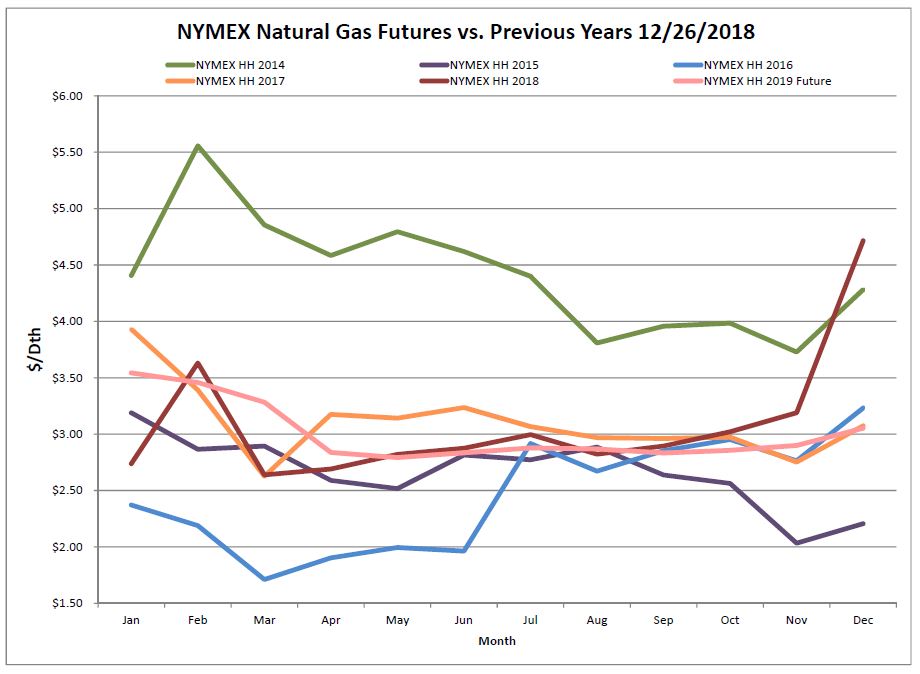 On Thursday, December 27th, the January '19 NYMEX future closed at $3.642. Forward pricing has dropped from previous highs with February 2019 now trading below February 2020 making this an opportune time to lock in this winter's rates.
Six-Month Natural Gas Futures
Futures as of 12/26/18 versus previous week: 
| | | |
| --- | --- | --- |
| Feb-19 | $3.458 | -0.195 |
| Mar-19 | $3.283 | -0.223 |
| Apr-19 | $2.838 | -0.012 |
| May-19 | $2.792 | +0.009 |
| Jun-19 | $2.835 | +0.021 |
| Jul-19 | $2.878 | +0.015 |
Natural Gas Inventory
Working gas in storage was 2,725 Bcf as of Friday, December 21, 2018, according to EIA estimates. This represents a net decrease of 48 Bcf from the previous week. Stocks were 623 Bcf less than last year at this time and 647 Bcf below the five-year average of 3,372 Bcf. At 2,725 Bcf, total working gas is below the five-year historical range.
The Baker Hughes exploration gas rig count increased by 1 rig week over week for a total of 198 rigs. This is 16 more rigs than were in operation at this time one year ago when there were 182 rigs.
Weather Update

Temperatures are predicted to be above normal for all the contiguous US with the exception of Maine.
National Weather Service Updates (NOAA)
Hurricane Watch- No Hurricane Activity
Click here to view the National Hurricane Center site.
Equatorial Pacific Outlook:
Click here to view La Nina and El Nino status.
Energy News & Resources
U.S. Natural Gas Prices Riding The Roller Coaster
With the largest storage withdrawal of the early-winter season on Thursday, it is time for an update on natural gas prices, which like the stock market (worst December since 1931) have taken a bearish tone over the past month.
If you would like to receive the Energy Market Update to your inbox weekly, please click here to submit your name and email address.
Disclaimer: This information is provided for the use of our customers and potential customers. Power Management Company assumes no responsibility or liability for the accuracy or completeness of pricing or information in this document. Historical data was obtained from sources that we believe to be reliable, but we do not guarantee its accuracy or completeness. It is not intended to provide advice or recommendation. Views are subject to change without notice.