Electricity Markets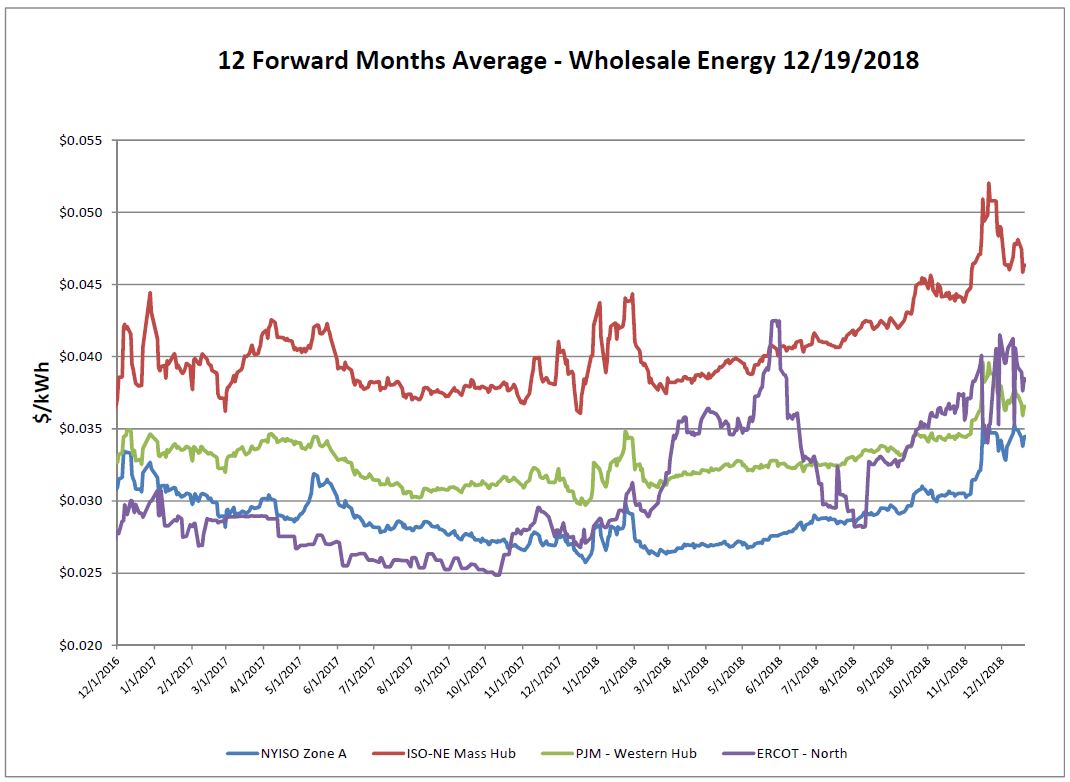 Electric prices fell off a bit toward the end of the report week, following suit to the natural gas markets.  Prices in all ISO's still remain elevated in comparison to the sudden shift up in November.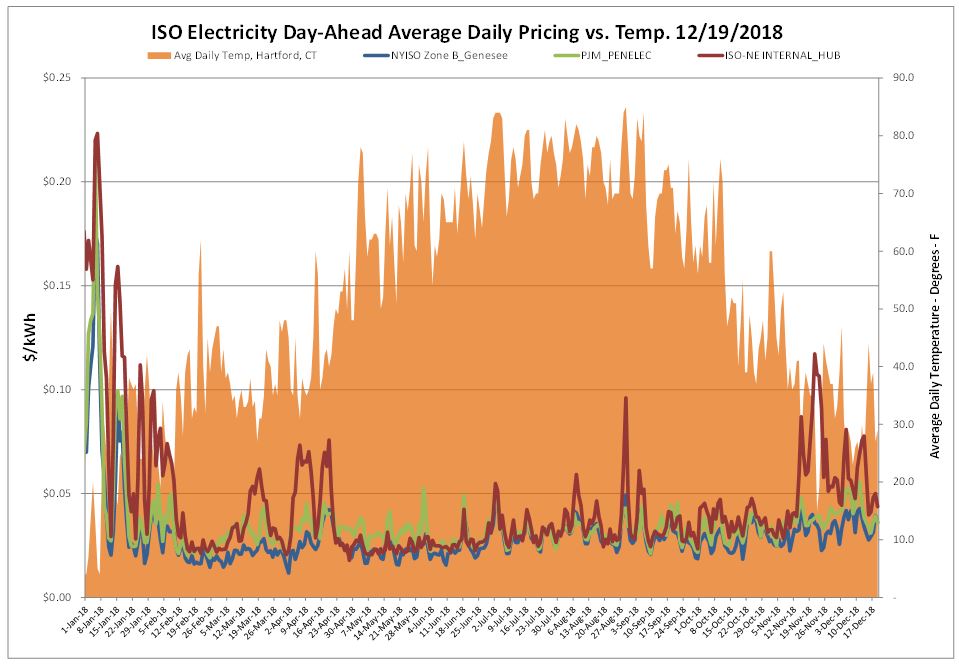 Day-ahead electric prices were also less volatile as warmer-than-normal weather was present across the Lower 48 states.
Natural Gas Markets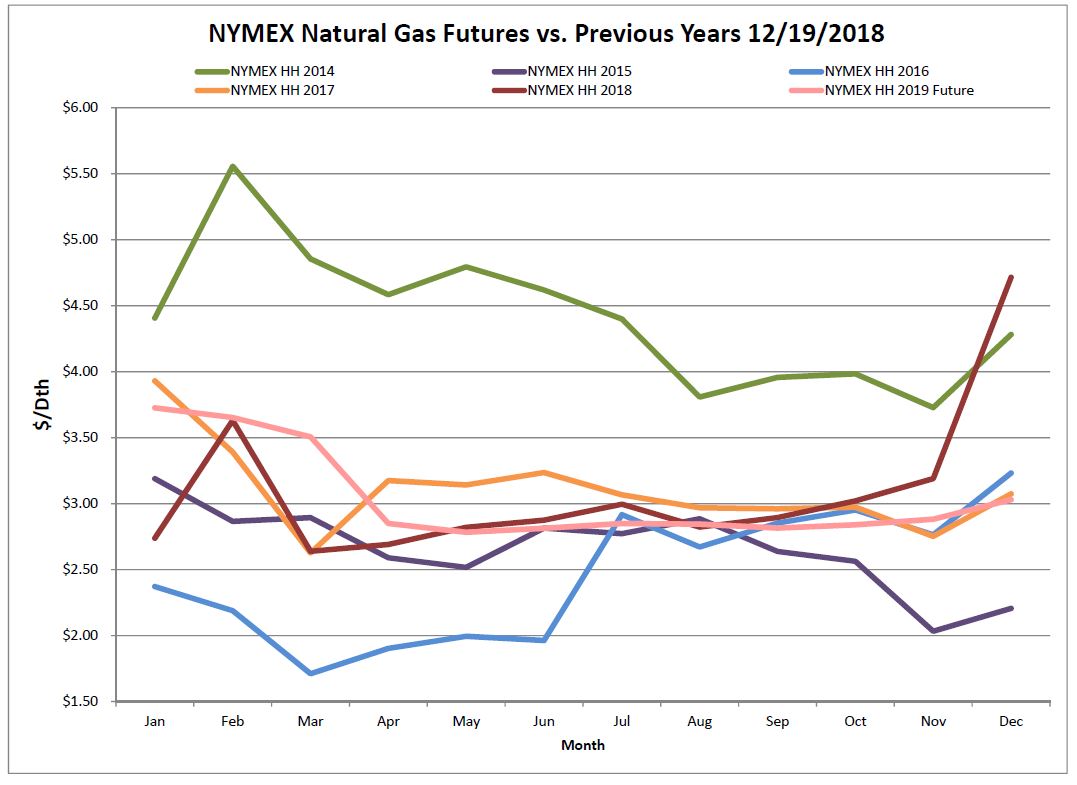 For the first nine months of 2018, the NYMEX futures prompt month traded intraday in a range of $0.08/Dth. In the middle of November 2018, the average range was trading at $1.00/Dth. The natural gas price volatility rose to its highest level since 2009. The report week brought a shift back down, closer to the "normal" range for a January close, which will settle on December 27th. The end of December is anticipated to remain above average, and with many taking off for the end of the year both power and gas markets can anticipate low liquidity.
Six-Month Natural Gas Futures
Futures as of 12/19/18 versus previous week: 
| | | |
| --- | --- | --- |
| Jan-19 | $3.726 | -0.410 |
| Feb-19 | $3.653 | -0.382 |
| Mar-19 | $3.506 | -0.347 |
| Apr-19 | $2.850 | -0.074 |
| May-19 | $2.783 | -0.038 |
| Jun-19 | $2.814 | -0.025 |
Natural Gas Inventory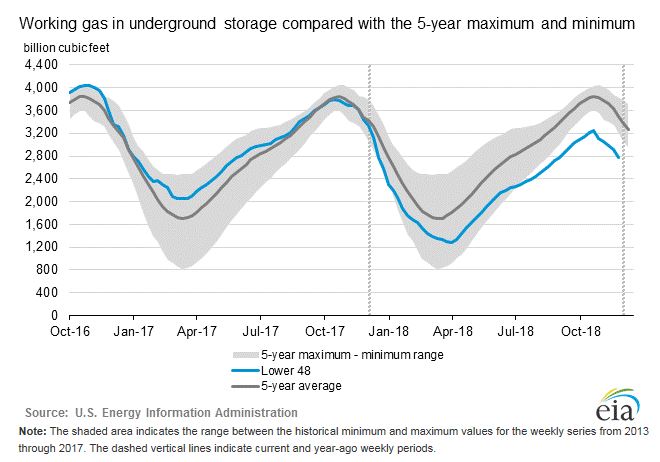 The EIA reported a net withdrawal of 141 Bcf from storage. Working gas in storage was 2,773 Bcf as of Friday, December 14, 2018. Every storage region is currently reporting levels lower than the bottom of its five-year range.
The Baker Hughes exploration gas rig count decreased by 1 rig week over week for a total of 197 rigs. This is 13 more rigs than were in operation at this time one year ago when there were 184 rigs.
Weather Update

The 6-10 day forecasts for the beginning of the New Year have turned less warm and anticipate higher demand. A portion of the East coast, mainly South may see some above average temperatures, while the rest of the CONUS will experience normal to below normal weather.
National Weather Service Updates (NOAA)
Hurricane Watch- No Hurricane Activity
Click here to view the National Hurricane Center site.
Equatorial Pacific Outlook:
Click here to view La Nina and El Nino status.
Energy News & Resources
Report: Plenty of power available in region this winter
There are enough power plants, power lines and systems in place to provide all the electricity that New England will need this winter, according to the organization that operates the six-state electric grid.
New York Power Authority to invest $250M in electric grid for better access to renewables
If you would like to receive the Energy Market Update to your inbox weekly, please click here to submit your name and email address.
Disclaimer: This information is provided for the use of our customers and potential customers. Power Management Company assumes no responsibility or liability for the accuracy or completeness of pricing or information in this document. Historical data was obtained from sources that we believe to be reliable, but we do not guarantee its accuracy or completeness. It is not intended to provide advice or recommendation. Views are subject to change without notice.