Electricity Markets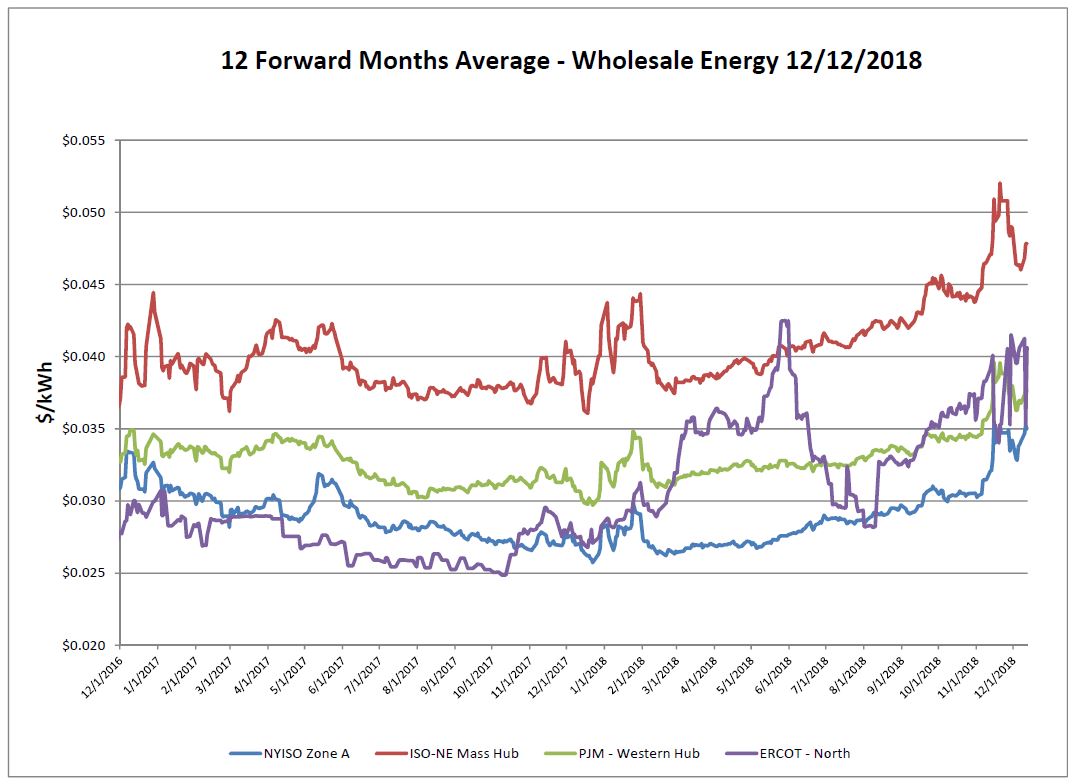 ISO-NE moved in the opposite direction this week, back up. While there was a retreat in the NYMEX, the Algonquin basis bounced up again impacting the New England electric prices. PJM & NYISO both rebounded up a bit as well. In ERCOT there is still no stability as they try to find their price comfort level.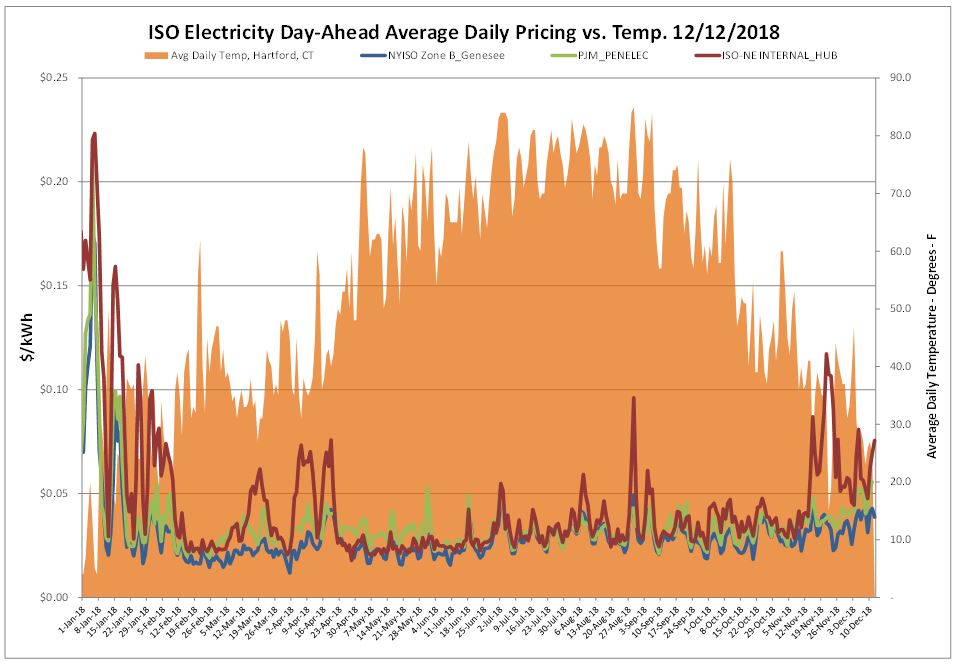 The first part of December was cooler than normal, leading to reactive electric markets.
Natural Gas Markets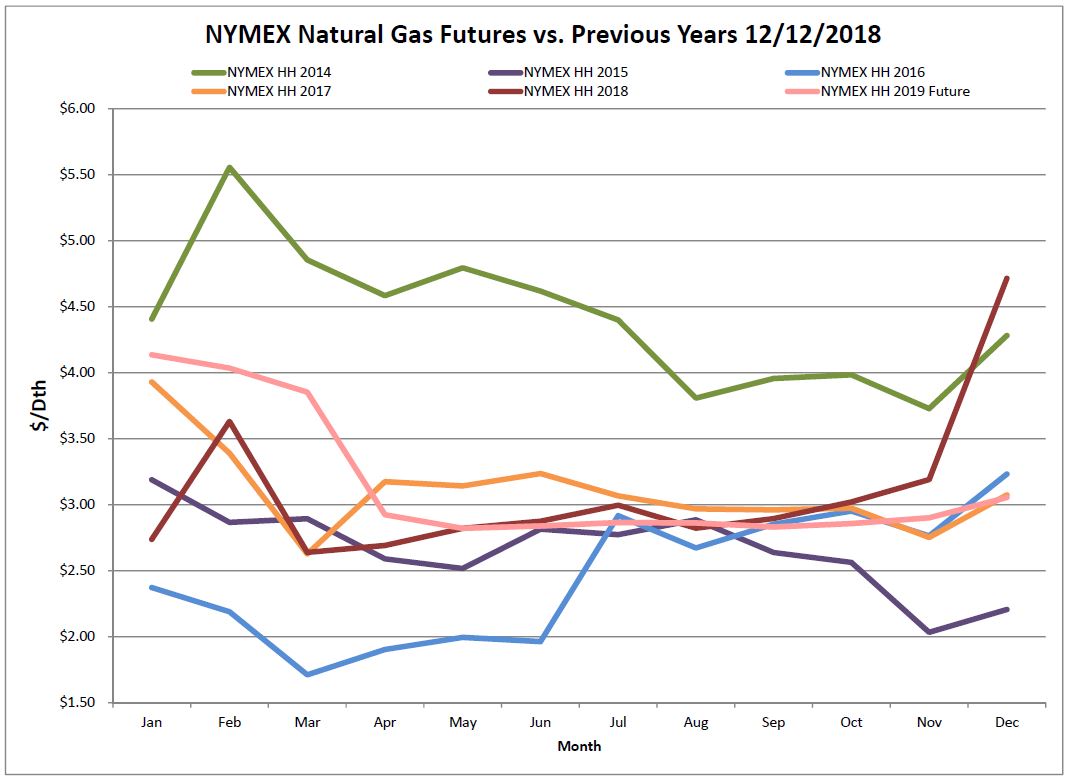 Winter months slipped down to the $4.00/Dth range, while the remainder of the 2019 strip is in the "normal/average" range of the past few years around $2.80/Dth. The Algonquin basis was up $0.21, possibly tied to the strengthening oil market. Above normal temperatures are expected to take over for the next 10 days, implying further loss for demand across the US.
Six-Month Natural Gas Futures
Futures as of 12/12/18 versus previous week: 
| | | |
| --- | --- | --- |
| Jan-19 | $4.136 | -0.333 |
| Feb-19 | $4.035 | -0.295 |
| Mar-19 | $3.853 | -0.153 |
| Apr-19 | $2.924 | -0.057 |
| May-19 | $2.821 | -0.030 |
| Jun-19 | $2.839 | -0.027 |
Natural Gas Inventory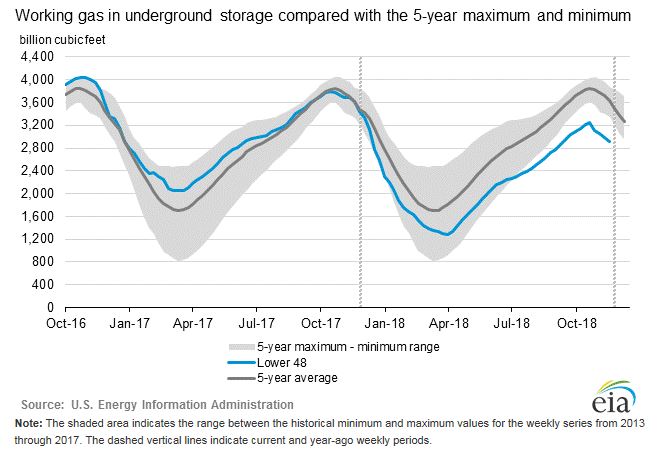 According to EIA estimates, working gas in storage was 2,914 Bcf as of Friday, December 7, 2018. This represents a net decrease of 77 Bcf from the previous week. Last year there was a 59 Bcf withdrawal and the 5-year average is 79 Bcf. No ground being made up in terms of storage. Next week could see a withdrawal in the 100's per the cold weather for the first part of December.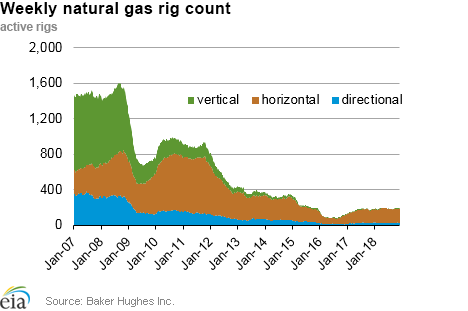 The Baker Hughes exploration gas rig count was unchanged week over week for a total of 198 rigs. This is 15 more rigs than were in operation at this time one year ago when there were 183 rigs.
Weather Update

The 6-10 NOAA forecast is predicting much warmer-than-normal temperatures to blanket the majority of the country through the end of December. Colder temperatures begin to creep in at the end of the month for the Western half of the country.
National Weather Service Updates (NOAA)
Hurricane Watch- No Hurricane Activity
Click here to view the National Hurricane Center site.
Equatorial Pacific Outlook:
Click here to view La Nina and El Nino status.
Energy News & Resources
November U.S. natural gas prices increased beyond previous market expectations
On November 23, the natural gas spot price at the Henry Hub in Louisiana was $4.70 per million British thermal units (MMBtu), the highest price since a temporary spike in January 2018, and before that, the highest price since June 2014.
If you would like to receive the Energy Market Update to your inbox weekly, please click here to submit your name and email address.
Disclaimer: This information is provided for the use of our customers and potential customers. Power Management Company assumes no responsibility or liability for the accuracy or completeness of pricing or information in this document. Historical data was obtained from sources that we believe to be reliable, but we do not guarantee its accuracy or completeness. It is not intended to provide advice or recommendation. Views are subject to change without notice.