Electricity Markets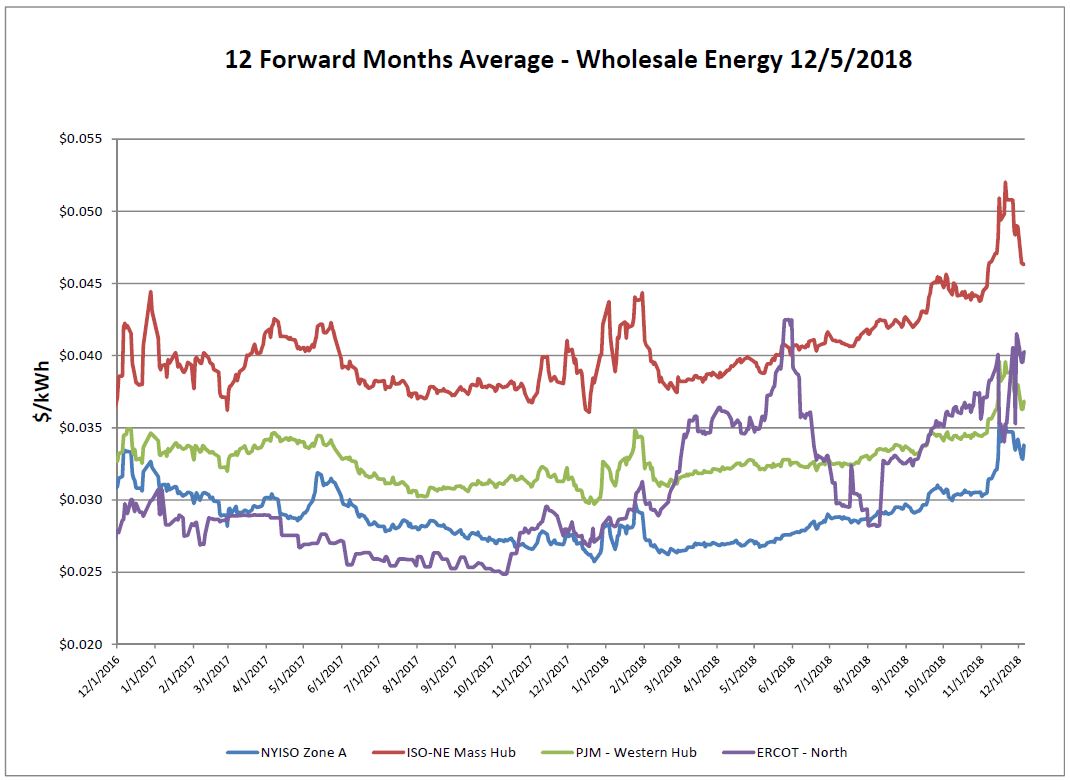 The 12-month forward strip for NYISO continues to remain elevated by the 3 months (Jan, Feb., Mar.) of high winter prices, while the rest of the 12-month strip is reasonable value. Over the past few weeks ERCOT has bounced all over. Texas is not impacted by the winter but with retirement of old units, and the load increasing due to economy growth, unease remains regarding capacity for next summer.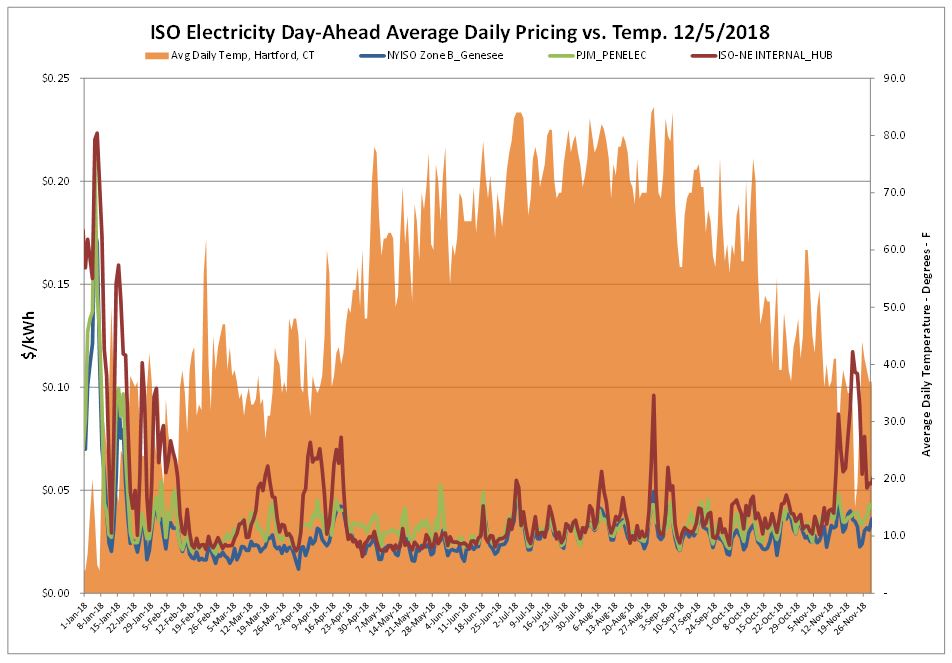 ISO-NE continues to show the most volatility as temperatures remained chilly over the report week.
Natural Gas Markets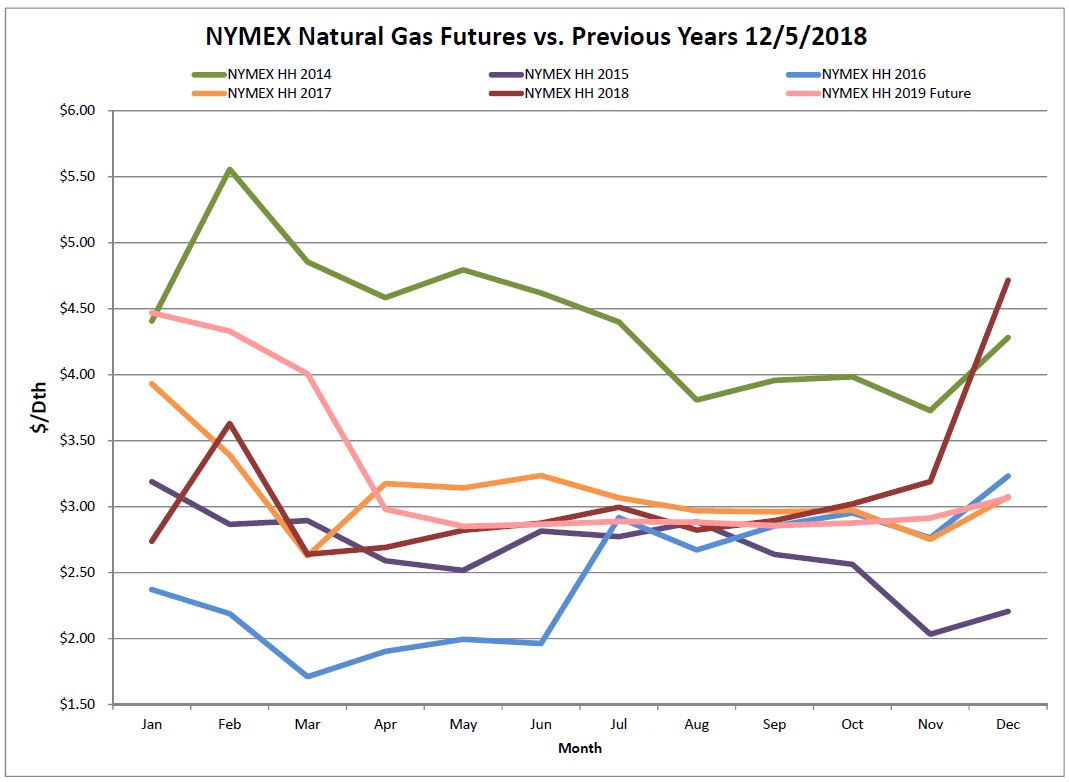 The winter prices for the NYMEX dropped slightly over the report week. The remaining 12-month strip continues to hover just below the $3.00/Dth threshold. The big drop in the price of oil has had some impact on the drop in the Algonquin basis for New England. July/August was the last time basis prices were as low as they are now.
Six-Month Natural Gas Futures
Futures as of 12/5/18 versus previous week: 
| | | |
| --- | --- | --- |
| Jan-19 | $4.469 | -0.230 |
| Feb-19 | $4.33 | -0.208 |
| Mar-19 | $4.006 | -0.213 |
| Apr-19 | $2.981 | +0.054 |
| May-19 | $2.851 | +0.065 |
| Jun-19 | $2.866 | +0.064 |
Natural Gas Inventory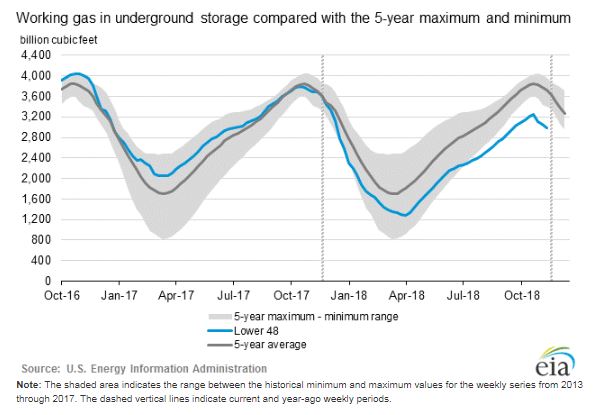 A net decrease of 63 Bcf was reported from the previous week. Working gas in storage was 2,991 Bcf as of Friday, November 30, 2018. Storage was already at a deficit and continues to remain at a level much below the 5-year average. On the production side, there has been a notable uptick in Northeast production over the past week.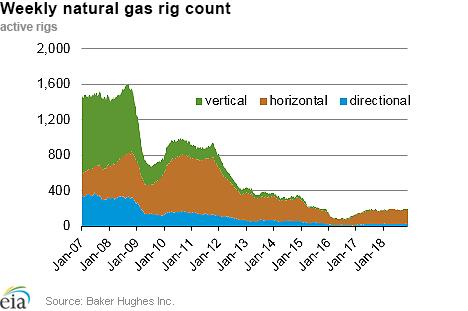 The Baker Hughes exploration gas rig count jumped up 9 rigs rigs week over week for a total of 198 rigs. This is 18 more rigs than were in operation at this time one year ago when there were 180 rigs.
Weather Update

Weather forecasts begin to show milder temperatures for the middle of December. With the exception of Florida, all states are expected to see some above normal temperatures. The market will be keenly interested if these forecasts continue into January and how demand may be impacted.
National Weather Service Updates (NOAA)
Hurricane Watch- No Hurricane Activity
Click here to view the National Hurricane Center site.
Equatorial Pacific Outlook:
Click here to view La Nina and El Nino status.
Energy News & Resources
When summer arrives, Texas' electricity reserve margins will be tight
ERCOT points to higher oil and gas power demand, cancelled generation projects
Pa. legislators urge governor, General Assembly to step in and save TMI nuclear plant
Saying nuclear power in Pennsylvania is necessary and at a crossroads, 75 legislators today called on Gov. Tom Wolf and fellow legislators to take action to prevent the Three Mile Island and Beaver Valley nuclear plants from closing prematurely.
If you would like to receive the Energy Market Update to your inbox weekly, please click here to submit your name and email address.
Disclaimer: This information is provided for the use of our customers and potential customers. Power Management Company assumes no responsibility or liability for the accuracy or completeness of pricing or information in this document. Historical data was obtained from sources that we believe to be reliable, but we do not guarantee its accuracy or completeness. It is not intended to provide advice or recommendation. Views are subject to change without notice.