Electricity Markets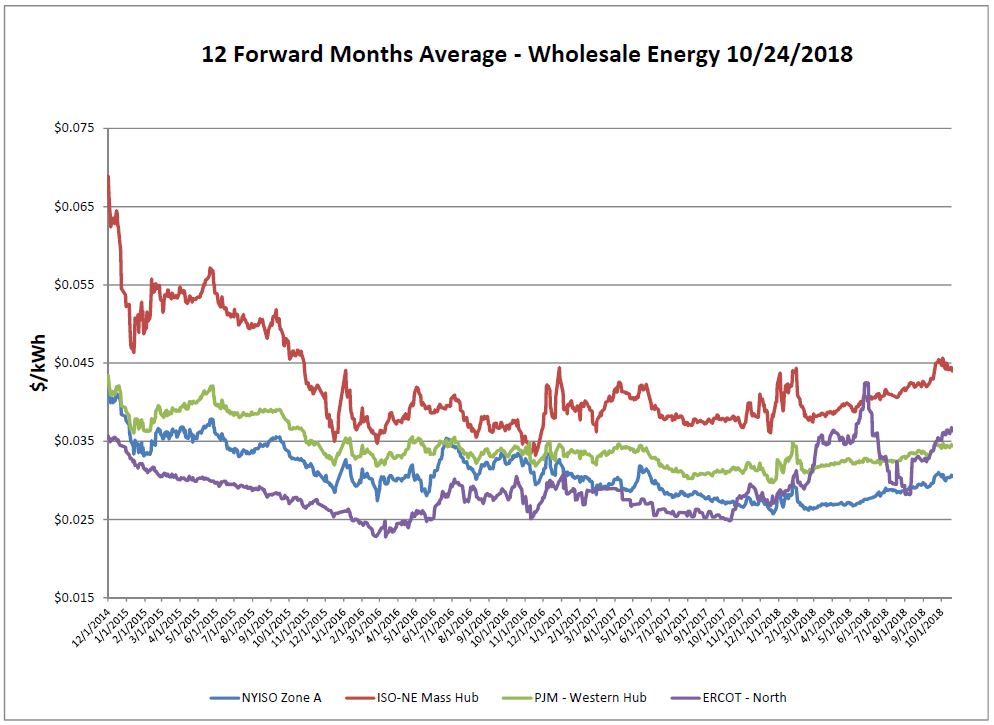 New York experienced isolated volatility in daily pricing but saw little change week over week in the forward average. Texas took another upward leap and is at its highest level since the first week of June.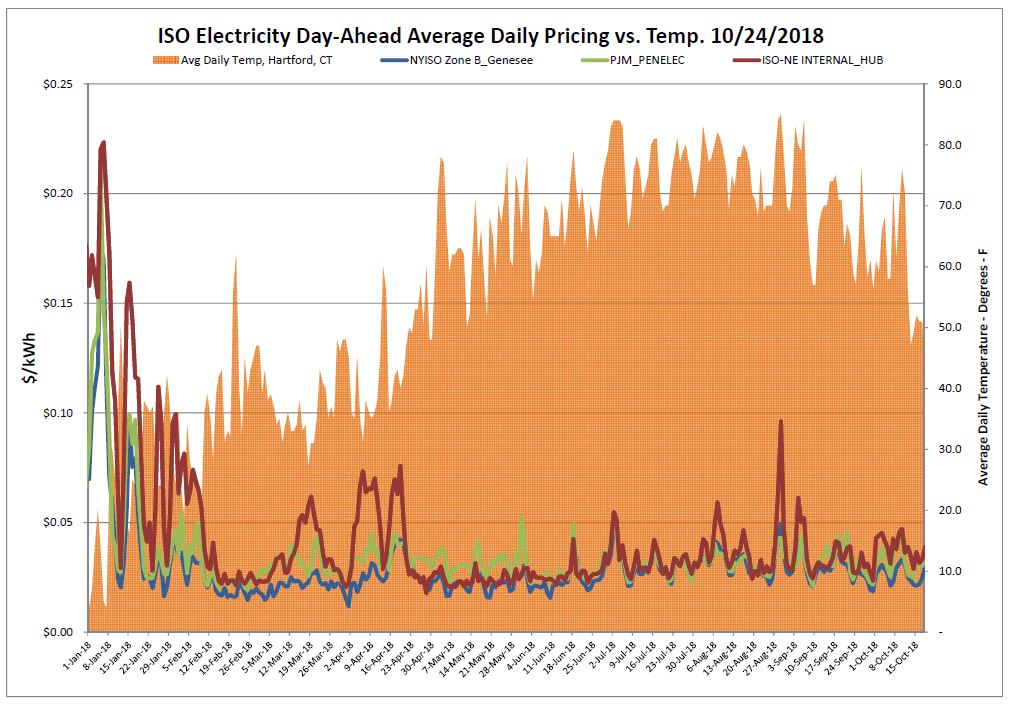 As predicted, temperatures fell below normal which caused price volatility across all electric markets.
Natural Gas Markets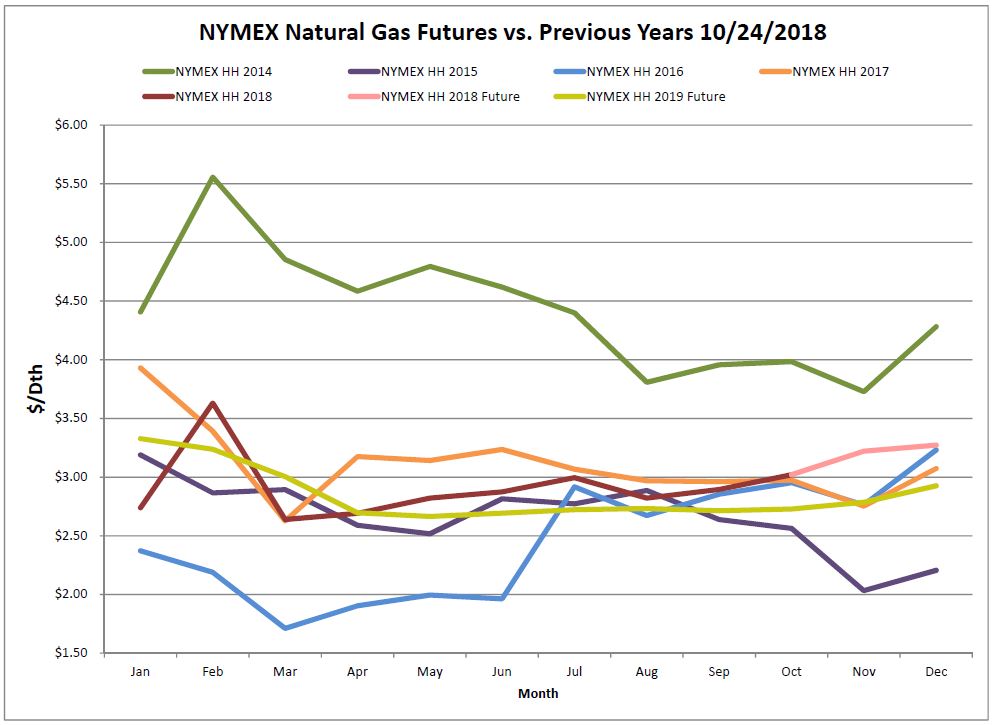 November continues to trend around the $3.20 mark, above October's close of $3.021, and may break the trend of the last five years of a November drop in pricing. The NYMEX has come down for the upcoming winter months while a small trend upward can be seen for the summer of 2019.
Six-Month Natural Gas Futures
Futures as of 10/24/18 versus previous week: 
| | | |
| --- | --- | --- |
| Nov-18 | $3.221 | -$0.013 |
| Dec-18 | $3.273 | -$0.015 |
| Jan-19 | $3.328 | -$0.029 |
| Feb-19 | $3.238 | -$0.042 |
| Mar-19 | $3.004 | -$0.089 |
| Apr-19 | $2.696 | -$0.033 |
Natural Gas Inventory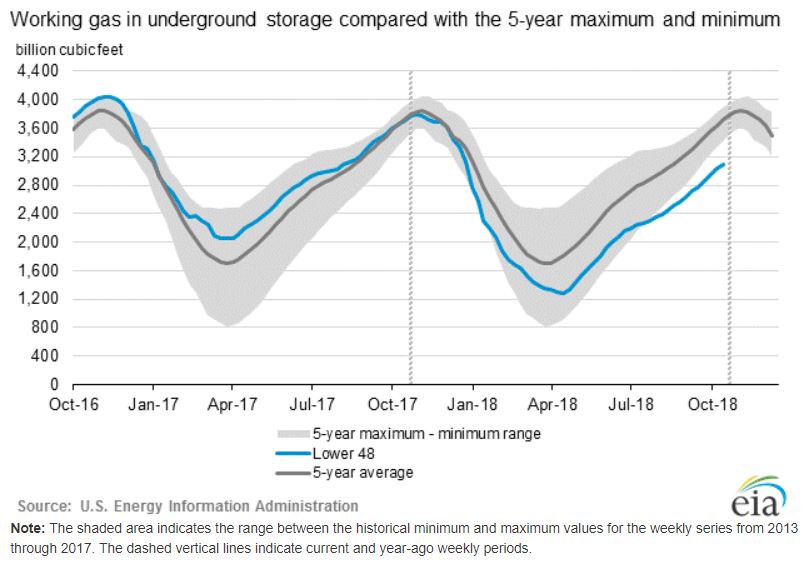 Working gas in storage was 3,095 Bcf as of Friday, October 19, 2018, according to EIA estimates. This represents a net increase of 58 Bcf, on par with expectations. Production hit an all-time high amid cold weather that more than doubled the heating demand from the previous week. Though this injection does not help to close the widening gap between current levels and the 5-Year Minimum, strong production is helping to mitigate the potential effects in the market.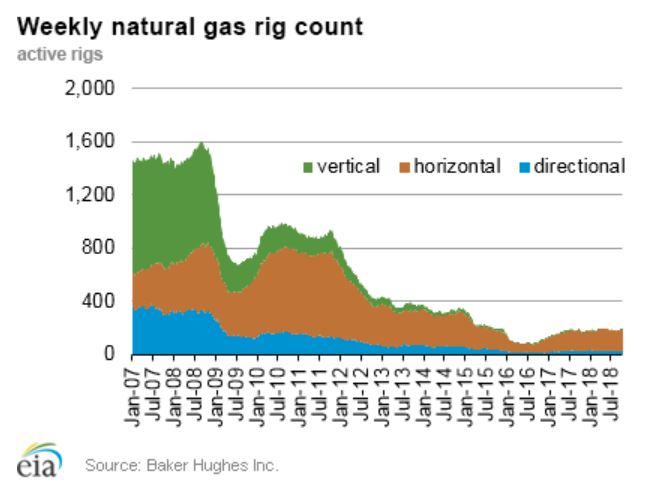 The Baker Hughes exploration gas rig count decreased by one this week to 193; this is 21 more than were in operation at this time one year ago.
Weather Update

Weather forecasts anticipate warmer than normal temperatures along the East Coast and Western regions. Normal to slightly below normal temperatures are expected for the Midwest and central South.
National Weather Service Updates (NOAA)
Hurricane Watch- Hurricane Oscar
Click here to view the National Hurricane Center site.
Equatorial Pacific Outlook:
Click here to view La Nina and El Nino status.
Energy News & Resources
Winter Outlook favors warmer temperatures for much of U.S.
A mild winter could be in store for much of the United States this winter according to NOAA's Climate Prediction Center.
If you would like to receive the Energy Market Update to your inbox weekly, please click here to submit your name and email address.
Disclaimer: This information is provided for the use of our customers and potential customers. Power Management Company assumes no responsibility or liability for the accuracy or completeness of pricing or information in this document. Historical data was obtained from sources that we believe to be reliable, but we do not guarantee its accuracy or completeness. It is not intended to provide advice or recommendation. Views are subject to change without notice.