Electricity Markets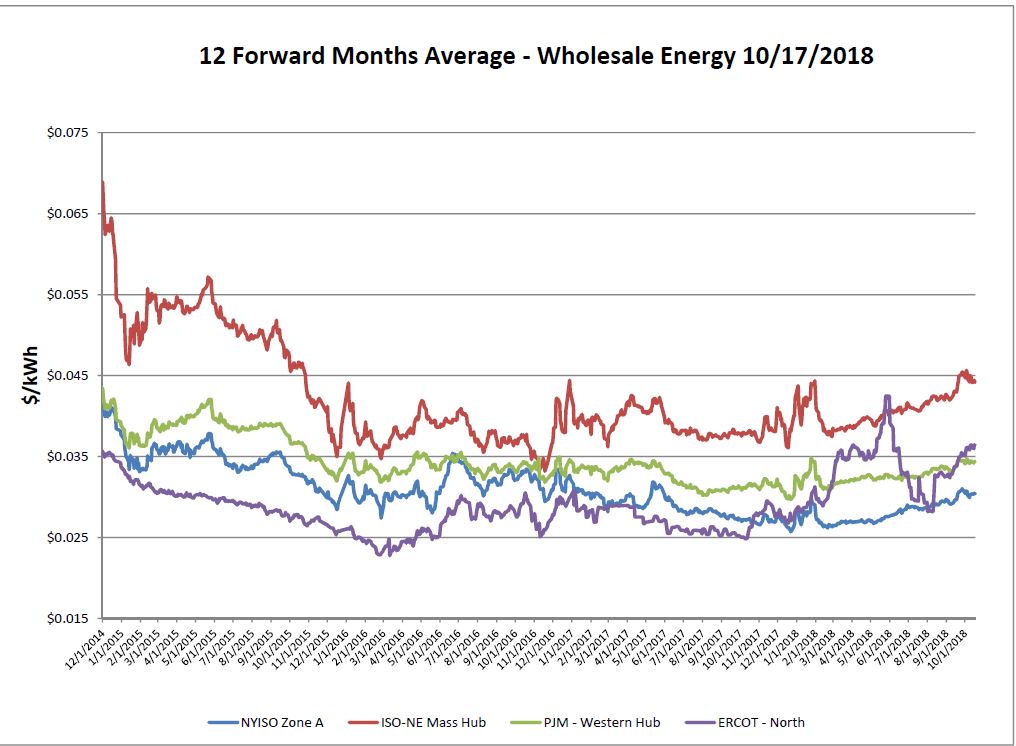 Most zones saw relatively flat pricing this week. Some day to day volatility tied back to the NYMEX futures.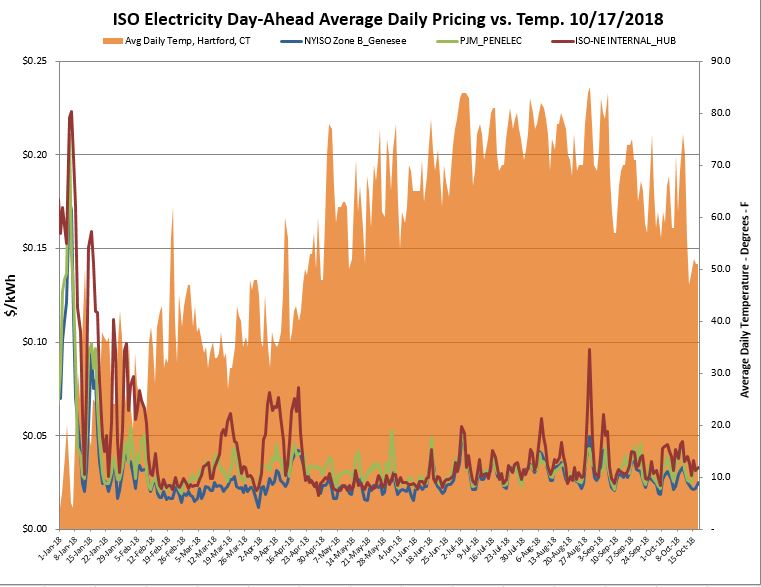 Temperatures are below normal and have rapidly changed within the week. Natural gas loads have increased with the colder than normal temperatures.
Natural Gas Markets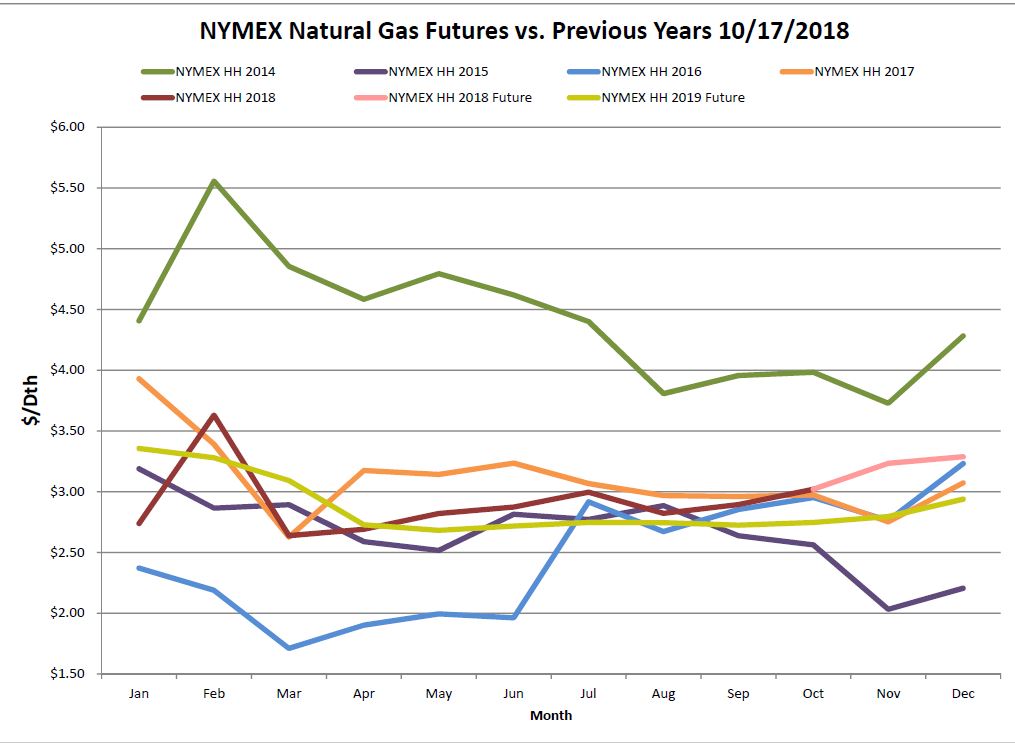 Although natural gas spot prices rose across the board this report week, Henry Hub spot prices fell from $3.37/ MMBtu last Wednesday to $3.31/MMBtu yesterday.
Six-Month Natural Gas Futures
Futures as of 10/17/18 versus previous week:
| | | |
| --- | --- | --- |
| Nov-18 | $3.234 | $.070 |
| Dec-18 | $3.288 | $.051 |
| Jan-19 | $3.357 | $.045 |
| Feb-19 | $3.280 | $.043 |
| Mar-19 | $3.093 | $.020 |
| Apr-19 | $2.729 | $.001 |
Natural Gas Inventory
Working gas in storage was 3,037 Bcf as of Friday, October 12, 2018, according to EIA estimates. This represents a net increase of 81 Bcf from the previous week. A healthy injection this week however, as temperatures continue to decrease we could easily see a withdrawal coming soon.
The Baker Hughes exploration gas rig count increased by four this week to 193; this is eleven more than were in operation at this time one year ago.
Weather Update

Weather forecasts show cooler than normal temperatures for most of the Eastern United States with warmer than normal temperatures expected just on the West Coast.
National Weather Service Updates (NOAA)
Click here to view the National Hurricane Center site.
Equatorial Pacific Outlook:
Click here to view La Nina and El Nino status.
Energy News & Resources
US FERC winter outlook flags risk of volatility in NYC, Boston, Los Angeles
Regional pipeline constraints in New York City, Boston and Los Angeles increase the risk of energy market price volatility this coming winter, the US Federal Energy Regulatory Commission said Thursday.
If you would like to receive the Energy Market Update to your inbox weekly, please click here to submit your name and email address.
Disclaimer: This information is provided for the use of our customers and potential customers. Power Management Company assumes no responsibility or liability for the accuracy or completeness of pricing or information in this document. Historical data was obtained from sources that we believe to be reliable, but we do not guarantee its accuracy or completeness. It is not intended to provide advice or recommendation. Views are subject to change without notice.