Electricity Markets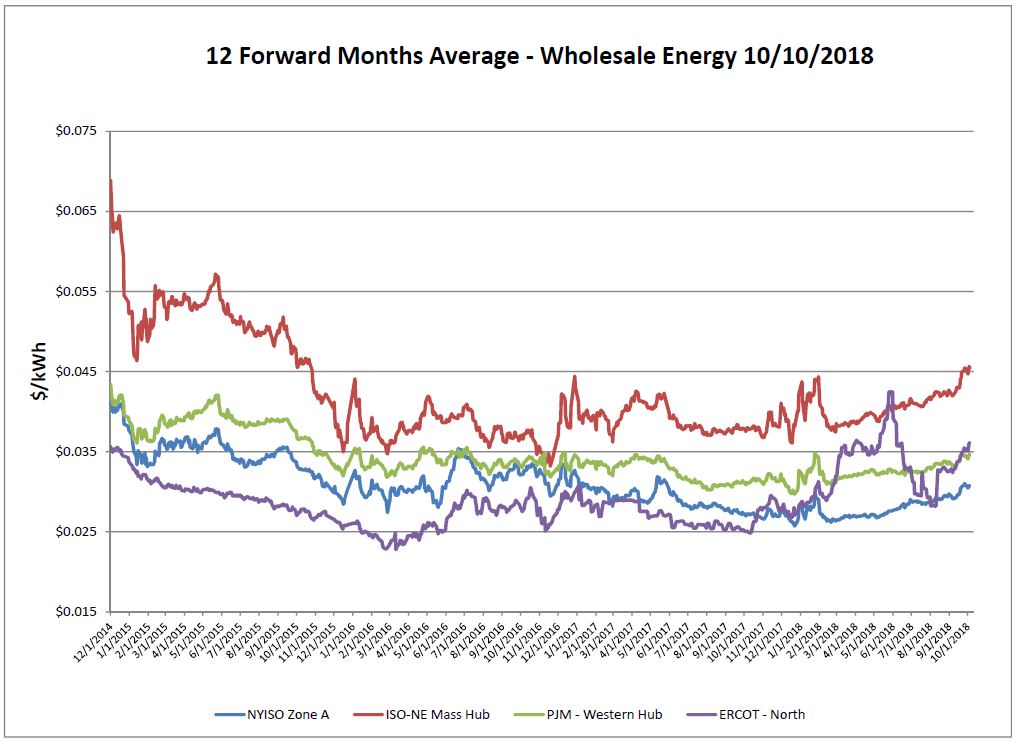 New England and New York saw decreases in forward pricing. The 12-month average is primarily driven by the near-term months of November to February; outward months and years are still opportune.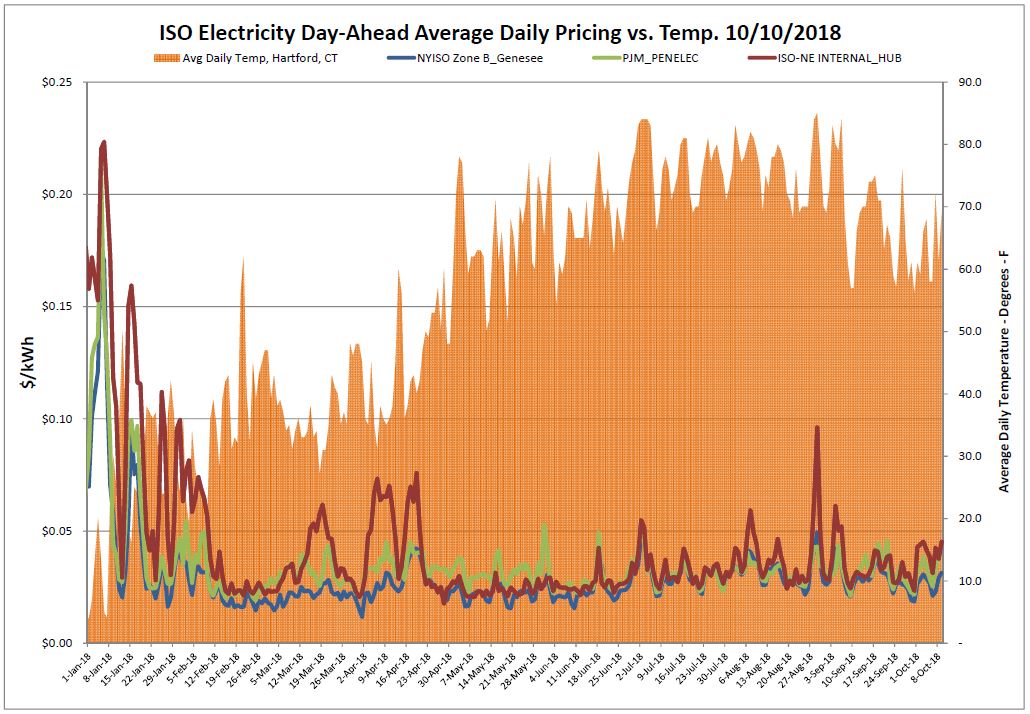 Temperatures continue to trend above normal leading to expected volatility in the daily electric market. Expected to flatten out as temperatures are expected to normalize in the coming weeks.
Natural Gas Markets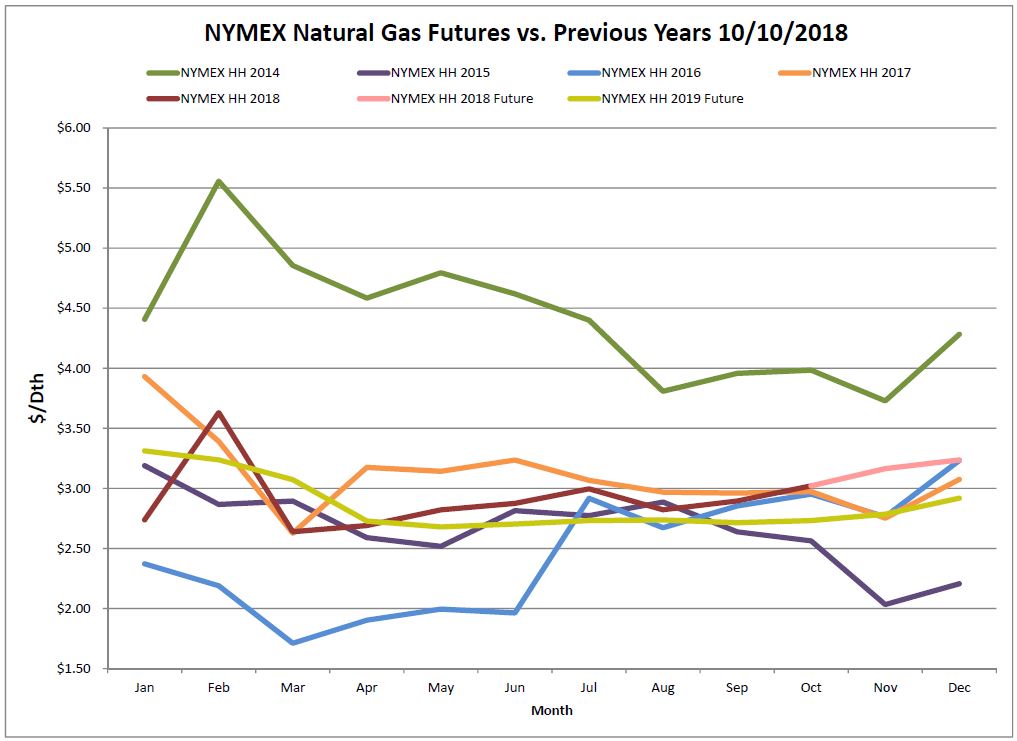 November pricing continues to climb. Over the previous 5 years November has closed below October whereas, currently, November is trading much closer to December above the $3.20 mark. This further separates the month from the historic trend and October's closing price of $3.021.
Six-Month Natural Gas Futures
Futures as of 10/10/18 versus previous week: 
| | | |
| --- | --- | --- |
| Nov-18 | $3.164 | -$0.066 |
| Dec-18 | $3.237 | -$0.060 |
| Jan-19 | $3.312 | -$0.058 |
| Feb-19 | $3.237 | -$0.015 |
| Mar-19 | $3.073 | $0.039 |
| Apr-19 | $2.728 | $0.016 |
Natural Gas Inventory
Working gas in storage was 2,956 Bcf as of Friday, October 5, 2018, according to EIA estimates. This represents a net increase of 98 Bcf from the previous week. With only a few weeks left in the storage season there would need to be injections of 120 Bcf above the 5 year average each week in order to close the gap that has formed between current storage levels and the 5 year average.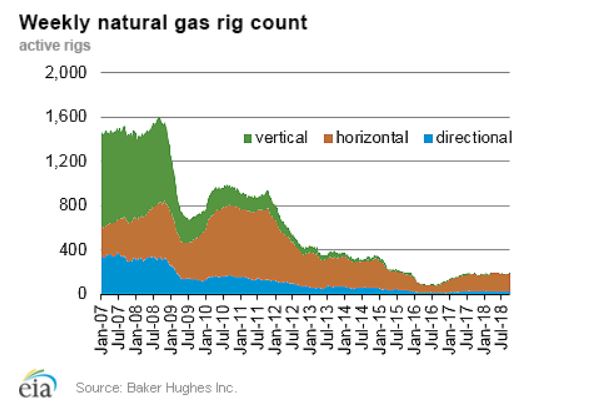 The Baker Hughes exploration gas rig count increased by four this week to 193; this is eight more than were in operation at this time one year ago.
Weather Update

Weather forecasts show cooler than normal temperatures for most of the Eastern United States with warmer than normal temperatures expected in Florida and the West Coast.
National Weather Service Updates (NOAA)
Hurricane Watch- Tropical Storm Tara
Click here to view the National Hurricane Center site.
Equatorial Pacific Outlook:
Click here to view La Nina and El Nino status.
Energy News & Resources
Massachusetts Clean Energy Advocates Welcome SMART Program Order
Massachusetts solar advocates are pleased to see that the Massachusetts Department of Public Utilities (DPU) has issued its Order on the Solar Massachusetts Renewable Target (SMART) program
If you would like to receive the Energy Market Update to your inbox weekly, please click here to submit your name and email address.
Disclaimer: This information is provided for the use of our customers and potential customers. Power Management Company assumes no responsibility or liability for the accuracy or completeness of pricing or information in this document. Historical data was obtained from sources that we believe to be reliable, but we do not guarantee its accuracy or completeness. It is not intended to provide advice or recommendation. Views are subject to change without notice.