Electricity Markets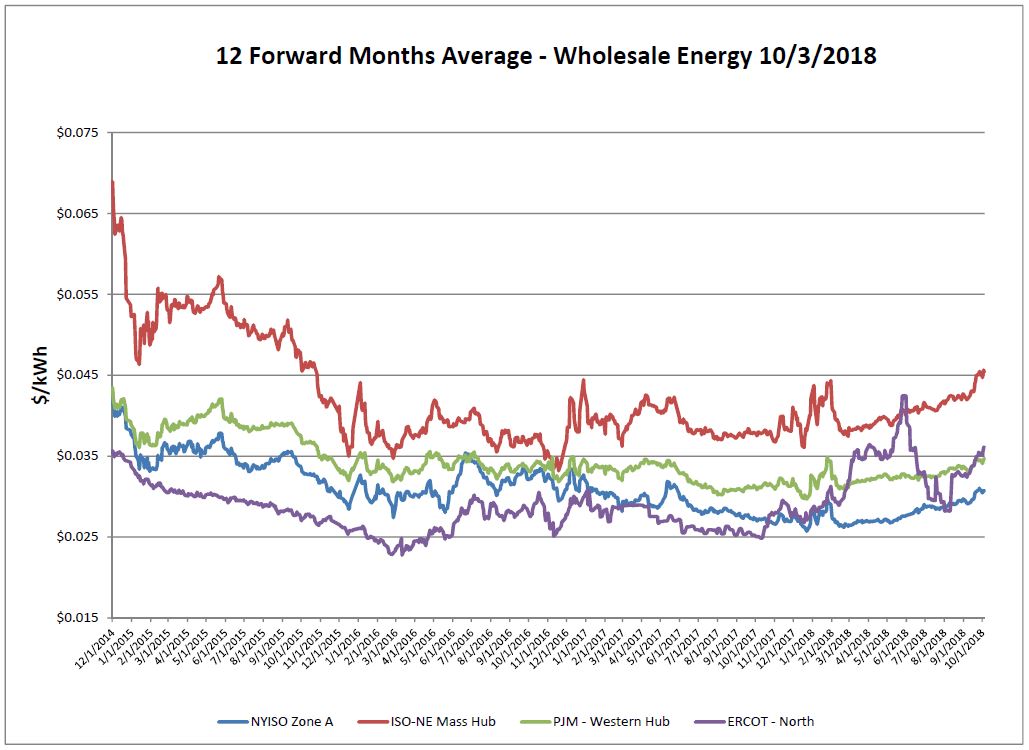 ERCOT has once again risen above PJM pricing and ISO-NE has seen another sharp increase this week. This continued trend can be linked to the underlying cost of natural gas.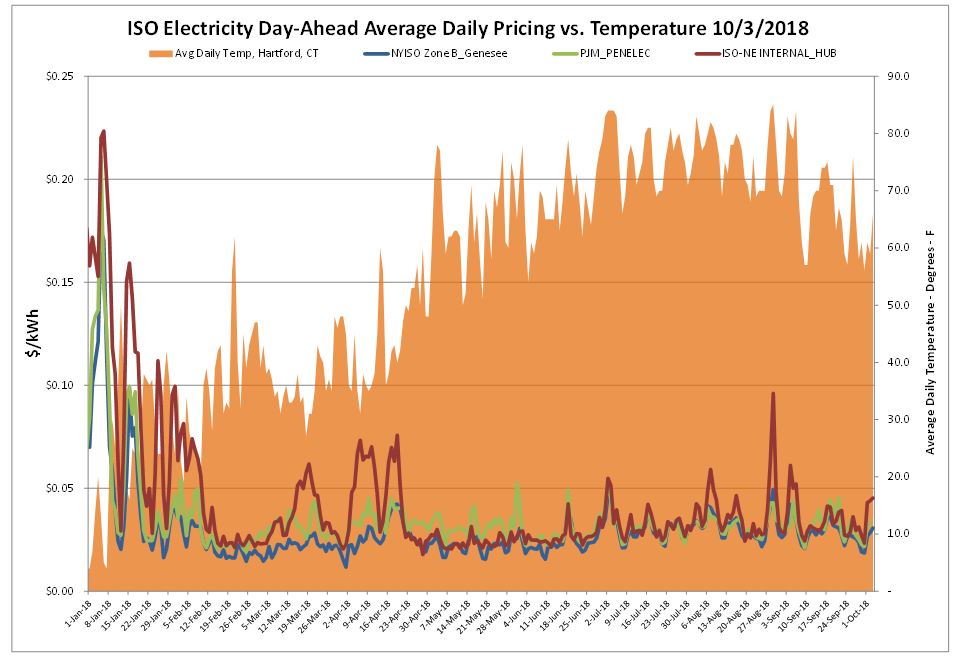 Temperatures continue to trend well above normal for this time of year which has led to continued spikes in electric pricing for New England.
Natural Gas Markets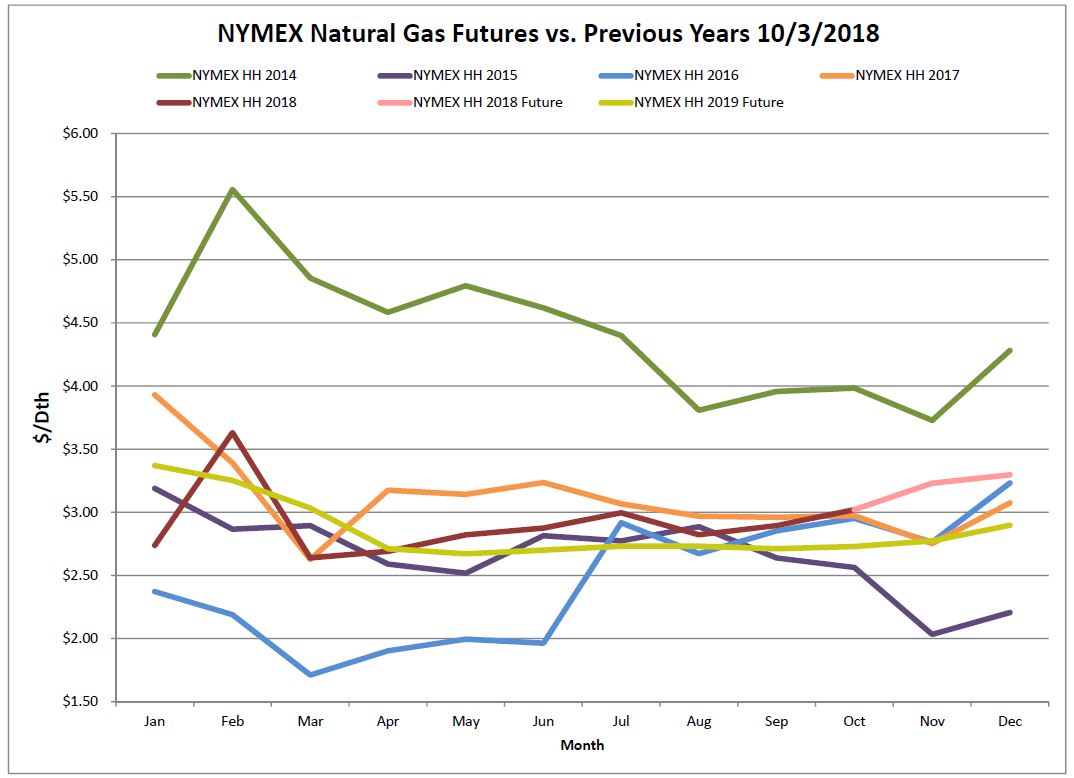 The remaining months of 2018 have seen steep upward movement in the past week under pressure from continued forecasts calling for abnormally high autumn temperatures. The NYMEX reached its highest level since January 30th last week in a timeframe that is typically the shoulder season where demand and pricing would normally soften. The effects are, so far, isolated to the upcoming winter season and drop off at April 2019 and forward.
Six-Month Natural Gas Futures
Futures as of 10/3/18 versus previous week:
| | | |
| --- | --- | --- |
| Nov-18 | $3.230 | +$0.181 |
| Dec-18 | $3.297 | +$0.171 |
| Jan-19 | $3.370 | +$0.164 |
| Feb-19 | $3.252 | +$0.117 |
| Mar-19 | $3.034 | +$0.081 |
| Apr-19 | $2.712 | +$0.060 |
Natural Gas Inventory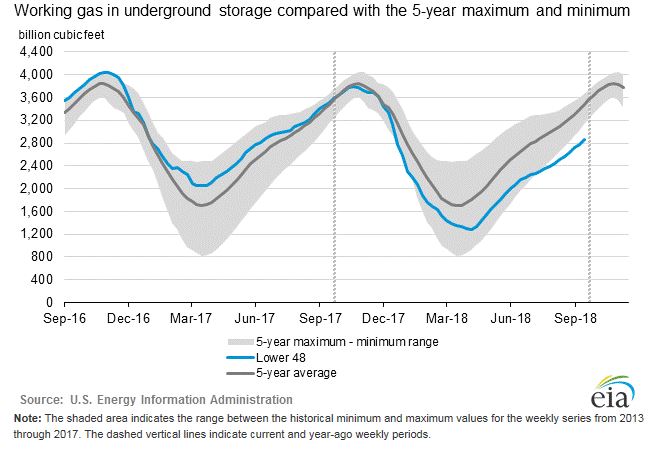 Working gas in storage was 2,866 Bcf as of Friday, September 28, 2018, according to EIA estimates. This represents a net increase of 98 Bcf from the previous week. Stocks were 636 Bcf less than last year at this time and 607 Bcf below the five-year average of 3,473 Bcf. At 2,866 Bcf, total working gas is below the five-year historical range.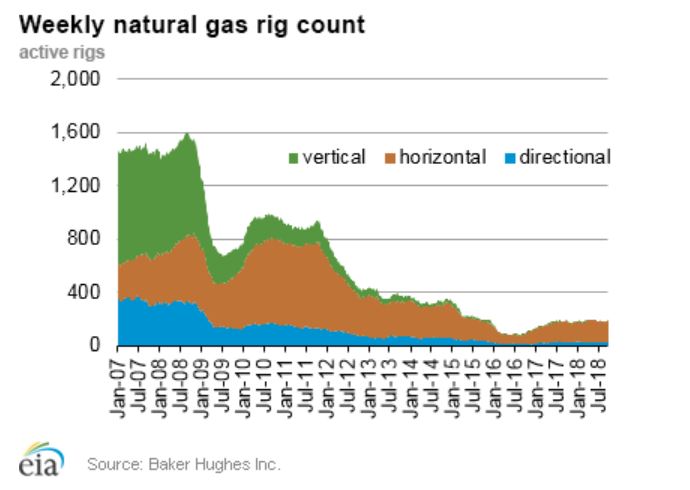 The Baker Hughes exploration gas rig count remained the same this week at 189; this is two more than were in operation at this time one year ago.
Weather Update

Weather forecasts show cooler than normal temperatures for most of the United States with the highest probability centered between Northern Texas and Illinois. Warmer than normal conditions are expected on the West Coast and Florida.
National Weather Service Updates (NOAA)
Hurricane Watch- Hurricanes Michael and Sergio. Tropical Storm Leslie.
Click here to view the National Hurricane Center site.
Equatorial Pacific Outlook:
Click here to view La Nina and El Nino status.
Energy News & Resources
Energy company unveils latest updates on wind turbine project along Lake Ontario
TOWN OF YATES, N.Y. (WIVB) — – It's the latest move to bring wind turbines to Niagara and Orleans counties.
New York's Nuclear Zero-Carbon Credits Pass Federal Court Challenge
Following in Illinois' footsteps, New York wins the argument that paying nuclear plants for carbon-free energy is within state authority.
If you would like to receive the Energy Market Update to your inbox weekly, please click here to submit your name and email address.
Disclaimer: This information is provided for the use of our customers and potential customers. Power Management Company assumes no responsibility or liability for the accuracy or completeness of pricing or information in this document. Historical data was obtained from sources that we believe to be reliable, but we do not guarantee its accuracy or completeness. It is not intended to provide advice or recommendation. Views are subject to change without notice.