Electricity Markets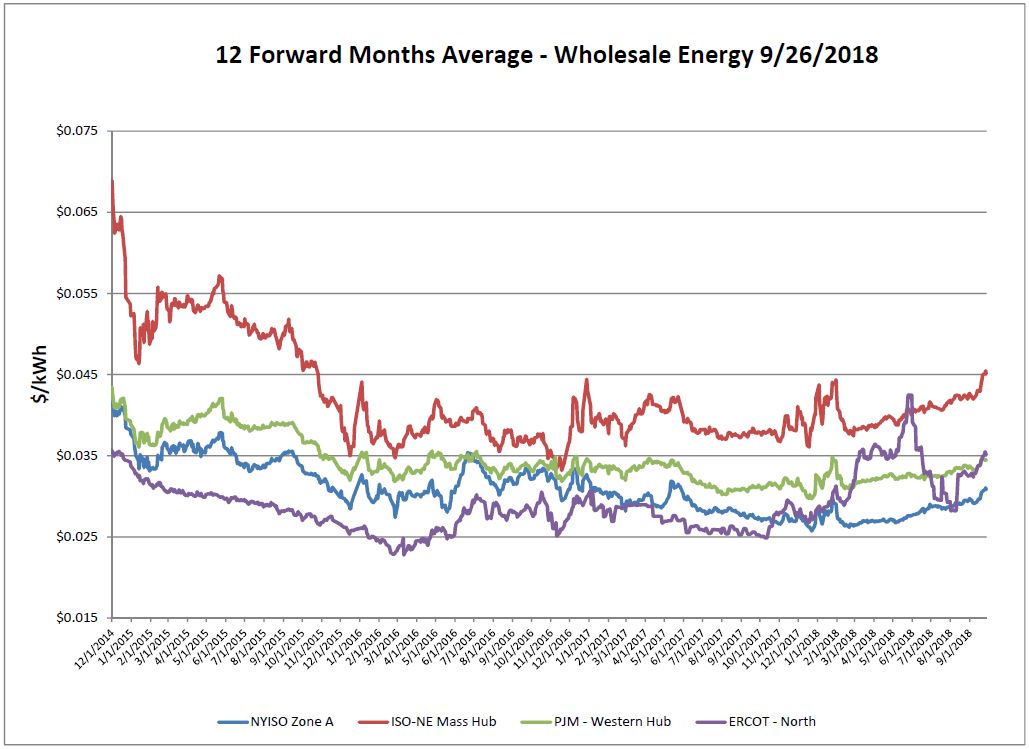 Electric pricing is up across all markets. New England has extended its steep upward movement with the increase largely tied to the underlying price of natural gas. New York is up from some of the lows that we've seen but the opportunity for good forward pricing remains.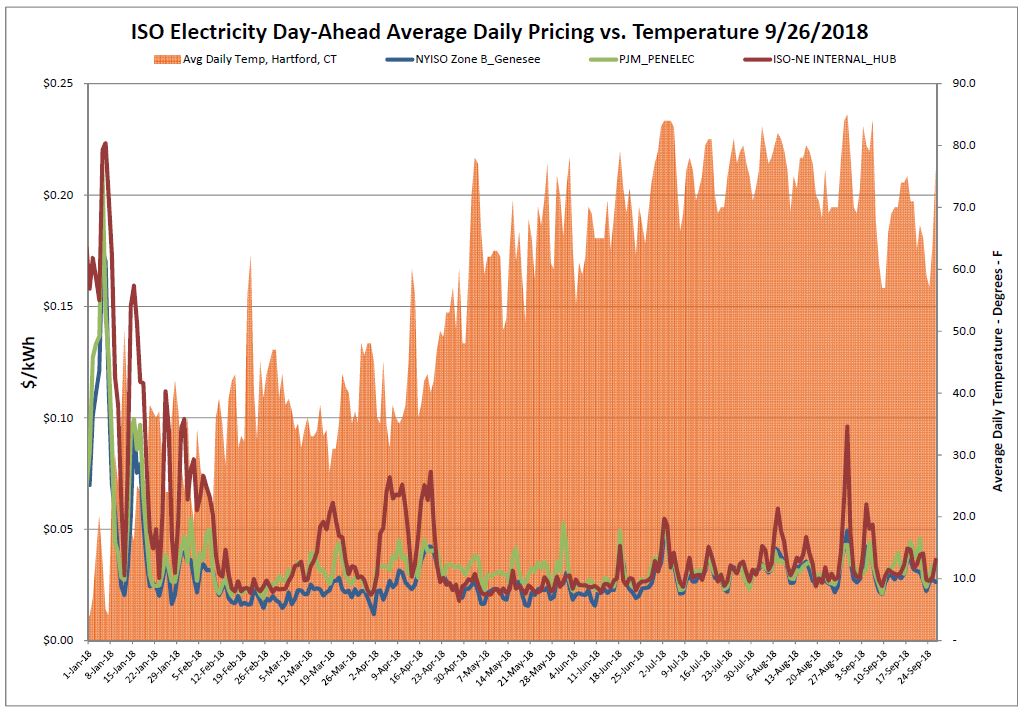 Temperatures continue to trend above average for this time of year but there has not been enough load to drive the spot markets higher.
Natural Gas Markets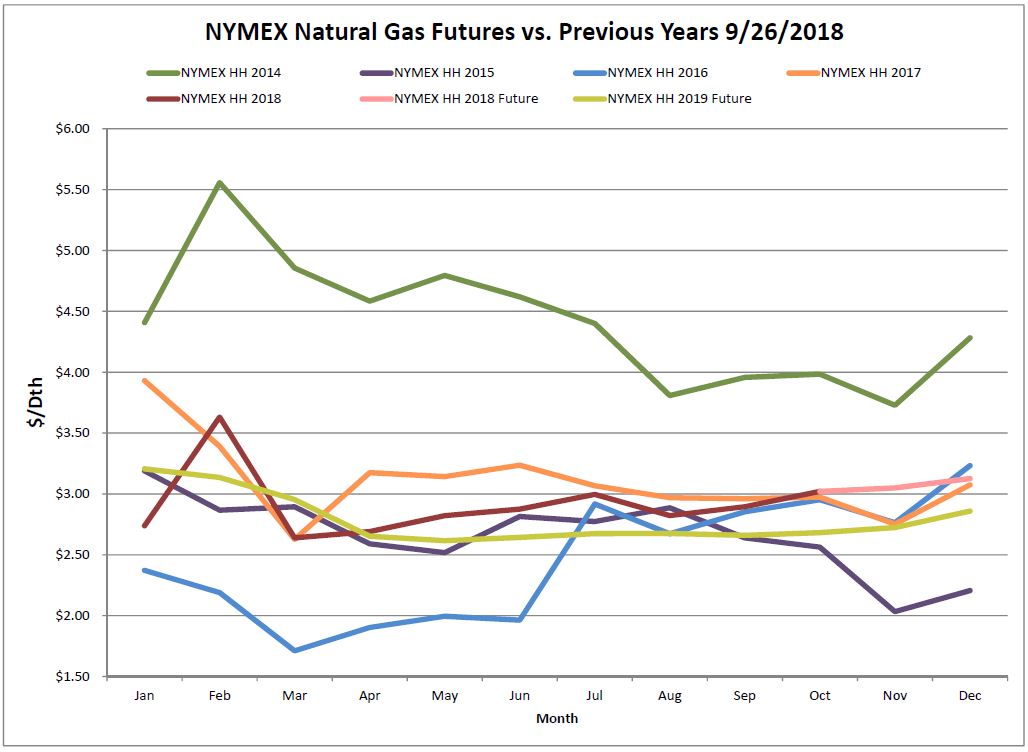 Near term pricing is up. The October '18 contract closed at $3.021; as recently as just three weeks ago the month was trading at $2.75. This rise in pricing can be seen through the beginning of 2019 before it drops back to lower levels at the end of winter. Basis pricing has remained relatively flat with a $.01 in decrease in response to the rising NYMEX.
Six-Month Natural Gas Futures
Futures as of 9/26/18 versus previous week:
| | | |
| --- | --- | --- |
| Nov-18 | $3.049 | +$0.167 |
| Dec-18 | $3.126 | +$0.175 |
| Jan-19 | $3.206 | +$0.165 |
| Feb-19 | $3.135 | +$0.139 |
| Mar-19 | $2.953 | +$0.070 |
| Apr-19 | $2.652 | +$0.048 |
                                 Natural Gas Inventory
According to EIA estimates, a net increase of 46 Bcf was reported with working gas in storage at 2,768 as of this past Friday, September 21st. This falls below last year's injection of 64 Bcf and the 5-year average of 81 Bcf. This is not sufficient to help close the gap between current storage levels and the minimum range of the 5-year average.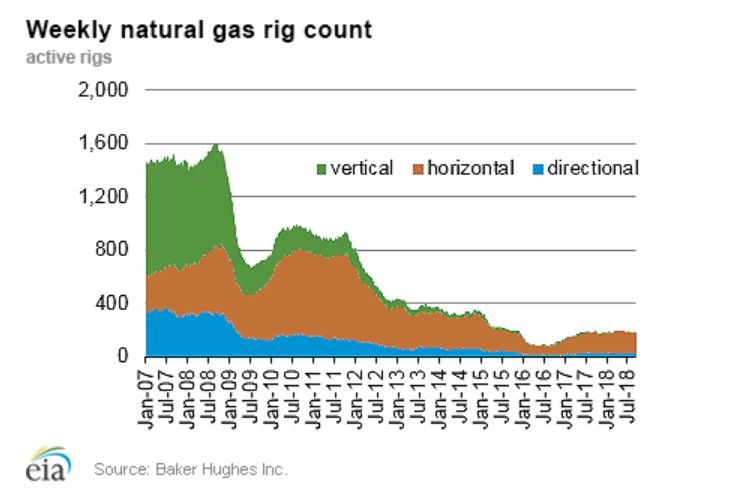 The Baker Hughes exploration gas rig count rose by three this past week for a total of 189; this is the same number in operation as one year ago.
Weather Update

The eastern half of the United States is predicted to continue to see above-average temperatures with the highest probability centered on North Carolina and Virginia. The western US is predicted for cooler temperatures with high probability over much of the region.
National Weather Service Updates (NOAA)
Hurricane Watch- Tropical Storms Leslie, Rosa, and Sergio
Click here to view the National Hurricane Center site.
Equatorial Pacific Outlook:
Click here to view La Nina and El Nino status.
Energy News & Resources
New Poll Shows Solar is the Favored Form of Electricity Nationwide
The Solar Energy Industries Association issued the following news release: "More than three-quarters of voters across party lines want to see their electric utilities invest more in solar energy…"
If you would like to receive the Energy Market Update to your inbox weekly, please click here to submit your name and email address.
Disclaimer: This information is provided for the use of our customers and potential customers. Power Management Company assumes no responsibility or liability for the accuracy or completeness of pricing or information in this document. Historical data was obtained from sources that we believe to be reliable, but we do not guarantee its accuracy or completeness. It is not intended to provide advice or recommendation. Views are subject to change without notice.