Electricity Markets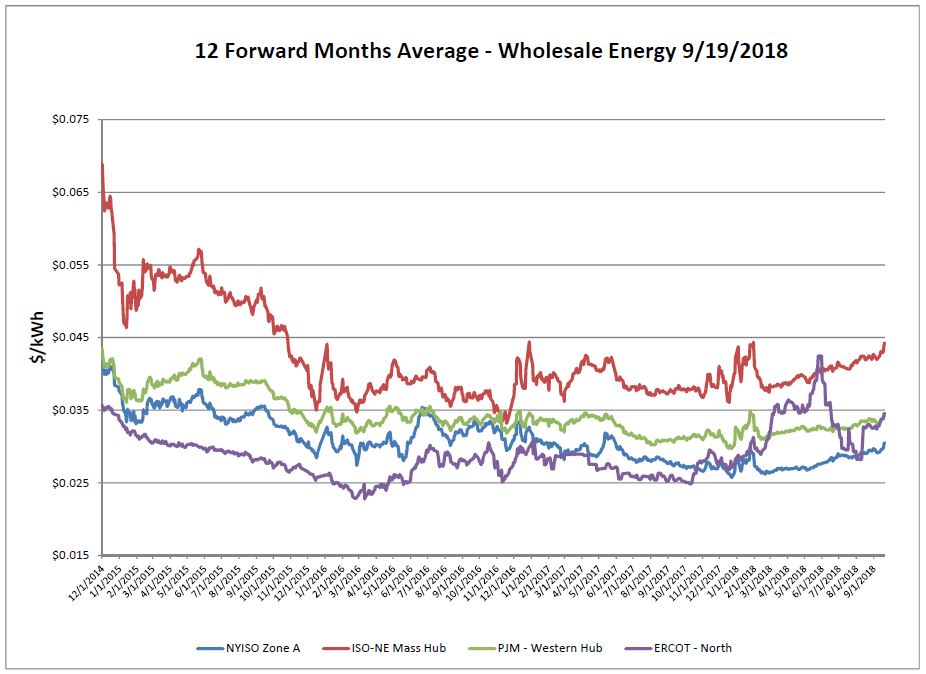 Electric prices have increased in all markets; New England is approaching levels not seen since 2015. These increases appear correlated to the underlying price of natural gas.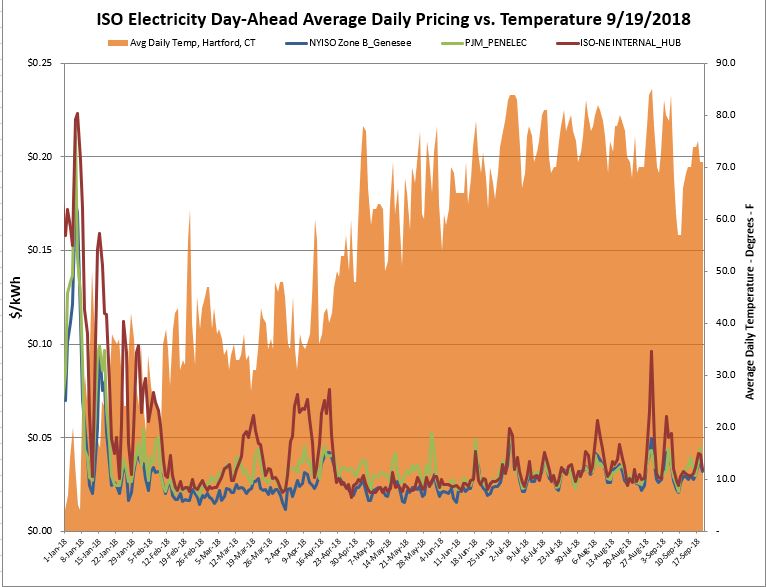 The region has enjoyed an unseasonably warm week in September with very little reaction in the markets.
Natural Gas Markets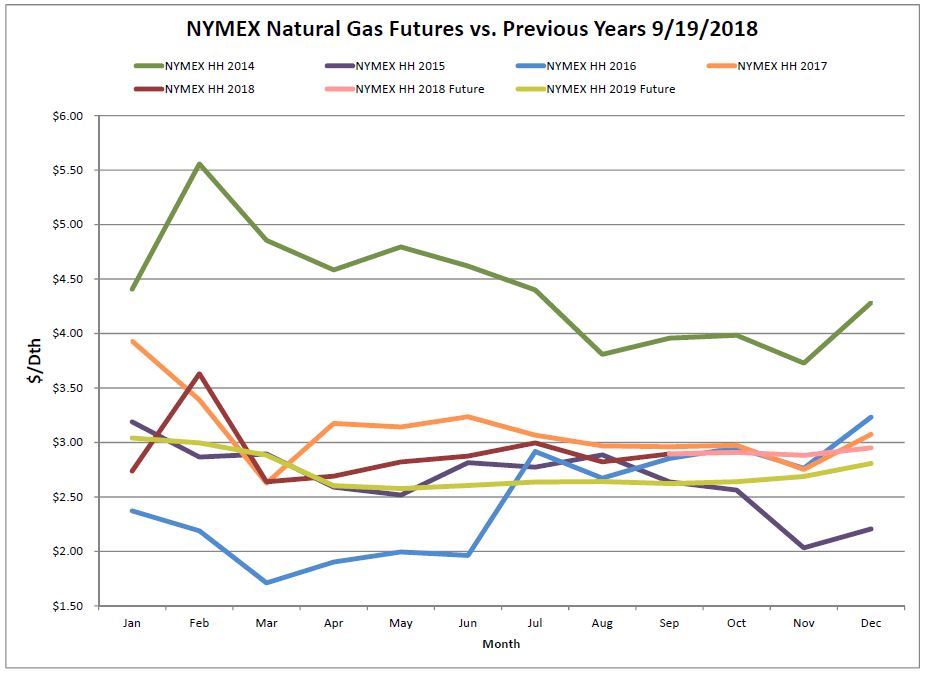 There was very little movement in the NYMEX over the 12-month strip, netting only a $.02 increase. The prompt month has seen the steepest increase; whether it will break through the $3.00 mark remains to be seen. The underlying Algonquin Basis saw the sharpest upward movement this week at $.08 over the 12-month strip. Several nuclear power facilities in the Southeast region were offline due to Hurricane Florence along with others undergoing scheduled maintenance; this has led to an increased strain on natural gas demand for power burn.
Six-Month Natural Gas Futures
Futures as of 9/19/18 versus previous week:
| | | |
| --- | --- | --- |
| Oct-18 | $2.908 | +$0.079 |
| Nov-18 | $2.882 | +$0.062 |
| Dec-18 | $2.951 | +$0.041 |
| Jan-19 | $3.041 | +$0.040 |
| Feb-19 | $2.996 | +$0.023 |
| Mar-19 | $2.883 | +$0.009 |
Natural Gas Inventory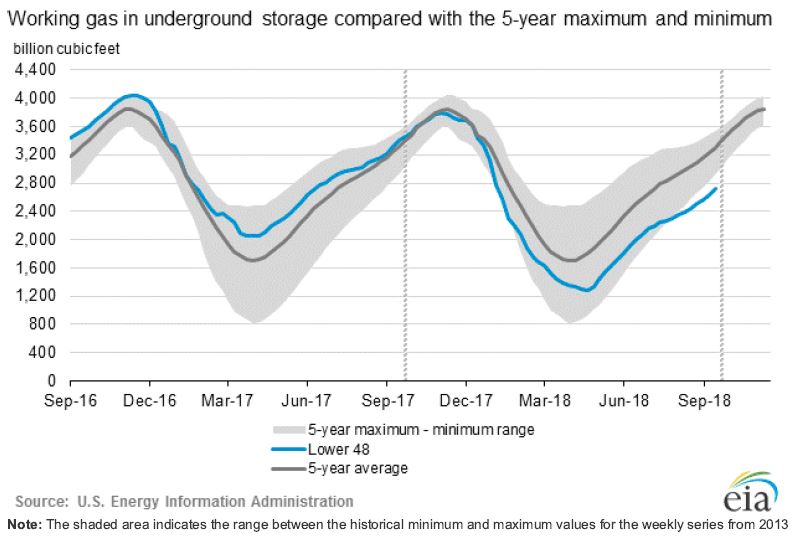 According to EIA estimates, a net increase of 86 Bcf was reported with working gas in storage at 2,722 Bcf as of Friday, September 14, 2018. This came in between last year's injection of 96 Bcf and the 5 year average of 86 Bcf. Although a healthy injection it is not enough to close the gap that has formed below the five-year historical range.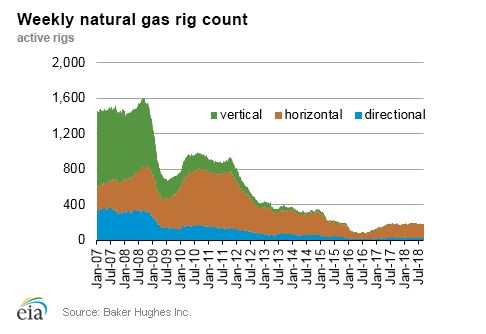 The Baker Hughes exploration gas rig count is again unchanged from the previous week at 186. This is 4 below this same time last year when there were 190 rigs in operation.
Weather Update

The Carolinas continue to clean up from the destruction of Hurricane Florence. The Southern half of the US is predicted to be warmer than normal in the coming week while the Northeast is predicted to have normal to slightly below-normal temperatures. North Dakota is expected to experience cold far below the norm for the end of September.
National Weather Service Updates (NOAA)
Hurricane Watch- Tropical Storm Leslie, Tropical Depression Kirk
Click here to view the National Hurricane Center site.
Equatorial Pacific Outlook:
Click here to view La Nina and El Nino status.
Energy News & Resources
How the Massachusetts Natural Gas Pipeline Disaster Will Exacerbate an Energy Shortage
The residents of a small part of eastern Massachusetts were shaken by an unprecedented natural gas disaster on Thursday.
If you would like to receive the Energy Market Update to your inbox weekly, please click here to submit your name and email address.
Disclaimer: This information is provided for the use of our customers and potential customers. Power Management Company assumes no responsibility or liability for the accuracy or completeness of pricing or information in this document. Historical data was obtained from sources that we believe to be reliable, but we do not guarantee its accuracy or completeness. It is not intended to provide advice or recommendation. Views are subject to change without notice.