Electricity Markets
Over the report week, NYISO and PJM were relativity flat while ISO-NE continued its upward trend.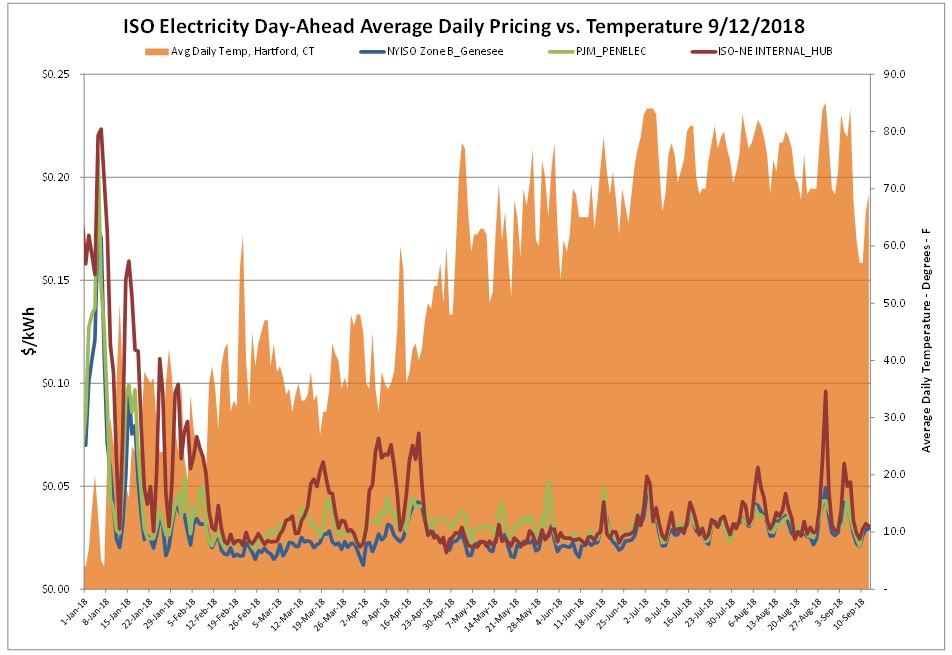 Unseasonably low temperatures were reported in many of the markets over the report week, thus not much activity on the day-ahead market.
Natural Gas Markets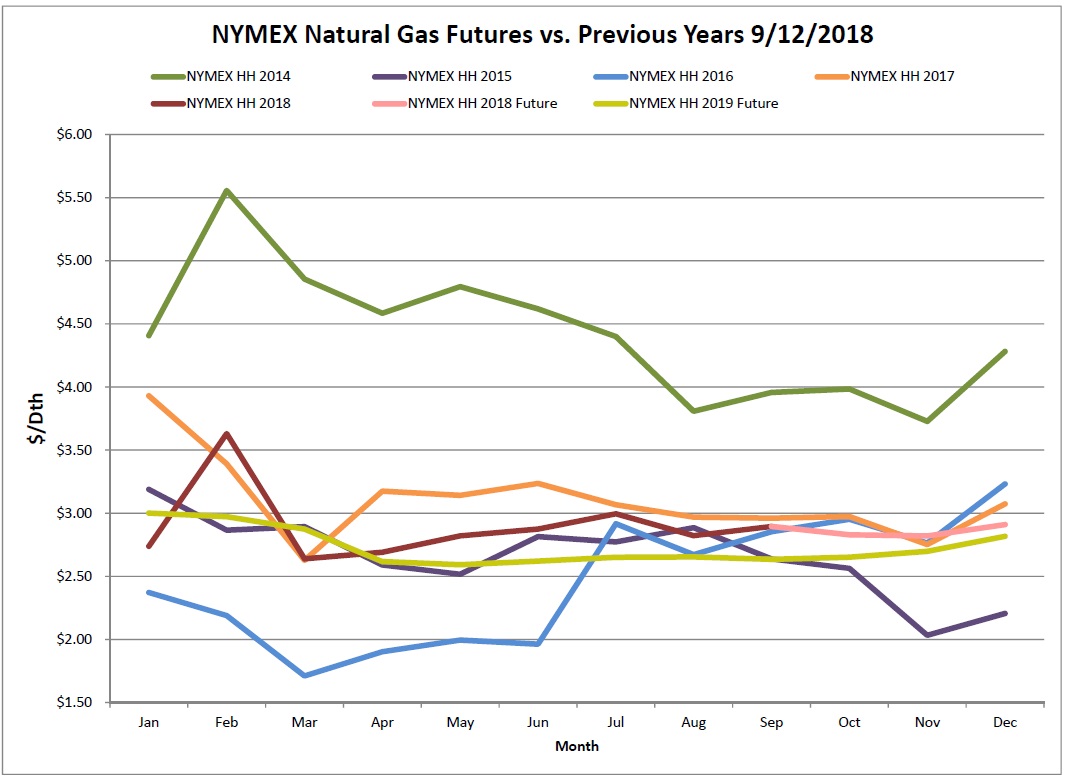 NYMEX natural gas prices saw little change, up 1 cent on the 12-month strip. The Algonquin basis however saw a much greater increase, up 9 cents.
Six-Month Natural Gas Futures
Futures as of 9/12/18 versus previous week:
| | | |
| --- | --- | --- |
| Oct-18 | $2.829 | +0.034 |
| Nov-18 | $2.820 | +0.007 |
| Dec-18 | $2.910 | +0.003 |
| Jan-19 | $3.001 | +0.006 |
| Feb-19 | $2.973 | +0.009 |
| Mar-19 | $2.874 | +0.012 |
Natural Gas Inventory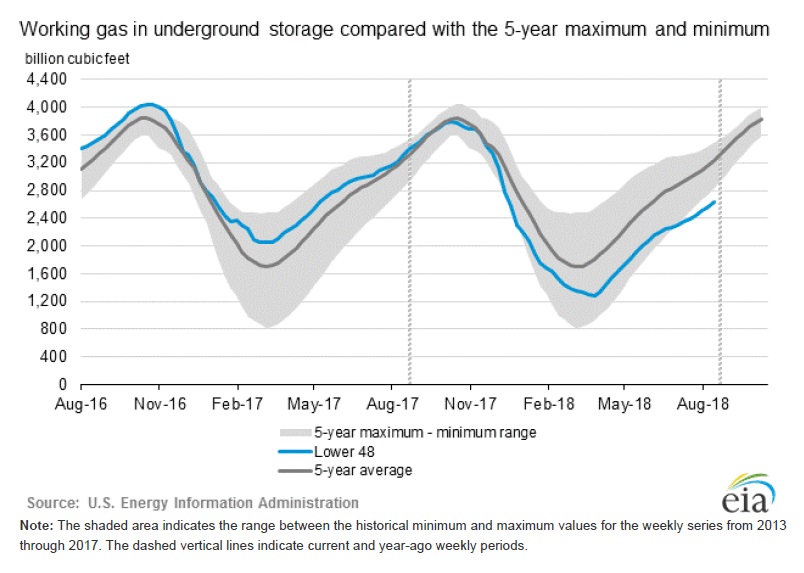 According to EIA estimates, a net increase of 69 Bcf was reported. Working gas in storage was 2,636 Bcf as of Friday, September 7, 2018. Expectations hovered in the neighborhood of 70 Bcf, slightly less than the 74 Bcf five-year average, and far less than the 87 Bcf seen last year for the corresponding week. Current stockpiles are in deficit to the five-year average and totals are not getting any closer to mitigating the gap between the lower end of the 5-year average. EIA projects that natural gas storage inventory may be only 3,270 Bcf at the start of the 2018–19 winter heating season, the lowest level for the start of winter since 2006. Although the inventory level at the start of injection season was low this year, it was not as low as in 2014 when the Polar Vortex resulted in an end-of-winter inventory of less than 900 Bcf.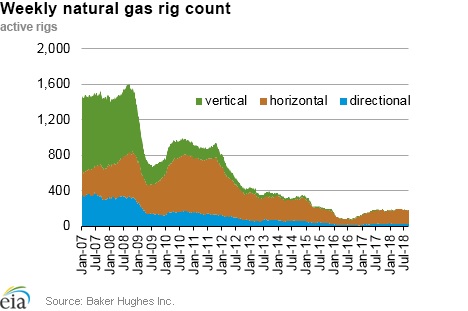 The Baker Hughes exploration gas rig count is flat across the board. The total rig count went unchanged from the previous week of 186 and the report total was also the same as the number of rigs in operation last year.
Weather Update

Currently, Tropical Depression Florence continues to wreak havoc on the Carolina's as it makes it slow march further in state. Weather forecasts for the 6-10 day forecast continue to show above average temperatures through late September for lower portions of the country, while the Northeast and West Coast are expected to see some below normal temperatures.
National Weather Service Updates (NOAA)
Hurricane Watch- Tropical Depression Florence and Joyce
Click here to view the National Hurricane Center site.
Equatorial Pacific Outlook:
Click here to view La Nina and El Nino status.
Energy News & Resources
America's oldest operating nuclear power plant to retire on Monday
The Oyster Creek Nuclear Generating Station, located 50 miles east of Philadelphia in Forked River, New Jersey, is scheduled to retire on Monday, September 17
Hydroelectricity is the most prevalent renewable source in 19 states; wind in 16
Hydroelectricity represented the largest share of electricity generation among renewable sources in 28 states in 2007 but retained that status in only 19 states in 2017 as wind and solar became more common
If you would like to receive the Energy Market Update to your inbox weekly, please click here to submit your name and email address.
Disclaimer: This information is provided for the use of our customers and potential customers. Power Management Company assumes no responsibility or liability for the accuracy or completeness of pricing or information in this document. Historical data was obtained from sources that we believe to be reliable, but we do not guarantee its accuracy or completeness. It is not intended to provide advice or recommendation. Views are subject to c