Electricity Markets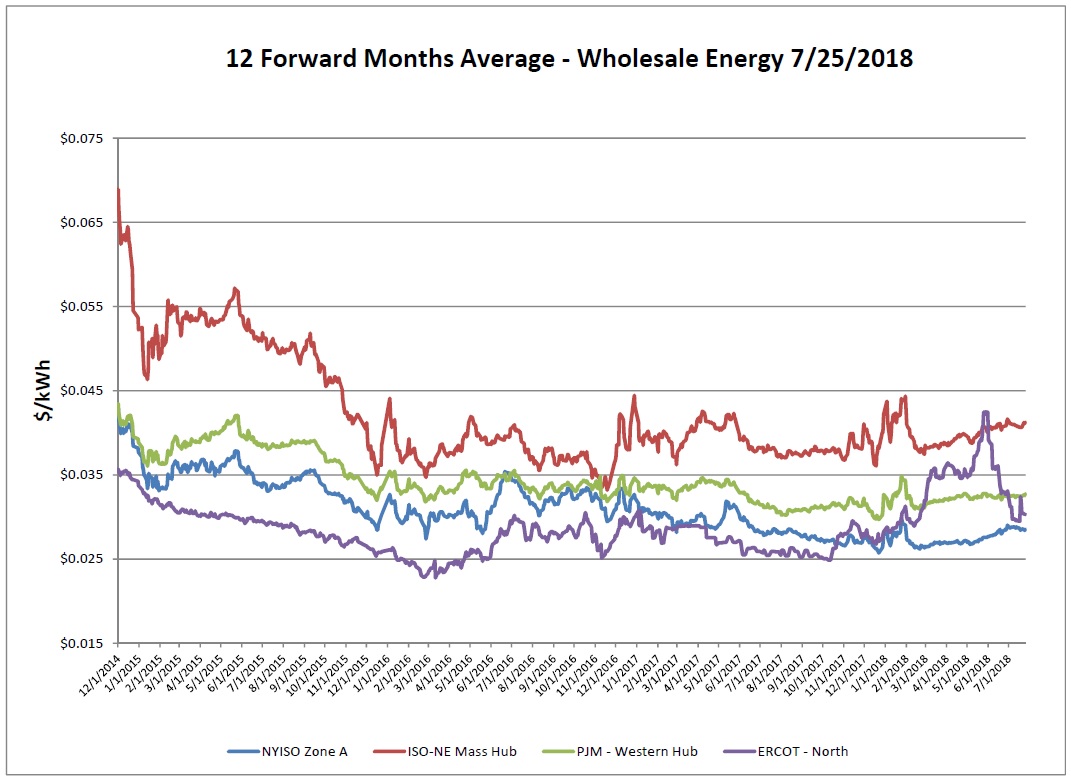 ISO-NE and PJM electric markets were up slightly on the heels of some natural gas price increases. NYISO was down a minor amount. It appears that Texas has come through a very hot period, setting an all-time peak record over the report week.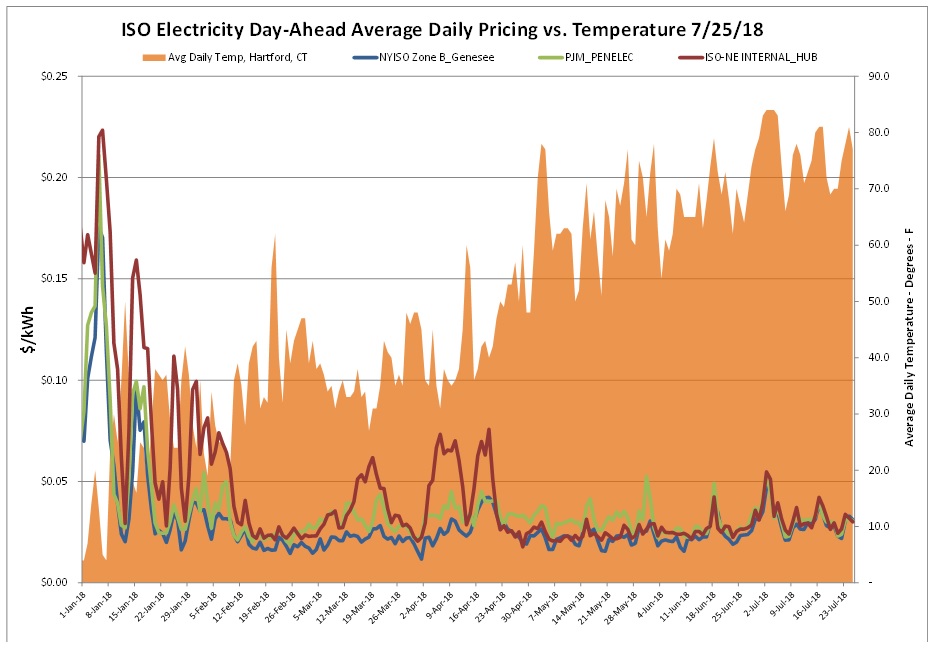 Overall, about average temperatures over the report week, with the exception of Texas. Statistically this time is the warmest week of the year. No real volatility in the day-ahead market as a result of the moderate temperatures.
Natural Gas Markets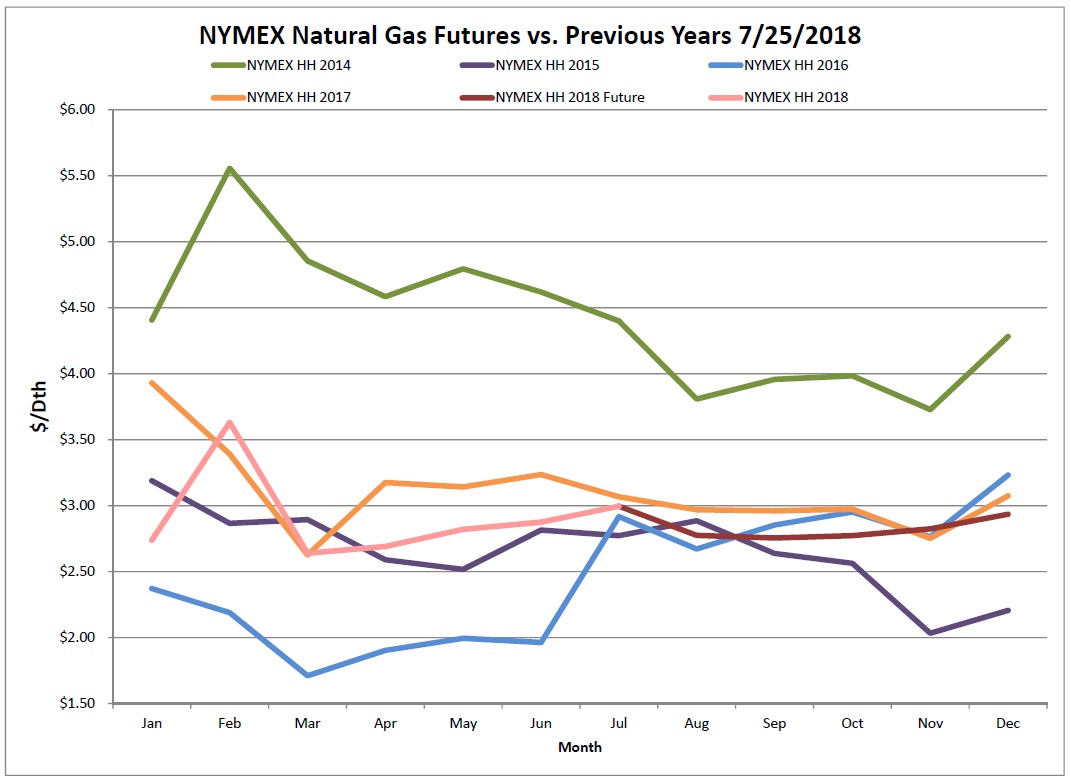 Production has returned to record levels, hitting an all-time high, helping to offset some of the demand. Despite the current storage deficit, winter gas prices have continued to trade under $3. This upcoming winter strip has only traded lower back in February 2016 when storage levels were much higher than they are today.
Six-Month Natural Gas Futures
Futures as of 7/25/18 versus previous week:
| | | |
| --- | --- | --- |
| Aug-18 | $2.775 | +0.054 |
| Sep-18 | $2.755 | +0.066 |
| Oct-18 | $2.773 | +0.068 |
| Nov-18 | $2.824 | +0.069 |
| Dec-18 | $2.935 | +0.065 |
| Jan-19 | $3.021 | +0.067 |
Natural Gas Inventory
                                                                                  

The EIA reported a net injection of 24 Bcf. Natural gas in storage was 2,273 Bcf as of Friday, July 20, 2018. This compares with the 19 Bcf injection last year and the 5-year average of 46 Bcf. Storage levels remain at the bottom of the 5-year average curve.
NG Rig Count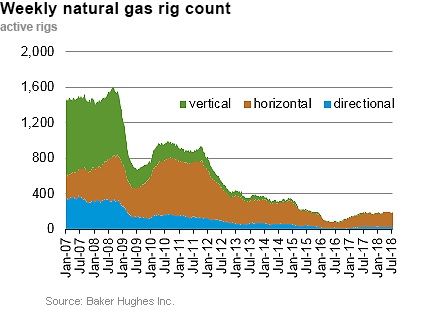 The Baker Hughes exploration gas rig count decreased 1 rig from the previous week for a total of 186 rigs. The report total is 6 rigs more than in operation last year when there were 192 rigs.
Weather Update

Weather forecasts are showing above-normal conditions continuing along portions of the West Coast and pushing South and East into Texas. Conditions also appear to warm as we head into the second week of August across the New England region.
National Weather Service Updates (NOAA)
Hurricane Watch- No activity
Click here to view the National Hurricane Center site.
Equatorial Pacific Outlook:
Click here to view La Nina and El Nino status.
Energy News & Resources
Texas Electric Grid Sets New System-Wide All-Time Peak Demand Record, Twice
The Electric Reliability Council of Texas (ERCOT), the electric grid that serves most of Texas, set back-to-back hourly system -wide peak demand records on Wednesday, July 18, 2018, and for the first time exceeded 72,000 MW of electricity demand.
Massachusetts power players scramble for deal in critical storage, DER docket
Utilities and developers aim to reach a compromise this week over who owns the capacity rights for storage and renewable resources – a question central to their future growth.
If you would like to receive the Energy Market Update to your inbox weekly, please click here to submit your name and email address.
Disclaimer: This information is provided for the use of our customers and potential customers. Power Management Company assumes no responsibility or liability for the accuracy or completeness of pricing or information in this document. Historical data was obtained from sources that we believe to be reliable, but we do not guarantee its accuracy or completeness. It is not intended to provide advice or recommendation. Views are subject to change without notice