Electricity Markets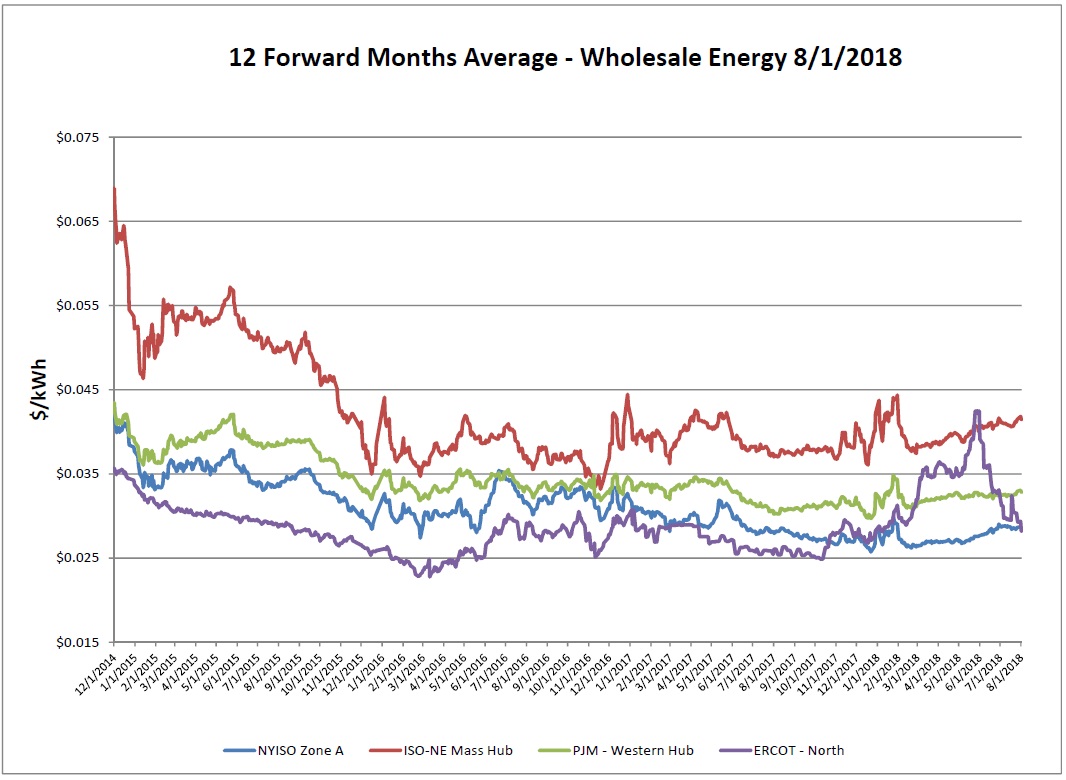 ISO- NE electric prices continue to slowly creep upwards. ERCOT was down over the report week and slide just below NYISO for the first time since this past winter.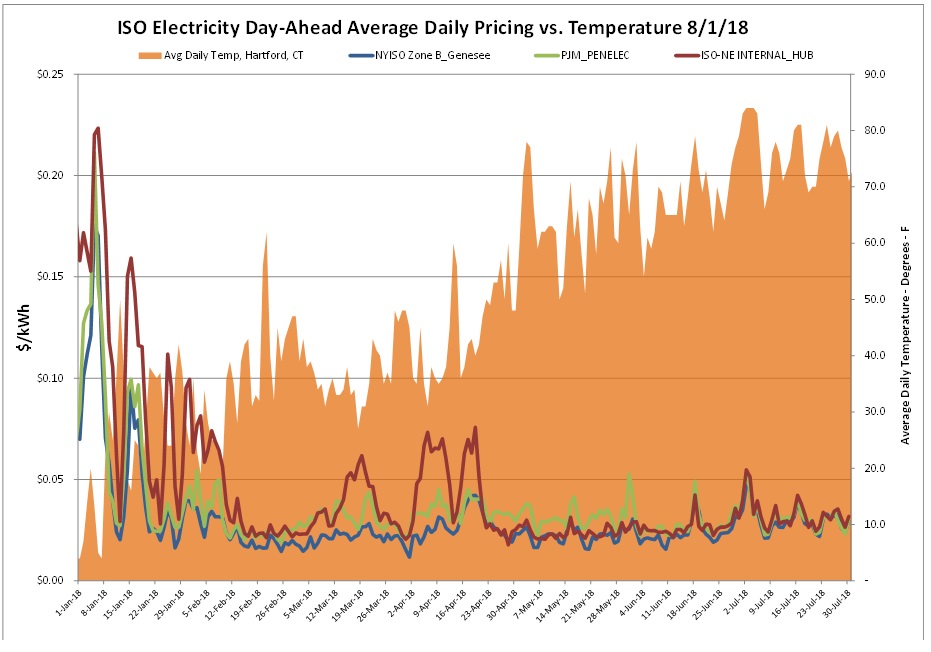 Day-ahead pricing was down slightly on the report week, but more hot weather may cause upward press over the coming week.
Natural Gas Markets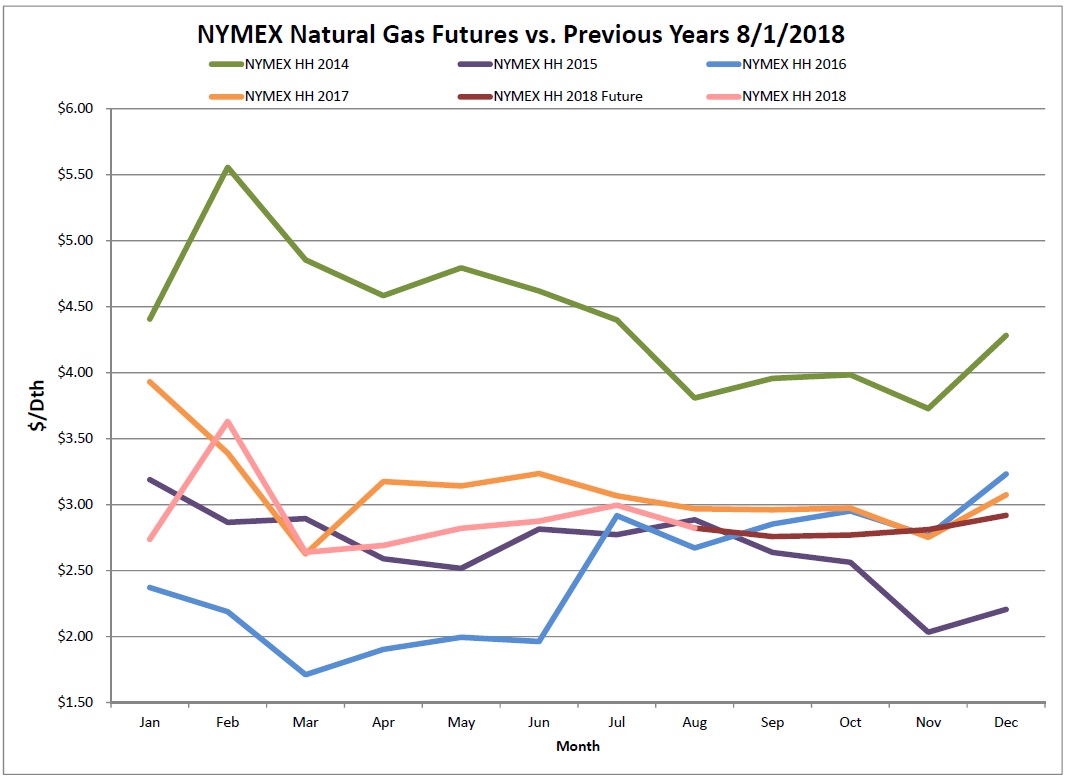 On Friday July 27th, the August 2018 NYMEX natural gas futures price settled at $2.822/MMBtu. The August contract felt upward pressure from the previous day's lower-than-expected injection into storage.
The hot weather led to record-breaking power burns in July. Depending on location, the month of July was 30 %- 50% warmer than normal. Regardless, the prompt month has been unable to remain above $3.00 for any significant length of time since January and warmer-than-normal weather outlooks failed to push natural gas prices higher.
Six-Month Natural Gas Futures
Futures as of 8/1/18 versus previous week:
| | | |
| --- | --- | --- |
| Aug-18 | $2.758 | -0.017 |
| Sep-18 | $2.770 | +0.015 |
| Oct-18 | $2.811 | +0.038 |
| Nov-18 | $2.919 | +0.095 |
| Dec-18 | $3.005 | +0.070 |
| Jan-19 | $2.971 | -0.050 |
Natural Gas Inventory
                                                                                  

Working gas in storage was 2,308 Bcf as of Friday, July 27, 2018. According to EIA estimates this represents a net increase of 35 Bcf from the previous week. This was the 4th week that injections were below expectations which were around 45 Bcf. The low injection set a new 5 year low on the storage chart. Despite current storage levels being at a 20% deficit to the five-year average, the market does not seem too concerned with end-of-season natural gas inventory levels.
NG Rig Count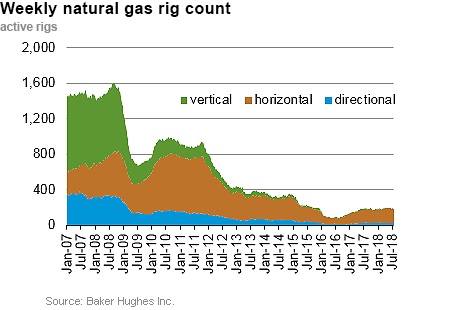 The Baker Hughes exploration gas rig count decreased 3 rigs from the previous week for a total of 183 rigs. The report total came in 6 rigs less than were in operation last year when there were 189 rigs.
Weather Update

The NOAA 6-10 day forecast calls for exceptionally hot weather in the Northeast, across the Great Lakes, and into the Mid-continent region.  Normal to slightly below normal temperatures are expected in the Southwest, offering some possible respite from the hot weather which has been pushing power burns to record levels.
National Weather Service Updates (NOAA)
Hurricane Watch- Tropical Storm Ileana likely to become a Hurricane by Tonight, Tropical Storm John continues to intensify
Click here to view the National Hurricane Center site.
Equatorial Pacific Outlook:
Click here to view La Nina and El Nino status.
Energy News & Resources
Major utilities continue to increase spending on U.S. electric distribution systems
Spending on electricity distribution systems by major U.S. electric utilities—representing about 70% of total U.S. electric load—has risen 54% over the past two decades, from $31 billion to $51 billion annually
If you would like to receive the Energy Market Update to your inbox weekly, please click here to submit your name and email address.
Disclaimer: This information is provided for the use of our customers and potential customers. Power Management Company assumes no responsibility or liability for the accuracy or completeness of pricing or information in this document. Historical data was obtained from sources that we believe to be reliable, but we do not guarantee its accuracy or completeness. It is not intended to provide advice or recommendation. Views are subject to change without notice