Electricity Markets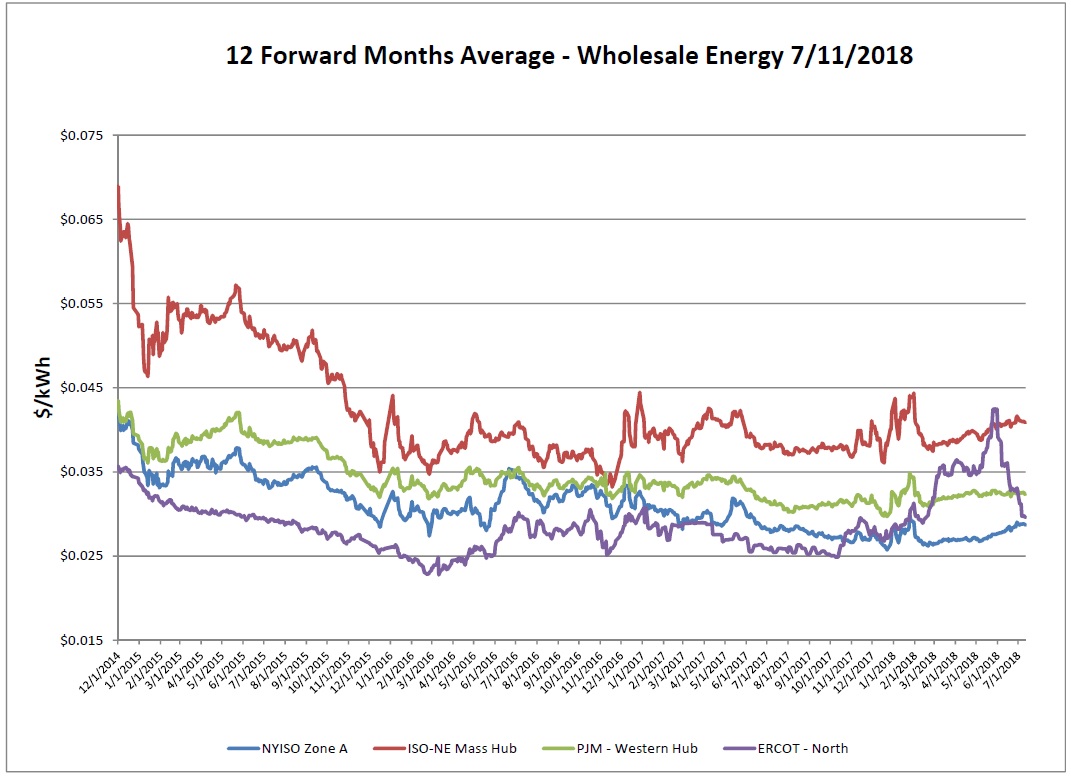 ISO-NE & PJM electric prices dropped off slightly over the report week. ERCOT continues to slide, now falling to pre-summer levels. As we move into July, some of the panic in Texas regarding the restricted capacity has decreased as the market has made it through in good shape thus far.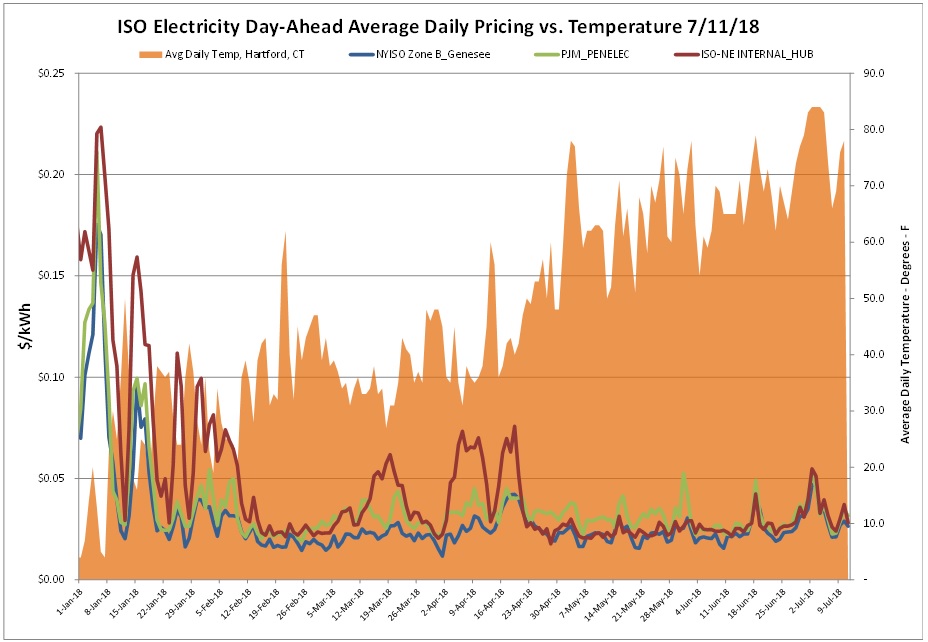 Temperatures over the report week subsided and spot prices likewise were less volatile with the lack of extreme heat.
Natural Gas Markets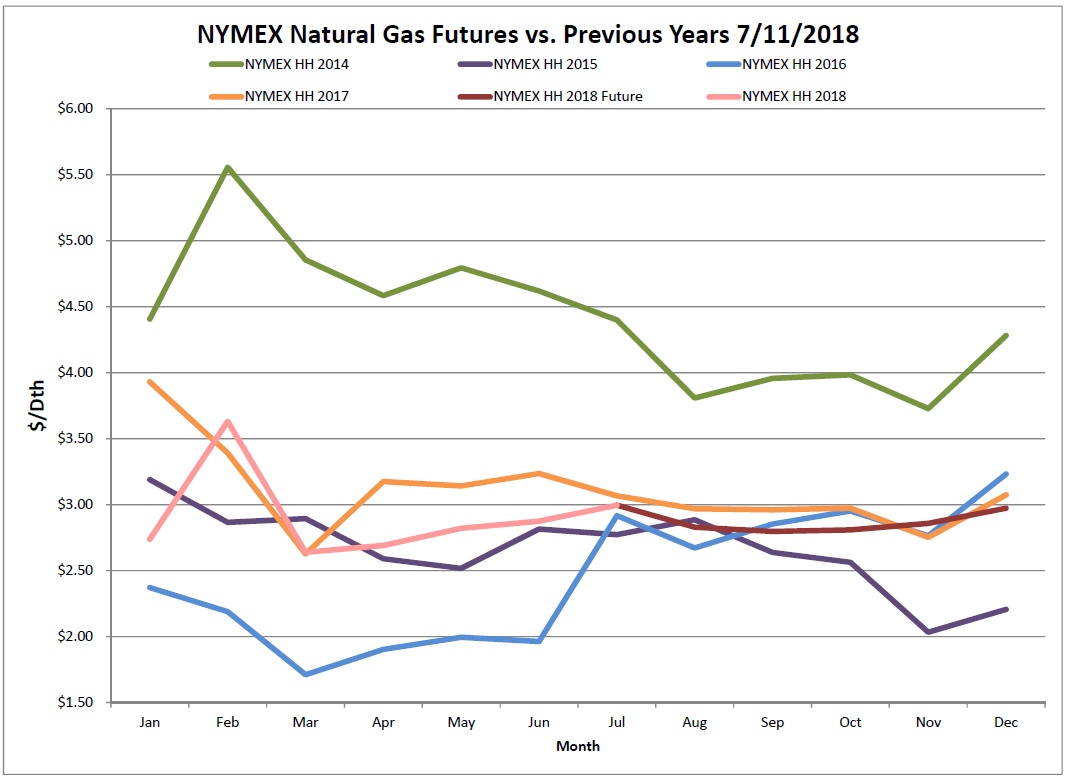 No big changes on the NYMEX underlying Henry Hub natural gas prices over the report week.
Six-Month Natural Gas Futures
Futures as of 7/11/18 versus previous week:
| | | |
| --- | --- | --- |
| Aug-18 | $2.829 | -0.008 |
| Sep-18 | $2.797 | -0.015 |
| Oct-18 | $2.809 | -0.013 |
| Nov-18 | $2.858 | -0.012 |
| Dec-18 | $2.973 | -0.005 |
| Jan-19 | $3.056 | -0.003 |
Natural Gas Inventory
                                                                                  

The EIA reported a 51 Bcf net increase for the week ending Friday, July 6, 2018. This puts total working gas in storage at 2,203 Bcf. This week's injection did little to reduce the deficit. Last year's injection was 59 Bcf and the 5-year average is 77 Bcf. Warmer-than-normal temperatures increased power demand for natural gas, which continued to reduce net injections into working gas.
NG Rig Count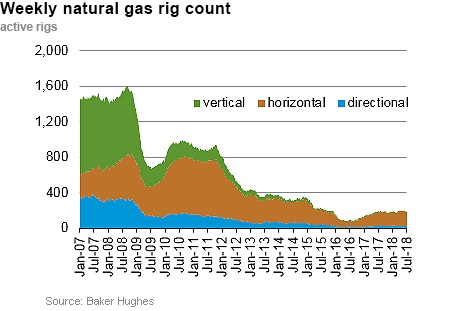 The Baker Hughes exploration gas rig count increased 2 rigs from the previous week for a total of 189 rigs. The report total is 2 rigs more than in operation last year when there were 187 rigs.
.
Weather Update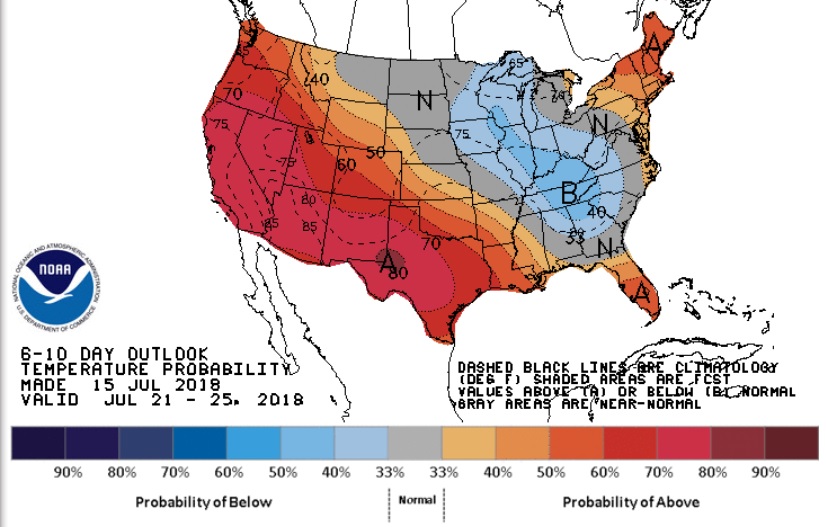 Weather looks to be mixed in the NOAA 6-10 day forecast with heat along the West Coast and sweeping across Texas as well as in the Northeast and Florida. Most of the central portion of the country expected to see more moderate or below-normal conditions.
National Weather Service Updates (NOAA)
Hurricane Watch- No activity
Click here to view the National Hurricane Center site.
Equatorial Pacific Outlook:
Click here to view La Nina and El Nino status.
Energy News & Resources
Millstone nuclear plant threatens shutdown
The Millstone nuclear plant is renewing threats to close its reactors — and potentially drive up the cost of electricity — after state regulators proposed delaying the company from making more money through clean energy contracts.
Natural gas-fired electricity generation this summer expected to be near record high
EIA's July 2018 Short-Term Energy Outlook (STEO) expects natural gas-fired power plants to supply 37% of U.S. electricity
If you would like to receive the Energy Market Update to your inbox weekly, please click here to submit your name and email address.
Disclaimer: This information is provided for the use of our customers and potential customers. Power Management Company assumes no responsibility or liability for the accuracy or completeness of pricing or information in this document. Historical data was obtained from sources that we believe to be reliable, but we do not guarantee its accuracy or completeness. It is not intended to provide advice or recommendation. Views are subject to change without notice