Electricity Markets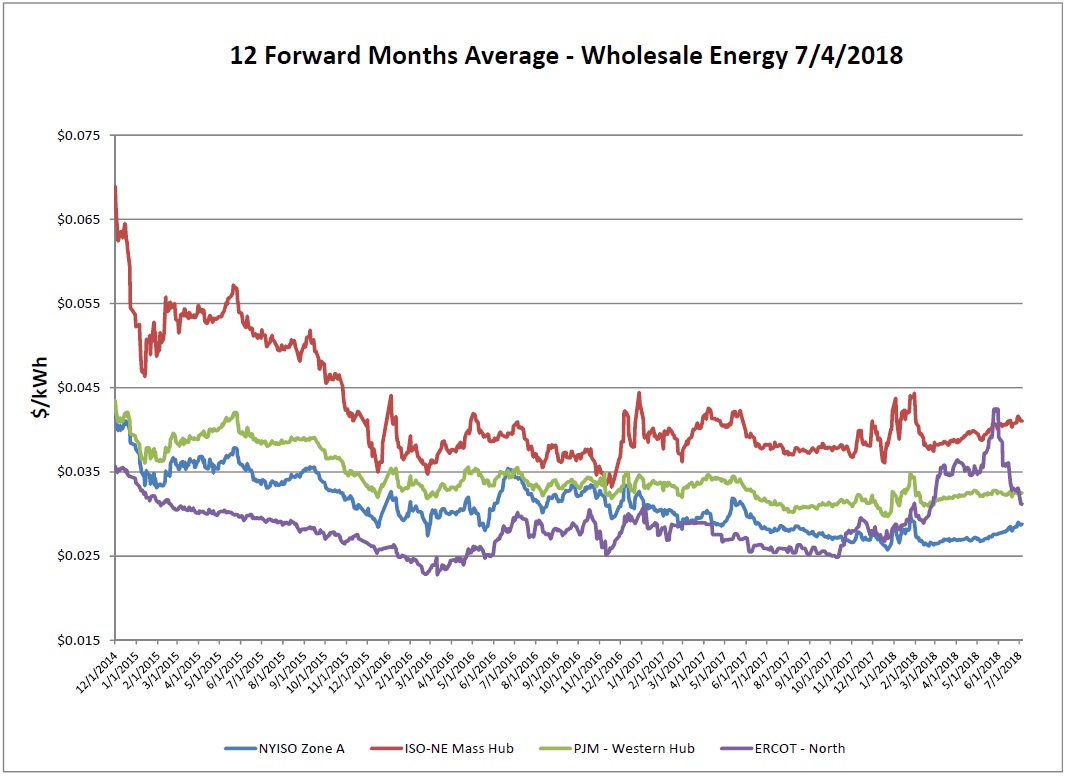 Electric continues to move up gradually across most of the ISO's. This steady upward trend is likely tied to the increase in the underlying increase in the Henry Hub natural gas pricing as the supply and demand balance tightens, and the increase in the price of oil. The period of panic in ERCOT has seemed to retreat. We have seen similar reaction to events in the Northeast like the polar vortex when the market reacts sharply for a brief time period.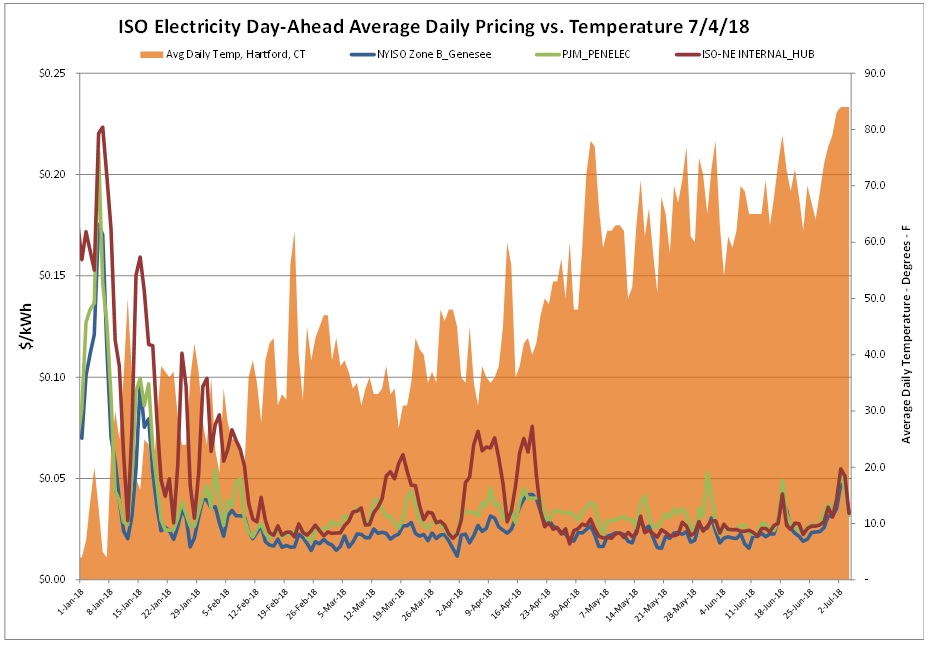 As expected, the significant heat wave and extended period of above-average temperatures caused pricing on the day ahead market to react and go up consistently across all regions.
Natural Gas Markets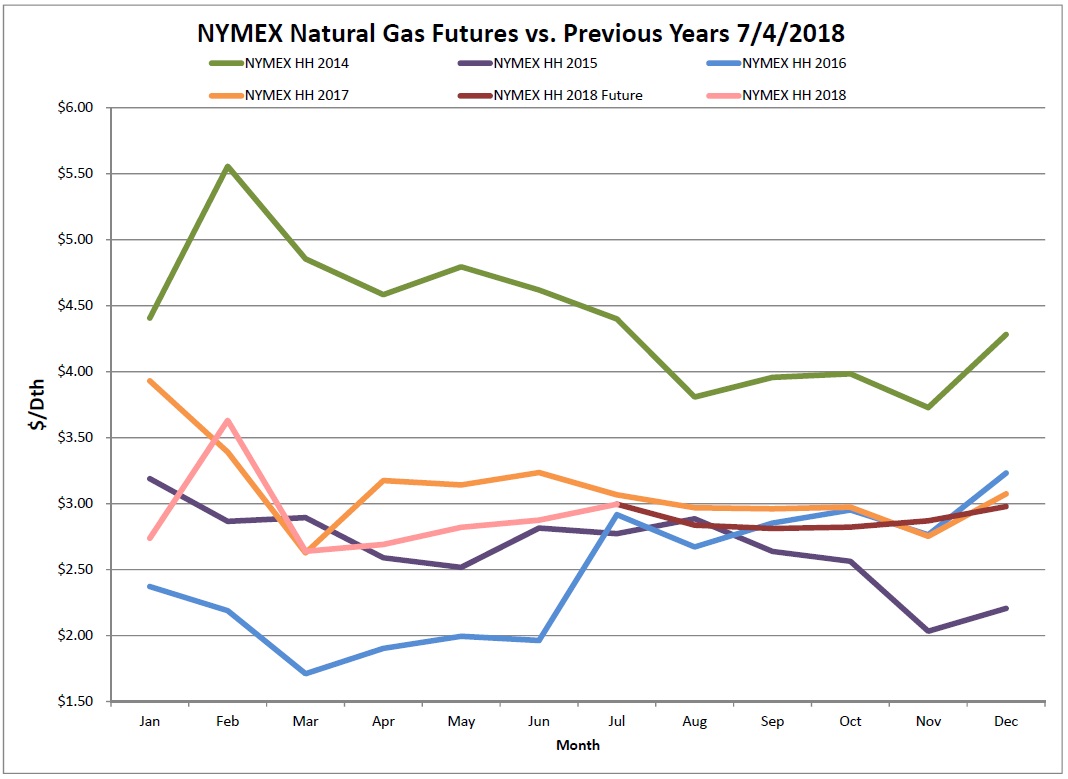 Natural gas prices came down across the board over the report week, but the tight grouping just below the $3.00 range remains in play.
Six-Month Natural Gas Futures
Futures as of 7/4/18 versus previous week:
| | | |
| --- | --- | --- |
| Aug-18 | $2.837 | -0.144 |
| Sep-18 | $2.812 | -0.139 |
| Oct-18 | $2.822 | -0.133 |
| Nov-18 | $2.870 | -0.123 |
| Dec-18 | $2.978 | -0.120 |
| Jan-19 | $3.059 | -0.121 |
Natural Gas Inventory
                                                                                  

As of Friday, June 29, 2018, working gas in storage was 2,152 Bcf. According to EIA estimates this represents a net increase of 78 Bcf from the previous week. Although this was a healthy injection, it has consistently not been enough to close the gap. The likely risk remains that storage could still finish in October at a 5-year low.
NG Rig Count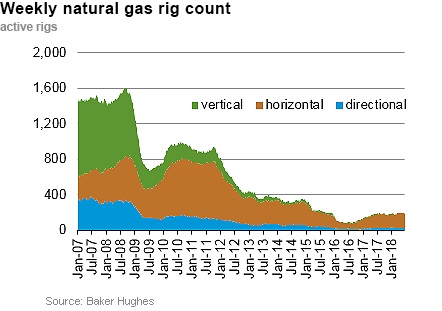 The Baker Hughes exploration gas rig count went unchanged from the previous week for a total of 187 rigs. The report total is 2 rigs more than in operation last year when there were 189 rigs.
Weather Update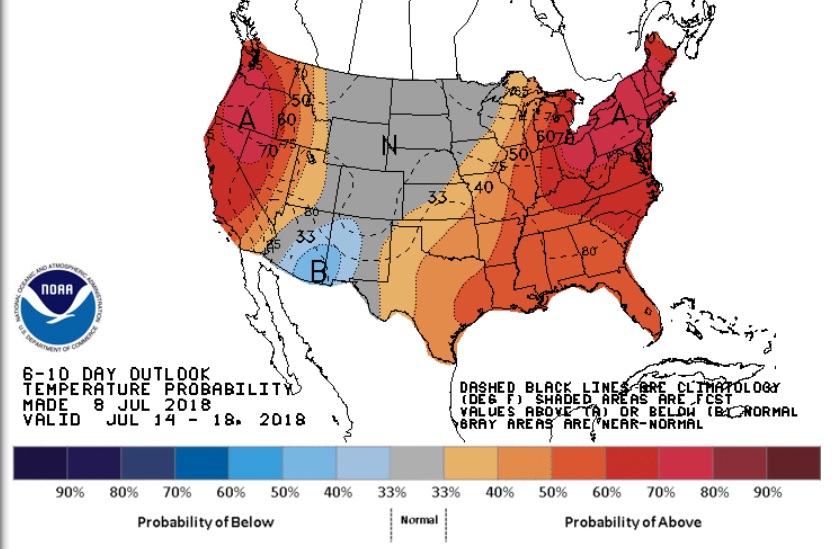 Above-average temperatures are expected to remain through at least the middle of July for both the East and West coasts.
National Weather Service Updates (NOAA)
Hurricane Watch- No activity
Click here to view the National Hurricane Center site.
Equatorial Pacific Outlook:
Click here to view La Nina and El Nino status.
Energy News & Resources
Another Major Milestone Towards a Historic Agreement to Bring Clean Energy to Massachusetts
Hydro-Quebec and Central Maine Power Company ("CMP") a subsidiary of AVANGRID, Inc. (NYSE:AGR), jointly announced the successful conclusion of contract negotiations with the Massachusetts electric distribution companies (EDCs)
NY's Energy Storage Roadmap Set to Achieve Nation-Leading Target Of 1500 MW By 2025 To Combat Climate Change
If you can't count on the federal government to protect its citizens from the ravages of climate change, then you have to count on the states to step up.
If you would like to receive the Energy Market Update to your inbox weekly, please click here to submit your name and email address.
Disclaimer: This information is provided for the use of our customers and potential customers. Power Management Company assumes no responsibility or liability for the accuracy or completeness of pricing or information in this document. Historical data was obtained from sources that we believe to be reliable, but we do not guarantee its accuracy or completeness. It is not intended to provide advice or recommendation. Views are subject to change without notice