Electricity Markets
As you may be aware, a significant heat wave is expected over the coming week or so. With the heat comes the likelihood of increased electricity demand for various ISO's that you may do business in. We are advising customers to be extra mindful, especially on Monday 7/2 and Tuesday 7/3, as there is the possibility to set annual peak energy demand for the year on these days.
We recommend that customers with interval meters reduce their electricity use if possible. Please note, by planning to curtail your electricity usage on days there is a potential to set the peak demand, you will help to reduce your capacity charge and overall electricity costs for the following year.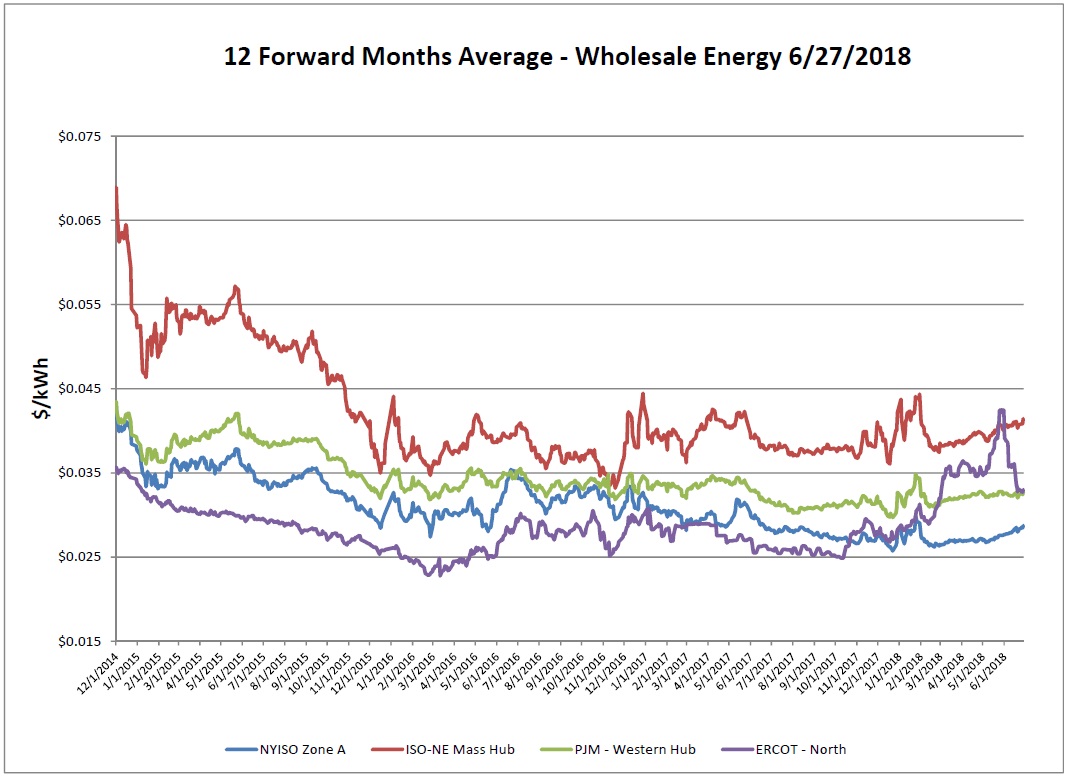 Over the report week most of the ISO's continued a steady upward trend, while ERCOT flattened out for the time being.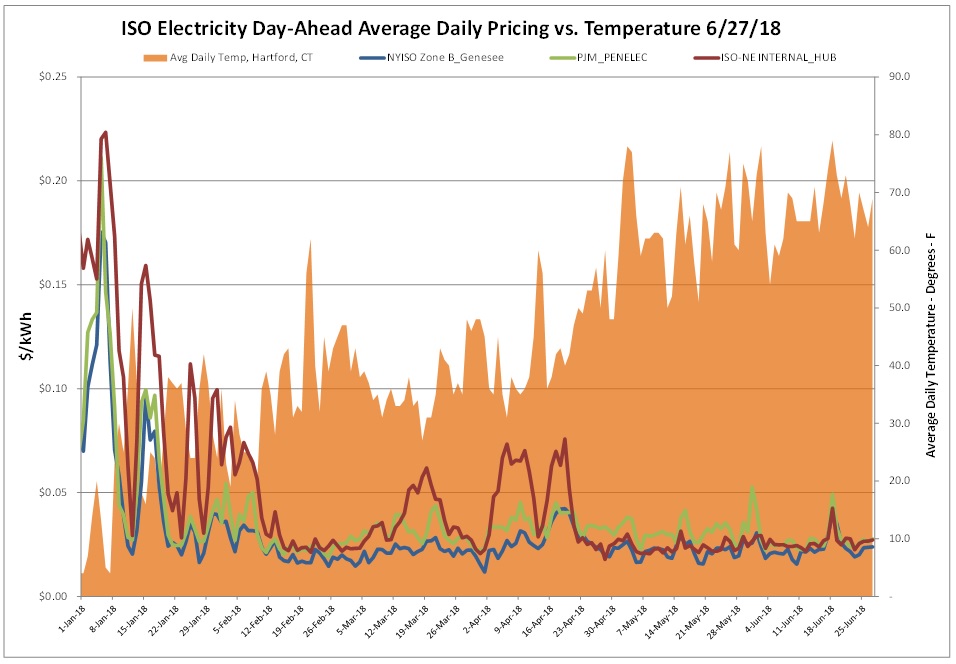 The day ahead market was mostly quiet over the report week. Above average temperatures in the days to come will likely cause some volatility documented for next week's report.
Natural Gas Markets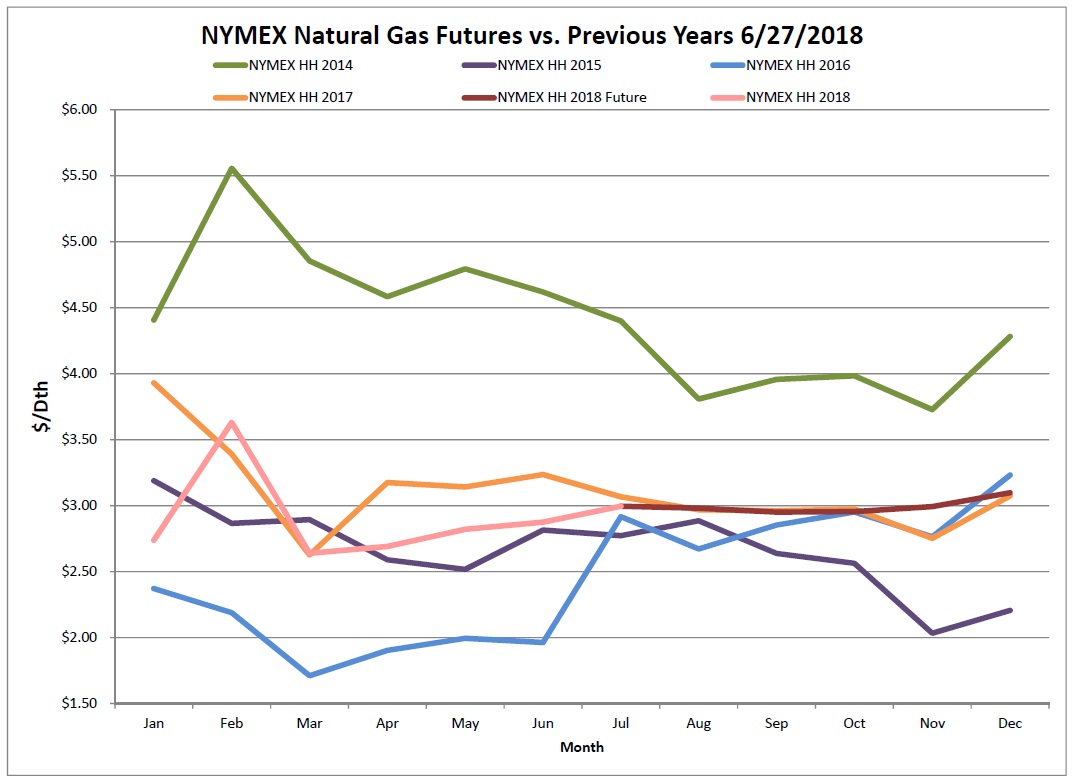 As has been the trend, the natural gas prompt month saw gains in its final day of trading. The July '18 NYMEX contract expired on Wednesday June 27th at $2.996, but not before gaining 5.7 cents. and settling at $2.996/MMBtu. The prompt month has been just under the $3.00 mark but unable to sustain trading above it.
Six-Month Natural Gas Futures
Futures as of 6/27/18 versus previous week:
| | | |
| --- | --- | --- |
| Aug-18 | 2.981 |  +0.016 |
| Sep-18 | 2.951 | +0.007 |
| Oct-18 | 2.955 | +0.004 |
| Nov-18 | 2.993 | +0.002 |
| Dec-18 | 3.098 | +0.000 |
| Jan-19 | 3.18 | -0.005 |
Natural Gas Inventory
                                                                                  

The EIA report a net increase of 66 Bcf from the previous week. Working gas in storage was 2,074 Bcf as of Friday, June 22, 2018. Estimates for the injection were a consensus around 74 Bcf. Last year there was a 48 Bcf injection and the five-year average is 73 Bcf.
NG Rig Count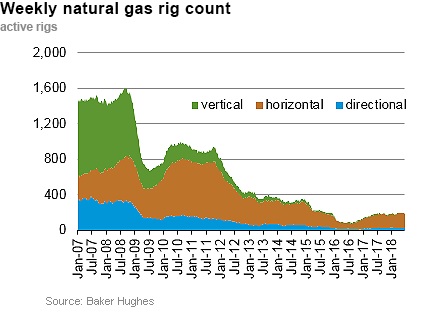 The Baker Hughes exploration gas rig count decreased 1 rig from the previous week for a total of 187 rigs. The report total is 3 rigs more than in operation last year when there were 184 rigs.
Weather Update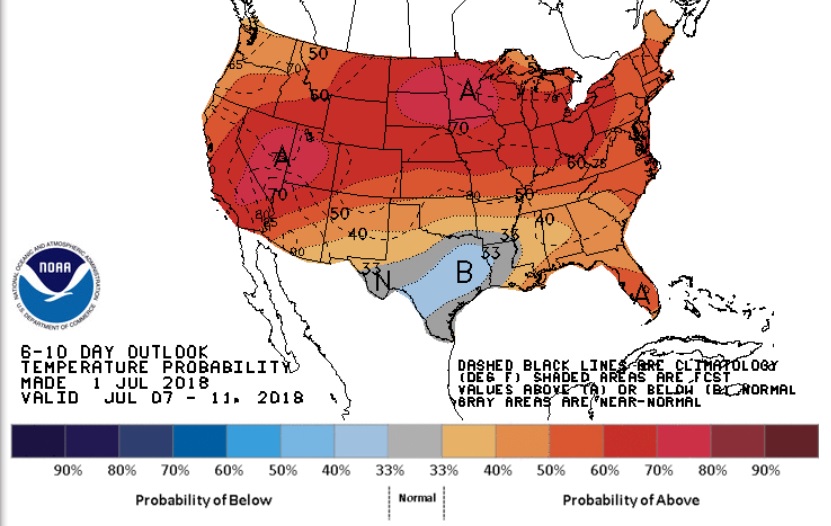 A period of extended heat is anticipated to continuing for the majority of the CONUS according to the NOAA 6-10 day outlook.
National Weather Service Updates (NOAA)
Hurricane Watch- Hurricane Bud
Click here to view the National Hurricane Center site.
Equatorial Pacific Outlook:
Click here to view La Nina and El Nino status.
Energy News & Resources
EIA expects 2018 gasoline prices have peaked
U.S. regular-grade retail gasoline prices averaged $2.89 per gallon (gal) in June, down from a high of $2.96/gal on May 28.
If you would like to receive the Energy Market Update to your inbox weekly, please click here to submit your name and email address.
Disclaimer: This information is provided for the use of our customers and potential customers. Power Management Company assumes no responsibility or liability for the accuracy or completeness of pricing or information in this document. Historical data was obtained from sources that we believe to be reliable, but we do not guarantee its accuracy or completeness. It is not intended to provide advice or recommendation. Views are subject to change without notice