Electricity Markets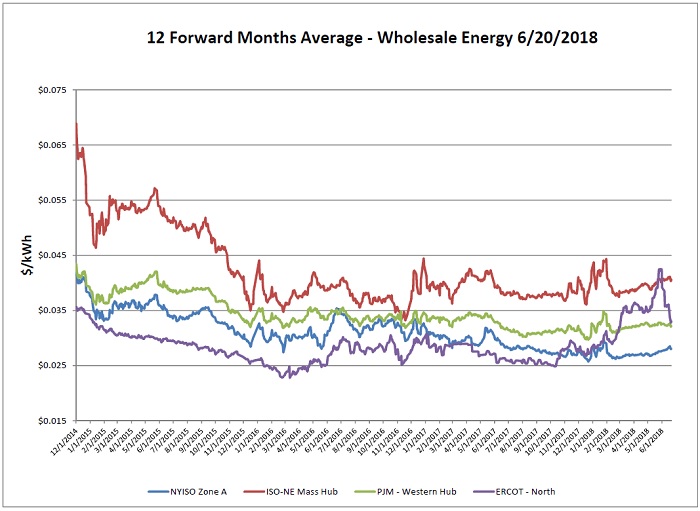 There was a small dip in electric prices in most ISO's. ERCOT was the exception where there was a big slide over the report week. Volatility here might have been a little over reaction, however there is still a lot of summer left to get through. With an estimated 20,000 MW of wind generation in Texas, this is a big factor in their overall power generation mix. Renewables when producing are great, however when they are not, something else has to quickly pick up the slack or we see a big market reaction. The generation mix is important to keep in mind as we transition to more renewables it will be interesting to see how the dynamics fair.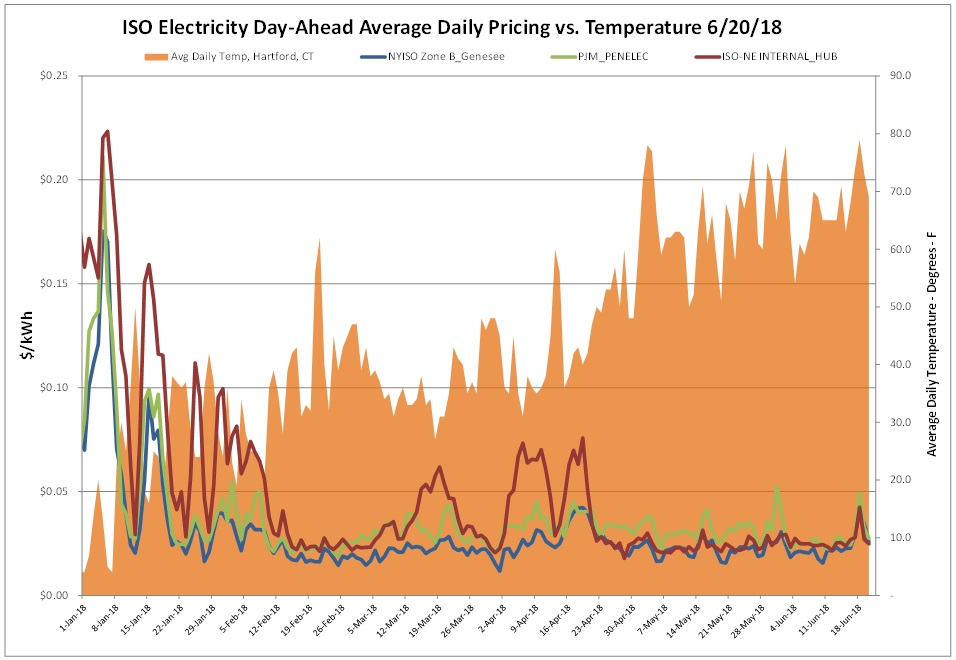 All markets reacted with some volatility on the day ahead market in reaction to the higher temperatures.
Natural Gas Markets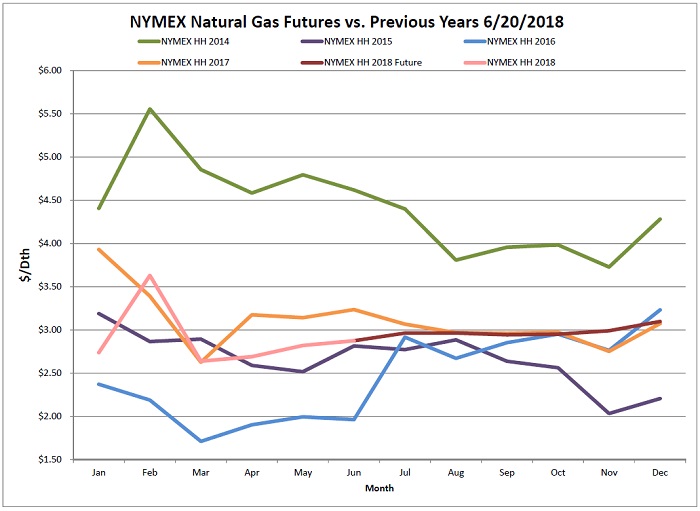 NYMEX futures have been slowly and steadily creeping upwards however continue to hover around the $3.00 threshold.
Six-Month Natural Gas Futures
Futures as of 6/20/18 versus previous week:
| | | |
| --- | --- | --- |
| Jul-18 | 2.964 | + 0.001 |
| Aug-18 | 2.965 | + 0.017 |
| Sep-18 | 2.944 | + 0.024 |
| Oct-18 | 2.951 | + 0.015 |
| Nov-18 | 2.991 | + 0.009 |
| Dec-18 | 3.098 | + 0.008 |
Natural Gas Inventory
                                                                                  

The EIA reported a net injection of 91 Bcf for the report week ending Friday, June 15, 2018. Working gas in storage was 2,004 Bcf. This injection is another week above expectations but nothing drastically added to the inventory. Last year there was injection of 63 Bcf and the 5-year average is 83 Bcf.
NG Rig Count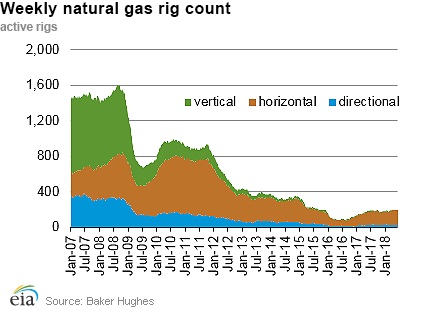 The Baker Hughes exploration gas rig count took a slide down 6 rigs from the previous week for a total of 188 rigs. The rig count gap is slowly closing as the report total is 5 rigs more than in operation last year when there were 183 rigs.
Weather Update
The latest NOAA forecast anticipated heat returning to much the Eastern two-thirds of the country and running into early July. The Northwest is expected to see some below normal temperatures during this time.
National Weather Service Updates (NOAA)
Hurricane Watch- No activity
Click here to view the National Hurricane Center site.
Equatorial Pacific Outlook:
Click here to view La Nina and El Nino status.
Energy News & Resources
EIA monthly survey tracks U.S. power plant additions
Every month, EIA collects information about all utility-scale power plants in the United States, including planned projects reported by developers.
If you would like to receive the Energy Market Update to your inbox weekly, please click here to submit your name and email address.
Disclaimer: This information is provided for the use of our customers and potential customers. Power Management Company assumes no responsibility or liability for the accuracy or completeness of pricing or information in this document. Historical data was obtained from sources that we believe to be reliable, but we do not guarantee its accuracy or completeness. It is not intended to provide advice or recommendation. Views are subject to change without notice