Electricity Markets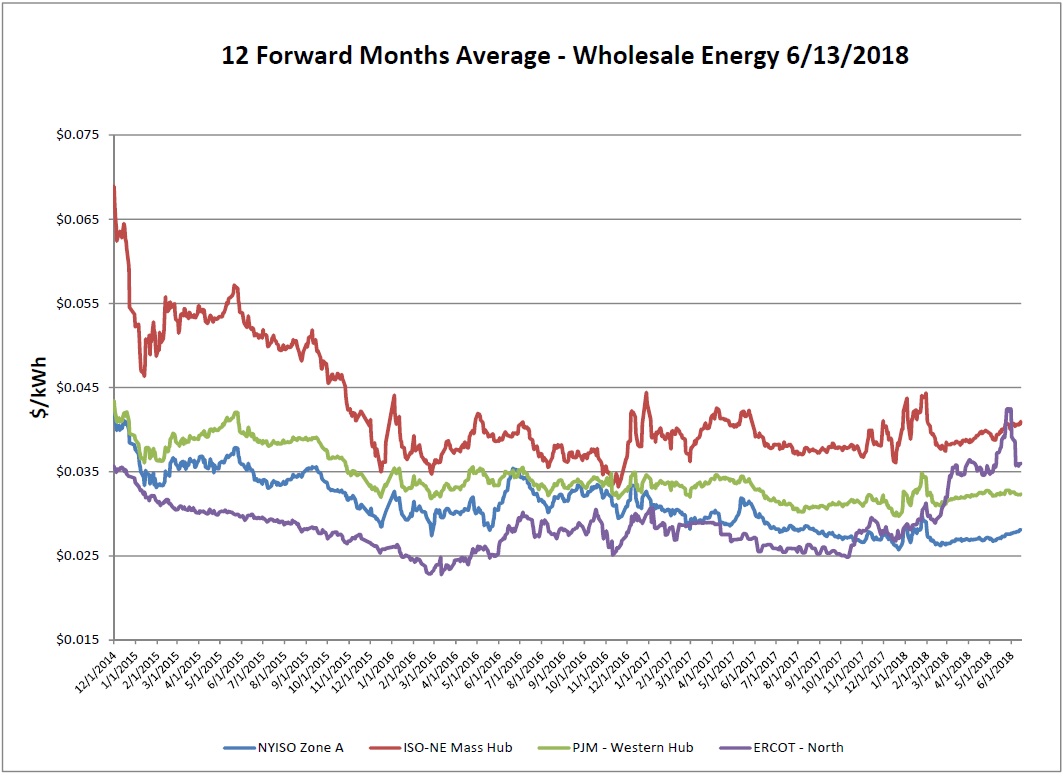 ISO-NE started moving in an upward trend, and is once again the highest priced market we report on now that ERCOT has leveled off for the first time in a while. NYISO also began climbing after a very stable period, both most likely tied to slight increases in natural gas pricing. Not much change in PJM.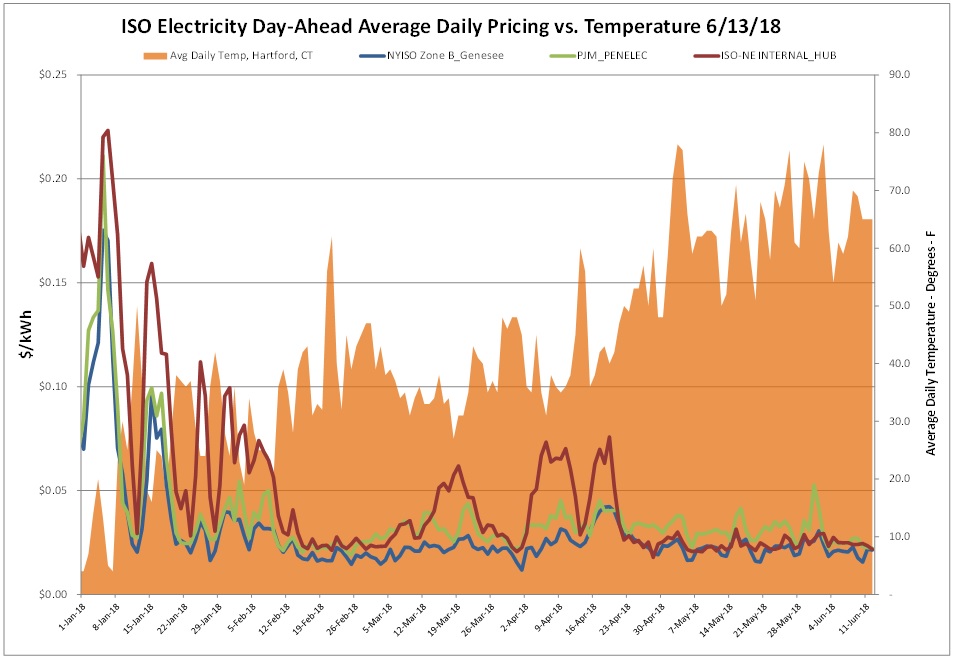 Day-ahead pricing was widely flat across the ISO's over the report week, with ISO-NE even seeing a slight drop in pricing.
Natural Gas Markets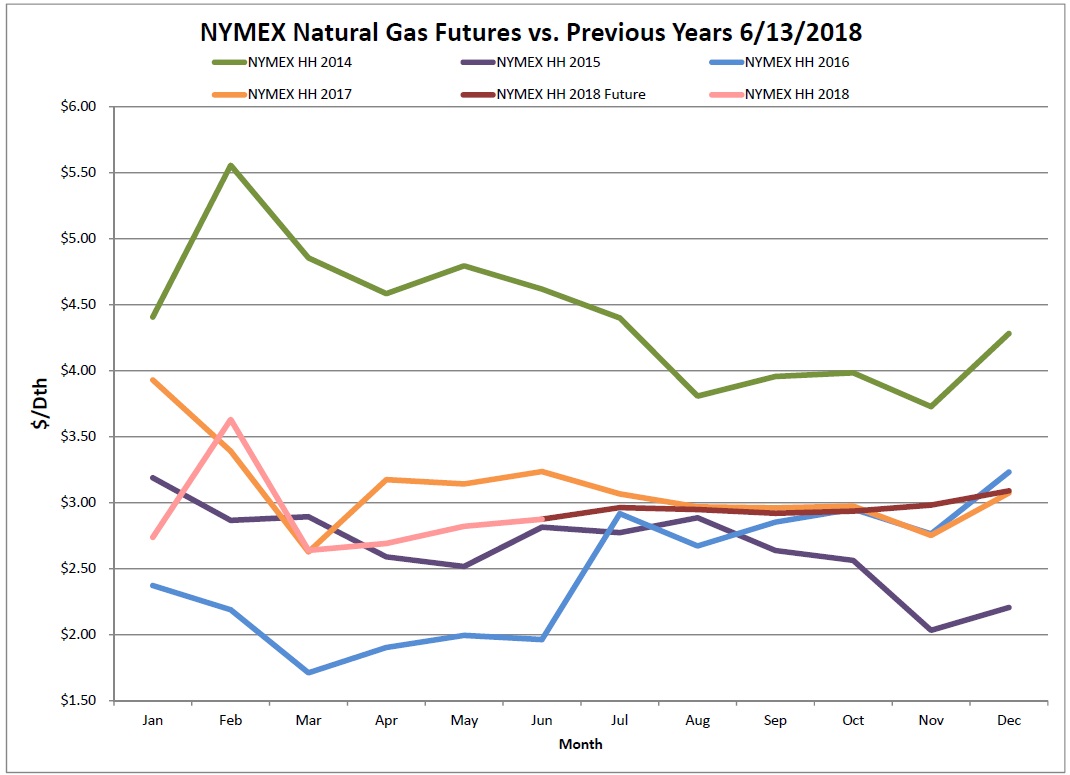 The price of the prompt month contract increased 7 cents, from $2.896 to $2.963. The price of the 12-month strip averaging July 2018 through June 2019 futures contracts climbed 4 cents. Henry Hub has been in tight range for quite some time, while very little volatility. Hovering around $3.00, futures are staying consistent with previous years.
Six-Month Natural Gas Futures
Futures as of 6/13/18 versus previous week:
| | | |
| --- | --- | --- |
| Jul-18 | 2.963 | 0.067 |
| Aug-18 | 2.948 | 0.039 |
| Sep-18 | 2.92 | 0.025 |
| Oct-18 | 2.936 | 0.032 |
| Nov-18 | 2.982 | 0.037 |
| Dec-18 | 3.09 | 0.038 |
Natural Gas Inventory
                                                                                 

The EIA reported a net increase of 96 Bcf from the previous week. Total working gas in storage was 1,913 Bcf as of Friday, June 8, 2018. This compares with last year's injection of 82 Bcf and the 5-year average of 91 Bcf. At the current pace, storage levels most likely won't reach the normal 5-year average which could cause some volatility once heating season begins.
NG Rig Count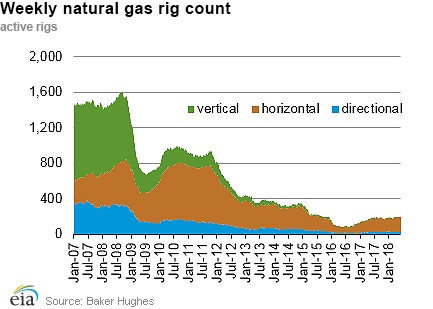 The Baker Hughes exploration gas rig count decreased 4 rigs from the previous week for a total of 194 rigs. The report total is 8 rigs more than in operation last year when there were 186 rigs.
Weather Update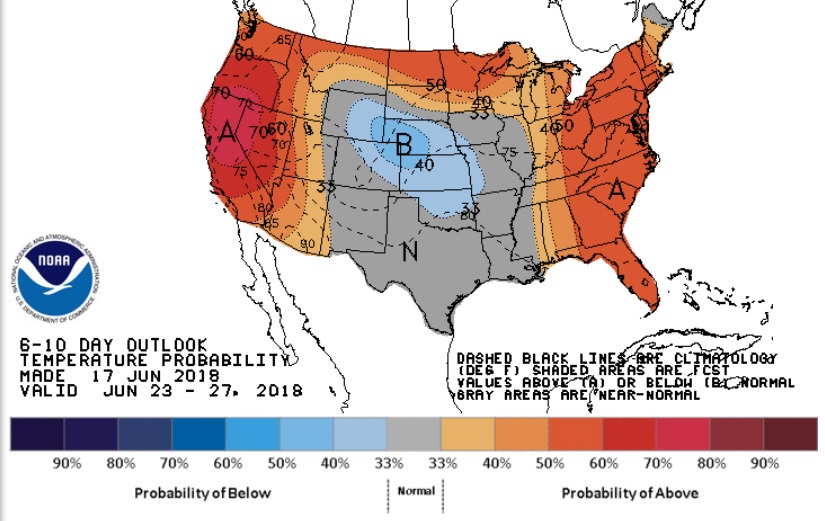 Temperatures across the country are varied on the NOAA 6-10 day forecast, with above-normal temperatures dominating the Eastern half of the county and below normal temperatures creeping up from Arizona to Wyoming.
National Weather Service Updates (NOAA)
Hurricane Watch- No activity
Click here to view the National Hurricane Center site.
Equatorial Pacific Outlook:
Click here to view La Nina and El Nino status.
Energy News & Resources
ISO-NE implements 'pay-for-performance' capacity market incentives
As of June 1, the ISO New England has integrated new "pay-for-performance" (PFP) incentives into its forward capacity market
Completion of Dunkirk Coal-to-Gas Repowering Project Uncertain
A long-stalled plan to repower NRG Energy's coal-fired 435-MW Dunkirk power plant in Chautauqua County, near Buffalo, New York, to natural gas may be scrapped
If you would like to receive the Energy Market Update to your inbox weekly, please click here to submit your name and email address.
Disclaimer: This information is provided for the use of our customers and potential customers. Power Management Company assumes no responsibility or liability for the accuracy or completeness of pricing or information in this document. Historical data was obtained from sources that we believe to be reliable, but we do not guarantee its accuracy or completeness. It is not intended to provide advice or recommendation. Views are subject to change without notice