Electricity Markets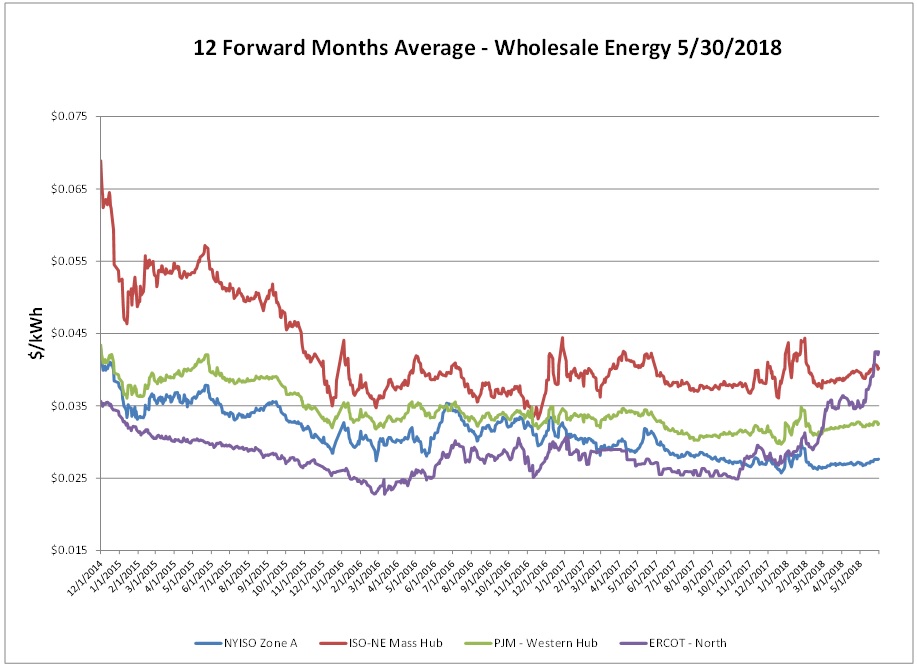 ERCOT electric pricing has now surpassed ISO-NE for the time being as they climbed from the lowest priced market to the highest that we report on. The remaining markets saw little change throughout the week.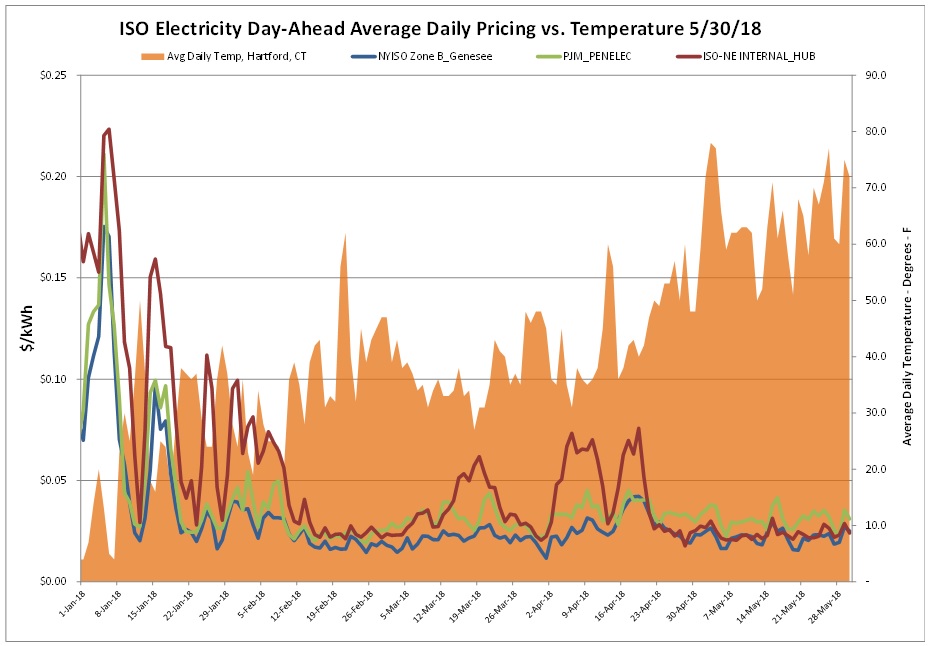 Day-ahead markets remained quiet over the report week, with PJM still the only market seeing the some slight weather related movement.
Natural Gas Markets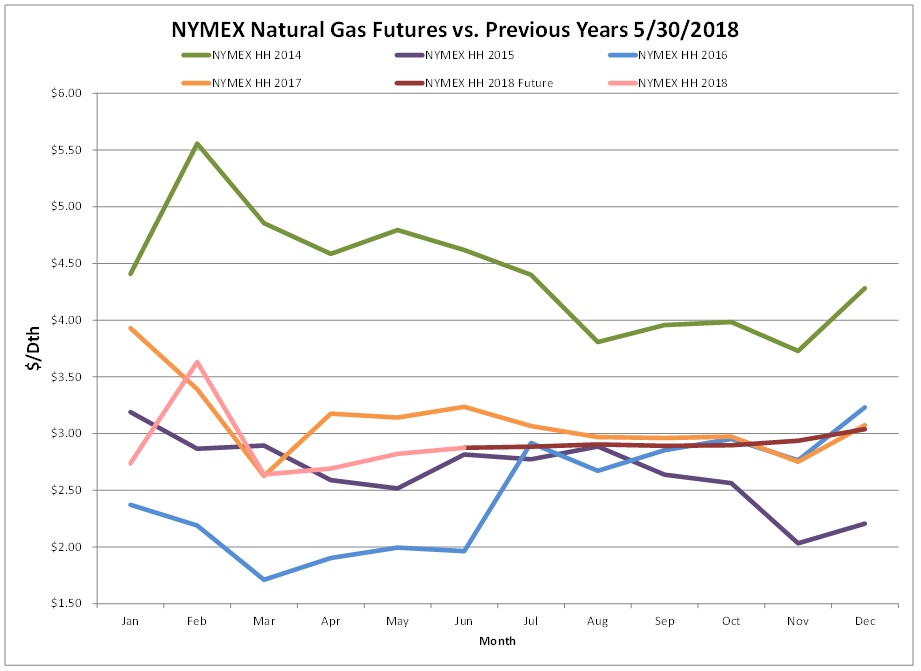 Natural gas prices saw a slight drop over the report week, however after the storage report was released this rebounded a bit. Power burns were up in correlation with hotter May temperatures, more than 10% above 2017 month-to-date averages. The June 2018 contract expired Tuesday at $2.875. July 2018 is now the prompt month and the reaming 2018 strip remains tightly traded.
Six-Month Natural Gas Futures
Futures as of 5/30/18 versus previous week:
| | | |
| --- | --- | --- |
| Jul-18 | 2.885 | -0.070 |
| Aug-18 | 2.905 | -0.068 |
| Sep-18 | 2.891 | -0.065 |
| Oct-18 | 2.897 | -0.063 |
| Nov-18 | 2.937 | -0.061 |
| Dec-18 | 3.038 | -0.057 |
                                                                                 
Natural Gas Inventory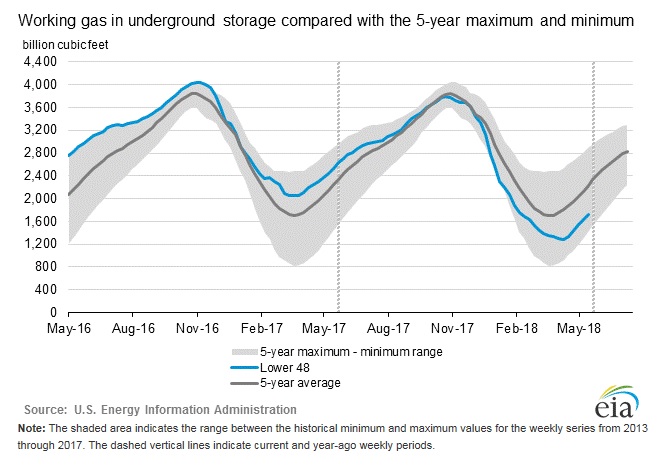 As of Friday, May 25, 2018, working gas in storage was 1,725 Bcf. This represents a net increase of 96 Bcf from the previous week. The market expectation was around 103 Bcf, while the 5-year average is 97. Injections have been at a constant pace but this will need to be increased if there is a chance to get back to the 5-year average by the end of injection season.
NG Rig Count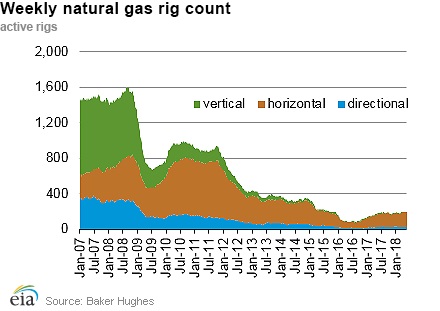 The Baker Hughes exploration gas rig count decreased 1 rig from the previous week for a total of 197 rigs. The report total is 15 rigs more than in operation last year when there were 182 rigs.
Weather Update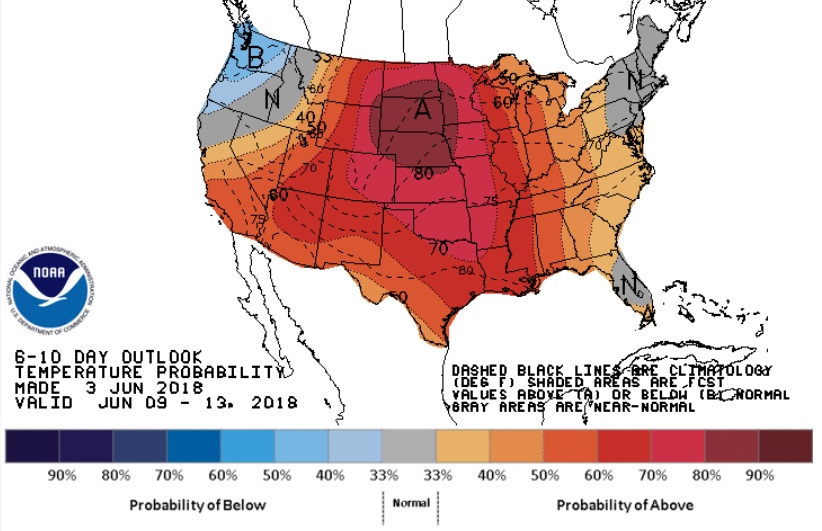 The NOAA 6-10 day outlook is anticipating normal to slightly below normal temperatures in the Northeast and Northwest for the second week in June. The forecast for the remaining CONUS is expected to be above-average.
National Weather Service Updates (NOAA)
Hurricane Watch- No Activity:Click here to view the National Hurricane Center site.
Equatorial Pacific Outlook: Click here to view La Nina and El Nino status.
Energy News & Resources
Exelon says 3 U.S. nuclear plants did not clear PJM capacity Auction
U.S. power company Exelon Corp said Thursday that three of its nuclear plants did not clear in the annual capacity auction used by the PJM power grid operator to ensure enough energy resources are available to meet demand in its U.S. Mid Atlantic and Midwest region.
Electric power sector consumption of fossil fuels at lowest level since 1994
Fossil fuel consumption in the electric power sector declined to 22.5 quadrillion British thermal units (quads) in 2017, the lowest level since 1994.
Prices Spike in PJM Capacity Auction
As predicted, closing nuke and coal plants and market imbalances have pushed up capacity prices for the country's biggest grid operator.
If you would like to receive the Energy Market Update to your inbox weekly, please click here to submit your name and email address.
Disclaimer: This information is provided for the use of our customers and potential customers. Power Management Company assumes no responsibility or liability for the accuracy or completeness of pricing or information in this document. Historical data was obtained from sources that we believe to be reliable, but we do not guarantee its accuracy or completeness. It is not intended to provide advice or recommendation. Views are subject to change without notice